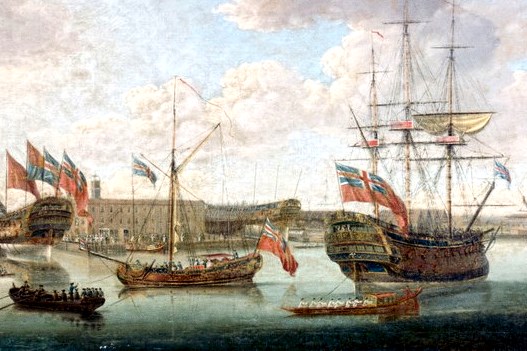 Centuries ago a merchant ship could be converted to a warship quite easily. Civilian ships and the king's ships were in most ways similar: armament was elementary and armour unheard of. But since the advent of the steam engine, the explosive shell, the iron - and then the steel hull, no merchantman could ever make a thoroughly satisfactory warship again. Nevertheless, in both World Wars, British merchant ships were taken up from trade, not only to act as transports but as warships too, known as Armed Merchant Cruisers. Inadequately armed and scarcely armoured at all, they patrolled, blockaded, bombarded and fought - acting in every way, indeed, as if they were real warships, and not thin-skinned vessels intended only for peace. Their Captains, and some of their crews, would be Royal Navy men - but often their peacetime commanding officer would remain, with the rank of Commander RNR - Royal Naval Reserve - as navigating officer, accompanied by other volunteers from the ship's peacetime crew.
Such men were exceptionally brave: Armed Merchant Cruisers were certain to be attacked - and less likely to survive.
The twenty-one year old Armed Merchant Cruiser India was the first P&O liner to be lost to enemy action. Two Sub-Lieutenants, a Lieutenant and a Commander RNR from her peacetime P&O crew died with her.
'All through this trying and anxious time they have displayed the greatest gallantry and they have never uttered a murmur. The war has made heavy inroads on our officers and engineers, and all who could be spared have joined the forces…' Lord Inchcape, P&O Chairman 1916.
---

A ship is born......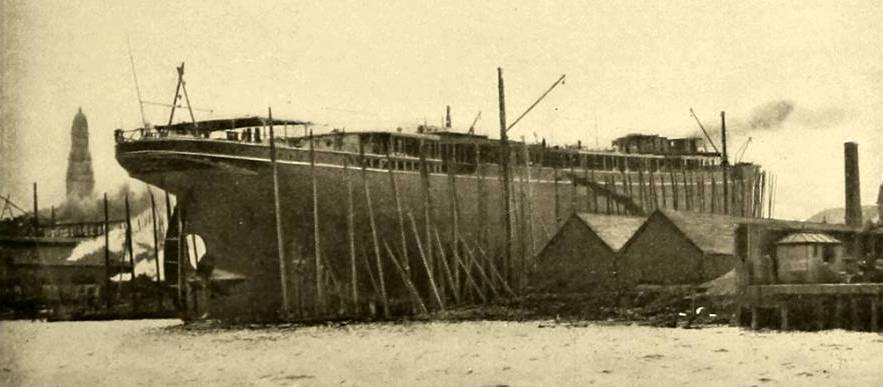 Cassier's Magazine of August 1897 had an article on page 341-350, written by Robert Caird and titled The Launching of a Ship.
It was accompanied by a number of illustrations, including this photo of the launch of the India, built for the P & O Line by Caird and Co, and launched by Miss Mary Anne Kendall, daughter of a P&O Manager, on 15th April 1896.
The first of five 'sisters' India was the largest ship in the fleet at the time, and was followed by Persia, China, Egypt and Arabia. Her equipment, according to press reports, included a state of the art 'speaking tube' measuring 408 ft in length.
Following sea trials and acceptance, she was handed over on 12th September 1896, and after several voyages to India, sailed for Australia on 28th January 1898.
Eighteen months later, she became the first P&O steamer to use the new harbour at Fremantle, which had recently replaced Albany as a first port of call.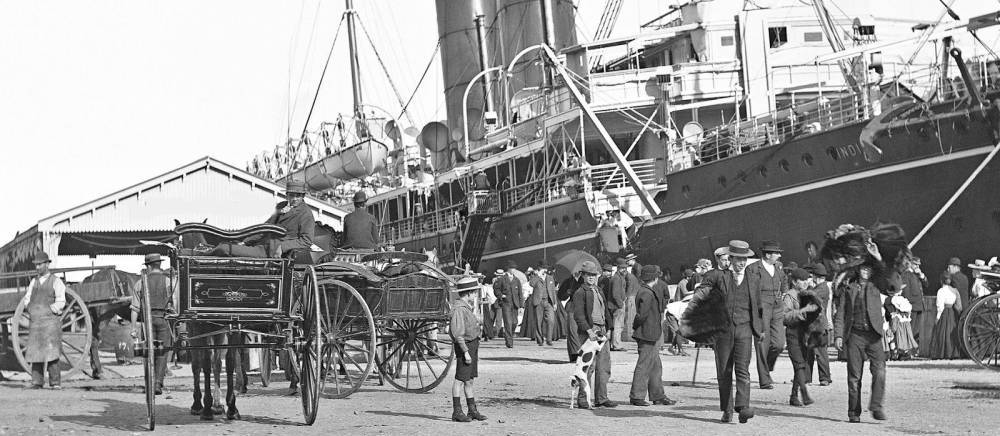 From The West Australian", 21 August 1900
'After a quick passage across the Australian Bight from Adelaide which was left on Thursday afternoon last, the India was reported to have passed Breaksea Island at noon on Sunday. She was therefore expected at Fremantle about twelve hours later but somewhat contrary weather about Cape Leeuwin threw her back a bit and it was not until half past twelve o'clock that she was sighted from Rottnest. Gradually India crept into view of hundreds of people who were collected on the high vantage grounds to witness her approach and at 3 o'clock she entered between the moles, the tug Penguin showing her the way in.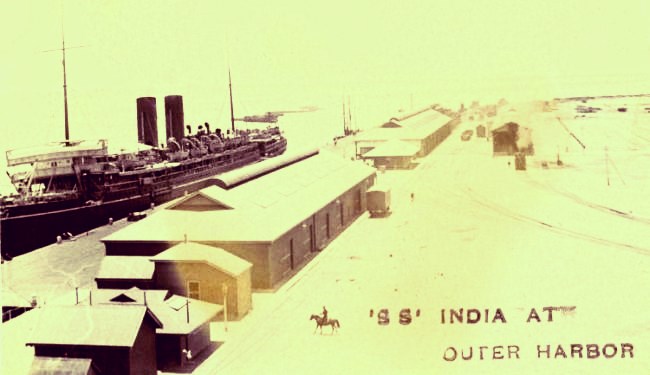 During the morning the wind was gusty, but it had moderated in the afternoon, (and) a breeze was blowing from the west, which helped the India to swing into her berth. The big steamer at first managed to knock some splinters off the wharf with her nose, but she was then nicely manoeuvred into her berth, and about 4 o'clock the gangway was lowered. When the India entered the harbour, she was drawing about 25 ft. of water on an even keel.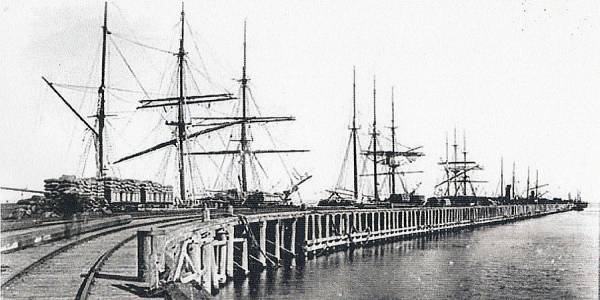 Fremantle Harbour's Long Jetty in 1900
A large crowd which had been collecting all the afternoon had by this time assembled, and an eager rush was made to get on board. Sir George Shenton, Sir A Onslow and Sir John Forrest were the first three to proceed up the ladderway, and then the crowd, with or without tickets of admission, surged on board. The splendid liner was speedily over-run in all parts, the many notices such as "Do Not Enter this Cabin" and "Keep off the Bridge" only served as incentives to do exactly the contrary. On one side of the spacious First Class Dining Saloon, a few guests from Perth and Adelaide were entertained by the representatives of the Company, but for the bulk of the company, the fact that such a fine British mailboat was alongside the Fremantle Wharf, and the opportunity of inspecting her were quite sufficient.'
She was commander by Captain W.D.G. Worcester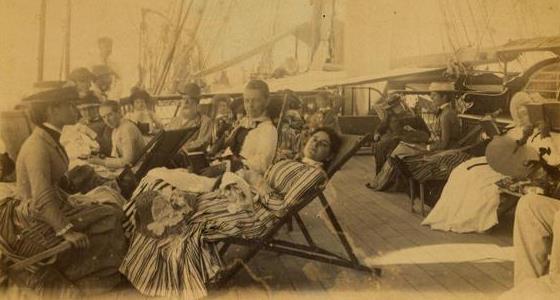 Between 1900 and 1914, India was to make a further 42 voyages to Fremantle, disembarking 2,891 passengers at the port.
---
I would not come to this port again and be obliged to discharge at this wharf, if they made me a present of the vessel.
– Captain D B Shaw, 1892
Early shipowners considered Fremantle a port to avoid and demanded high freight rates in order to compensate for the risk of calling there. A rocky bar blocked the Swan River entrance, and the few jetties situated outside the river-mouth were exposed to the strong south-westerly winds - known locally as the 'Fremantle Doctor'. Frightened migrants would have to wait for the weather to calm before making their first intrepid steps to shore. In protest, vessels headed 400 kilometres south to the safe deep-water anchorage of Albany.
In 1892 work began on creating a safe, deep and protected harbour with the first migrant ships tying up at the new Victoria Quay in 1897. From this time on, Fremantle replaced Albany on the Australian shipping route.
---

The SS India was a steam passenger liner, first of the five P&O Egypt Class, and operated between 1896 and 1915.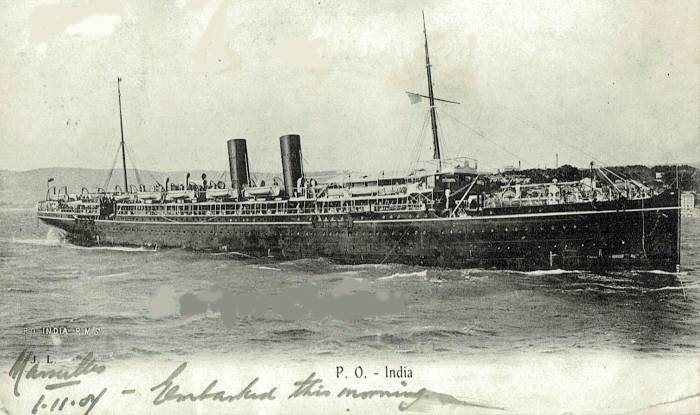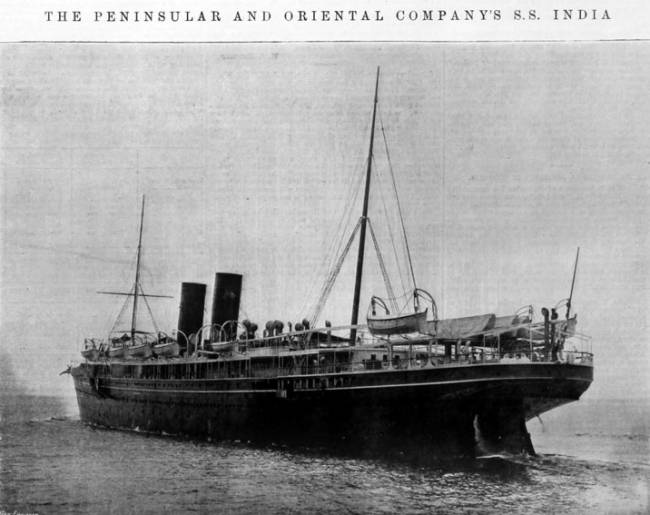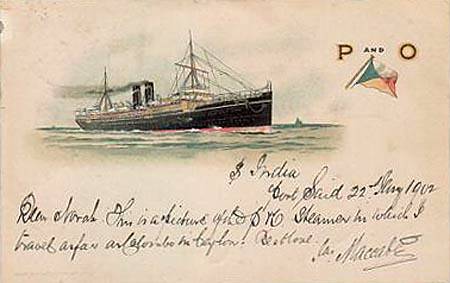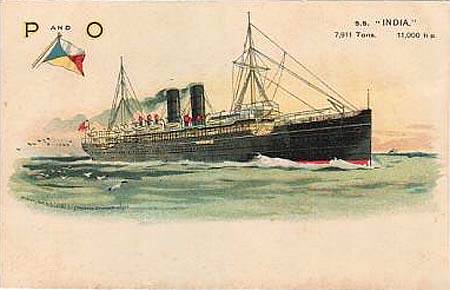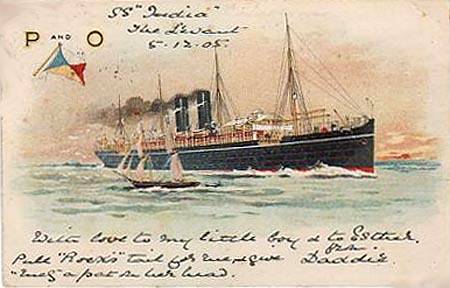 She ran trials on 12th September 1896, and entered service later that year, operating on P&O's route between Britain, India and Australia.
Her 314 first class passengers were accommodated amidships, with 212 second class further forward.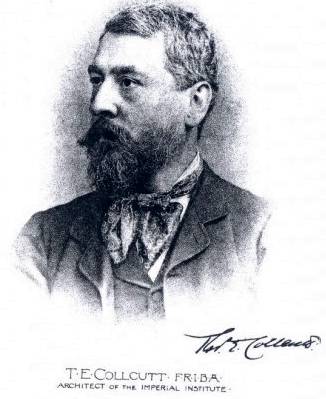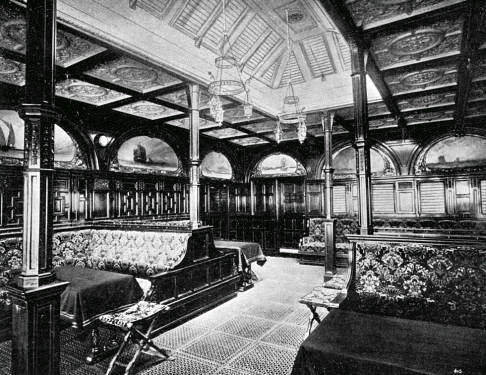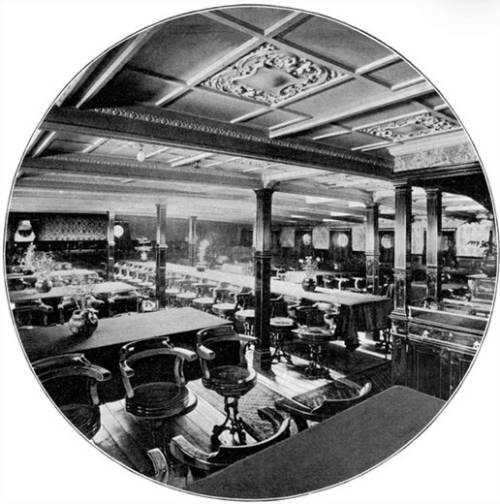 Her elegant interiors were designed by the eminent Victorian Arts and Crafts' architect Thomas Edward Collcutt. Dining chairs had solidly carved wooden backs and arms with decorative patterned squabs, and were firmly bolted to the deck in order to prevent movement in rough weather.
In 1900 she became the first ship to use P&O's new harbour facilities at Fremantle. After the outbreak of World War One, she remained in service with P&O and carried Admiral Doveton Sturdee from Gibraltar back to England after the Battle of the Falkland Islands.
---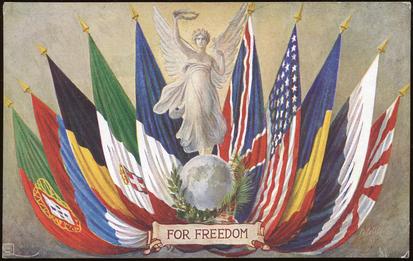 When the peace was broken on 4th August 1914, nothing suggested that British merchant seamen would fare worse than their predecessors of the Napoleonic era, and the statement that they would be compelled to face perils in intensity and variety unparalleled in human experience would have been rejected as unbelievable in face of all the efforts made at The Hague to humanise warfare.
Events falsified all anticipations.......
---
The 10th Cruiser Squadron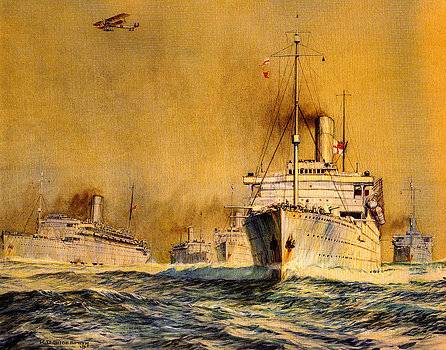 Ships of The 10th Cruiser Squadron - Kenneth D.Shoesmith
The resources of the Royal Navy, large as they were, proved inadequate to maintain the blockade of Germany, which it became necessary to organise, in order deny the enemy raw materials, fuel and other essential resources. By denying Germany access to the North Atlantic, the Royal Navy was greatly supporting the hard-pressed armies of Britain and France in action on the Western Front.
Blockade had long been a British weapon in disputes with the continent. The northern approaches comprised a huge area of sea potentially as far west as Greenland. It was a taxing, difficult, environment.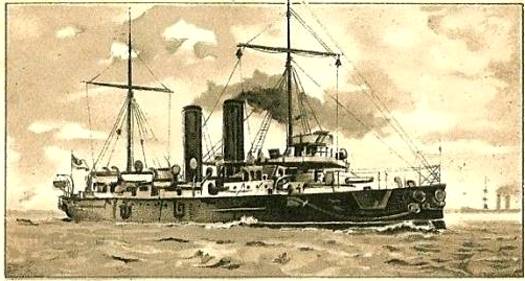 Merchant ships replaced an ageing fleet of Royal Navy Edgar Class Cruisers that had proved unsuited to the harsh conditions of the North Atlantic....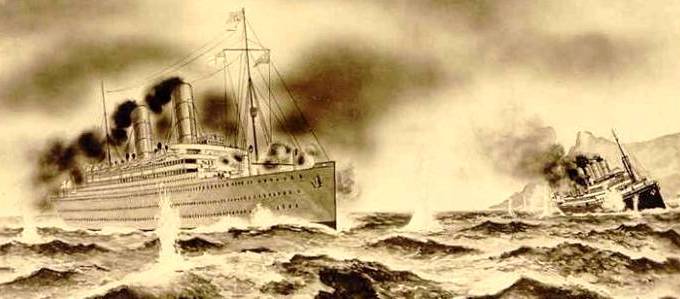 Some of the swiftest liners were quickly taken up and commissioned under the White Ensign, and from the varied resources of the Merchant Navy, and placed under the command of Rear Admiral Dudley Rawson Stratford de Chair MVO, RN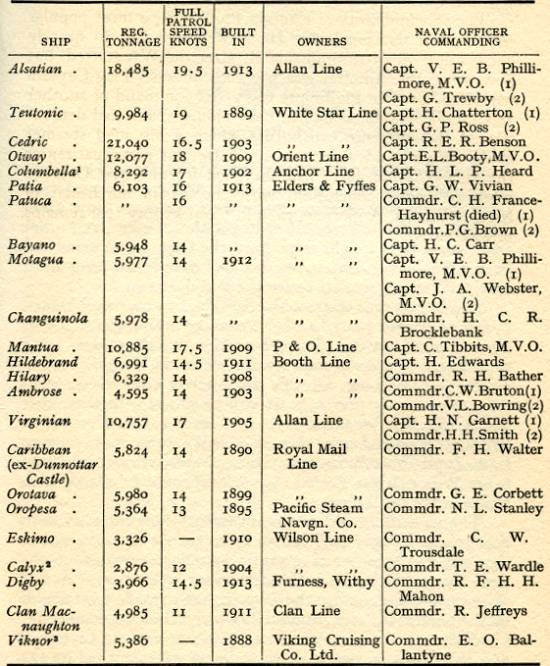 Initial strength of the Northern Patrol - 23 ships - January 1915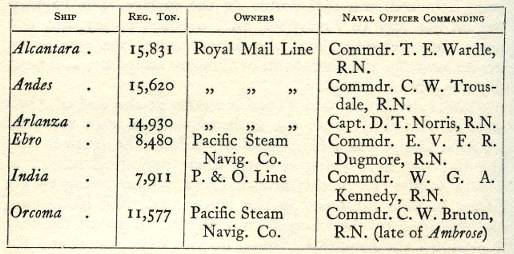 Additional Ships - April 1915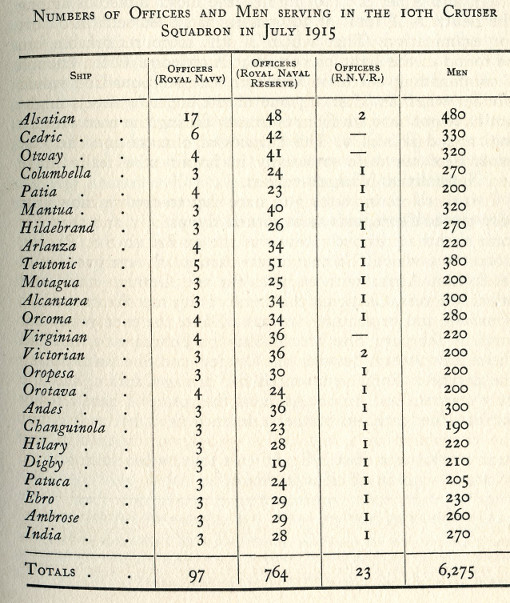 Some ships were lost, some redeployed , but by July 1915, the Northern Patrol numbered 24 ships.
It was a fortunate circumstance that this country possessed about half the world's merchant shipping - without which it would have been seriously hampered in the prosecution of the War.
World Merchant Fleet Tonnage June 1914
Great Britain 12,440,000 grt
Germany 3,096,000 grt
United States 1,195,000 grt
Norway 1,153,000 grt
France 1,098,000
---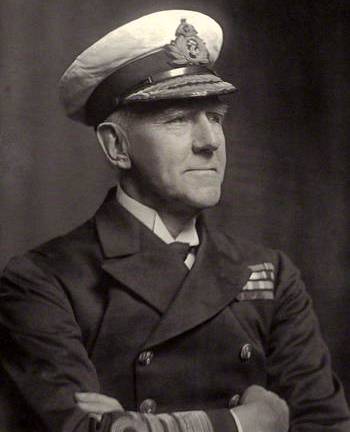 Rear Admiral Dudley Rawson Stratford de Chair CB, MVO, Royal Navy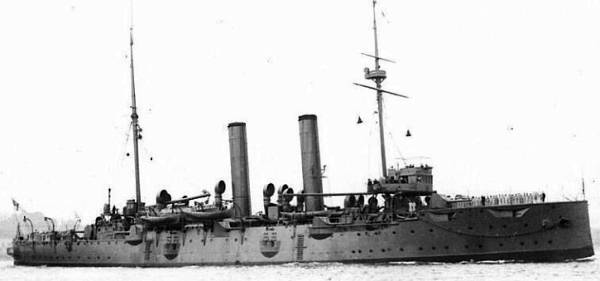 HMS Crescent - a first class cruiser of the Edgar Class, launched 1892.
On 1st August 1914 Rear Admiral Dudley de Chair was appointed to HMS Crescent as Rear-Admiral Commanding Cruiser Force B, also known as the Tenth Cruiser Squadron, the formation tasked with enforcing the distant blockade of Germany in the form of the Northern Patrol.

HMS Alsatian - built by William Beardmore and Company of Glasgow, launched 22nd March 1913
On 4th December he shifted his flag to the armed merchant cruiser HMS Alsatian, a switch that was a reflection on how ill-suited to the North Sea's heavy weather the old cruisers were for the mission. Built as an ocean liner in 1913 for the Allen Line, the Alsatian's maiden voyage was in January 1914. She was requisitioned for service with the Royal Navy on 7th August 1914 and initially armed with eight 4.7-inch guns, later increased to eight 6-inch guns and two smaller 6-pound anti-aircraft guns. She was manned by 17 Royal Navy officers, 48 Royal Naval Reserve officers, 2 Royal Naval Volunteer Reserve officers, and 480 men of the RNR, RMLI and the Mercantile Marine Reserve.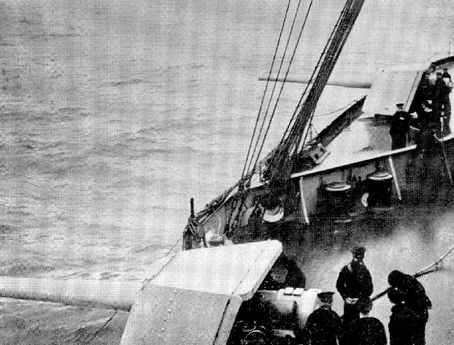 Two of HMS Alsatian's forward six-inch guns
---
Tough as they were, the ships of the Northern Patrol were overwhelmed by storms, sunk by enemy action, torpedoed - perhaps the most constantly active Royal Navy vessels in the Great War, a barely acknowledged yet vital component in the eventual Allied victory.
During the winter months on these latitudes the sun rose at 9 a.m. and set at 3 p.m. approximately; daylight was short and the nights long. The weather was nearly always bad, with heavy gales roaring in from the south-west. Many days it was impossible to lower boats, consequently when overhauling a ship that was trying to break through the blockade my ships had to stand by her till she could be boarded. The seamen became very efficient in lowering boats and boarding ships in heavy weather. In Alsatian a strong six-oared boat was generally used, and we found it most successful to hoist her out by a swinging derrick, and drop her fully manned on the crest of a wave as the ship rolled. It was always found necessary to give the boat a lee while alongside, so that it was protected from the gale until clear of the ship's side. Sometimes I had to board another ship in rough weather, and I found the best plan for me was to stand at the lee gangway, and wait till the ship rolled towards the boat, and the latter rose to the level of the upper deck, when I would step into it, being caught by the boat's crew as it sank down in the trough of the sea as the ship rolled away. It was rather an airy feeling, and I seemed as if I were floating in air till the boat began to rise again.....The Sea is Strong, by Admiral Sir Dudley de Chair
---
It was fortunate that British merchant ships, and P&O in particular, were manned by officers and crews who were not frightened by the enemy's threats.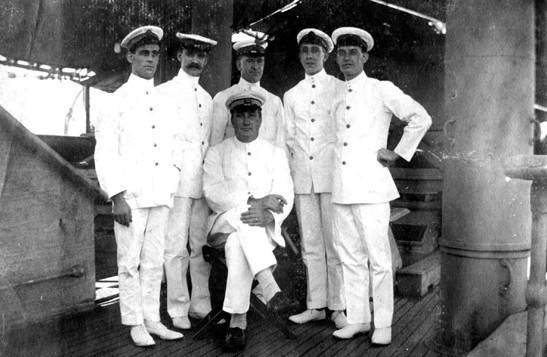 P&O Officers onboard the ss India in 1913 - the Engineer wearing black shoes.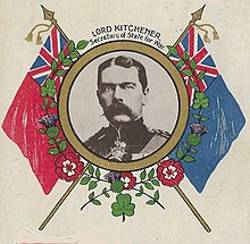 As to mobilising the Reserves and the P&O, Marine Superintendent Captain Parfitt's internal memo stated:.........Our Company has at the present time 221 Officers (Executive and Engineer) holding commissions in the Royal Naval Reserve, also a large proportion of the European Seamen are belonging to that force. In the event of the Admiralty enrolling our Native Firemen for service on Men of War in the East, we should have a large number of Officers and Men for the service of the Country
On 13th March 1915, the India was chartered by the Royal Navy, fitted with guns at Silley Weir's Wharf, London, and deployed as an armed merchant cruiser, with the 10th Cruiser Squadron, tasked with maintaining the Northern Blockade.
Owners of all ships and vessels so requisitioned shall receive payment for their use, and for services rendered during their employment in the Government service, and compensation for loss or damage thereby occasioned, according to terms to be arranged as soon as possible after the said ship has been taken up, either by mutual agreement between the Lords Commissioners of the Admiralty and the Owners or failing such Agreement by the award of a Board of Arbitration to be constituted and Appointed by Us for this purpose.
---
Armed Merchant Cruiser HMS India, mercantile conversion
Pendant No. M.81 (on coming into service). Built 1896, 7,940 grt, 18kts. Armed. Crew: 32 officers & 270 crew. In service 13.3.15. Of over 60 commissioned Armed Merchant Cruisers employed on patrol and later convoy protection, 33 served with the 10th Cruiser Squadron on the Northern Patrol.
Decks under gun platforms were strengthened and shored up, packing rings were fitted, and the guns themselves secured in place –eight 4.7's, four with shields, four older ones without. Bollards and fairleads were cut away to give a good arc of fire. A rangefinder was fitted on the bridge, magazines and shell rooms built in the fore and aft holds, with flooding arrangements. Steel plate half an inch thick was installed round the steering engine house, bagged coal was stowed abreast the engine cylinder tops. Cabin bulkheads, glass ventilators and furniture were removed to make space for mess-decks, a large sick bay with cots was fitted up in the old smoking room and an operating theatre set up amidships, the most stable part of the ship at sea. The vessel's upperworks and funnels would have been painted grey at this time.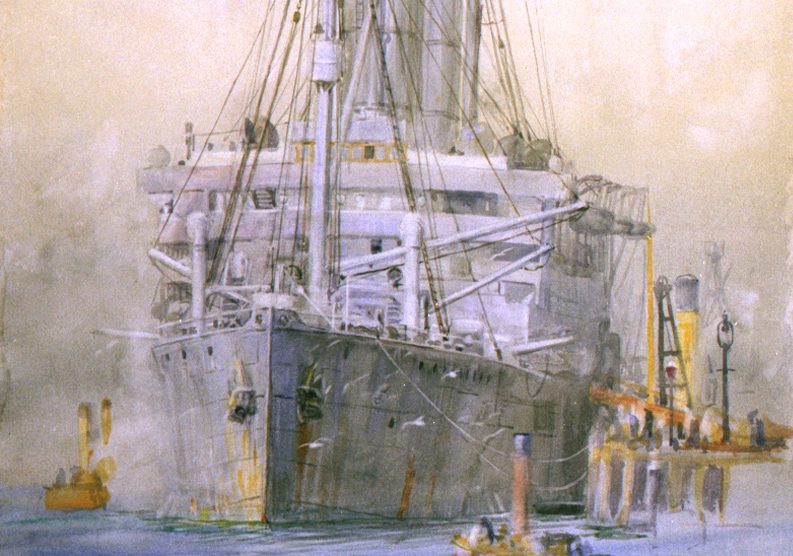 The Cunard liner Carmania, refitting as an Armed Merchant Cruiser.
The merchant ships designated for the 10th Cruiser Squadron were either passenger/cargo or cargo/passenger ships, depending on the predominant activity. To change the nature of these vessels to auxiliary cruisers meant compromises and some fundamental reworking of essential elements of a ship's design. The most basic of these was the vessel's stability. A merchant ship's draught will vary hugely between her loaded condition and when 'light'ship with no cargo aboard. The loaded condition means that propellers are fully immersed and most efficient. This be appreciated by recognising in a single screw cargo ship in a 'light' condition, a propeller may not even be immersed for a full revolution, resulting in loss of power. For this reason, twin screw steamers were preferred since their propellers were more deeply immersed for most of the time. The armed merchant cruisers needed permanent ballast, using either stone or pig iron, so that they floated close to their loaded draft. This ballast compensated for the absence of cargo which when carried was always carefully apportioned between lower hold and 'tween deck. Too much weight in the holds created too great a 'righting lever', making the vessel 'stiff'or 'crank' in a seaway. This could cause severe 'racking' stresses on the ship's framing as she rolled quickly. Conversely, too little weight in the hold made the vessel 'tender' and created a slow, gentler rolling since the 'righting lever' was reduced. In practice the vessels would be loaded slightly 'stiff' so that as bunkers and water were used, the severity of the rolling decreased. This was a most important issue for the Squadron's ships, in view of being tasked to the Norwegian Sea and Icelandic waters. Precautions had to be taken to prevent the ballast from moving in a sea way. Warships, once built and fitted out vary their drafts by only a small amount depending on how much fuel, water and ammunition is on board, consequently unlike a merchant ship their stability changes little during normal operations
The main armament was intended to allow the ships to fire a four barrel broadside from either side of the ship. The larger ships had eight guns, four on each side. The smaller ships, had six guns, two on each side plus one on the f'c'sle and one on the poop deck. The f'c'sle and poop guns were on the ship's centreline and had a wide arc of fire to allow four barrels to be brought to bear on either side of the ship. Originally the plans were for 4½ inch guns on all ships but these were replaced with 6 inch guns whenever possible, when it was realised that German commerce raiders had more powerful 6 inch guns. Ships joining the Squadron later in the war were fitted with 6 inch guns when taken up.
HMS India's particular armament is not recorded in any detail, however, British Admiralty planning was to fit all Armed Merchant Cruisers with eight 4.7 inch guns, allowing a broadside of four from either side of the ship.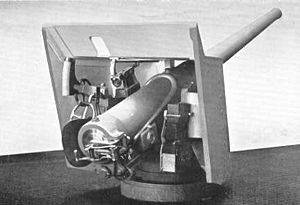 In order to facilitate the speedy conversion of merchant ships, stockpiles of guns had been arranged at strategic ports throughout the British Empire. The majority of the guns were obsolete weapons, that had been removed from obsolete cruisers. Initially accepted as the primary armament for attack and defence against enemy warships and submarines, they were also used to fire a single live round as a warning shot across the bows of a suspect ship that had ignored the standard two blank shots from a six-pounder. It did not take long for Their Lordships to discover that these puny 4.7 inch guns were no match for any German warship. Consequently, by early 1915, they were being progressively replaced by larger, more powerful, six-inch guns. It is therefore likely that India's main armament would have been six-inch.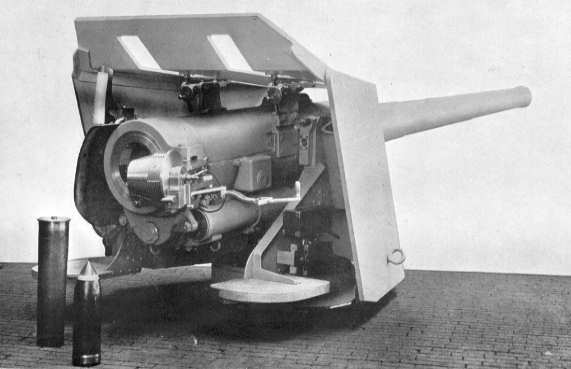 The illustrations above show both 4.7 and 6 inch guns fitted with shields - but this was not always the case.
Due to the harshness of the weather in the Northern Patrol's latitudes, shelters were constructed in the vicinity of any gun not fitted with a shield.
The six-inch guns had a range of 11,000 yards at maximum elevation, with a rate of fire of six rounds per minute with an experienced crew.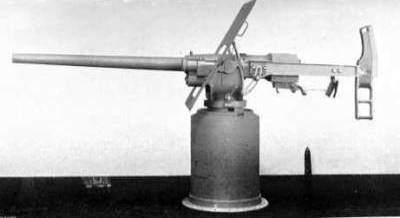 In addition to her main armament, India would have been fitted with two six-pounder guns of 1897 vintage, one on each side of the ship, and used to fire warning blanks at suspect ships, and live rounds against enemy aircraft.......
Ammunition supply to all the guns was a major problem. Ready-use lockers were constructed close-by the guns, which remained loaded at all times.
Magazines were constructed in the forward and after holds, giant steel tanks with a cofferdam if time permitted. Ventilation, precautions against flooding and flash were designed into the system, which still required a great deal of manpower to hoist ammunition to the guns on the weather decks above. 10th Cruiser Squadron standing orders laid out strict rules for the storage and handling of projectiles and cordite, with close attention being paid to the constant monitoring of magazine temperatures. Commissioned and Warrant Gunnery Officers managed gunnery, with communication by voice pipes and bridge telephones. Such was the ad-hoc nature of the gunnery system that most command and control was left to the skill of the gunlayers. An optical rangefinder mounted above the bridge, and large, powerful searchlights mounted on each bridge wing completed the India's gunnery outfit.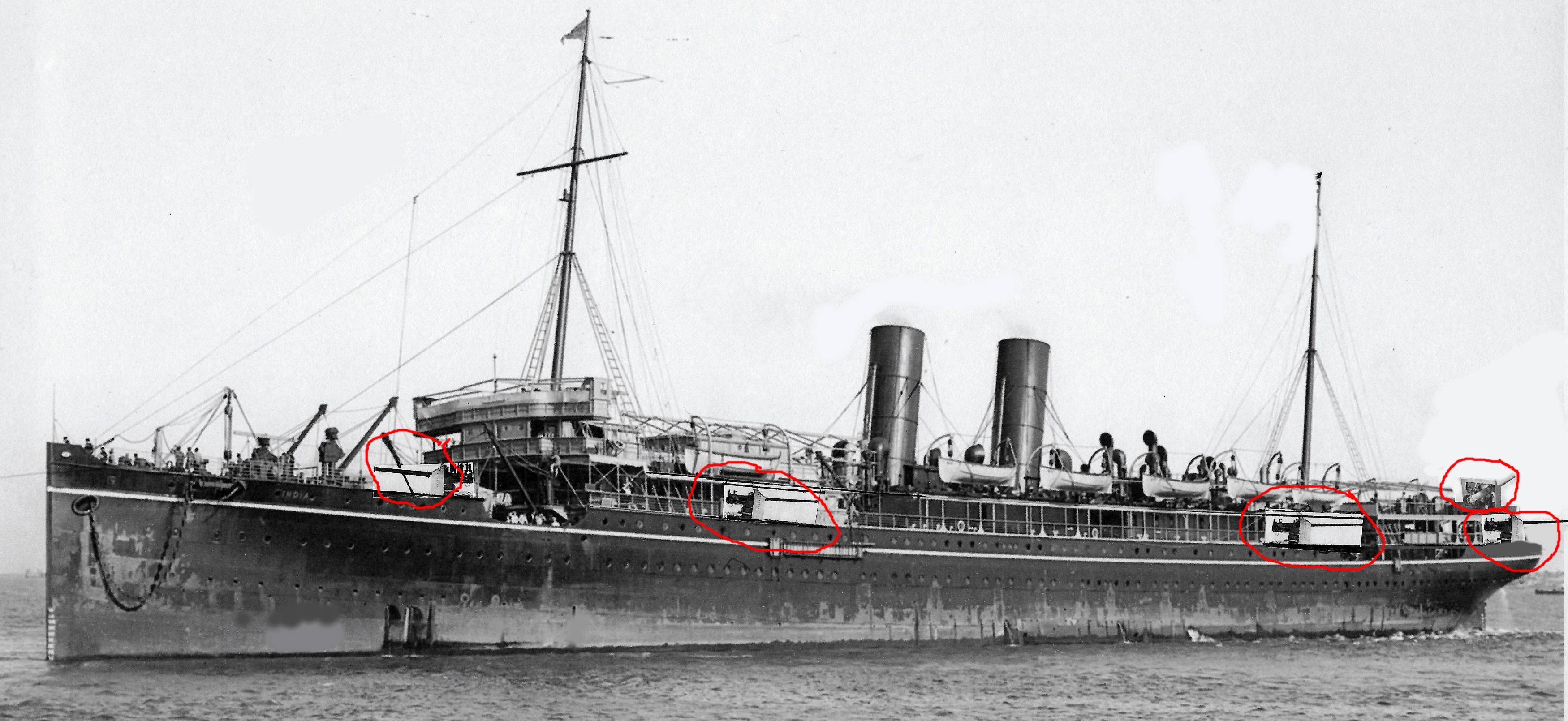 HMS India, with approximate locations of her main armament.
HMS India ~ Commander W G A Kennedy Royal Navy, Commanding ~ extracts from Log
12 April 1915 Royal Albert Docks, London. Ship at Messrs Silley Weir's Wharf; men employed as requisite for mounting guns and refitting ship during whole of day
15 April 1915 Royal Albert Docks, London 6.30am: Hands fall in; taking in ammunition, cleaning mess decks etc 9.00am: Ammunitioning fore shell room; armed sentry placed on guard; commenced receiving ammunition in after shell room 3.00pm: Rifles and stores came alongside
18 April 1915 Royal Albert Docks, London, to Lower Hope Reach 12.25pm: Received draft of 40 men from HMS Pembroke 2.10pm: Cast off hawsers and proceeded towards the river, assisted by 2 tugs 3.45pm: Cleared dock gates and proceeded down the river 5.15pm: Reached Gravesend and changed pilots 5.43pm: Anchored in Lower Hope Reach 7.00pm: Tugs cast off for shore with all dock labourers 11.10pm: Ship riding to flood tide
27 April 1915 Sheerness to Northern Patrol 4.00am: Proceeding in company with TBDs Leonidas and Lark 2.40pm: Parted company with TBDs Leonidas and Lark 5.30pm: Read 1, 2 and 3 warrants
29 April 1915 Sheerness to Northern Patrol 9.00am: Action stations; submarine sighted on starboard beam, distance about 3 miles SE; commenced zigzagging 9.25am: Wake of submarine sighted crossing astern1.00pm: Hands employed fitting collision mats
30 April 1915 Northern Patrol Lat 59.1, Long -10.7 2.40am: Sighted two ships on port bow 3.00am: Full speed ahead; challenged ships 3.05am: Hands to action stations 7.00am: Sighted HMS Cedric; challenged 8.10am: Commenced zigzag 3.10pm: Sighted HMS Alsatian 4.03pm: Engines as requisite for keeping ship in position 5 cables from HMS Alsatian 4.23pm: Lowered starboard cutter; Lieutenant Groundwater RNR and paymaster left for HMS Alsatian 5.36pm: Parted company with HMS Cedric and HMS Alsatian 6.07pm: Challenged Norwegian barque Rollo, bound to Canada in ballast 7.13pm: Stopped and challenged Danish SS Jens Bang7.20pm: Sub-Lieutenant Nelson RNR boarded her; bound for Copenhagen from Boston with grain 7.55pm: Signalled her to proceed to Kirkwall
2 May 1915 Northern Patrol Lat 61.1, Long -5.8 11.20am: Akraberg Point N20½ W, Store Dimon N6½W 2.00pm: Ordered sailing ship to heave to 4.00pm: Lowered sea boat and boarded US barque Annie M Reid, left Leith 22/4/15 in ballast for New York 4.30pm: Hoisted sea boat and proceeded.
9 May 1915 Northern Patrol Lat 65.4, Long 9.7 8.20am: Altered course N5W to intercept 2 SS on port bow 10.10am: Stopped and sent boarding officer to Norwegian SS Baune with coal to Archangel 10.40am: Let her proceed 11.00am: Hoisted cutter and proceeded.
14 May 1915 Northern Patrol Lat 65.1, Long 8.3 6.10am: Boarded SS Malmland 10.38am: Boarded SS Nordland 11.45am: Ordered SS Nordland to proceed to Kirkwall 1.00pm: Stopped SS Volrath Tham 1.30pm: SS Volrath Tham ordered to proceed to Kirkwall 7.00pm: Signalled HMS Alsatian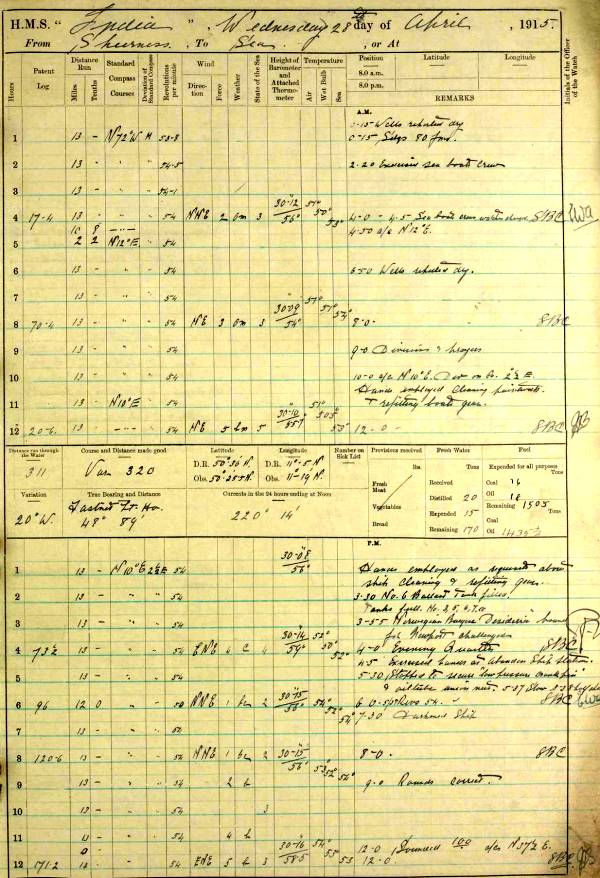 ---
The commanding Admiral estimated that 10,000 men were required to man the AMCs of the 10th Cruiser Squadron.
On Monday, 3rd August 1914, the King's Proclamation called out 'Men of the Royal Naval Reserve and Royal Fleet Reserve as well as Officers and Men of the Royal Naval Volunteer Reserve.
A separate Proclamation on the same day called out 'Officers of the Royal Naval Reserve.'
There was no mention of Mercantile Marine ratings that, as civilians, would be expected to form a vital part of manning 10th Cruiser Squadron. Technically, these civilian personnel were free to stay or go, since conscription had not yet been introduced.....
---
The Men Who Served Onboard HMS India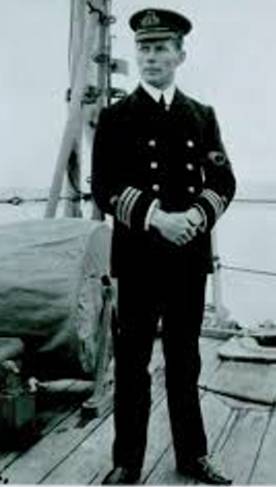 Initially, Armed Merchant Cruisers were commanded by serving Naval Officers, and Officers appointed from the Retired List
HMS India's Commander, William George Ainslie Kennedy, RN, had been promoted on 30th June, 1907. and appointed in command of the destroyer HMS Syren on 4th June, 1913.
Master of the ship and second-in-command was Lieutanant Richard Groundwater, Royal Naval Reserve.
---
The Reservists
An on-going problem of the Royal Navy for at least 100 years before the outbreak of the First World War was to have enough men available to man the additional ships commissioned in wartime. This was highlighted during the Crimean War when it was noted that when most of the reservists called out took their caps off for prayers, they were bald and they also wore glasses. Although it was also reported that these men were generally very capable, their age was a significant detrimental factor in the rigours of life at sea.
Commander Kennedy was the only regular Naval Officer on board HMS India, his First Lieutenant, Senior Watchkeeping Officers and Boarding Officers were all drawn from the Royal Naval Reserve of Certificated Mercantile Marine Officers.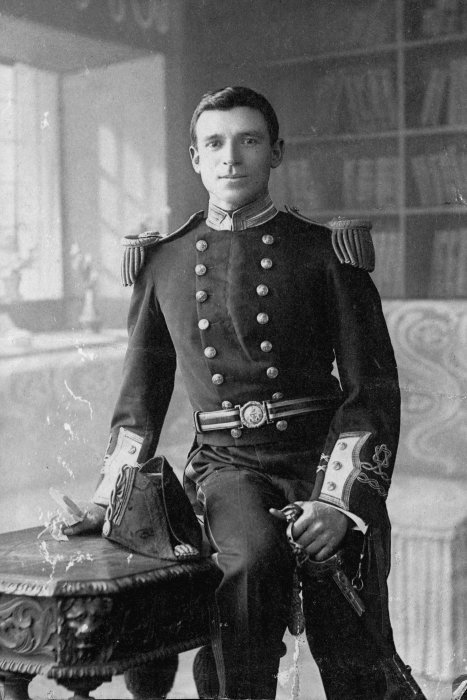 Lieutenant RNR 1906
In addition to the RNRs, the ship's company comprised men of the Royal Fleet Reserve RFR, Royal Naval Volunteer Reserve RNVR, Mercantile Marine Reserve MMR, Royal Marines Light InfantryRMLI, and Coast Guard.
"The success which attended the dispositions of the Admiralty after the institution of the patrol by the Tenth Cruiser Squadron exceeded all expectations. The stoppage of seaborne supplies combined with the system of commercial embargo which had been slowly elaborated, became so effective, in spite of political action initiated by neutral States, that the Germans were commercially isolated from the rest of the world, except insofar as they were able to obtain supplies overland from neighbouring countries, and were in a position to take the fullest advantage of the protests of neutrals against the strict enforcement of the blockade. It is perhaps not generally realised that the blockade, supported by the ships of the Grand Fleet, was actually enforced by merchant ships which, though under the command of naval officers, who had under them a nucleus of active service ratings and men from the Royal Fleet Reserve, were principally manned by merchant seamen."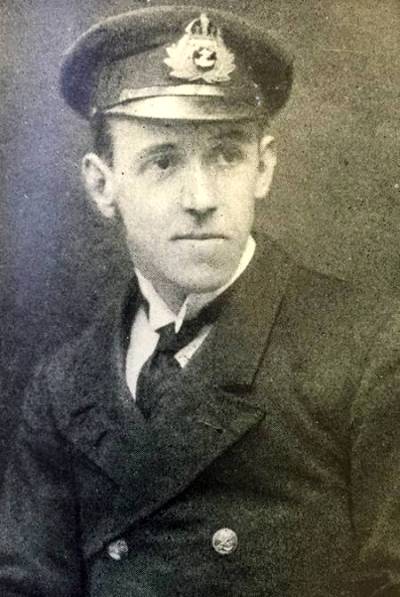 Sub Lieutenant Claude Bale RNR
---
The RFR ~ Royal Fleet Reserve
The Royal Fleet Reserve of former members of the Royal Navy was established under the authority of "The Naval Reserve Act, 1900," and of "The Naval Forces Act, 1903," to provide a reserve of trained men for service in His Majesty's Fleet in time of emergency.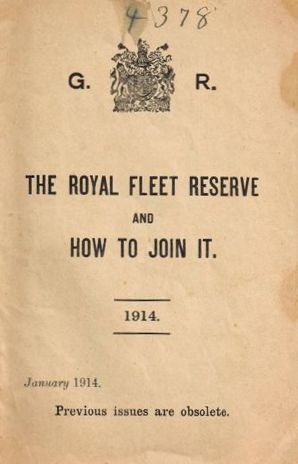 Members of the RFR received a small retainer and to be eligible for enrolment, had to be either in possession of one or more Good Conduct Badges, or have borne a satisfactory character generally throughout their active service, and must have been recommended for enrolment by the Commanding Officer of their Ship. Men underwent a week's training immediately on enrolment, and one week's training in each calendar year during their period of enrolment.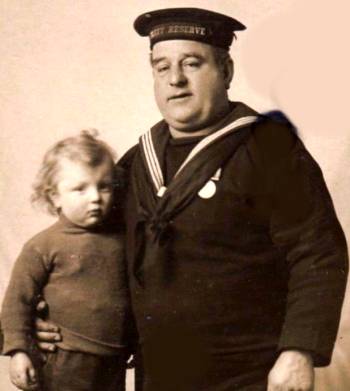 Upon mobilisation, men were paid a Retainer of 1s. a day, plus an embarkation allowance of 8½d. a day, plus pay for any Good Conduct Badges to which they were entitled.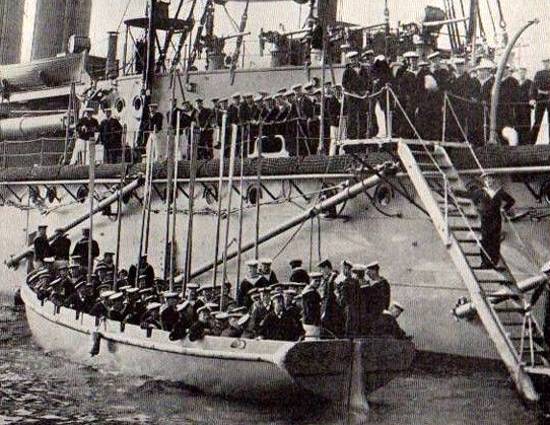 Royal Fleet Reservists mobilising.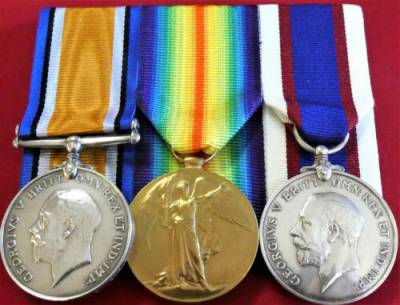 R.F.R. Long Service & Good Conduct Medal
---
The RNR ~ Royal Naval Reserve
After some years of discussion in Government it was proposed that a suitable source of trained seamen required in wartime could be found in the men of the Merchant Service. The Admiralty took some convincing but finally in 1859 the Royal Naval Reserve was established - but for ratings only. It was not until 1861 that the RNR included officers. To be a member of the RNR a man had to be employed at sea. Should he take-up employment ashore for whatever reason, he was discharged or in the case of officers, retired from the RNR. Although this provided a number of officers and ratings it did so in somewhat limited numbers and calling them out for service in the Navy was to the overall detriment of the mercantile marine.
Deck officers tended to come from the more affluent southern England and often had families wealthy enough to send them for expensive pre-sea training aboard training ships such as the Conway and Worcester. These gave exclusive entrés to the larger mail-ship companies and often the Navy itsel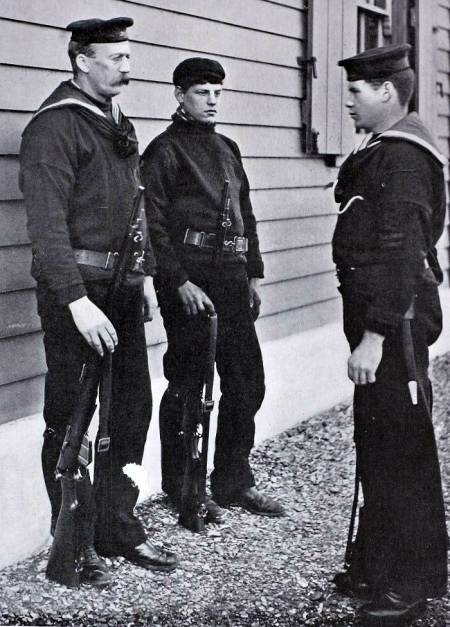 The Royal Naval Reserve was established in 1859 and was made up of experienced seamen from deep-sea merchant ships and fishing trawlers.
Formed under the Naval Reserve Act, as a Reserve of British Merchant Navy seamen and fishermen, they could be called up in times of crisis to serve in the Royal Navy.
In 1861, certificated officers of the Merchant Navy, who had undergone extensive periods of training with the Royal Navy, their uniforms distinguished from those of the regular Navy by distinctive lace, consisting of gold stripes of interwoven chain, were commissioned into the RNR.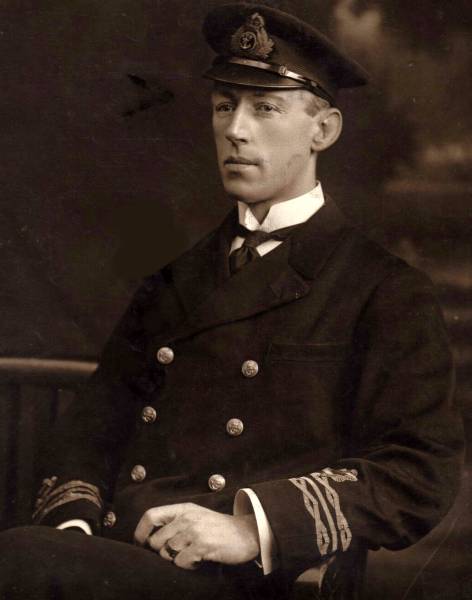 Lieutenant Commander RNR 1914
---
The RNVR ~ Royal Naval Volunteer Reserve
The Royal Naval Volunteer Reserve was instituted in 1903 and formed after years of petitioning, mainly by members of the Royal Naval Artillery Volunteers which had been disbanded in 1892. The RNVR was composed of civilians who had a love of the sea and a desire to serve afloat in the event of war.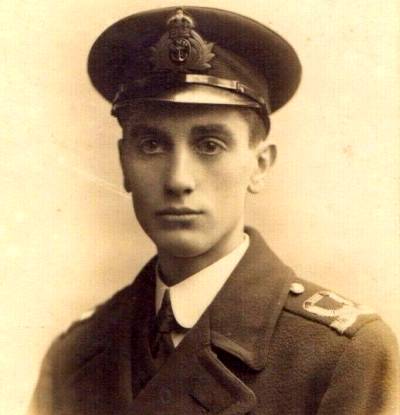 The RNVR had over 4,000 officers and men spread over six divisions at London, Clyde, Bristol, Mersey, Sussex and Tyne. When war broke out, this became known as the 'Permanent RNVR' and numbered 5,680 men. One myth, often repeated by historians, is that the RNVR was made up of rich yachtsmen. This needs to be dispelled: it was a very inclusive organisation, drawing men from all walks of life, the intake often dictated by local employment activities. While London had a large number of professional men, in Liverpool, Glasgow and Bristol the great majority were working men from shipyards, workshops, desks, and from behind counters. The London Stock Exchange and Law Courts components were made up of clerks as well as principals. During the Great War, 260 RNVR officers served on board ships larger than destroyers and sloops, with a small number serving with the 10th Cruiser Squadron, mainly as Surgeon Probationers, Signalmen and Assistant Paymasters. The former were accredited medical students at recognised universities or medical schools, who volunteered to serve for a minimum of six months or a maximum of five years. They wore the uniform of a Sub Lieutenant RNVR, with the scarlet cloth of a surgeon beneath their single gold stripe.
---
The MMR ~ Mercantile Marine Reserve
The Mercantile Marine Reserve was used to engage officers and seamen on board vessels employed on government service. The crews of vessels commissioned as auxiliaries by the Admiralty were signed on under a T.124 agreement, whereby they agreed to serve in any commissioned vessel, but retained aspects of their civilian pay and benefits.
Members of the MMR signed an agreement with the Admiralty to conduct themselves according to Naval regulations, obeying RN officers and authority while their peacetime merchant ship was serving as an RN ship. The discipline was not as exacting as that for regular RN personnel, but at a higher level than the merchant marine in general.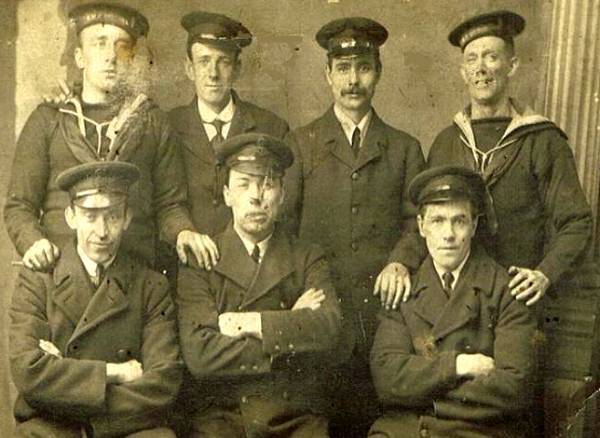 MMR - Ratings, Stewards and Petty Officers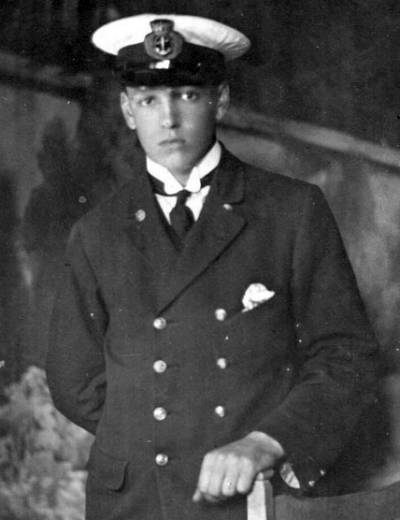 MMR - Apprentice Deck Officer
The Mercantile Marine War Medal was established in 1919 and awarded by the UK Board of Trade, to mariners of the British Mercantile Marine (later renamed the Merchant Navy for service at sea during the First World War.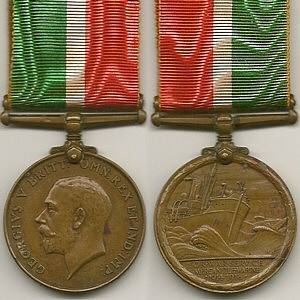 Mercantile Marine War Medal of 1919
---
The RMLI - Royal Marines Light Infantry
Each Armed Merchant Cruiser had a Royal Marine detachment on board, under a Non-Commissioned Officer. Typically, there were between 25 and 45 depending on the size of the AMC. Men from both the Royal Marine Artillery as well as the Royal Marine Light Infantry were drafted to the Squadron.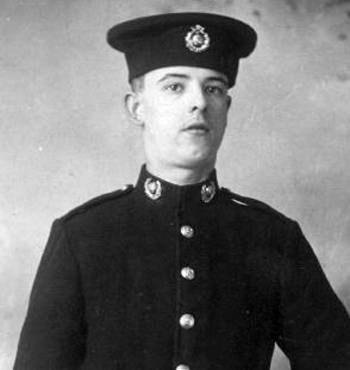 ---
HM Coastguard
HM Coastguard was established in 1822 with the primary objective of preventing smuggling, and responsibility for giving assistance to shipwrecks.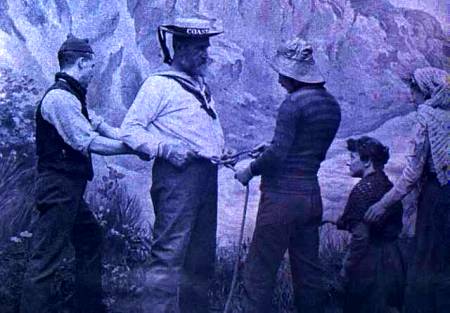 The primary role of AMCs, intercepting and boarding foreign merchant ships, utilised the skills of embarked men of the Coastguard, in checking ship's papers and searching for smuggled contraband. During World War One nearly two thousand Coastguards died at sea with 1,459 lost in one battle alone.
---
The youngest men on board, with ages ranging from fourteen to nineteen. were the India's seven RNR Midshipmen.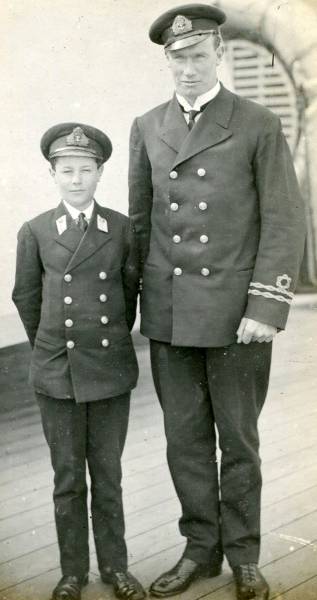 Drawn from cadets and apprentices in the P&O and other major shipping companies, they were renowned for their great courage and youthful enthusiasm.
Midshipmen Cruikshank, Ross, Jenkins, Mc Keog and Black survived the sinking but tragically, Potter and Wood were lost.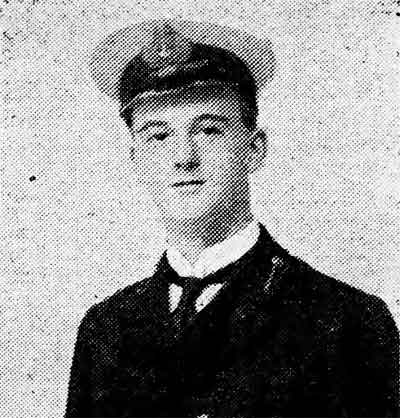 Midshipman Howard R Jenkins RNR, aged 17
---
Discipline
All embarked personnel came under the strict regulations of The Naval Discipline Act. A routine event which brought home its reality to all on board, but more especially the Mercantile Ratings, was the regular reading of the 'Articles of War' - the sections of the the Naval Discipline Act relating to the punishment of offences, which were displayed in an accessible part of the ship, for the information of the ship's company. This section of the Act was to be read quarterly, together with the last return of courts-martial received from the Admiralty. Anyone hearing these solemn words for the first time, could not avoid reflecting very seriously on the position in which they found themselves. The Articles were read on commissioning and repeated quarterly 'lest their meaning should be fading in any memories'.
---
Standard Operating Procedures
The practice of 'darken ship' from dusk to dawn, where portholes and doorways would have to shed no light on deck. Deck lights, which gave limited but adequate illumination to work on deck at night, would be switched off. Familiarisation with deck layout and fittings become essential if injuries were to be avoided. Further reminders they were now at war in difficult circumstances.
The requirement to zig-zag, either to a random sequence of course alterations, or to an approved scheme, in order to confuse enemy submarines as to course and speed, had to be practiced, along with regular gun drills, live firings and small arms drills.
The majority of bridge watch-keeping officers found themselves navigating in totally unfamiliar waters, although many were familiar with the actual vessels. Only officers from the North Atlantic services of Allan Line, White Star, Anchor and Furness Withy had regularly experienced constant 'heavy weather'. Although by 1914, gyro compasses were being fitted to H.M. warships, they were yet to appear aboard merchant ships. Navigation was labour intensive, with safe navigation relying on the traditional 'lead, logline and lookout', combined with a well adjusted magnetic compass and Admiralty paper charts. If terrestrial or celestial observations were unavailable, which was often the norm, then reliance had to be placed on efficient dead reckoning to derive estimated positions. These needed human assessment of currents, the wind effects and a proper leeway allowance. In a confused following sea with the ship zig-zagging, loglines streamed astern often fouled and had to be cleared. Clearing a fouled logline would take two or three men up to 20 minutes to recover and re-stream whilst balancing themselves on a moving deck. In 1915, water depths were measured using either a hand-lead, deep-sea-lead or the patent sounding machine. Hand-leads required a party of two men, with the ship moving only very slowly ahead, whule the he deep-sea lead required the ship to be stopped and a party of 10 men. Slow moving or stopped ships were easy prey for German submarines as experienced when the Hawke was torpedoed on 15th October 1914. Well found ships were fitted with patent sounding machines which could be used when the ship was under way at normal speed. Hand driven and electric models were available. In each case the actual reading was taken by a Junior Officer or Midshipman. Steaming in 20 fathoms of water at a speed of 10 knots, soundings could be obtained once a minute and relayed to the bridge. The sounding party required two or more ratings as well as a supervising officer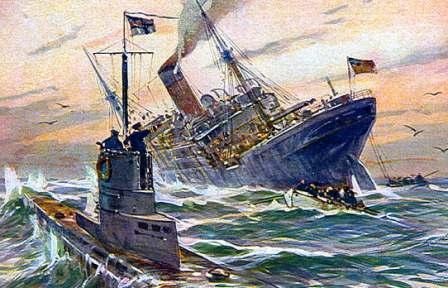 The British blockade of Germany from 1914-1919 was one of the largest and most complex undertakings attempted by either side during the First World War. While Britain employed considerable resources in other areas of the conflict, the blockade became the source of the United Kingdom's greatest effort. As the historian Eric W. Osborne noted in 2005, "It is true that the exploits of the British Army and Royal Navy aided greatly in the conflict, but Britain's greatest contribution to the allied cause was the largely unseen economic pressure occasioned by naval supremacy through the imposition of a blockade of Germany."
The spirit in which these operations were prosecuted in fair weather and in foul, and in high latitudes where cold and fog prevail, constitutes the supreme vindication of the character and seamanlike qualities of the Merchant Navy, which was to be reinforced before the war came to its close by thousands of incidents of splendid and daring heroism in face of hopeless odds, and noble self-sacrifice in the common cause.
---
India joined the 10th Cruiser Squadron on 30th April 1915 Manned primarily by RNRs - Royal Naval Reservists, many of her Company officers remained on board, simply exchanging their P&O uniforms for those of the RNR. The ship's Indian crews were landed, being replaced by British RNR ratings and petty officers. On mobilisation in 1914, the RNR consisted of 30,000 officers and men. Officers of the permanent RNR on general service quickly took up seagoing appointments in the fleet, many in command, in destroyers, submarines, auxiliary cruisers and Q-ships.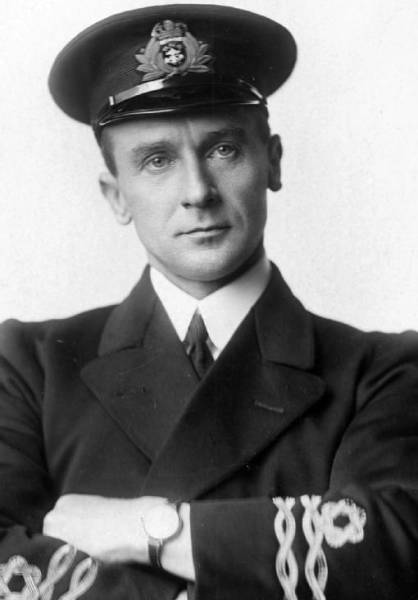 ---
Intercepting and Boarding
The Tenth Cruiser Squadron of the Grand Fleet had the task of patrolling the seas between Scotland and Greenland to intercept enemy ships trying to escape into the ocean and merchant ships who could be carrying goods destined for Germany. This was a task of great political sensitivity, since almost all the ships intercepted were neutrals, and requiring great physical endurance from ships and men in the violent seas of the North Atlantic.
The sheer tedium of the patrol, coupled with the generally atrocious weather took a significant toll on the ship's companies. Remarkable skill was required in launching the flimsy clinker-built seaboats, and in manning the oars. Launch and recovery required the ship to be almost stopped in the water, and making a lee in order to provide the boats with as much shelter as possible.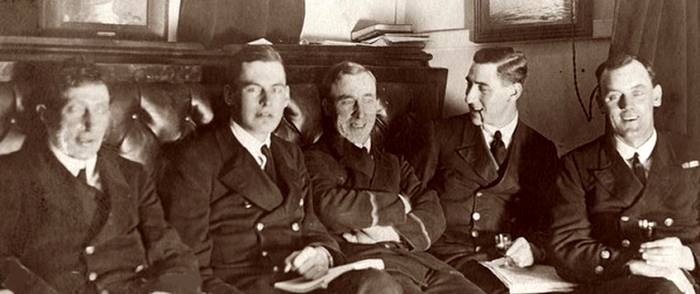 The men of The Northern Patrol were hardened, professional seamen, who performed their difficult role with great courage and personal sacrifice.
Much information can be gleaned from the regular reports of the admirals in command, to which can be added other relevant official records, and more informal documents. More interesting are the diaries describing the tedium of the patrol, There are the chatty letters of some captains, and the the appalling experiences of young officers placed in authority aboard barely seaworthy sailing ships to see that they went into port for examination.
Tension was heightened after the North Sea was declared a British 'military area' on 3rd November 1914. Despite complaints about breaches of international law, however, most neutral merchant ships agreed to put into British ports for inspection and were subsequently escorted - minus any 'illegal' cargo bound for Germany - through the British-laid minefields to their final destinations.
On Thursday 18th March 1915 the Swedish steamer Gebeland, laden with baconand other provisions, was brought into the Tees in the custody of a British patrol boat. The vessel is thus the first capture under the provisions of the Order in Council establishing the British blockade of the German coast. The Gebeland's cargo was destined for a German port The steamer was seized off the Shetland Islands. The cargo, it is stated, will be unshipped and sold under the terms of the: British Order in Council. Our cordon of cruisers does not lose efficiency because it is far removed from the German. 'pasha'. It does not matter how big the blockaded area is if you bold the only two gates into it......The Spectator 20th March 1915.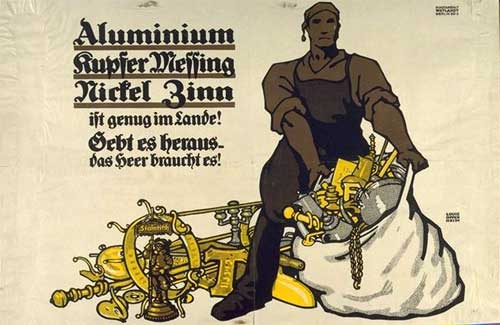 Aside from the food shortages, the Allied blockade of Germany during the First World War also created scarcities in raw materials that were vital to the German war effort. This poster depicts an imposing workman lifting up a bulging sack of 'scrap' household metals. The caption beside him reads: 'Aluminium Kupfer Messing Nickel Zinn ist genug im Lande! Gebt es heraus - das Heer braucht es! - There is enough aluminium, copper, brass, nickel, tin in the country! Hand it over - the army needs it!.
The war at sea was a test of nerves and ingenuity. Both sides had to master technologies and ways of fighting unimaginable just a few years earlier. It was a marathon of endurance and persistence, often thankless but always critically important.
Britain was quick to capitalise on its enduring naval supremacy and geographical position by establishing a trade blockade of Germany and its allies as soon as war began. While the hastily prepared Armed Merchant Cruisers of the 10th Cruiser Squadron maintained the Northern Patrol, the Royal Navy's Grand Fleet patrolled the North Sea, laid mines and cut off access to the Channel, curtailing the movements of the German High Seas Fleet and preventing merchant ships from supplying Germany with raw materials and food. The North Sea became 'a marine no man's land, with the British Fleet bottling up the exits', as Richard Hough describes it in The Great War at Sea 1914-1918.
The effect of the blockade on Germany's civilians after four years of war was noted by the British Army's Major General Sir Aylmer Gould Hunter-Weston in December 1918 during a visit to Germany, where he observed: 'the food situation is very serious indeed…The Germans are living entirely on their food capital now – they have eaten all their laying hens and are eating all their milk cows…..there is a real scarcity.'
The war at sea was not characterised by monumental battles, glorious victories and haunting landscapes as was the war on land. The Battle of Jutland was the only full-scale direct action to occur between opposing navies and even this was indecisive. Yet the blockade of supplies to Germany weakened the country, directly contributing to the end of the war, as indeed the U-Boat campaign would have done in reverse had the convoy system not eventually succeeded in saving Britain from starvation. Control of the North Sea meant no less than the difference between independence and invasion.
In 1914, the Allies commenced a blockade, which included the draconian measure of declaring food as contraband of war. Germany responded with one of its own, using its submarine fleet to sink merchant ships. The map "Sperrgebiete um Europa und Afrika" - Restricted zones Europe and Africa - depicts areas where Germany threatened to sink both Allied and neutral merchant ships. Although Germany publicized its plan, the strategy ran contrary to the accepted rules of war. The practice prior to attacking a merchant ship was to fire a warning shot; inspect the ship for contraband of war, and if found, evacuate the crew and passengers, providing them with safe refuge before sinking or capturing the ship. This method was impractical for small submarines, which could not accommodate additional persons aboard. But more so, it sacrificed the submarine's surprise attack potential.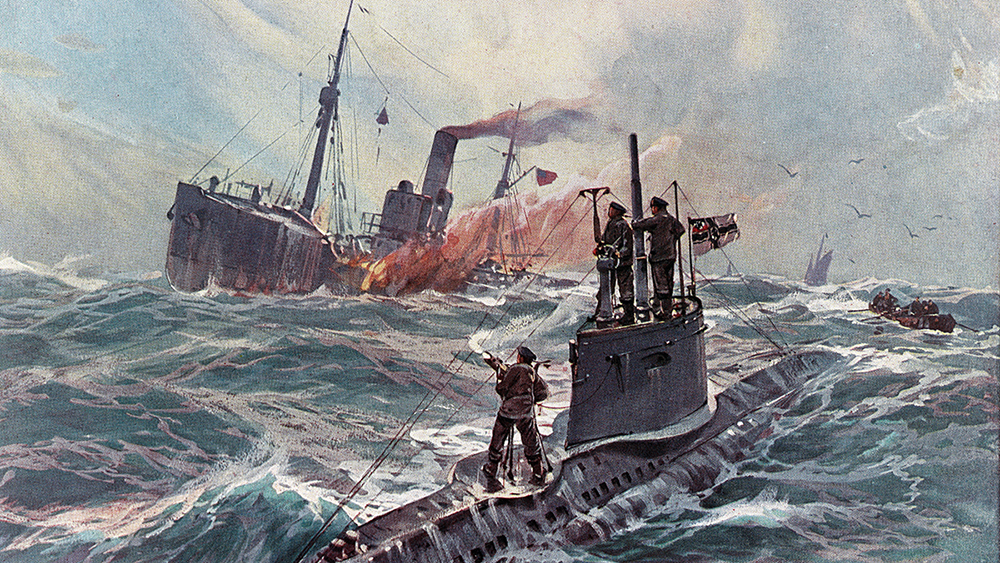 After weighing their options, on 1st February 1917, the Germans proceeded with a shoot without warning policy that became known as "unrestricted submarine warfare."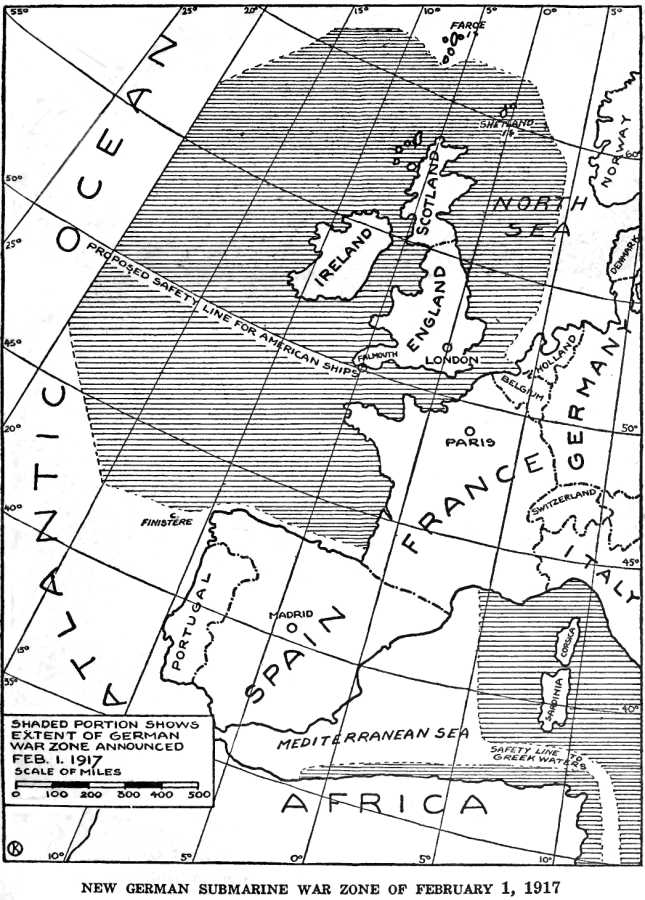 ---
HMS India - On Patrol
Extract from the diary of Midshipman McKeag RNR
After evading some newly sown mines and a submarine, which dived when the India opened fire, she took up her station as part of the 10th Cruiser Squadron. The India's patrol station on the Norwegian coast off the mouth of Vestfjord - the fjord well north of the Arctic Circle leading into Narvik - was a very busy one, and we had the use of two armed trawlers to asist us by acting as scouts. Two German merchant ships were known to be in Narvik waiting their chance to make a dash and we were eagerly waiting for them.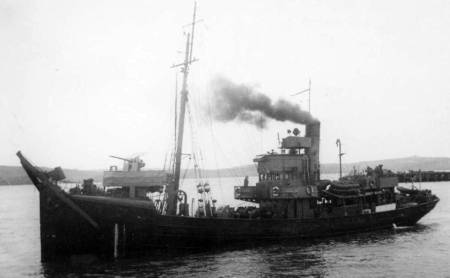 They made their dash and although one of them got through by running into territorial waters on the approach of our trawler the Tenby Castle. But it was at the expense of her - the German's - steering gear, which was smashed by a well directed shot from the trawler, before the German could cross into safety. The other German, the Freiderich Arp, was sunk by the Tenby Castle, and the prisioners, to the number of thirteen, who had been allowed to clear off the ship before the trawler opened fire, were handed over to us for safe keeping. There was also a Norwegian pilot aboard the German ship, and as we could not put him ashore, he was obliged to accompany us to Britain. We treated him in the best possible manner, and there is no doubt we reaped the benefit of it later, for when he returned to Norway after being landed at Glasgow and passing through Britain, he told the peope of Narvik how well he had been treated, and the English went up in their estimation.
The India had a number of encounters with Uboats, but had no success in sinking any. On one occasion, a submarine fired a torpedo at the India, but Midshipman McKeag relates 'it happened to be exactly ten o'clock at night, and as we altered course to zigzag every ten minutes, we were on the swing when he fired, and the torpedo went harmlessly on a parallel course to us.
---
HMS India - Operational Procedures
'Away Sea Boat's Crew!'
When a ship was sighted, HMS India was brought to full speed and course altered to intercept the suspect vessel. When close enough, a large red pennant was hoisted to indicate that the vessel had to stop. Guns were made ready and the crew closed up at action stations. All vessels were treated as possible enemies until the Boarding Officer was able to confirm otherwise. All nations had been notified of this signal and to ensure attention, two blank charges were fired. Failure to obey meant a shot was put across the suspect's bow. However, before firing, the India had to ensure her own white ensign was flying in full view. When the ship stopped, the India would position herself to windward or ahead of the target ship if there was no wind. The boarding boat would be lowered with the officer, an armed guard and a party to search the ship. This was the point at which the Fleet Reservists and Scottish RNR fishermen manned the boat and brought their particular expertise to bear. The majority of boarding parties preferred to use oars and sometimes even sail. The 10th Cruiser Squadron's ships had retained their full complement of standard Mercantile Marine lifeboats. These robust, wooden, clinker built craft were primarily lifeboats intended for survival, and were not renowned for their handling or sailing qualities.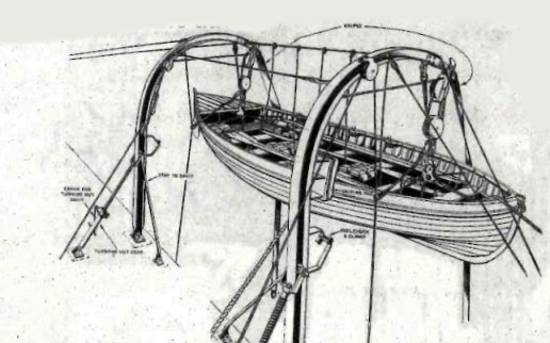 The favoured seaboat was the 27 ft Montagu whaler of which India had two, fitted with Robinson's Disengaging Gear, which had been standard gear on board RN ships since 1880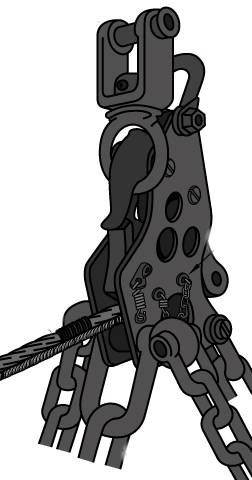 This allowed the boat's coxswain to release the boat quickly from the falls onto the peak of a wave. The tiller being lashed over towards the ship's side and with the painter or boat rope secured to the bow, the slight ahead motion of the ship would give the boat a quick sheer away from the ship's side before the release of the boat rope.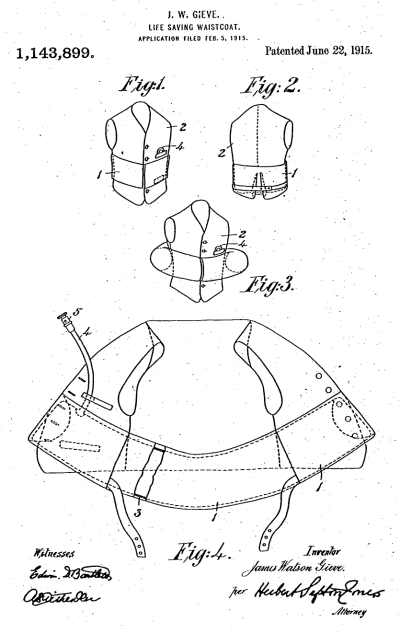 Many officers bought themselves a patented life saving waistcoat from Gieves!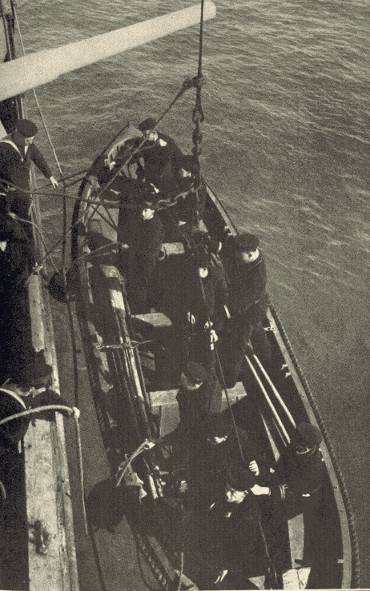 The difficulties of launching were small compared to the task of coming alongside a suspect vessel, whose crew might choose to give the bare minimum of assistance. The task of coming alongside the parent cruiser for recovery was even worse. It required careful positioning of the boat and split second timing to engage the lifting hooks, ready for the winches to take up the slack before being hoisted aboard. All this difficult boat-work was demanding enough by day but it was not unusual for it to be carried out at night. On those occasions the India kept track of her boat by searchlight - doubtless reassuring to the boat's crew - but providing a fine aiming point for any submarine in the vicinity. Time improved the proficiency of the boarding operations and the crews showed increasing pride in their work.
Some ship's masters resented being stopped and boarded, and proved uncooperative
"You can go to hell as far as I am concerned," he replied as he rang the telegraph to full speed ahead. I then informed him to go to his cabin and consider himself under arrest. I never saw a man so completely taken aback. He opened his mouth to speak but no sound came. I expected open resistance, but when I took him by the arm he went with me like a lamb. I locked him up in his cabin, placed a sentry at the cabin door, then I went on the bridge and took charge. Next morning we were in Kirkwall.
It was left to the Commanding Officer whether to arm the boat or its crew. Officers carried their revolvers, the men had their rifles with bayonets and ammunition. Swords were seldom used - the ungainly spectacle of a naval officer struggling up a boat ladder, complete with a ceremonial accoutrement, would at best give some amusement to help lessen the annoyance of a suspect merchant ship's crew or simply strengthen their anger at being stopped.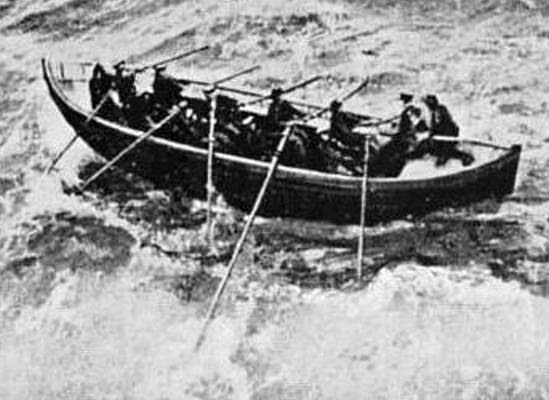 For the ship's crews, life in the Armed Merchant Cruisers was infinitely more comfortable than that aboard the old Edgar Class Cruisers, but it was still hard - the basic task requiring steadfastness and good seamanship, often in the most appalling weather the North Sea could throw at them. Every ship they met was a potential enemy, so they kept their ammunition in ready-use-racks close-by the guns, half of which were manned day and night.
Boarding an intercepted ship was always carried out at great risk to life and limb.....
"Some of these boarding trips were anything but pleasant. To be lowered in a cutter from a height of fifty feet, with the ship rolling heavily, and the boat itself swinging wildly from the davit heads, is bad enough, even when the cruiser is not moving above six knots. And then there is the final drop of some feet that gives you a hearty shake-up as the boat falls on the water. You feel it still more if, by a piece of faulty judgement on the part of the officer lowering her, the boat happens to strike a hollow between two seas." Commander Barry Bingham RN
"There is something awe-inspiring, both for the onlookers and the handful of men in the boat, as the boarding party puts off from one tall ship's side to another, over the steep green, white-topped hills, rushing down terrible declivities of an unstable switch-back. One flick of a wave at any moment could send the boat with crew to the bottom: one scend of sea could hurl the wooden craft against the neutral's steel hull and strew the water with splinters; one error of judgement in coming alongside would mean broken limbs, if not instant death." E.Keble Chatterton
"Once up the ladder, the boarding party first searched the boats and deck houses to see if they hid guns. This was not only to safeguard their own ship. Another vital function of the 10th Cruiser Squadron was to prevent German armed merchantmen from escaping into the open sea and joining their comrades for, since the outbreak of war, hostile cruisers had enjoyed considerable success attacking Allied commerce on the ocean trade routes." Nigel Hawkins
---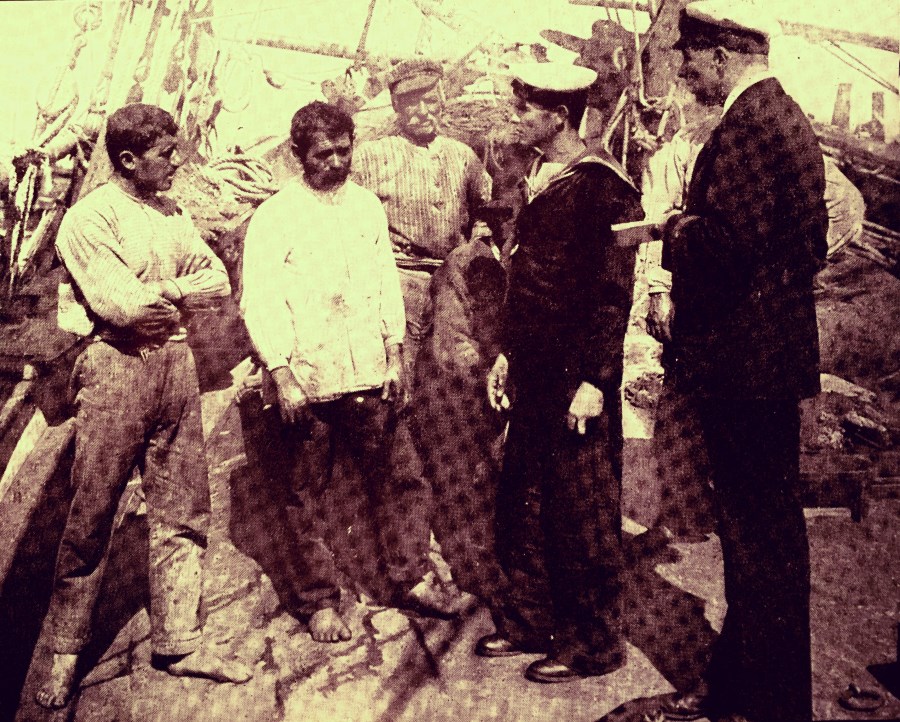 The armed search-party consisted of one Lieutenant or Sub-lieutenant with a Midshipman and six or eight men, in addition to the Boarding Officer. Once safely on deck, the Boarding Officer would introduce himself to the ship's master and separate this man from his officers and crew. The ratings would make quick rounds of the upper deck to see if any hidden armament existed and if unarmed, a signal passed to the India. Throughout the interception and boarding, the India would stay outside torpedo range and continue to zig-zag. Once the 'all clear' signal had been received, she would withdraw a further distance and continue circling the suspect, which itself was permitted to move slowly ahead, while the search and inspection took place. All passengers and crew were mustered and interviewed to seek out any German nationals travelling as either passenger or crew - and any found were taken prisoner. This was an important part of the inspection since many German reservists were trying to make their way home to help their country's war effort.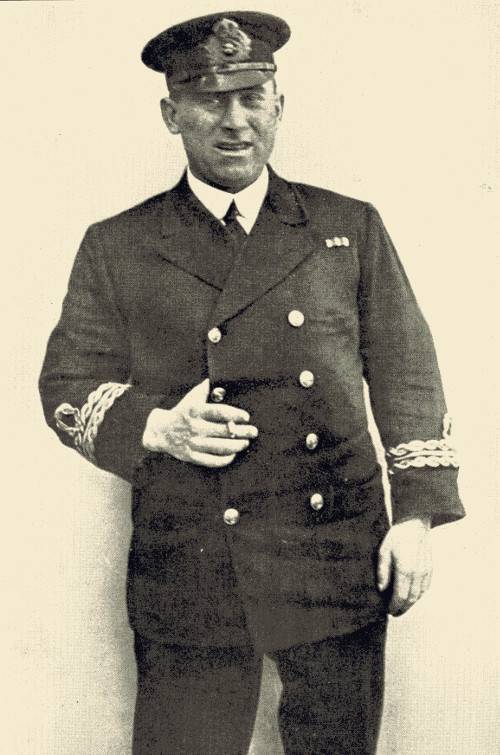 HMS India's Boarding Officer - Lt Cdr RD, RNR
RNR Boarding Officers were selected because their merchant ship backgrounds made them familiar with the layout of a merchant ship, the different cargoes likely to be encountered and a ship's papers, cargo manifest and mate's receipts. The purpose of the boarding was to identify a neutral ship and her destination and to ascertain the nature of her cargo to see which category of contraband - absolute, conditional or free, it fell under.
Boarding Neutral Shipping.Chapter 6.147
The Boarding Officer's Guide set out the approach to be adopted. An overriding requirement, repeated in Squadron Orders, was to show courtesy: The Boarding Officer should treat the ship's officers, crew and passengers with courtesy and consideration ............ he should invariably - in the name of His Majesty - formally intimate to the master and passengers of neutral vessels boarded, his regret at the necessity for stopping the vessel, and at the same time assure them that every consideration will be shown to their wishes and comfort compatible with a thorough examination of the vessel.
The master was required to produce the usual ship's papers to confirm the ship's nationality and date of registration, the nature of the cargo together with its time and place of shipment, the cargo's port of discharge and to whom the goods were consigned as well as the weight, freight, volume and sometimes the value of the cargo. Whenthe Boarding Officer was satisfied with the papers and the examination of the vessel and cargo, then entries were made in the ship's logbook and the vessel allowed to continue its voyage.
Each boarding could take about two hours as there was a degree of paper work to be attended to, especially if the master protested the manner in which the inspection was conducted. International law did not recognise any protest about being stopped but did allow for protest about the Boarding Party's conduct. If there was only a small quantity of contraband, then the law allowed the destruction of that cargo with the master's permission, after which he may be allowed to proceed. In such cases the certified copies of cargo manifests and logbook entries had to be exchanged for subsequent submission to a Prize Court to justify naval action. The Boarding Officer's Guide lists pro-forma affidavits for some eighteen different circumstances, so the officer brought with him quite a stock of official stationery.
If any suspicion arose from the ship's papers and a cursory examination of the cargo, then the vessel would be seized, placed in charge of a Lieutenant, Sub Lieutenant or Midshipman RNR, plus an armed guard, and sent into an examination port. First choice was Kirkwall in the Orkneys with Stornoway in the Hebrides as an alternative, whilst Lerwick in the Shetlands was only used in exceptional cases.
The Prize Officer and armed guard had to be self sufficient in respect of food for they had no right to be victualled on board a captive vessel. Usually this amounted to tinned corned beef and bread, sufficient for the passage and two days detention in Kirkwall. Warm drinks were cadged from the neutral's galley. However, many vessels did provide food and some form of shelter. Usually the master made the Prize Officer welcome in the saloon but caution was exercised when receiving hospitality, since poisoning was always a possibility. Each AMC was allocated an extra two officers and twelve ratings in its complement to cover these duties.
Ostensibly carrying barley for Kalwar in Sweden, Midshipman F.L.McKeag RNR recorded that on arrival at Lerwick, a proper search of the American barque Dirigo, revealed aeroplanes and armoured cars destined for Germany......
One particular challenge for the Boarding Officers was that of the sailing ship. The handling of sailing ships was a dying skill for Merchant Navy officers by 1914. Nevertheless, the Reports of Proceedings and statistics show they were frequently a target for boarding and sometimes had to be sent in for examination. Boarding Officers were probably at Senior Second Officer or Junior Chief Officer level in their civilian role and able to call on some sail experience. Often the officer in charge of an Armed Guard would be a junior lieutenant or sub-lieutenant or even a midshipman. This age group was likely to have little or no sail experience and a sailing ship master could pull the wool over such young eyes in the matter of sail operation.
Masters of vessels allowed to continue their voyage were issued with a list of the 'Flag of the Day' to be flown for the remainder of the day of boarding and one for each of the three subsequent days. This flag related to the ship's destination and indicated to any other cruisers of the squadron that the ship had already been boarded..
Intercepting, boarding and inspecting were the raisons d'être for the 10th Cruiser Squadron's existence. The order, 'Away Sea Boat's Crew' brought together the dangers of the sea and weather with the onerous responsibility of diplomatic legal interpretation aboard neutral ships. By any standard these would have been significant challenges in themselves. However, they had to be met daily against the background threats of destruction by the enemy's weapons both on and beneath the sea
---
HMS India's First Boardings
Ship's Log 30th April 1915
Northern Patrol Area as Allocated
0240: Sighted two ships on port bow
0300: Full speed ahead; challenged ships
0305: Hands to action stations
0700: Sighted HMS Cedric; challenged
0810: Commenced zigzag
1510: Sighted HMS Alsatian
1603: Engines as requisite for keeping ship in position 5 cables from HMS Alsatian
1623: Lowered starboard whaler; Lieutenant Groundwater RNR and paymaster left for HMS Alsatian
1736: Parted company with HMS Cedric and HMS Alsatian
1807: Challenged Norwegian barque Rollo, bound to Canada in ballast
1913: Stopped and challenged Danish SS Jens Bang
1920: Sub-Lieutenant Nelson RNR boarded her; bound for Copenhagen from Boston with grain
1955: Signalled her to proceed to Kirkwall
---
Ship's Log 9th May 1915
Northern Patrol Area as Allocated
0820: Altered course N5W to intercept 2 SS on port bow
1010: Stopped and sent boarding officer to Norwegian SS Baune with coal to Archangel
1040: Let her proceed
1100: Hoisted whaler and proceeded
---
Ship's Log 14th May 1915
Northern Patrol
0610: Boarded SS Malmland
1038: Boarded SS Nordland
1145: Ordered SS Nordland to proceed to Kirkwall
1300: Stopped SS Volrath Tham
1330pm: SS Volrath Tham ordered to proceed to Kirkwall
1900: Signalled HMS Alsatian
---
0n the 18th May, she put into Glasgow for coaling and Sub-Lieutenant Nelson RNR returned onboard.
---
Ship's Log 28th May 1915
On passage, Glasgow to rendezvous, Northern Patrol
1330: Engines as requisite to close HMS Alsatian
1340: Sent away sea boat
1410: Sea boat hoisted and secured
1415: Proceeded in order to intercept vessel
1500: Vessel found to be SS Nexos, Oefjord to Liverpool, ballast
2310: Suspicious object reported aft
---
"Abandon Ship!"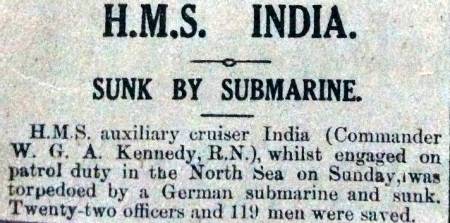 A Sketch by Able Seaman George Ward
An account of the sinking, from The Big Blockade, by E.Keble Chatterton, written in the 1930s:
HMS India's commanding officer, Commander W G A Kennedy RN, had just left the bridge temporarily to give the wireless operator an order, leaving Sub-Lieut. E. W. Alltree, R.N.R., in charge, the time being 5.40 p.m. Suddenly the look-out man on the fo'c'sle reported : "Submarine on starboard bow!" Looking in the direction indicated, Alltree saw the white feathery track of a torpedo approaching from only 300 yards away. Commander Kennedy had barely left the wireless-house and reached the next (hurricane) deck, when he heard the alarm gongs sounding. Running back to the bridge, he was in time to witness the torpedo track foaming at an angle of about 30 degrees from the bow.

"Full speed ahead! Hard aport!"

The order was obeyed promptly, and at first it looked as if danger had just been averted, for the track seemed to have reached the ship and nothing to have happened. Evidently the missile had gone under the hull!

Then came that ominous thud, with the explosion. A hit!

The torpedo struck its target below No. 3 starboard gun, and immediately the P. & O. liner began to sink by the stern, heeling 10 degrees to port. The Commander ordered messages requesting assistance to be sent out, and then came, "Abandon Ship!"

Seven boats had been kept in a state of readiness for such an emergency, and swung out. In spite of the appalling swiftness of the catastrophe, the most perfect discipline and behaviour continued till the end. Boats were being lowered, life-rafts being prepared, extra lifebelts being served out, whilst down below water was rapidly rising in the engine-room, where a like stoic calmness prevailed till the sea swept the staff away. Unfortunately, as many readers well know, there are few occasions more difficult than that of trying to lower boats from a sinking merchant steamer with the old-fashioned davits. Over and over again it happens that one of the falls (the ropes by which a boat is lowered) runs out with a rush and shoots its people into the water. But especially awkward is the lowering when the ship has a heavy list.
Thus the starboard boats never reached the water, being hopelessly thrown into confusion because the first lifeboat's foremost fall freed itself, ran out, and so made the boat to swing round, fouling two others, whilst the fourth (and last) got stove in against the steep-heeling ship's side. On the port side, however, three out of the four boats were safely lowered and got clear; but - again an accident which had so often occurred in peace-time to big steamers - the fourth boat capsized as she touched water, just because the stricken vessel had still got so much way. The result was that, notwithstanding all the efforts to save life, there perished nine officers and 107 men, only 189 officers and men surviving, but 157 of these had either dived off the ship or, having gone down with her, came up again.

There is no sadder sight for a sailor than a sinking ship - many of us can never forget the pain during those war years of seeing some noble vessel lurching and wallowing helplessly before the final plunge - yet for the Captain who has nursed his ship through gales and danger zones, only to find her suddenly slipping from under his feet, there is a particularly poignant grief, which is no more capable of being described than the distress of a mother weeping for her firstborn can be expressed in words. Commander Kennedy had neither the time nor the chance to readapt and react to the quickly changing conditions. Five minutes before he was on the bridge; then he was trying to save his men; another swift spasm and he found himself going down with the India, clinging to the foremost port davit, till he eventually floated up alive among the wreckage and was hauled into a boat.

Sub-Lieut. Alltree was able to leave in one of the boats that was already about full, and only with difficulty on touching the water could she get away from India, which was going ahead at 10 knots in spite of the change in trim. A horrible spectacle then presented itself to him who a few minutes ago had been officer-of-the watch. He saw the vessel's stern go deep down, her bows lift right out of the water, the guns on the fo'c'sle carry away, the hull break in two - and then nothing remained of the 8,000-ton liner that had made so many safe voyages during the last nineteen years, only a confused, meaningless mass of spars, rafts, and broken wreckage floating this way and that. Already 35 men were in the boat, whilst another was dangerously deep, having shipped so much water in the act of being lowered.
Some men were still struggling in the swell to anything that floated, but now a Swedish steamer from a couple of miles away had observed their plight and was coming to their assistance, though the present danger existed in the overcrowded boat being likely to capsize. Sub-Lieut. Alltree, after heading for the steamer, finally decided to make the land, which was some seven miles E.S.E. of Helligvar. He saw the Saxon going to rescue those still in the water, but he saw also (after going a couple of miles) the periscope of the submarine. It came towards the boat and dived only when some thirty yards away. At 8.30 that evening Alltree's party reached Helligvar, where the Norwegians received them with kindness, giving them food and rooms for the night. Early in the following morning three bodies were brought ashore by local motor-boats. A Norwegian gunboat took the survivors and bodies to Bodo. Other survivors were picked up by the Saxon and the Swedish steamer, thus reaching Narvik together with eleven more bodies. With full honours, and attended by Norwegian naval, military, and civil authorities, the sad funeral ceremonies took place, flowers, evergreens, and wreaths from the kindly Norwegians being placed with the White Ensign, Union Jack, and Red Ensign picked up from the India.

She was sunk barely three months after joining the 10th Cruiser Squadron, off Helligvær, near Bodø, Norway, on Sunday 8th August 1915, where she investigated a suspected blockade runner.
At 0830 she had sighted the Swedish steamer Gloria, which was intercepted and boarded. Details of Gloria were 'wirelessed in'. Other ships were sighted and followed, and the Gloria ordered into Kirkwall at midday. At 1740, a torpedo track was spotted approaching and alarm gongs sounded throughout the ship. With very little way on, India was unable to take evasive action in avoiding the weapon. which struck the ship on the starboard side, aft near No.3 gun and in way of the aft ammunition magazine. The ship immediately started to settle by the stern. Of the four starboard and three port boats kept lowered for such an emergency, six were successfully manned but with ship's way still on, a port boat capsized and on the starboard side, the boats were fouled or stove in.
The ship sank in just over five minutes, victim of a torpedo fired by U-22, commanded by Kapitänleutnant Bruno Hopp.
India's sinking caused the deaths of 160 of her crew - the surviving 22 officers and 119 men were taken to Narvik and interned for the duration of the war.
---
HMS India suffered the great misfortune of being the first of the P&O ships to be lost, and with great loss of life.
According to German records held at Kiel, U-Boat 22 sank 43 ships and damaged 4 others, before surrendering to the Royal Navy on 1st December 1918.
Ernst Hashagen, who happened to be serving in U-22, later published the German version of how the India was sunk. "For months past", he wrote "reports had been coming in repeatedly that a British auxiliary cruiser was operating off the Lofotens and disturbing the German ore traffic from Narvik. We were to put a stop to this business by attacking and sinking the ship." The torpedo was fired at 1,200 yards, and, after hitting India, the submarine dived to 10 fathoms. When again she was sighted it was because she returned "to the scene of the wreck after about two hours to fish up buoys or other flotsam which may reveal the ship's name, which we do not yet know". But U-22 was frightened by the British trawler and Norwegian, ''so we abandon our intent and retire again submerged". Not till the submarine got back to Germany was it learned that the victim had been the India.
---
Torpedoed....
From the diary of Midshipman Ernest L. McKeag Royal Naval Reserve
"Submarine on the port bow!"
Lieutenant Sydney Clark RNR, the Officer of The Watch, ran to the starboard bridge wing, shouting "Submarine. Submarine!", then "She's fired a torpedo at us!"
Midshipman Ernest L.McKeag RNR, looked over the bridge dodger and saw the wake of a torpedo. It seemed to be coming directly for the ship's foremost magazine, and he braced himself for a terrible explosion. Then froze, and looking over the dodger again, saw the torpedo apparently alter course and strike about ten yards abaft the after magazine. The ship shuddered terribly at the shock.
'The Commander gave the order for boats to be got away. I made my way to my boat, number three. A number of men got into the boat, and Lieutenant Charles Nelson RNR, the officer in charge, stayed to lower the after fall, while a seaman manned the forward one, and they started to lower away. As we reached the hurricane deck, a few men jumped in, but most waited for the boat to hit the water, when they would slide down the falls into it. The ship had taken a list to port, so the boat caught on every projection on the ship's side, taking a long time to lower, and damaging the gunwale. Because there was still way on the ship, no sooner had our boat touched water, than it was carried half under the whaler behind us. We could not cast off or cut the falls, and one man was pinned under the whaler. He was eventually pulled out but with a smashed arm and shoulder, he died subsequently in hospital. The ship was sinking so quickly that by now the after well deck was awash, and we found ourselves on a level with the boat deck, with tremendous volumes of water dashing over us. Men were being washed in and out of the boat, and seeing that it would be dragged down with the ship, I jumped......'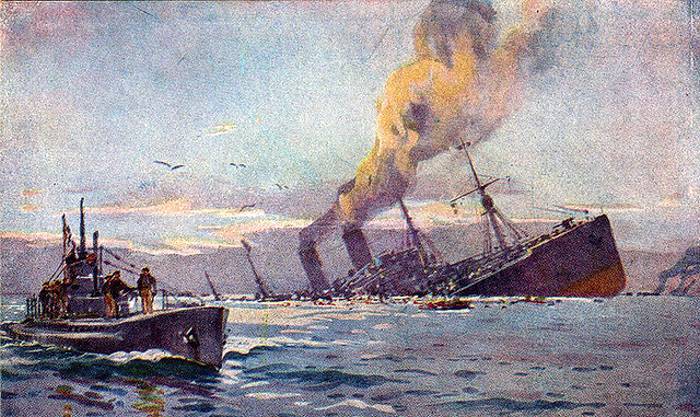 ---
The Aftermath
Two boatloads of survivors pulled ashore, while the remainder were picked up by the Armed Trawler Saxon and the Swedish steamer Gotaland. In his report, Commander W.G.A Kennedy RN, the India's Commanding Officer stated his 'admiration at the magnificent behaviour of the officers and men, as notwithstanding the appalling swiftness of the catastrophe, the most perfect discipline prevailed until the end.'
Midshipman Ernest L.McKeag RNR, born on the 19th September 1896 at Newcastle Upon Tyne, had joined the India in April 1915, and as the ship went down, he jumped into the water and managed to cling to a mast, and then, after having gone under three times, and fighting his way back to the surface, a wooden door, which saved his life. 'I was fearfully cold,' he recorded in his diary. 'I felt very sleepy; a piece of wood wedged itself between myself and the mast and I rested my chin on it and knew no more.......when I came to I was surprised to find myself huddled in the bottom of a boat that was alongside the Gotaland.' In the morning he awoke to discover he was dressed in a shirt and underpants belonging to the Gotaland's Captain, and learned that he had been the last survivor to be picked up, having been in the water for three hours.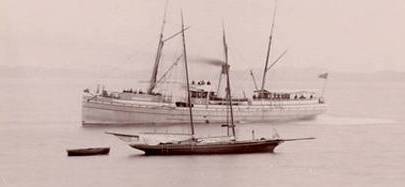 Thanks to the kindness of the the Gotaland's Swedish Captain and Crew, the 19 year old Ernest survived, and was Gazetted Temporary Sub Lieutenant on 7th April 1918.
---
Able Seaman George Ward's remarkable story appeared online in 'My Grandfather's Bath'
https://afterwork101.wordpress.com/2012/11/11/my-grandfathers-bath/
"On the afternoon of 8th August 1915, my grandfather was taking a bath on board the merchant cruiser HMS India, which was stationed just off the Norwegian coast where it was tasked with intercepting ships supplying iron ore to Germany.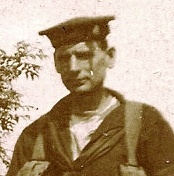 Able Seaman George Ward
At 5:40 pm, torpedo tracks were sighted and the alarm was sounded. Before the development of underwater detection technologies, submarines were the sea-monsters of the industrial age: patrolling freely and attacking at will. Many British sailors of this period suffered from "sub-itis" – a terror of being attacked by submarines – and would often sleep on deck rather than risk sudden death at the hands of an undetected U boat.
My grandfather, however, was a professional sailor with 12 years' service in the Royal Navy behind him and, in the finest traditions of the service, kept his head and finished his bath. After drying himself and getting dressed, he headed to the lifeboats, pausing only to collect an axe. Although the lifeboats were quickly manned and lowered, they remained connected by rope to the rapidly sinking ship. Each time the movement of the ship tightened the connecting rope, my grandfather swung at it with his axe and in this way eventually cut the rope, enabling crew to row clear. Other boats remained attached and were crushed or sunk.
Transcripts of Admiralty records suggest that around 120 men were lost and between 138 and 189 survived (including those who jumped into the sea or went down with the ship and made their way back to the surface). The survivors were taken to nearby ports and then interned in neutral Norway for the rest of the War.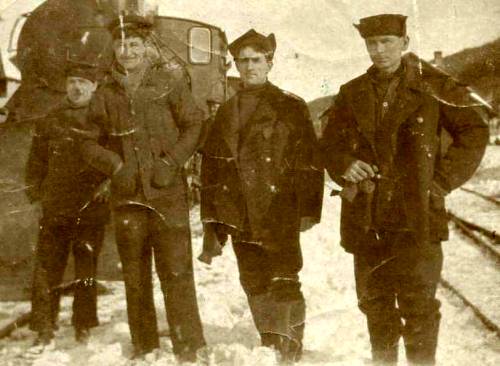 AB George Ward, on right, with fellow India survivors in Norway
Like several of the ship's crew, he was allowed to return home in order to attend a family funeral, but was honour-bound to return to captivity.....
---
Chapter 11 ~ Belligerents Interned and Wounded Tended in Neutral Territory Art. 11 of the 1907 Hague Convention provided that:
"A neutral Power which receives on its territory troops belonging to the belligerent armies shall intern them, as far as possible, at a distance from the theatre of war.
It may keep them in camps and even confine them in fortresses or in places set apart for this purpose.
It shall decide whether officers can be left at liberty on giving their parole not to leave the neutral territory without permission. "
Survivors from HMS India were taken ashore in one of three ways: ten officers, seventy-two men and four dead were picked up by the Swedish ship Gotaland and taken to Narvik. Eight officers, fifty-two men and seven dead were picked up by the armed trawler HMS Saxon and landed at Narvik. Forty-eight men and three dead came ashore in two of HMS India's ship's boats at Helligver.
According to the rules of war, men landed by the Gotaland were permitted to return to Britain, but the rest were interned for the duration.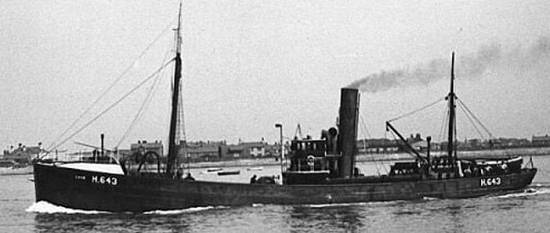 HMS Saxon was allowed to stay at Narvik, a neutral port, for a maximum of twenty-four hours. Commander Kennedy, HMS India's commanding officer, was offered the chance to take passage in her, but opted to remain with his men.
The dead were buried with full ceremony in Narvik Cemetry.
---
The Norway Years
After the union with Sweden had been dissolved in 1905, the main goal of Norwegian foreign policy was to consolidate the country's newly found independence. To achieve this, it was essential that the country should stay out of armed conflicts, and to this end, a policy which aimed at securing Norway's neutrality was adopted. A treaty with the four Great Powers of the day guaranteed her independence and territorial integrity - on paper at least.....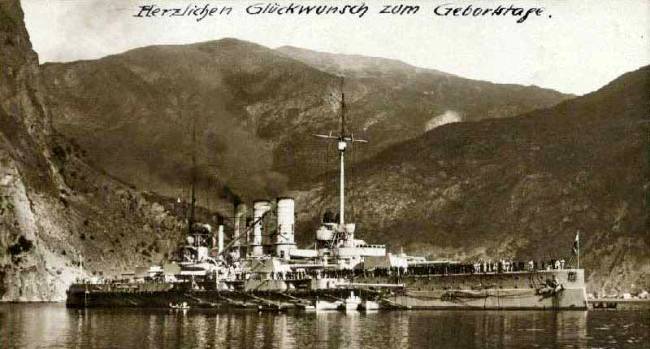 The German Helgoland Class Battleship SMS Oldenburg anchored in a Norwegian fjord.
Postcards postmarked between 1896 and 1914 pictured frequent visits to Norwegian coastal waters by German warships suggesting deliberate intimidation.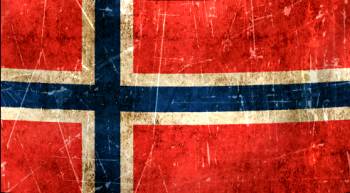 When war broke out on 28th July 1914, the Norwegian government acted quickly and decisively to protect its policy of neutrality. On 30th and 31st July, officers and essential crews were called up for the navy and the coastal fortresses. On 1st August there was full mobilization of conscripted personnel for the navy. The following day it called up the part of the army earmarked for coastal defence and put it on a state of alert.
Within weeks, Norwegian flag ships were being sunk by German U-boats and surface raiders, arousing strong public feelings in Norway, which became even more strongly anti-German, and pro-British.
Norway, with a population of a little less than 2.5 million, managed to stay neutral, but the war still crept into Norwegian life and impacted it in numerous ways. With a large merchant fleet – the fourth largest in the world – and heavily dependent upon imports, Norway's relations with the belligerent parties became problematic soon after the outbreak of war.
---
Two drawings by Benjamin Blessum (1877–1954), a Norwegian American painter and illustrator who used political cartoons to chronicle the First World War.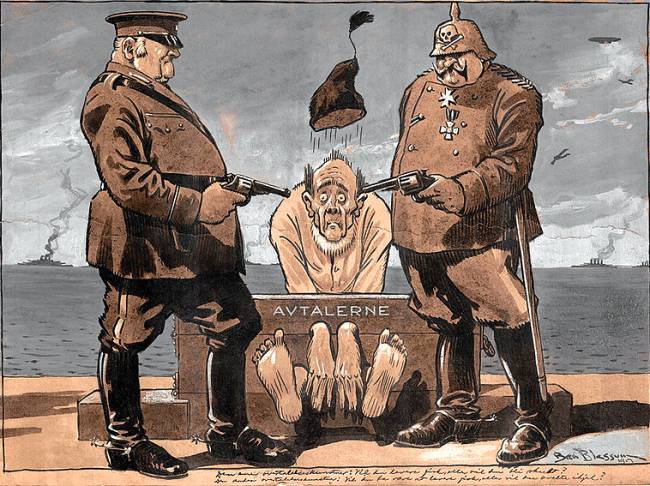 This cartoon is a pictorial representation of neutral Norway's position - trapped between two warring global powers with no means of escape. Vesterheim Norwegian-American Museum.
'AVTALERNE' = AGREEMENTS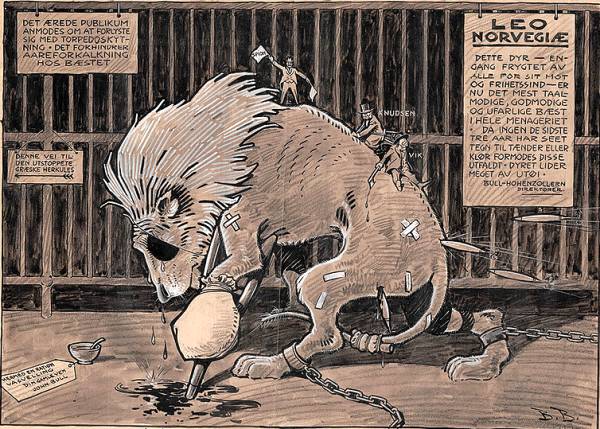 This cartoon stands as a stark image of how Norwegians perceived their national identity after years of political, social, and economic turmoil that occurred as a result of the war. Norway's national symbol, the lion, is starved and abused in a cage owned by Great Britain and Germany.
---
When Germany declared war on Russia on 1st August 1914, Norway, along with Sweden and Denmark, issued a declaration of neutrality. On 4th August the Norwegian government issued an additional, separate statement, again emphasizing its neutrality. Two days earlier, the Norwegian navy had been mobilized and soldiers were sent to man the coastal fortresses; the neutrality guard was thus established. Norway was ready to defend its neutrality, despite being both politically and militarily unprepared for war. Norwegian armed forces had not fired a shot in anger since 1814, and the political authorities had no experience of international crises. Heavily dependent on the income generated by its merchant fleet and needing to import supplies, the war at sea had a large impact on Norwegian daily life. Great Britain's militarization of the North Sea, forced Norway, Sweden and Denmark to follow British instructions and thus come under British control. Those who did not follow British instructions ran the risk of sailing into minefields. British measures towards neutral shipping and trade were tolerable, although they conflicted with international law. Norwegian merchant ships were given safe sailing routes north of Scotland, allowing them to bypass British harbours
.......all ships passing a line drawn from the northern point of the Hebrides through the Faroe Island to Iceland did so at their own peril......
The Norwegian government's most pressing problem was to secure the necessary supplies of food and fuel. Large-scale imports of grain were a priority. When Britain tightened the blockade, Germany turned to submarine warfare, the impact of which on the Norwegian economy was immense.. It soon became necessary to reach an understanding with the British government that would ensure Norway's ability to receive supplies. Less than six months before HMS India was sunk, in the Spring of 1915 Germany started to purchase large quantities of fish, essentially buying everything they could get hold of, thereby driving up prices. For the Norwegians, the result was two-fold. First, fish became so expensive that fish products suddenly became a luxury. Secondly, because of the German demand for fish, it became difficult for Norwegians to get hold of any fish at all. For a nation of fishermen and fish-eaters, this was a matter of significant concern to every Norwegian. The fisherman no longer brought their catch to land - they simply sold it to German boats while they were still at sea. The British wanted this trade with the Germans to stop. Since they controlled the necessary supplies for the Norwegian fisheries – coal and oil – they were able to exert pressure on the the Norwegians.
Against this background, the HMS India's survivors were interned in Norway, for the duration of the war.........
---
Liaison with the Norwegian authorities regarding the supply of food, tobacco and clothing to British internees from HMS India at Jorstadmoen Internment Camp were remarkably good. Soon, arrangements were made for supplies to be sent from the UK on a regular basis.
Maintaining morale in the camp was left to Commander Kennedy and his officers. Initially difficult, with many men suffering badly from neurasthenia brought on by post-traumatic stress, and the guilt felt by many at having survived, when so many had died, once routines were established, sporting activities organised, discipline prevailed. The majority of the men, seasoned seafarers, coped well. Letters home were quickly organised, but censored - as were the replies from home, families and loved ones.
My grandfather, John Roland Anderson, described internment as pretty ghastly - men were set to piece work; the camp guards were not friendly and several sailors went mad. My grandfather was granted leave to return to England December 1917 and he married his fiancee by special licence on New Years Day 1918 before he returned to Norway till the end of the war.
Undoubtedly, with so many men dying on the Western Front and old shipmates and comrades fighting as infantry with the Naval Division at Gallipoli - and suffering terrible losses - the plight of the internees - compared to that of men in the trenches - wore heavily on the minds of many. At Jörstadmoen, as long as Norway managed to keep out of the war, they were comfortable, comparatively well fed and after settling in, able to enjoy social activities such as football, swimming and skiing.
The ship's officers undoubtedly fared better than the men : the Norwegian army officers and the local ladies saw to that.
The British Internment Camp at Jörstadmoen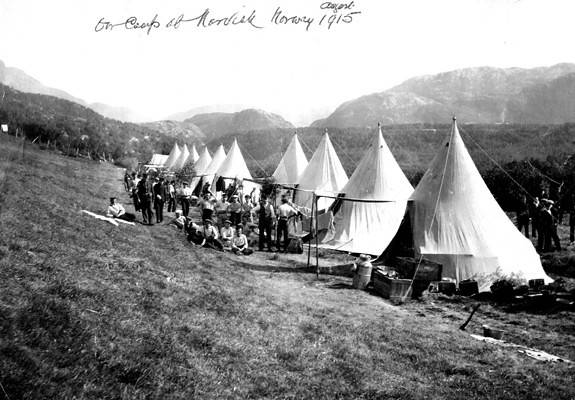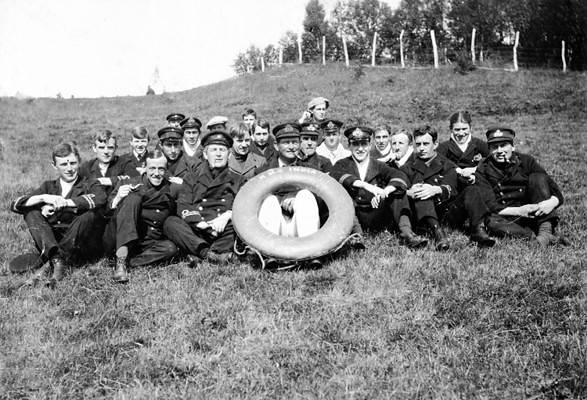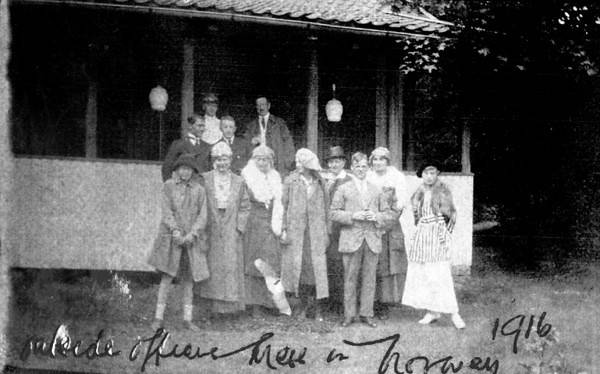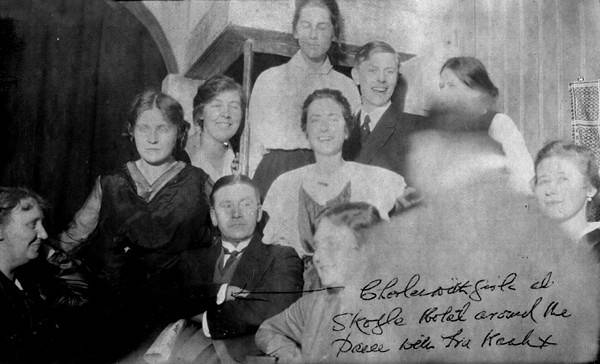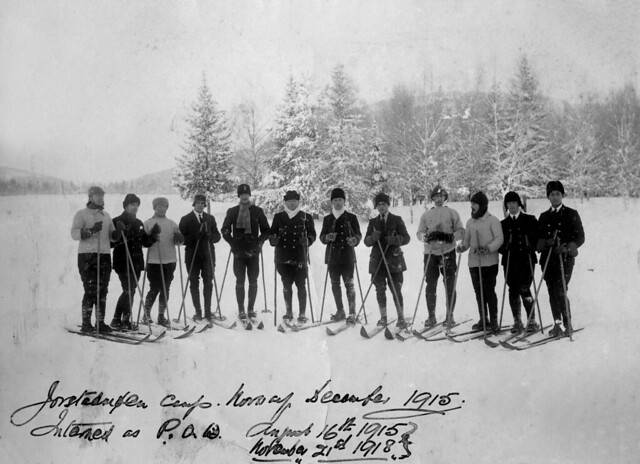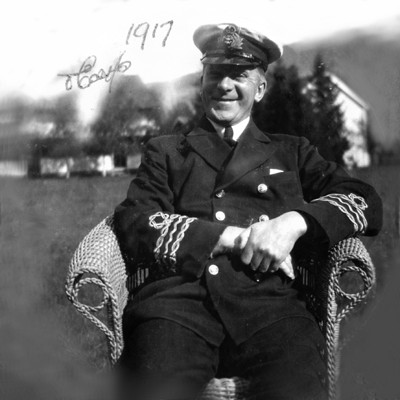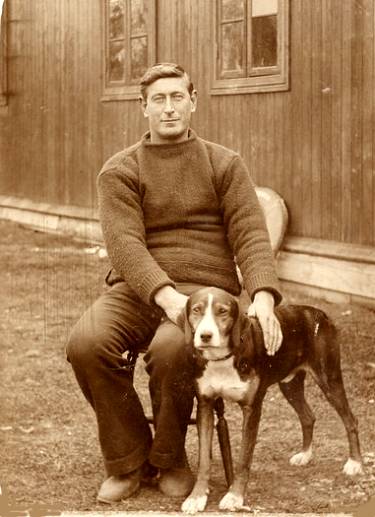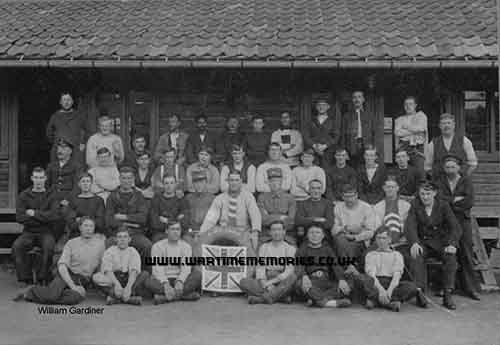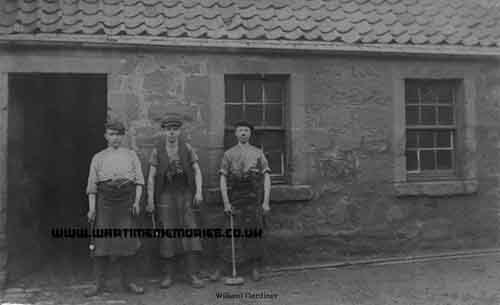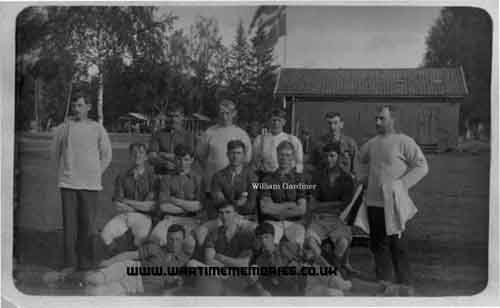 From my Grandfather William Gardiner's 's recollection the camp was not a tough place; they were treated with respect and even had a football (soccer) team and learned how to snow ski.
---
In September 1916, the Norwegian Government, granted Leading Seaman Edward Penton one month's leave of absence to visit his sick wife in England, provided the British Government guaranteed that he would return to Norway, and not do 'military work' while on leave. As his wife was still ill at the end of his month's compassionate home leave, he applied for, and received, permission to extend his stay by one month, and eventually a third month. Several men applied for home leave, which was granted, sailing from Bergen to Newcastle in Admiralty ships, or on board civilian steamers of the Wilson Line. When the time came for them to return to Norway, they reported to the Royal Naval Division Record Office in Victoria Street, London, and obtained the necessary official travel warrants. Commander Kennedy, HMS India's commanding officer, was under strict instructions to report any man who failed to return, to the Norwegian Authorities. The system might prove quaint, when judged by today's standards, but during the Great War, this system of 'parole' was observed by both sides.
---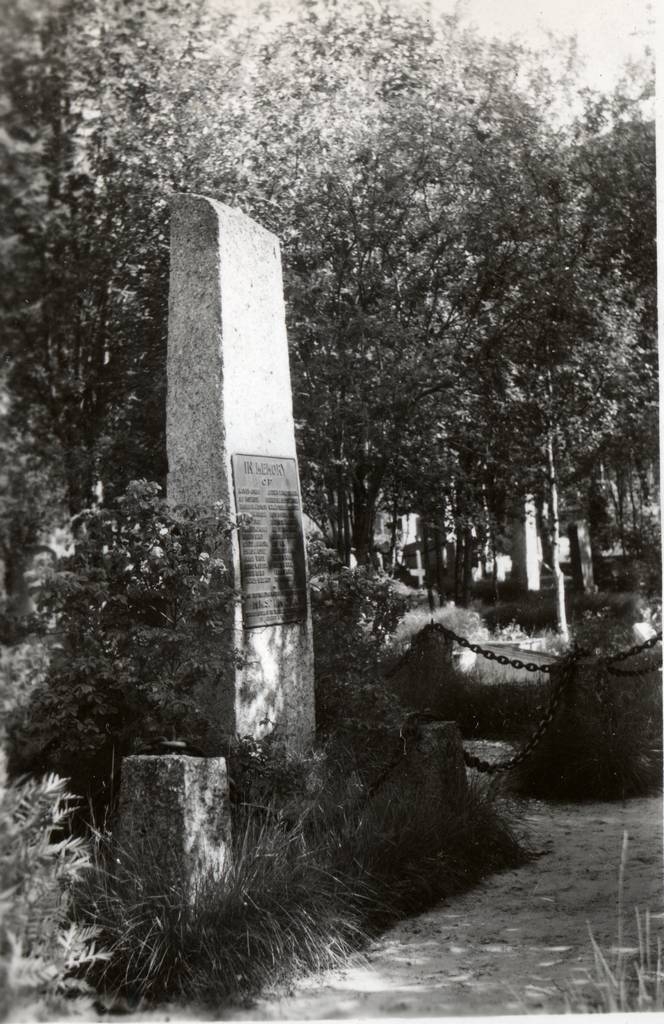 Lost
AERS, Frank E, Able Seaman (Coast Guard), 142921 (Po)
ALLISON, Thomas, Greaser, MMR, 781351
ANTHONY, Thomas R, Storekeeper, MMR, 243701
BARRELL, James W, Leading Signalman, 237068 (Ch)
BARRETT, Charles R, Private, RMLI, 19075 (Ch)
BARRY, James, Trimmer, MMR, (no service number listed)
BETHELL, Edwin, Ty/Chief Engineer, RNR
BOYLE, William, Trimmer, MMR, (no service number listed)
BROOKS, Albert E, Able Seaman (RFR B 9669), 210160 (Ch)
BROOMAN, William, Leading Seaman (Coast Guard), 138931 (Po)
BROWN, John, Steward, MMR, (no service number listed)
BUNGARD, William A, Steward, MMR, 796977
BUTLER, William, Stoker 1c (RFR B 5517), SS 107934 (Dev)
CAIRNS, John, Fireman, MMR, (no service number listed)
CAREY, Herbert, Able Seaman (RFR B 5028), 212125 (Ch)
CHANDLER, William R, Leading Seaman, RNVR, London 10/2698
CHARLES, William A, Fireman, MMR, (no service number listed)
CHURCH, Frederick, Donkeyman, MMR, (no service number listed)
CLARK, Sydney B, Act/Lieutenant, RNR
CLARKE, Charles W, Trimmer, MMR, (no service number listed)
CLARKE, Felix W, Able Seaman (RFR B 5010), 184591 (Ch)
COOK, George, Able Seaman (RFR B 4789), 178504 (Ch)
COTTON, William, Fireman, MMR, (no service number listed)
CROWLEY, Desmond J, Able Seaman, RNVR, London 4/2958
CULHANE, Patrick, Petty Officer 1c (Pens, RFR A 2041), 146034 (Ch)
DAUBNEY, Lionel H, Steward, MMR, (no service number listed)
DAVIES, Norrie, Fireman, MMR, 794323
DENNISON, James, Fireman, MMR, 681183
DENT, Walter, Greaser, MMR, (no service number listed)
DEVINE, John, Fireman, MMR, (no service number listed)
DICKSON, Andrew F, Ty/Sub Lieutenant, RNR
DIPPLE, Henry, Fireman, MMR, 747471
DIVINE, William M, Seaman, RNR, A 7913
DOGGETT, Michael, Greaser, MMR, 398917
DUNCAN, James, Donkeyman, MMR, (no service number listed)
DUNN, Robert, Fireman, MMR, (no service number listed)
FARRIER, Walter J, Trimmer, MMR, 801188
FISHER, John H L, Trimmer, MMR, 790066
FLEGG, Joseph, Trimmer, MMR, 679132
FREEMAN, Thomas, Fireman, MMR, (no service number listed)
FRY, Thomas, Fireman, MMR, (no service number listed)
FRYER, Henry W J, Able Seaman (RFR B 10823), SS 2901 (Ch)
GALLAGHER, Neal, Fireman, MMR, (no service number listed)
GIBSON, Charles, Private, RMLI, 19088 (Ch)
GIBSON, William, Greaser, MMR, (no service number listed)
GILBERT, John, Stoker 1c (RFR B 167), 174381 (Dev)
GLADWELL, Charles, Fireman, MMR, (no service number listed)
GOODWIN, Charles W, Able Seaman (RFR B 10072), 206685 (Ch)
GUNN, William, Private, RMLI, 14409 (Ch)
HAGGERTY, George, Trimmer, MMR, (no service number listed)
HAIGH, Louis, Fireman, MMR, 47850
HALLIDAY, George, Fireman, MMR, (no service number listed)
HARDING, Samuel A, Boy 1c, J 34328
HAWKES, Albert E, Private, RMLI, 19204 (Ch)
HODGES, Cyril S, Seaman, RNR, A 8400
HOLLOWAY, Leonard, Able Seaman (RFR B 3753), 183337 (Ch)
JAMES, Albert M, Petty Officer 1c (Coast Guard), 156090 (Po)
JELLIS, Charles W, Private, RMLI (RFR A 553), 14274 (Ch)
JENNINGS, Stanley J, Steward, MMR, (no service number listed)
JONES, Herbert O, Ty/Assistant Paymaster, RNR
KINGDON, James J, Petty Officer (NS, Coast Guard), 128972 (Po)
LEACH, Dick, Steward, MMR, (no service number listed)
LOGIE, Daniel, Trimmer, MMR, 787247
LOVETT, Frederick J, Ty/Warrant Telegraphist, RNR
MALONEY, Maurice, Trimmer, MMR, (no service number listed)
MARKS, Lewis, Private, RMLI, 5339 (Ch)
MATHEWS, Henry J J, Head Steward, MMR, (no service number listed)
MCCARTY, James, Boatswain, MMR, (no service number listed)
MCKAY, Duncan, Fireman, MMR, (no service number listed)
MCKEEVER, Thomas, Fireman, MMR, (no service number listed)
MCRITCHIE, Roderick, Leading Seaman, RNR, B 3398
MOFFATT, Frederick J, Able Seaman (RFR B 3972), 194815 (Ch)
NEILL, William, Fireman, MMR, 559895
NELSON, Robert, Act/Lieutenant, RNR
NIGHTINGALE, William, Fireman, MMR, (no service number listed)
NOBLE, Edward J, Carpenter, MMR, (no service number listed)
OILLER, William R, Leading Seaman (Coast Guard), 219400 (Po)
OSBORNE, Henry W, Able Seaman (RFR B 4981), 218175 (Ch)
PATTERSON, John, Able Seaman (RFR B 3697), 165672 (Ch)
PATTISON, Thomas, Able Seaman (RFR B 4678), 172668 (Ch)
PEACOCK, John W, Able Seaman (RFR B 357), 178585 (Ch)
PENGELLY, James, Leading Seaman (Coast Guard), 205236 (Po)
POLLARD, Charles E L, Fireman, MMR, (no service number listed)
POTTER, Percival B, Ty/Midshipman, RNR
PRIOR, John H, Petty Officer 1c (Coast Guard) (RFR A 1532), 137246 (Ch)
RADLEY, William, Fireman, MMR, 724798
RAYNER, Alfred H, Able Seaman (RFR B 4385), 196193 (Ch)
REVELEY, Frank, Able Seaman (RFR B 5501), 204690 (Ch)
RING, Andrew, Fireman, MMR, 767662
ROBBINS, Edward W, Fireman, MMR, 624597
ROBERTS, Henry, Fireman, MMR, (no service number listed)
ROBINSON, Sidney, Able Seaman (RFR B 5098), 205032 (Ch)
ROUSE, Bert, Fireman, MMR, 731142
SALTER, Edwin C, Able Seaman (RFR B 3837), 187300 (Ch)
SAUNDERS, Wilfred A, Corporal, RMLI, 17005 (Ch)
SCOTT, Charles H, Trimmer, MMR, (no service number listed)
SEDDON, William C J, Leading Seaman, RNVR, London Z 453
SHACKELL, Frederick, Butcher's Mate, MMR, (no service number listed)
SIMMENDINGER, William, Able Seaman (RFR B 6100), 188747 (Ch)
SMITH, Harold G, Able Seaman (RFR B 4388), 192680 (Ch)
STAMPTON, Henry, Chief Petty Officer (RFR A 1556), 143378 (Ch)
STANLEY, Robert, Able Seaman (RFR B 3583), 190580 (Ch)
STAPLES, Thomas, Leading Seaman, RNVR, London Z 62
STENSON, Joseph, Fireman, MMR, (no service number listed)
STONE, Robert B, Engine Room Artificer, RNR, EC 121
SULLIVAN, Patrick, Fireman, MMR, (no service number listed)
THACKARA, Roy A, Ty/Assistant Engineer, RNR
TOWNROW, Wilfred J, Canteen Steward, 682556
TROUNSON, Samuel P, Ty/Assistant Engineer, RNR
WALSH, James P, Fireman, MMR, 397759
WARD, Henry A, Fireman, MMR, (no service number listed)
WEST, Arthur H, Able Seaman (RFR B 6070), 181486 (Ch)
WHATLEY, Frank, Stoker 1c (RFR B 5974), 300924 (Dev)
WHITE, James, Writer, MMR, (no service number listed)
WIGLEY, Albert P, Trimmer, MMR, (no service number listed)
WOOD, Eli A, Petty Officer 2c (Coast Guard), 151369 (Ch)
WOOD, George D H, Ty/Midshipman, RNR
WOODSTOCK, Robert J, Refrigerating Mechanic, MMR, (no service number listed)
WOOLDRIDGE, Walter, Private, RMLI, 19097 (Ch)
WREN, Ernest F, Private, RMLI, 19259 (Ch)
Survived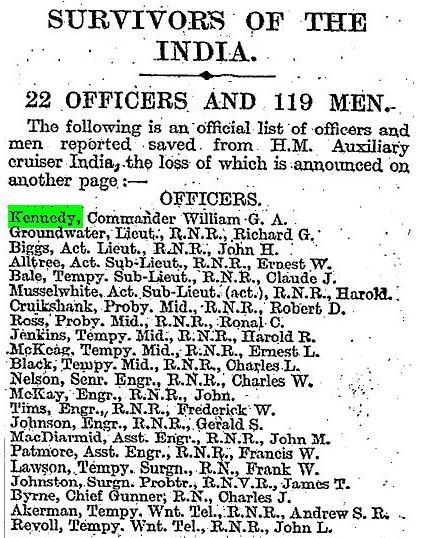 AKERMAN ANDREW S.R. WARRANT TELEGRAPHIST, RNR
ALLTREE ERNEST W. A/S/LT, RNR
* JOHN ROLAND ANDERSON
ATKINS D. GREASER, MMR
ATTWOOD JOHN SHIRLEY A.B., RNVR LONDON 1/2680
BAKER ARTHUR WILLIAM SIGNALMAN 238983 (Ch)
BALE CLAUDE J. S/LT, RNR
BARBER GEORGE TRIMMER, MMR
BENTLEY WILLIAM L. BAKER'S MATE, MMR
BIGGS JOHN H. LT, RNR
BINNEY CHARLES A.B. SS 2214 (Ch)
BLACK CHARLES L. TEMPORARY MIDSHIPMAN, RNR
BOLTON NORMAN PRIVATE Ch 19119
BROWN GEORGE ANDREW A.B. 208652 (Ch)
BRUCE ALEXANDER L/FIREMAN, MMR
BRYANT EDWARD W. STEWARD, MMR
BYRNE CHARLES J. CHIEF GUNNER
CARNES JOHN HENRY A.B. 166541 (Ch)
CARPENTER HENRY A.B. 201208 (Ch)
CHIRCOP LORENZO CAPTAIN'S VALET, MMR
CHURCHER ALGERNON A. STEWARD, MMR
CLARK WILLIAM JAMES FIREMAN, MMR
CLARKE JOHN FIREMAN, MMR
CLARKE RICHARD ARNOLD E.R.A., RNVR CLYDE Z 16
CONNOR JAMES TRIMMER, MMR
COOPER GEORGE L/FIREMAN, MMR
CRUIKSHANK ROBERT D. PROBATIONARY MIDSHIPMAN, RNR
DALY W. TRIMMER, MMR
DAVIES HUGH A.B., RNVR BRISTOL Z 251
DAVIES WILLIAM T. TRIMMER, MMR
DOCKREE WALTER MASTER AT ARMS (Pens) 350132 (Ch)
DUNN ROBERT STOREKEEPER, MMR
DUNT WILLIAM CHARLES A.B 182308 (Ch)
EADE ALFRED FREDDY MASTER AT ARMS (Pens) 139530 (Ch)
EVANS CLARENCE THOMAS PRIVATE Ch 19126
FARLEY EDWARD GEORGE JUNIOR RESERVE ATTENDANT M 9919
FIELDING GEORGE CHIEF WRITER, MMR
FISHER J. H. TRIMMER, MMR
FLYNN TIMOTHY FIREMAN, MMR
FRANKLIN J. GREASER, MMR
FROST ALFRED TRIMMER, MMR
FURNISS CHARLES MATTHEW A.B. 162226 (Ch)
FURY ALFRED GREASER, MMR
WILLIAM GARDINER
GERMAN GEORGE STEWARD, MMR
GILCHRIST ALAN ALFRED A.B. SS 2893 (Ch)
GILL ALFRED T. (J ?) TRIMMER, MMR
GLIBBERY JOHN FIREMAN, MMR
GOMES FRANCIS PANTRYMAN, MMR
GOODMAN JOHN FIREMAN, MMR
GOWERS REGINALD CHARLES PRIVATE Ch 19151
GROUNDWATER RICHARD G. LT, RNR
HACKETT WILLIAM A.B. 173676 (Ch)
HADDOW FREDERICK A. TRIMMER, MMR
HAWES SIDNEY FIREMAN, MMR
HENNESSEY DANIEL TRIMMER, MMR
HENRY DAVID FIREMAN, MMR
HILL HENRY GEORGE A.B., RNVR BRISTOL 2/130
HINES FRED P.O. 1c 190736 (Ch)
HOLE SYDNEY PERCY A.B. 236285 (Ch)
HOOD FREDERICK HYDRAULIC WINCHMAN, MMR
HOWLETT THOMAS A.B. 172508 (Ch)
HYDE THOMAS H. GREASER, MMR
IRWIN WILLIAM A.B. 191440 (Ch)
JACKSON WILLIAM G. (J ?) CHIEF COOK, MMR
JENKINS HAROLD R. TEMPORARY MIDSHIPMAN, RNR
JOHNSON GERALD S. ENGINEER, RNR
JOHNSTON JAMES T. SURGEON PROBATIONER, RNVR
JONES WILIAM A.B. 178144 (Ch)
KENNEDY WILLIAM G.A. CDR
LAMB WILLIAM STEWARD, MMR
LAWRENCE ROBERT T. BAKER, MMR
LAWSON FRANK W. TEMPORARY SURGEON
MACDIARMID JOHN M. ASST/ENGINEER, RNR
MAGILL JOSEPH VINCENT MAHOOD BOY 1c J 34313
MALAM WILLIAM FIREMAN, MMR
MARCHINGTON EDWARD TRIMMER, MMR
MCCAN JAMES STOKER, MMR
MCKAY JOHN ENGINEER, RNR
** MCKEAG ERNEST L. TEMPORARY MIDSHIPMAN, RNR
MCKEE JOHN FIREMAN
MCKINNON JOHN STOKER, MMR
MCKIVER EDWARD STOKER, MMR
MCREARY ERNEST JAMES PRIVATE Ch 19222
MILLER E. FIREMAN, MMR
MILLIGAN MATTHEW O.S. J 41004 (Ch)
MOORE CHARLES TRIMMER, MMR
MOORE DAVID P.O. 1c 134222 (Ch)
MOSS GEORGE VALENTINE A.B. 228500 (Ch)
MUSSELWHITE HAROLD A/S/LT, RNR
NAHAR JOHN G. (P ?) STEWARD, MMR
NELSON CHARLES W. SENIOR ENGINEER, RNR
NORTON FRANK H. FIREMAN, MMR
OAKLEY WILLIAM TRIMMER, MMR OAKBY
O'CONNOR NICHOLAS PRIVATE Ch 19107
PATMORE FRANCIS W. ASST/ENGINEER, RNR
EDWARD ISAAC PENTON Ldg Seaman 152245
PERRY SAMUEL J. STEWARD, MMR
PETERS ARTHUR W. STEWARD, MMR
PIKE FREDERICK CORPORAL, RMLI Ch 11417
PIPKIN ERNEST ASST STOREKEEPER
REVELL JOHN LEONARD TEMPORARY WARRANT TELEGRAPHIST, RNR
REX CYRIL PRIVATE Ch 19118
RILEY HENRY W. CHIEF STOKER identified as Stoker without official number
RIPLEY HERBERT CHARLES COLOUR SERGEANT, RMLI Ch 7437
ROBERTSON A. TRIMMER, MMR
RODRIGUES MARIANO STEWARD, MMR
ROSS CHARLES STEWARD, MMR
ROSS RONALD C. PROBATIONARY MIDSHIPMAN, RNR
SAMPSON FREDERICK ERNEST A.B. 171702 (Ch)
SKELTON ARTHUR JOHN E.R.A., RNR 1741 EA
SMART WILLIAM O.S., RNVR CLYDE Z 1493
SMITH H. FIREMAN, MMR
SMITH THOMAS HENRY PRIVATE Ch 18258
SPITERI FELICE FIREMAN, MMR
SUMMERFIELD SAMUEL EDWARD A.B. 164464 (Ch)
TANNER ARTHUR CHARLES P.O. 1c (C.G.) 201416 (Po)
THOMPSON CHARLES STEVEN PRIVATE Ch 19243
TILLEY WILLIAM M. FIREMAN, MMR
TIMS FREDERICK W. ENGINEER, RNR
TINDLING JOHN FIREMAN, MMR
TOTHILL JOHN HOLMAN STOKER 1c SS 102744 (Dev)
TRAVIS WILLIAM A.B. 201860 (Ch)
TRINDER DAVID FRANCIS PRIVATE Ch 18228
TURNER LOUIS CECIL ARMOURER'S CREW M 8470 (Ch)
WALKER CHARLES PERCIVL BUGLER, RMLI 18305 (Ch)
WALKER HENRY JOHN L/SEAMAN 177263 (Ch)
WALLIS CHARLES EDWARD A.B. 180600 (Ch)
WARD ARTHUR BUTCHER, MMR
GEORGE WARD A.B.
WARD WILLIAM JAMES P.O. 1c 125843 (Ch)
WARE ALBERT CHARLES L/SEAMAN 170330 (Ch)
WATKINS WILLIAM H. GREASER, MMR
WELLS JOHN THOMAS A.B. 187563 (Ch)
WHITE ARTHUR TRIMMER, MMR
WHITE CHARLES A.B. 181578 (Ch)
WILLIAMS THOMAS PRIVATE Ch 18239
WILSON CHARLES R. STEWARD, MMR
WOOD GEORFGE ARTHUR JUNIOR RESERVE ATTENDANT M 9723 (Ch)
WORROW THOMAS FIREMAN, MMR
WYATT WILLIAM HENRY A.B. 184628 (Ch)
ZWINK HENRY OTTO A.B. SS 2209 (Ch) also known as THOMAS, HENRY GEORGE
* granted leave to return to England December 1917 and married his fiance by special licence on New Years Day 1918 before he returned to Norway until the end of the war.
** A pretty naval wedding was witnessed at Holy Trinity Church, Bath, on Saturday, when Miss Elvira Gibbs, daughter of Mr. and Mrs. Charles Gibbs, of Parkhurst, Park Lane, was married to Chief Engineer Jack McKeag, Royal Naval Transport. The wedding was a quiet one, owing to the war but the presence of two naval officers, Lieuts. Norman Coxon and Arthur Watkins, who were in attendance on the bride groom, added an extra touch of picturesqueness to the wedding. The ceremony was performed by Preb. T.L. Sissmore. The bride, who was given away by her father, wore a fawn gabardine costume, with hat to match, under brim of cerise. She carried a lovely bouquet of orchids. Miss Emmeline Gibbs was the bridesmaid. She wore a black and white costume, with a black velvet hat to match. Mr. Gibbs was in the uniform of the 2nd Somerset Volunteer Regiment, and the bride's brothers, Sergt. Charles Gibbs, and Corp. Fred Gibbs, are two well-known members of the N.S.Y. The bridegroom, it is interesting to recall, has had the experience during the war of being on a ship that was torpedoed, and being under shell fire from the submarine while getting into the boats. His brother, **Midshipman McKeag, has also been saved from a torpedoed boat. Over 40 sat down to breakfast at Parkhurst."
---
SOURCES: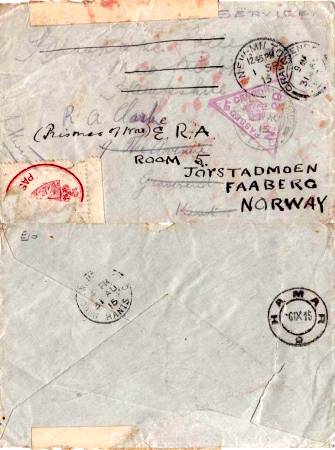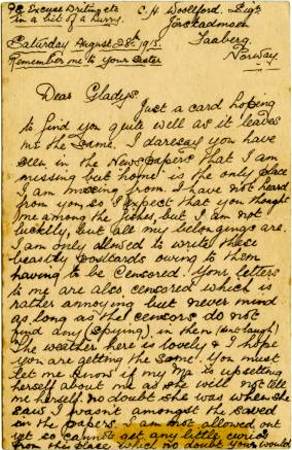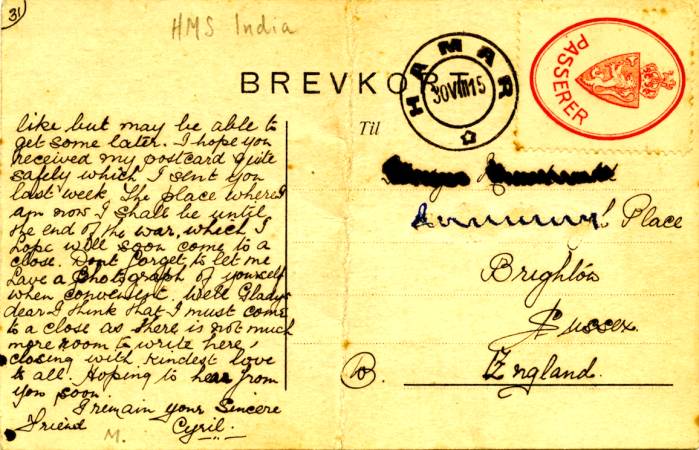 History of The Great War 1914-1918 - The Merchant Navy~ by Archibald Hurd
The Big Blockade, by E.Keble Chatterton, written in the 1930s:
The Great War Forum
The Sea is Strong, by Admiral Sir Dudley de Chair
Operations Of The Tenth Cruiser Squadron: A Challenge For The Royal Navy and its Reserves, by Terence Dawson Lilley, BA(Hons), MA, Master Mariner
A thesis submitted in partial fulfilment of the requirements of the University of Greenwich for the Degree of Doctor of Philosophy
Blockade - Cruiser warfare and the starvation of Germany in World war One by Steve Dunn
The Starvation Blockades - by Nigel Hawkins
The Story of P&O
---
The National Archive Kew Ref: FO 383/449
Information relating to British naval prisoners, including:
Private A N Hopkins, interned at Jorstadmoen, Norway: letter on conditions in the camp; request for his repatriation on health grounds.

Supply of uniforms and tobacco to British prisoners at Jorstadmoen.

Private A N Hopkins and Mr J T Wright: notification of their repatriation as unfit for military service.

Liaison with the Norwegian authorities regarding the supply of food and clothing to British prisoners from HMS India interned at Jorstadmoen; arrangements for supplies to be sent from the UK.

Commander W Kennedy, Camp Commandant at Jorstadmoen: details of the rations supplied to the British prisoners.

Brigadier General H Yarde Buller: report of a visit of inspection to Lillehammer Camp.

Commander Kirst, of the German warship Berlin, interned in Norway: refusal by the British Government to agree to his exchange for one of the interned officers from HMS India.
---
Information is scarce - if you can contribute photographs, anecdotes or anything relating to the life and loss of this fins ship and the men who sailed in her, please do get in touch...