From Derek Warmington: 'Those of you who remember "Spirit of London"/"Sun Princess" may be interested to see the attached photo sent to me by Julian Hustwitt who was an Assistant Purser with the Orient Line and P&O in the 1960's and who now lives in Thailand.
After 42 years and various changes of ownership and name, the ship is now called 'Ocean Dream' and is operating 3 day cruises from Laem Chabang, near Pattaya in Thailand, to Cambodia, via the Thai island of Ko Samui. The Owners are Chinese and she is on charter to a Thai company. Gambling is illegal in Thailand so the on-board Casino is the main attraction.
'
---
A horse called Orient Line!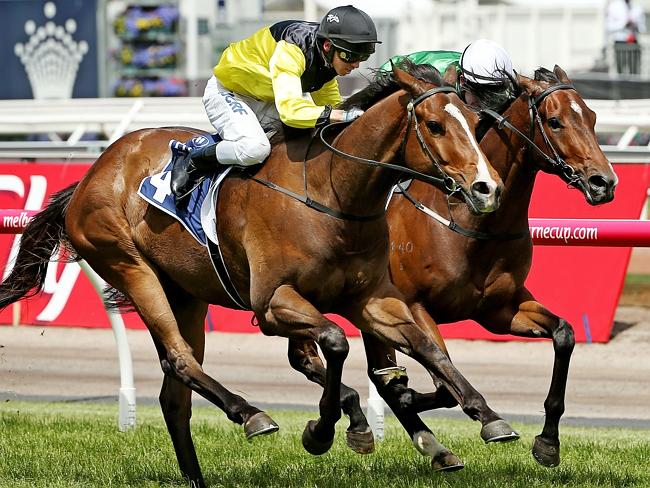 Matthew Neilson on Lord Aspen (black cap) holds off Kerrin McEvoy and Orient Line in the closing stages of the Hilton Hotel and Resorts Stakes.
Hi Nick! As a regular reader of your various pages I have just put in a message in your guest book. I did feel however that more info was needed and the following I circulated to some old shipping/travel industry friends of mine in Australia. A group of us meet every couple of months and reminisce etc! and will be keeping an eye on the horse. I have had difficulty in contacting any of the owners and all the trainer will tell me that there is a family connection and I could get no more! Regards, David Dickinson. (Ex Orient Line and P&O now living in Lorne Victoria Australia)
"For those of you who like a little flutter on the horses or for a bit of nostalgia there is a horse named "Orient Line" that has recently arrived on the racing scene here in Melbourne and from its three starts it has had two wins at country race meetings and a second at Flemington last week and paid $31 dollars for the place.
It might be worth keeping your eyes open for future meetings when "Orient Line" is running and have a couple of dollars each way!
The following is from the web site Punters.com.au As you will see from the return we should have been investing in this Horse!!!
Orient Line is a 3yo bay gelding (male) from Australia trained by John Moloney, who is based at Caulfield. He is sired by the stallion Show a Heart out of the dam Zilzie.

Orient Line has managed to win 2 races in his career so far. On 26th Oct 2014 at Sale, Orient Line scored his most significant win to date, getting the money in the $17,500 "only A Little Bit Over" Bm64 Handicap.

He has proven a profitable horse for the punters over the journey. If you had backed Orient Line throughout his career you'd have achieved a 605% return on investment.
Owners:
J F Moloney
Ms J C Sampson
Miss M R Taite & Showtime Breeding (Mgr: R A Cutts) anybody know any of these?"
---