The ss Orcades of 1937-1942
In late 1942, four German U-Boats, hunting for prey across the busy sea lanes of the South African coast, caused havoc amongst Allied shipping. On 10th October, at 10:28 hrs, the Type IX U-boat U-172, commanded by Kapitänleutnant Carl Emmerman, fired two torpedoes at His Majesty's Troopship Orcades. The hardy ship's crew fought to fend off the submarine and save their ship, and it took U-172 two and a half hours and seven torpedoes to sink her. Later, Orcades's Master, Captain Charles Fox, was decorated by the Crown with the CBE, and Lloyds of London's War Medal for Bravery at Sea, for his immense courage and leadership. Orcades, the second Orient Line ship to bear the proud name, completed in 1937, sank with the tragic loss of 45 lives.
---
By early 1945, the Orient Line had lost half its fleet of eight ships and new-buildings were urgently needed. The new Orcades was to be the first, and was ordered from Vickers Armstrong's Barrow-in-Furness yard in March 1945 - five months before the war ended.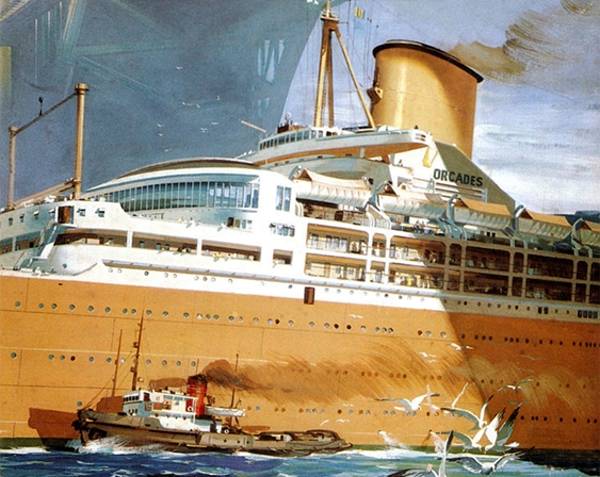 An Orient Line advertisement of 1948
Orcades had an identical hull and machinery to P&O's Himalaya, though differing in superstructure and interior layout. She was Britain's first new post-war liner, built for the Australian service.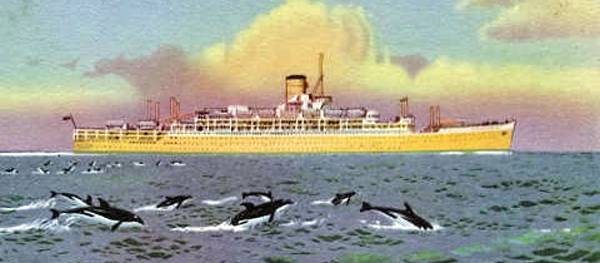 The ss Orcades of 1948

The third Orient liner to bear the name, she incorporated the best of the 1937 Orcades design. Extensively modernised, she became the design template for the next two new Orient Line ships; the Oronsay in 1951 and Orsova in 1954.

She was launched on 14th October 1947, just five year's after her predecessor's sinking, and was completed on 14th November the following year. Her construction heralded a new era in shipbuilding, with much of her superstructure and several bulkheads being pre-fabricated before being welded into position - something of a novelty in post-war Britain. The technique had been developed in the United States, where Liberty Ships had been built on a production line basis. She was launched by Lady Morshead, the wife of the Orient Line's Sydney Manager.

She cost £3,418,000 to build, and achieved a speed of 24.74 knots on trials.

Orcades was fitted with steam geared turbines, which combined with twin screws gave her a comfortable service speed of 22 knots.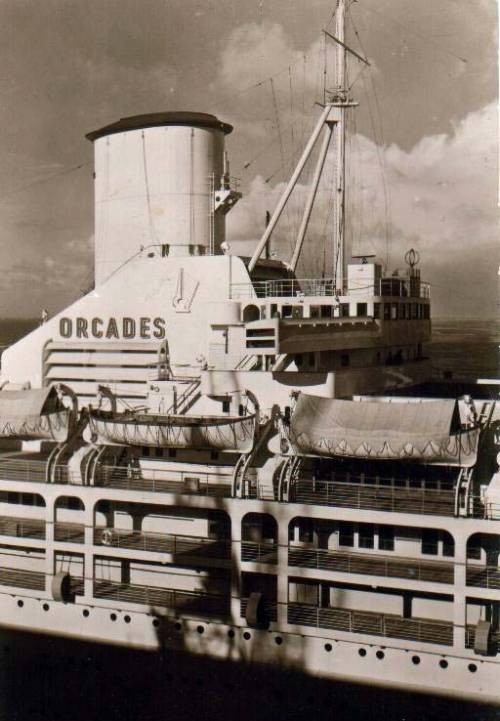 A fine view of Orcades, showing her tripod mast and bridge arrangements.
Her maiden voyage commenced from Tilbury on 14th December 1948, under the command of Captain Charles Fox CBE, proceeding to Australia and Auckland New Zealand via Gibraltar, Naples, Port Said, Aden, Colombo, Fremantle, Adelaide, Melbourne and Sydney, where she arrived on 13th January1949. Fares in First Class ranged from £110 to £425, and in the Tourist Class, from £59 to £89.
---
"For lunch we had soup, oxtail and vegetables, rice pudding rolls and cheese (a helping which is greater than a person's ration for a week). What there is for dinner this evening I can't remember, anyway I have rumbles in my tummy just to anticipate it. I'm doing justice to my "'innards', the first time in years…" September 1949.
An anonymous journal entry, recording a journey on the Orcades from September to October 1949, the author's tone is positive and light hearted but their glowing descriptions of shipboard fare are coloured by the memory of post-war England, rationing and straightened circumstances.
---
Her maiden voyage was an outstanding success, despite press publicity concerning 'a mystery wind current', which made deck quoits an 'embarrassing adventure' for lady passengers not wearing shorts or slacks! When Orcades docked at Pyrmont's number thirteen berth, 5,000 well-wishers cheered her alongside. Two weeks later, an even bigger crowd, reported as being 7,000 strong, packed the docks to wave her 1,500 passengers off.
Orcades continued to operate on this service for the next six years, quickly gaining popularity amongst her many Australian and New Zealander passengers.
---
In January 1951, the gallant Captain Charles Fox, CBE, now Commodore of the Orient Line, retired.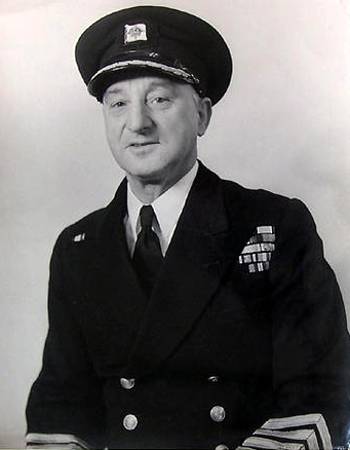 Captain Charles Fox, CBE, wearing the Lloyds of London's War Medal ribbon for Bravery at Sea, on the right.
Command of Orcades passed to Captain I.E.G. Goldsworthy, and in the summer of 1951, she made a series of cruises from Tilbury, becoming the first Orient liner to visit a Spanish port since the end of the Civil War back in 1936.
---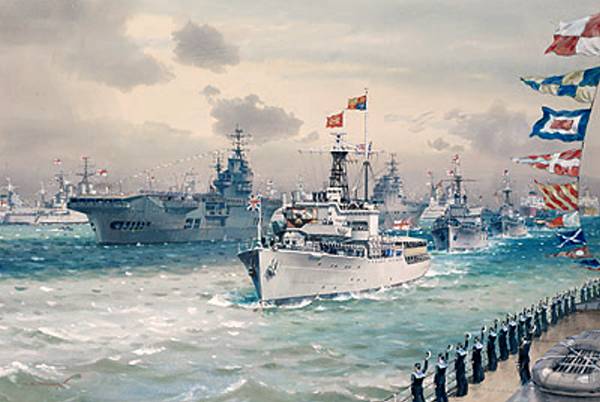 In June 1953, Orcades took part in the Coronation Review off Spithead, astern of Pretoria Castle, but ahead of P&O's Strathnaver, when the liners carried Government guests. Picture Source: Maritime Originals.
---
From 1948, Orcades operated under contract to the Australian Government, as an immigrant transport on the outward journey, with most of these passengers being accommodated in Tourist Class cabins.
She made well over 55 voyages to Australia between 1948 and 1972, travelling via the Suez Canal until 1955, when she made her first voyage via Panama.
Glenn Shorrock, former lead singer of the Little River Band, migrated from England on board the Orcades in 1954:
'We came from working class London, and to have waiters and dining rooms … it was all a bit posh, but a great adventure!'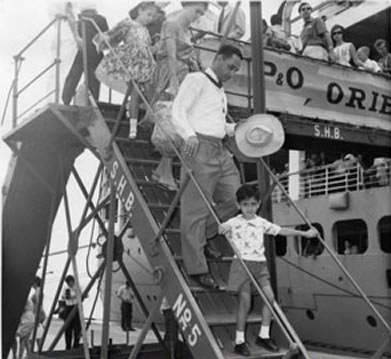 Tourist Class passengers disembarking at Fremantle in 1963
---
In 1954, Orient Line and P&O introduced a new passenger service across the Pacific, with Orcades departing Sydney on 17th December, cruising to San Francisco, where she arrived on 6th January 1955. She then proceeded back to Sydney, before returning to the UK, via the Suez Canal as per her usual schedule. In 1955, her programme changed again, with a new west-about around the world service, departed Tilbury for New Zealand and Australia via the Panama Canal on 22nd August.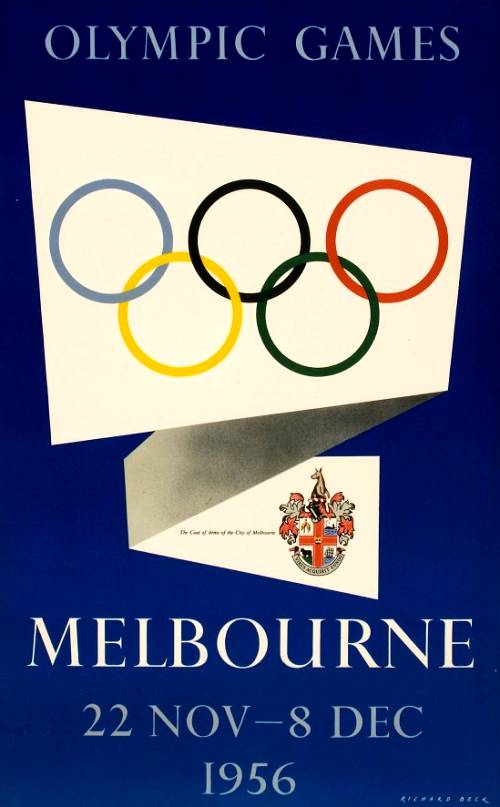 During the Olympic Games in Melbourne in November 1956, she provided hotel accommodation for thousands of people from all over the world.
---
In early January 1959, Orcades was the first Orient liner to be fully fitted with air-conditioning throughout the ship. The work took ten weeks at Harland and Wolff's Belfast shipyard, where 1,500 men worked round-the-clock, costing the company around £1 million. The invitation to tender for the work had been rejected by a German company, who said the installation could not be completed in the time allowed! While in refit, she was fitted with a new top to her funnel, which soon became known as her Top Hat. It was a simple modification, designed to improve the dispersion of smoke from her around her aft decks. In addition a new First Class Tavern and swimming pool were built, with the former facilities being allocated to Tourist Class.

On 21st September 1962, Orcades was transferred to P&O ownership and repainted in the Company's white livery and green 'boot-topping'.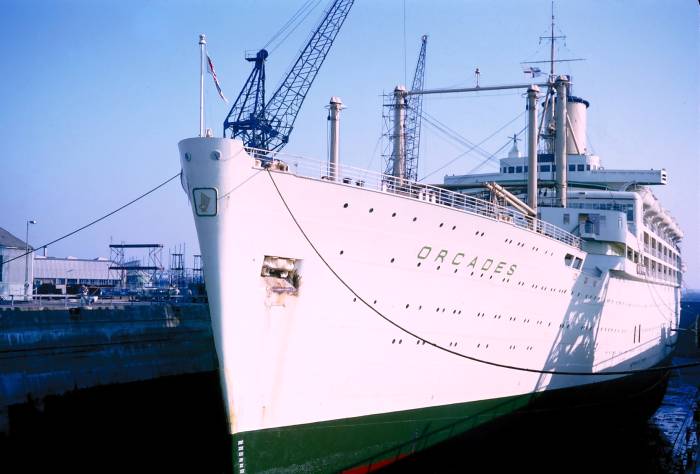 She was refitted again in 1964 – this time to accommodate 1,635 passengers in keeping with the company's new 'one-class' policy. Her Tartan Bar was renamed the Casino, complete with fruit machines - one-armed-bandits- and her Grill Room converted into a Cinema. The Tourist class lounge was turned into a Night Club, which operated into the wee small hours. She was then used for cruising more often than main line immigration voyages..
---
From 1970, Orcades plied UK and Australian waters as a one-class cruise ship, making her final voyage from Sydney on 16th March 1972. On 26th April, it was announced that she was to be withdrawn from service.
SS Orcades departed on December 28, 1972 with just a skeleton crew on board bound for the ship breakers in Taiwan. She arrived in Kaohsiung on February 6, 1973. Breaking-up commenced on March 15, 1973.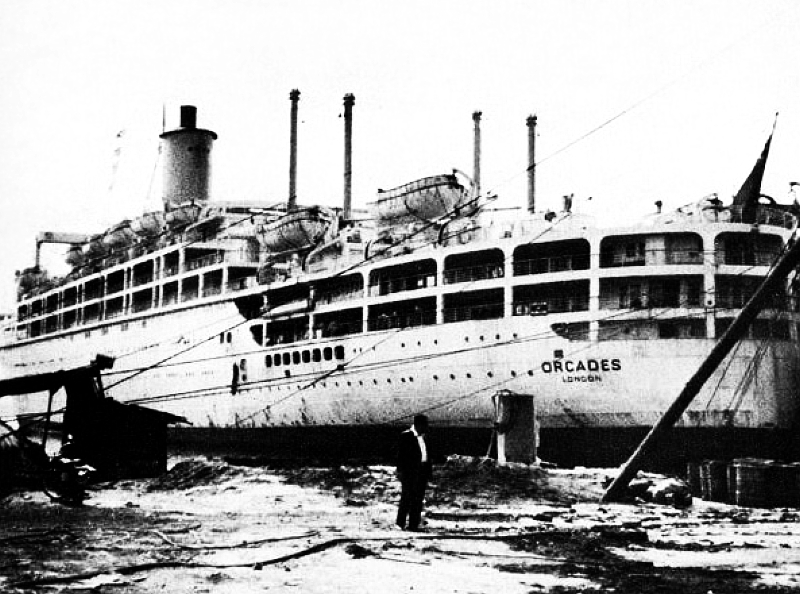 ---
Nick M's Footnote: I served in Orcades as Senior Fourth Officer, from March 1965 - January 1966, under Captains Britain and Riddelsdell, engaged on main line voyages to Australia & New Zealand and Australian and Mediterranean cruising. I kept the 12-4 watch together with the Senior Second Officer.