Please Note: The house flag and word mark 'P&O' are Trade Marks of the DP World Company https://www.dpworld.com/
---

Named after a town in Central Victoria, Australia, derived from two Aboriginal words meaning 'resting place'.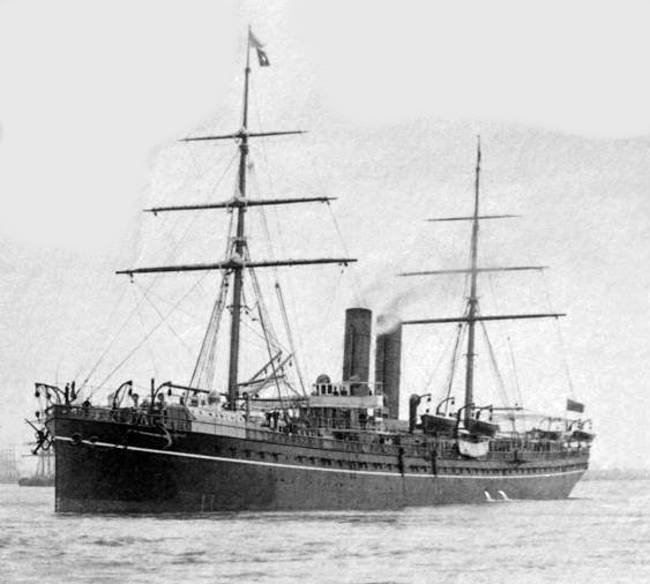 The "Ballaarat" (or "Ballarat") was a steam-powered passenger and cargo vessel, constructed by Laird & Co of Greenock, Scotland in 1882, for the Peninsular & Oriental Steam Navigation Co.
Two later ships built for the Branch Line emigrant service to Australia, and a cargo liner built in 1954, P&O used the later spelling of 'Ballarat'.
On 27th October 1882 Ballaarat ran trials and was delivered to P&O. With her sister Parramatta, she was designed for the Australian route, while also conforming to the Admiralty's armed cruiser specification - but without the usual UK Government subsidy.
A development of the earlier Rome and Carthage, but built of steel instead of iron, the two new ships had a simpler, elegant brig rig and two funnels.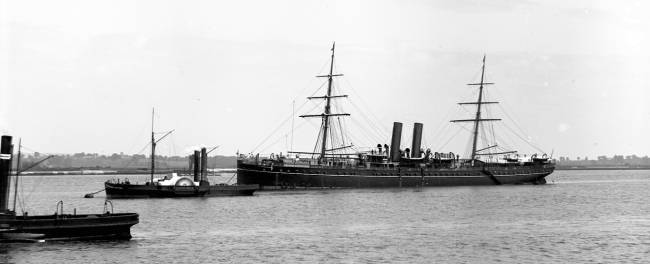 Ballaarat at anchor in Gravesend Reach, River Thames, with an awning rigged abaft the mainmast.
The paddle tug Robert Bruce (1865) is moored ahead of her, off the port bow. Tilbury is in the background.
Ballaarat's dining saloon was considered particularly fine, and patent iron beds replaced bunks for her first class passengers.
Her maiden sailing commenced on 9th November 1882, from London, to Melbourne and Sydney via the Suez Canal, Aden and Colombo.
In March 1893 she delivered a record consignment of Australian butter to the UK - 25,401 cases totalling about 700 tons.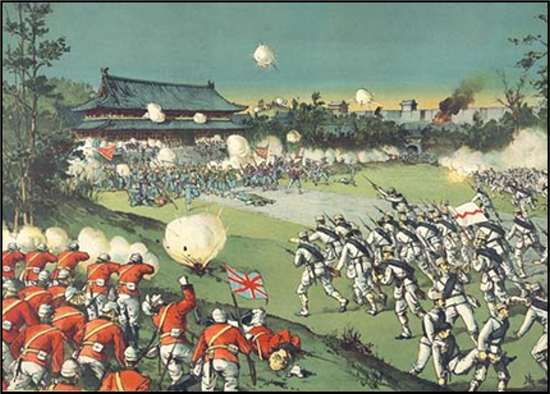 Drawing by the English artist Arnold Henry Savage Landor (1865-1924).
In 1900 she was employed as a troopship during the Boxer Rebellion, a violent uprising aimed at ridding China of all foreign troops. To meet the crisis, an international force, some 45,000 in total, was quickly assembled and sent to China. Named the Eight-Nation Alliance, it was made up of troops from Austria-Hungary, France, Germany, Italy, Japan, Russia, the United Kingdom, and the United States of America.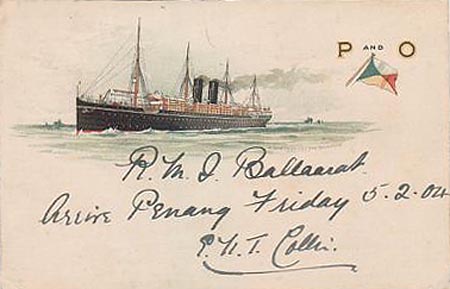 1904 marked the ship's last voyage, from London to Bombay.
She was sold at auction for £9,326 to Luigi Pittaluga, of Italy, and renamed Laarat before sailing for Genoa where she was broken up.
---


The P&O company purchased four ships from the Blue Anchor Line in February 1910 when the company went into Liquidation after losing their flag ship Waratah with all souls in July 1909 - she simply vanished without trace off the South African coast.
P&O set about ordering five new ships to join the four just purchased and was to call the new service the Branch Line. All the new ships would be named after Australian towns or cities that began with the letter B. The Branch Line was required to operate separately from the other P&O ships and had to carry white crews because the Australian regulations stipulated they must do so. The first ship to be launched was the ss Ballarat named after the gold rush town of the same name in central Victoria later to become the city of Ballarat.
The Ballarat carried the Blue Anchor funnel colours as a mark of respect for a couple of years then changed to the familiar all black funnel of the P&O Company. Launched on 3rd September 1911, she cost £176,000 and had the following dimensions: Length 500 feet 2 inches x breadth 69 feet 9 inches x depth 37 feet 8 inches with a draught fully loaded of 31 feet 8 inches. Her tonnage was 11,120 gross, 7,055 net. She was powered by 2 quadruple expansion steam engines with 9,000 indicated horsepower giving her a service speed of 14 knots, via twin propellers. Passenger capacity was 302 permanent one class, and 750 steerage in temporary quarters.
Launched on 23rd September 1911, by Mrs F C Allen, wife of the P&O Branch Line manager, she was built by Caird & Company, builder of many fine P&O ships.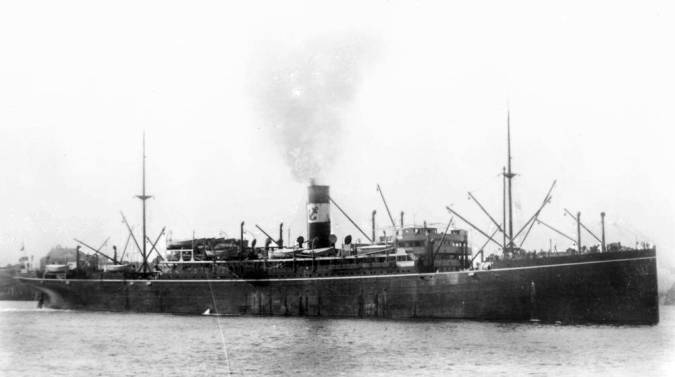 Ballarat in Blue Anchor Line livery.
---
The excitement of arrival.....
From: The Sydney Morning Herald, Friday 29th December, 1911.
NEW STEAMER BALLARAT.
The new P and O branch liner Ballarat, now on her maiden voyage to Australia has done some good steaming. She left London on November l8, two days late, and reached Adelaide travelling via the Cape, two days ahead of her schedule time. She thus made up four days on her journey- a good performance. The Ballarat is the first of two new vessels specially designed for the trade via the Cape and was launched at Greenock last September. She offers many advantages not hitherto obtainable at the same low fare. Like her forthcoming sister ship- Bendigo - the Ballarat is of 11 000 tons gross register.
Her dimensions are:- Length 515ft; breadth 62ft 6in; and depth, 42ft.
The new liner, which is classed 100 A1 at Lloyd's, is finely equipped in respect of passenger accommodation, and there is a commodious and well-appointed dining-room, together with smoking room. The main and after holds and 'tween decks are insulated for carrying meat and fruit, and an extensive equipment of gear is provided for rapid loading and discharge. The vessel is supplied with triple-expansion engines.
She is due at Sydney next week.....
---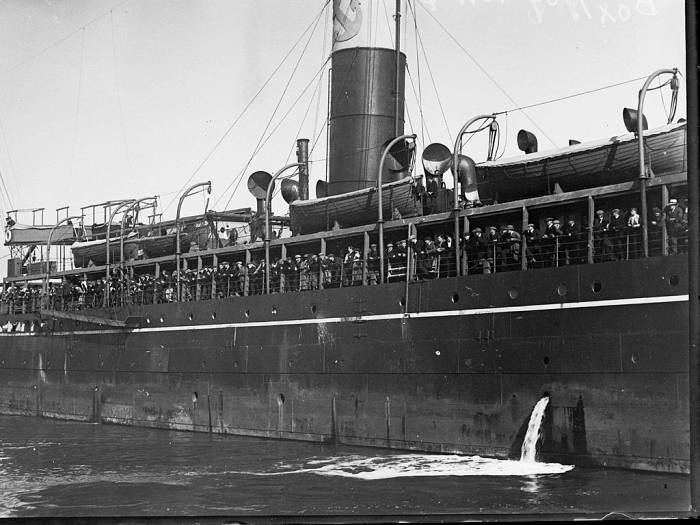 Blue Anchor Line's Ballarat arrives Sydney with immigrants embarked.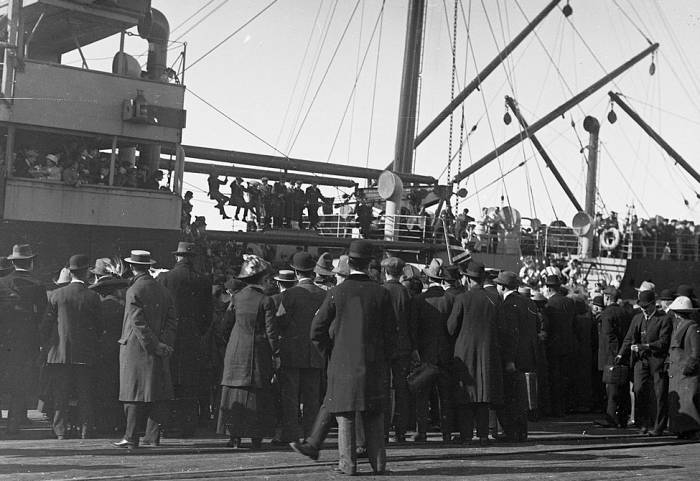 Welcome to Australia!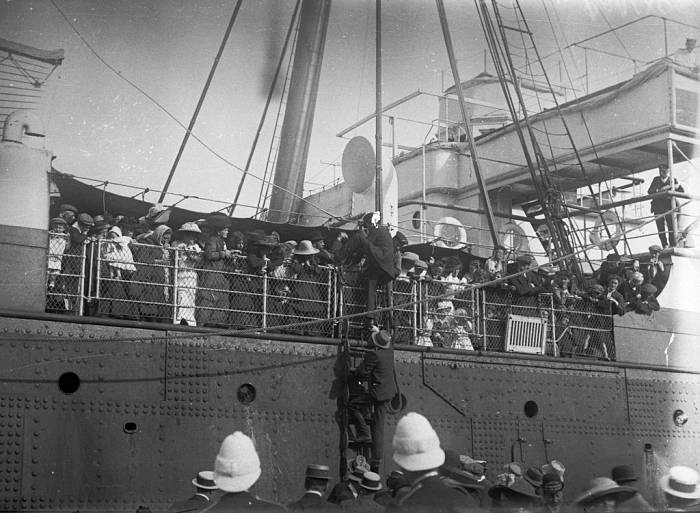 ---

In 1914 the British government requisitioned the Ballarat for war service as an Indian transport vessel, then troopship A70 carrying Australian troops.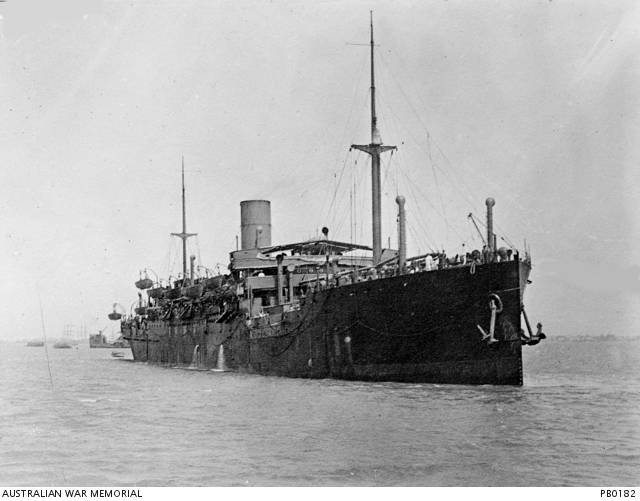 HMAT A70 Ballarat
The 8th Australian Light Horse Regiment, AIF, 10th Reinforcement, embarked from Melbourne, Victoria on board HMAT A70 Ballarat on 9th September 1915.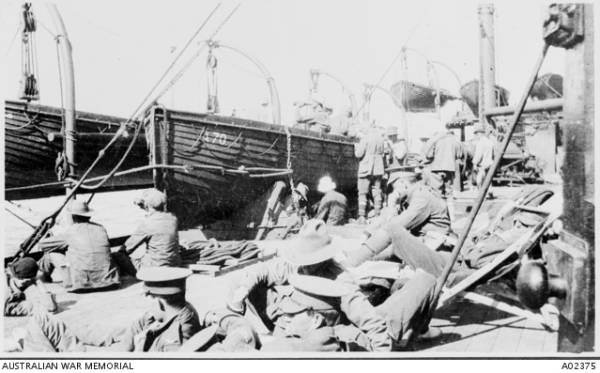 In February 1917, under the command of Commander G. W. Cockman, RNR, Ballarat left Melbourne on passage to Devonport with 1,602 Australian troops embarked - reinforcements from Victoria for the 2nd and 4th Australian Brigades - together with a general cargo, which included copper and bullion. This was the ship's thirteenth voyage, which caused some concern amongst many of the embarked troops.
On 25th April, as Ballarat steamed into the English Channel, the Australian officers arranged a memorial service to commemorate Anzac Day. At 2pm, as preparations were underway, a massive explosion tore a hole in the ship's starboard side and she instantly started taking on water.
Despite dozens of lookouts on each side, and an escorting destroyer, nobody had seen the U-boat - UB-32 - approach.
Ballarat's starboard screw was smashed and the engine room flooded.
Taken in tow by the destroyer HMS Lookout and HM Drifter Midge, she sank in 44 fathoms of water 8.5 miles off the Lizard the following day.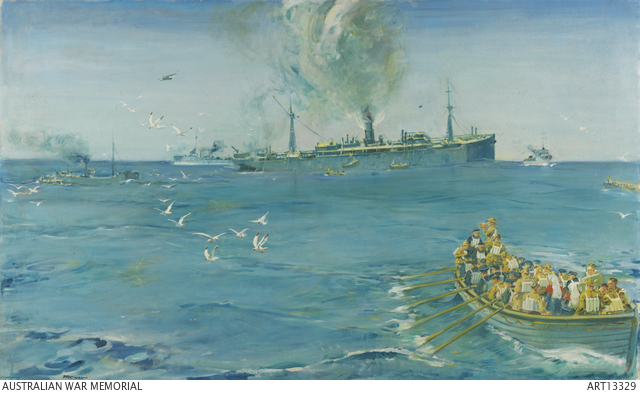 Oil on canvas by Frank Crozier.
Amazingly, all 1,752 on board were saved.
Vessels were summoned to take the Australian soldiers and crew off the sinking liner and within an hour all of them had been safely rescued.
Her Captain, *Commander G. W. Cockman, DSC, RD*,RNR, received the congratulations of the Admiralty and the Australian troops were congratulated by the King.
---
* Commander George Wallace Cockman DSC, RD*, RNR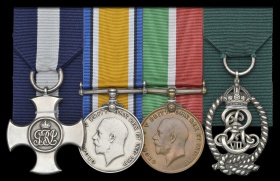 DSC - Distinguished Service Cross, 1916; British War and Mercantile Marine War Medals 1914-18; Royal Naval Reserve Officer's Decoration.
* George Wallace Cockman, was born in London in 1859, qualified for his Master's Certificate in 1889, and was a long served officer of the P. & O. Line, in whose ships he served with distinction in the Great War.

Appointed a Sub. Lieutenant in the Royal Naval Reserve in December 1889, he was awarded the RNR. Officer's Decoration in November 1909, and had been advanced to Commander by the time of being placed on the Retired List in late 1914.

Remaining in the employ of P. & O., however, he went on to win the DSC, in respect of his command of the SS Benalla in an action against an enemy submarine on 3rd December 1915. On that date she was proceeding from Alexandria to Malta with troops aboard, when she received a distress signal from the British India's SS.Torilla to say she was being engaged by the submarine - in fact the U-39. Proceeding to her assistance at full speed, Cockburn brought the Benalla's 4.7-inch gun into action at about 8,000 yards range, and after two or three accurate rounds the enemy commander was persuaded 'to turn tail and proceed Westward'.

Having then served as captain of the SS Berrima from March until October 1916, he removed in the following month to the SS Ballarat,
The splendid discipline of both crew troops and crew made it possible to land the ship's entire complement, 1,752 souls, without any casualties. The Master, Captain Cockman, and some of the officers, left the ship only a few minutes before she sank.'

Undaunted, the gallant Cockman returned to sea that October in the SS Kashgar, and was similarly employed at the War's end. He finally came ashore in mid-1921 and died in January 1937 - a truly remarkable and brave P&O officer.
---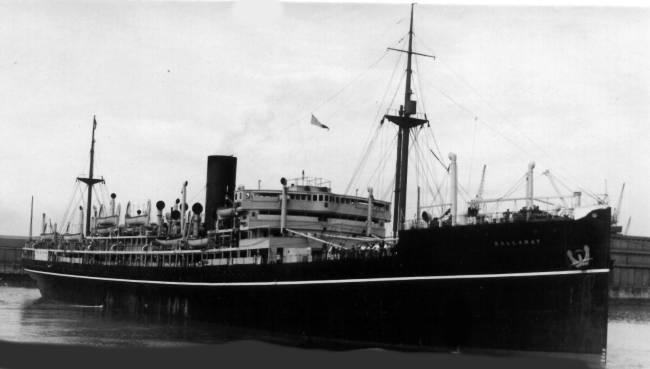 The third ss Ballarat was built by Harland & Wolff, and owned by P&O Branch Service from 1921 - 1935.
On 14th December 1921 she ran trials and was delivered as the SS Ballarat to the Peninsular and Oriental Steam Navigation Company at a cost of £989,392.
Intended to be the first of five B-class vessels built in the 1920s, she was delayed by a joiners' strike, and Baradine was delivered first!
The new Ballarat's first line voyage was to Sydney via Cape Town and Melbourne. The two-weekly service with improved shipboard accommodation was at first well-patronised, but then, by 1926, the emigrant boom had fallen away.
One voyage was apparently delayed by strikes in South Africa on the way out, then again in Australia, and finally by the General Strike when she arrived back in the UK. She then suffered a bunker fire when in King George V Dock. 1929:
1929 saw her fitted with Bauer-Wach exhaust turbines and Wyndham heaters and converted to burn oil fuel.
Her speed was increased by 10-15%, with fuel consumption reduced by a similar percentage.
She was also extensively refitted for 586 one class passengers.
On 18th May 1930 she was delayed for 14 days after hitting a submerged object while passing northwards through the Suez Canal. Nos.1 and 2 holds were flooded and there was considerable damage to her cargo of fruit.
On 16th January 1935 she was delayed for 9 days at Colombo with damage to her starboard propeller shaft.
In February 1935 she Left Australia on last homeward sailing.
On 20th May 1935, she was sold for £23,500 to T W Ward Ltd for demolition, the first of her class to be sold for lack of gainful employment.
On 18th August 1935, fire broke out in her No.1 hold whilst in the breaker's yard. The fire blazed for a week before being brought under control and demolition could properly begin.
---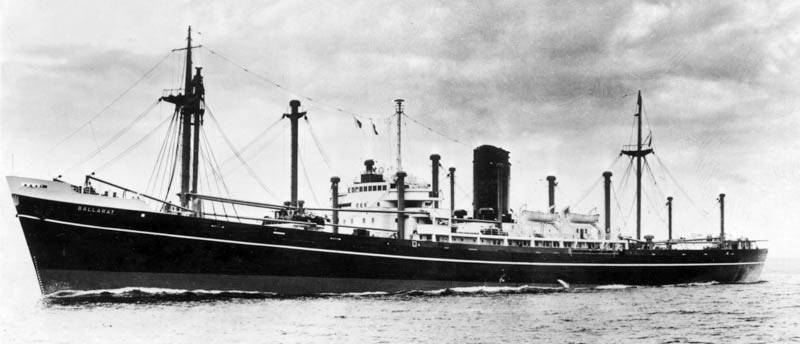 The uneventful life of a general cargo ship built for the Australian wool trade.....
The fourth ss Ballarat was built by Alexander Stevens and Sons of Glasgow, and launched on 6th April by Mrs Chrichton, the wife of a P&O Manager.
After sea trials, she was formally handed over to P&O on 16th July.
With a gross tonnage of 8,792, 12,920 deadweight, she had a cargo capacity of 683,510 cubic feet.
With a single screw, Ballarat was powered by three double-reduction geared steam turbines, producing 13,000 shaft horsepower.
Sister ship to the Bendigo, she was initially employed on the Australian wool trade, carrying general cargo outbound.
Her maiden voyage commenced from London's Royal Docks on 13th August 1954, via Marseilles, Genoa, Port Said, Aden, Colombo, Fremantle, Adelaide, Melbourne and Sydney.
Of note: on 21st November 1966, she carried the first containers of Australian canned fruit - three 20ft containers, which were unloaded at London.
On 19th July 1968, she was renamed Pando Cape, and transferred to P&O's Far East cargo service.
Sold to the Ben Line in 1972, she was scrapped at Inchon, South Korea a few years later.
---