---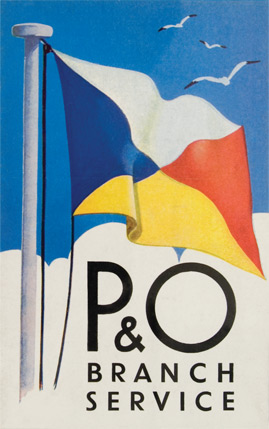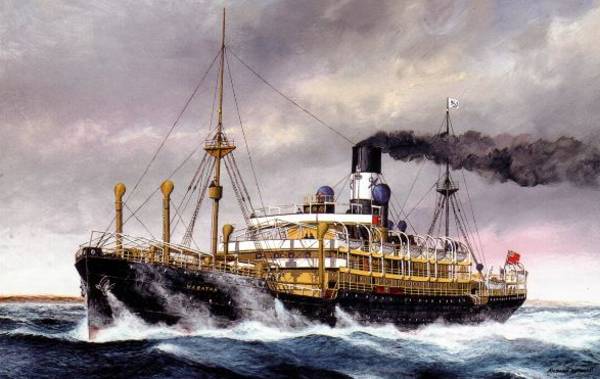 The mystery-shrouded disappearance of Blue Anchor Line's SS Waratah is said to have paved the way for P&O's takeover of the Blue Anchor Line and its lucrative emigrant trade to Australia.
Ordered in 1908, from the Scottish yards of Barclay, Curle and Company, the SS Waratah was a large steamer at 9,399-tons, with 100 comparatively luxurious first-class cabins - plus room for nearly 700 emigrants, mostly in temporary, collapsible cabins. On her second voyage to Australia, she left Sydney on June 26 and Melbourne on July 1, 1909, bound for Durban. Onboard were around 50 passengers, 119 crew, and a cargo that reportedly included 600 tons of oats, 100 tons of flour, 1,050 boxes of the best Australian butter, 8,000 crates of rabbits, 1,000 carcasses of mutton, and about 1,000 tons of lead. At Durban, 40 new passengers embarked, while, ominously, one engineer and a seasoned ocean traveller disembarked, thinking the ship "too top-heavy". She sailed for Cape Town on July 26, 1909 and the next morning, exchanged signals by lamp with the Clan Macintyre and again, later that day, with the Union Castle Line steamer Guelph. Due to adverse conditions, the latter vessel could only make out the letters T-A-H. Later that night, the steamer Harlow sighted a large and unknown ship making heavy weather; not unusual in those waters. The ss Waratah foundered with 211 passengers and crew on board. The disappearance of the ship remains one of the most baffling nautical mysteries of all time. To this day no trace of the ship has ever been found. According to Dispatch archives, the 10,000 ton ship passed along the Transkei coast on July 28, 1909 after stopping off in Durban the previous day. As it steamed past the Transkei coast, between the mouths of the Bashee and Xora rivers, the ship is said to have encountered bad weather and battled to sail against high winds, a combination of tide and turbulent ocean swell. Carrying enough provisions on board to last a year, the Waratah is said to have fallen victim to a freak wave, capsized and been sucked to the ocean floor with all on board. According to one of the passengers who disembarked at Durban, the ship was 'tender' and had been very unstable and rolling heavily. This was probably caused by shifting cargo and ballast. A watcher on the Transkei coast reported seeing the ship hit a huge wave and then disappear. It is therefore likely that she capsized.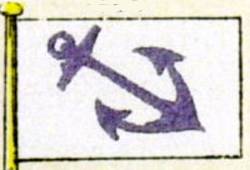 Blue Anchor Line House-flag
The Blue Anchor Line was formed in London in 1869 by Wilhelm Lund, a German émigré. Initially, outbound voyages were by barque-rigged sailing ships, to Australia with passengers and cargo, thence northbound in ballast to China where ships loaded tea for the homeward passage. By 1874 the opening of the Suez Canal was making the China route less attractive to the Cape sailing ships and this trade was dropped in favour of direct routes to Australia. In 1880 Lund took delivery of his first steamship and in 1890 sold the last of his sailing vessels. The SS Waratah disappeared on the homeward leg of only her second voyage.
---
For several years, P&O had closely monitored the highly lucrative emigrant and cargo trade to Australia, toying with the emigrant idea in the late 1880s but lacking the ships to implement it. By tradition, P&O ships were, first and foremost, first-class mail ships offering express services to the British Empire east of Suez. P&O prided themselves that they carried only First and Second Class passengers, and invariably, those in First Class outnumbered those in Second Class, which left no room for anyone else; and certainly, as some said at the time, "First-class ships carrying H.M. Mails were no place for emigrants!" In addition, Australia's strictly enforced Merchant Shipping Act regulations decreed that British ships, transporting emigrants to Australia, had to be crewed by white-skinned seamen. Since P&O's passenger ships employed deck, engine room and catering crews from the Indian sub-continent, they would be barred from landing emigrant passengers in Australian ports. In order to enter this lucrative trade in human cargoes, P&O were left with two options: to build up a separate fleet or to acquire one that was already established in the trade. The latter proved to be the preferred choice when, following the tragic loss of the Waratah, the Lund Blue Anchor Line was put up for sale.
In 1910, P&O paid just £275,000 for the company, which included five steamships totalling almost 30,000 gross tons, the ss Commonwealth 6,616 tons, Geelong 7,954 tons, Narrung 5,078 tons, Wakool 5,004 tons, and the Wilcannia of 4,953 tons, built in 1889.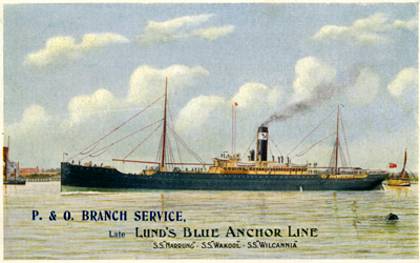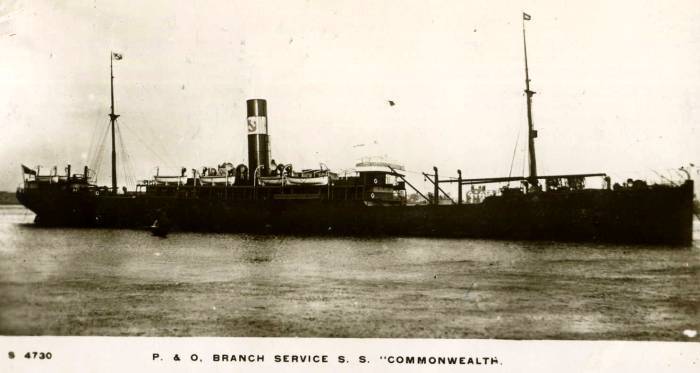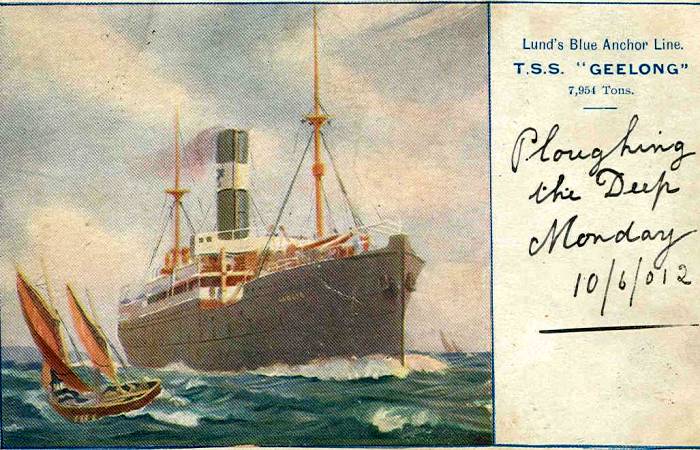 With remarkable business acumen, P&O's directors had purchased an entry into the lucrative immigrant trade to Australia, and by re-branding the company, the 'P&O Branch Service', had expertly maintained the exclusivity of their own brand. The Blue Anchor funnel colours were kept, with the thin white band of P&O's livery around the hull, while the Blue Anchor house flag continued to be flown from the forward mast, with that of P&O hoisted on the main mast. To further establish the independent nature of the 'brand', the new company , the P&O Branch Line, commenced trading from its own London address in June 1910.
---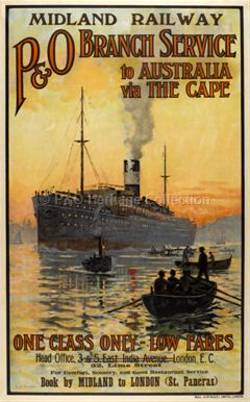 ---
Blue Anchor Line's business model had proved outstandingly lucrative. On arrival in Australia, the flexibility of their ship's accommodation paid dividends as temporary demountable emigrant cabins in the tween decks were stored away, in order to make room for increasing Australian exports. Compared with P&O's ships, the Blue Anchor Line steamships were considered plain and unattractive - but admirably suited to the task required of them on the route. With the Branch Line, P&O proceeded to bring to Australia well in excess of a quarter of a million emigrants, based on the successful Blue Anchor Line's model.
---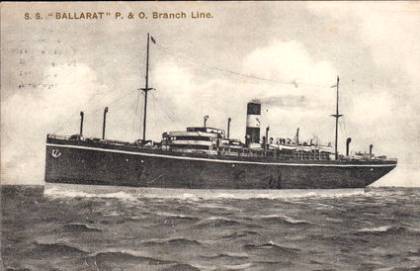 Following their acquisition, P&O immediately set about replacing the older Blue Anchor Line tonnage with five new ships of the 'B Class' - the ss Ballarat, Beltana, Banala, Berrima and Balda. The ss Ballarat was launched by Mrs F C Allen, wife of the manager of the P&O Branch Line, on 23rd September 1911. The first of class, with improved accommodation aimed at a 'higher quality of emigrant', her maiden voyage via the Cape set a London/Adelaide record of 37½ days.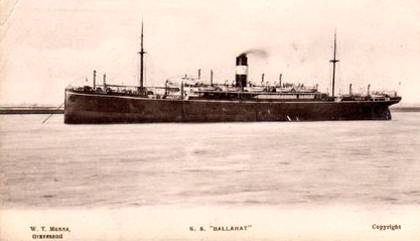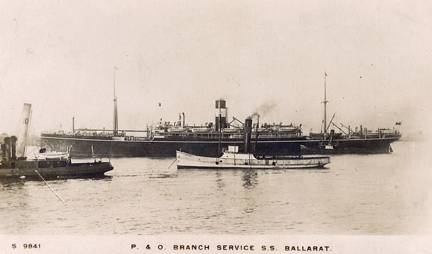 ---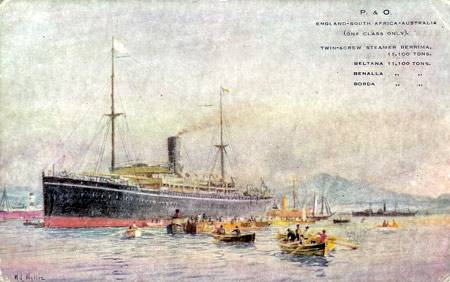 ---
By 1914, P&O was operating by far the most comprehensive service to Australia, with sixteen ships, none of them more than eleven years old, with its India and 'M-Class' ships sailing via the Suez Canal and the Branch Line, sailing via the South Atlantic and Cape Town. Following the Great War, the ships that had survived the war at sea were slowly repatriated to P&O, refitted and repainted at the Admiralty's expense. Some ships were converted from coal to oil-fired boilers, and it was not until late 1920 that the entire fleet was back under P&O company management. To compensate for their war losses, P&O purchased six standard-design cargo ships from a pool of 196 that had been built for government service, together with two former German and Austrian cargo ships, acquired as war reparation, and renamed Padua and Perim.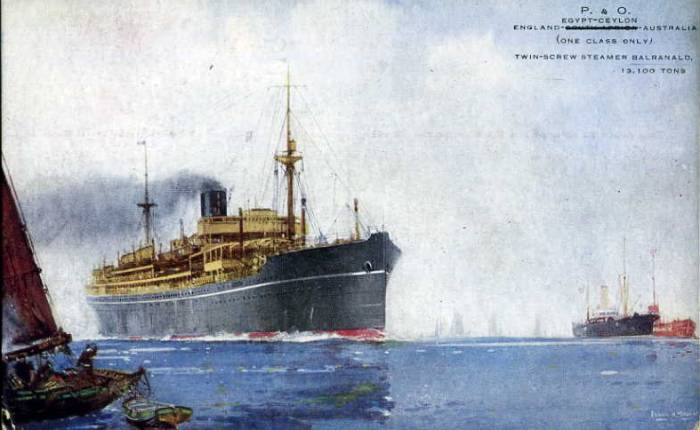 Balranald was one of five sister ships built between 1920 and 1923 for P&O's Branch Service to Australia via South Africa. The service was terminated in 1929 and the ships withdrawn for refit, during which they were converted from coal to oil fuel. Balranald resumed service to Australia in May 1929, but by the new route via Suez and Ceylon.
Note: The above is a transitional postcard using up old stock with "SOUTH AFRICA" masked out in the caption, and "EGYPT - CEYLON" overprinted in the space. Later print editions of the same card can be found with the new route caption as standard.
---
Some Interesting Branch Line Ephemera
Third Class (Steerage Passengers' Contract Ticket for The Stevens Family of Four sailing on the P. & O. Line S.S. Commonwealth from the Port of London to Melbourne, Australia dated 18 August 1921. From the Bill Stevens Collection.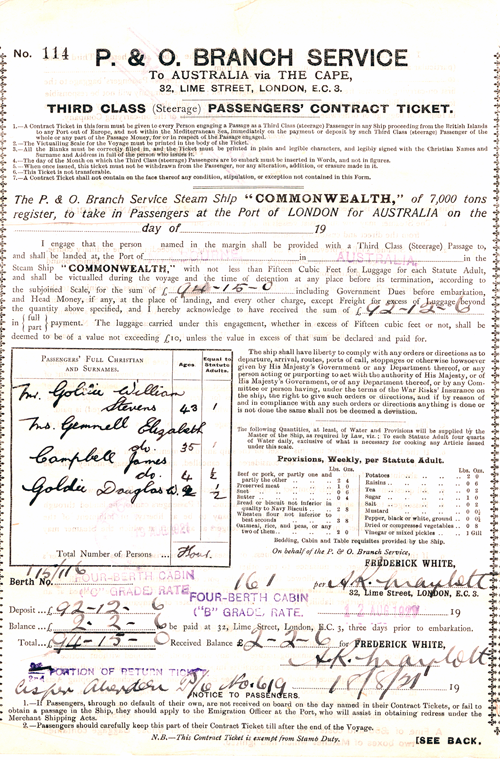 The following Quantities, at least, of Water and Provisions will be supplied by the
Master of the Ship, as required by Law, viz. ; To each Statute Adult four quarts of Water daily, exclusive of what is necessary for cooking any Article issued under this scale.
Provisions, Weekly, per Statute Adult. ( Lbs. Oz.)
Beef or pork, or partly one and partly the other : 2 4; Preserved meat : 1 0; Suet : 0 6; Butter : 0 4; Bread or biscuit not inferior in quality to Navy Biscuit : 2 8;
Wheaten flour not inferior to best seconds : Oatmeal, rice, and peas, or any two of them : 2 0; Potatoes : 2 0; Raisins : 0 6; Tea : 0 2; Sugar : 1 0; Salt : 0 2; Mustard : 0 1/2;
Pepper, black or white, ground .. O 1/4 ; Dried or compressed vegetables .. O 8; Vinegar or mixed pickles .. 1 Gill
Bedding, Cabin and Table requisites provided by the Ship.
On behalf of the P. & 0. Branch Service,
FREDERICK WHITE,
per /s/ A. R. Maylott
32, Lime Street, London, E.C.3.
12 Aug 1921
Deposit ... £ 92-12-6
Balance ... £ 2-2-6 be paid at 32, Lime Street, London, E.C. 3, three days prior to embarkation
Total ... £ 94-15-0 Received Balance £ 2-2-6 for FREDERICK WHITE, /s/ A. R Maylolt
2nd Portion of Return Ticket /s/ Cisfer Alexander 5/6 No. 619 18/8/1921
NOTICE TO PASSENGERS
1.-If Passengers, through no default of their own, are not received on board on the day named in their Contract Tickets, or fail to obtain a passage in the Ship, they should apply to the Emigration Officer at the Port, who will assist in obtaining redress under the Merchant Shipping Acts.
2.—Passengers should carefully keep this part of their Contract Ticket till after the end of the Voyage.
N.B.—This Contract Ticket is exempt from Stamp Duty.
---
Page under construction