Canberra underwent builders trials on Saturday 29th April in Belfast Lough. At full power, she trimmed down by the stern to such a degree that her fore-foot was almost clear of the water - an alarming sight for John West, her designer, the team from P&O's technical department, and her naval architects and builders from Harland and Wolff. The adoption of a turbo-electric propulsion system, that was much heavier than conventional steam turbines, although creating a great saving of space amidships (the traditional location for boilers, turbines and reduction gearing) had been achieved at some cost. Despite their considerable care and endless calculations, Canberra turned out to be more than 500 tons overweight aft. Due to their tight timescale, the only solution they could come up with in the circumstances, was to remove non-essential fittings from tourist class areas, and add 500 tons of concrete to her forward compartments.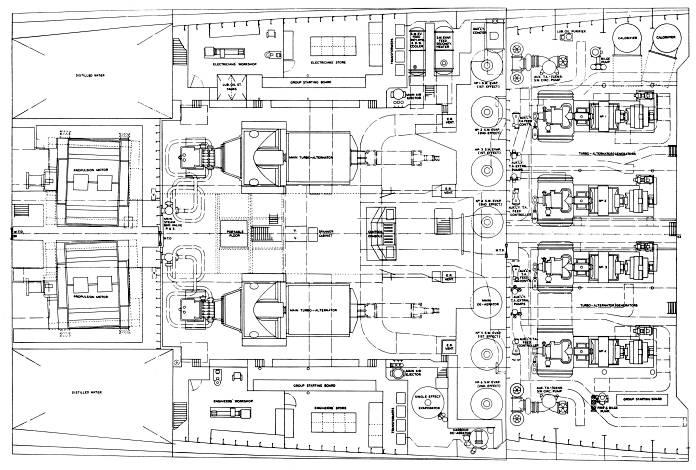 Layout of Canberra's Engine Room and Generator Rooms
Canberra's Boiler Room Layout
two, British Thompson Houston (AEI) doubled-up synchronous drive motors, were housed in a compartment immediately forward of this. The twin, 32,200 kW power-station type 6,000 volt, three-phase AC propulsion turbo alternator sets, were in the main engine room, immediately ahead of these.

Profile of Canberra, with space taken up by machinery highlighted in blue. and forward ballast in red.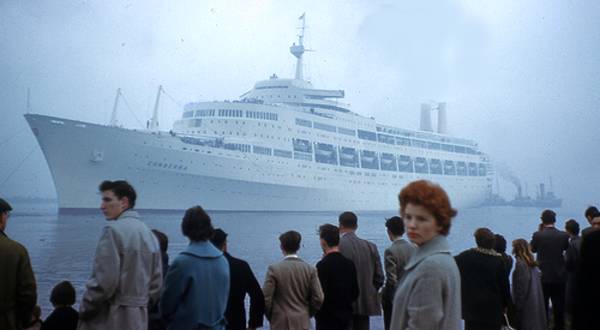 Canberra departs Belfast for Southampton
---

Canberra's design was highly focussed on the advantages of her fully aft machinery installation. Consequently a great deal of design effort was required to produce a hull form that would support the concentration of powerful machinery aft - against the fineness of hydrodynamic form forward, needed to produce a design service speed of 27.5 knots. This had to be done in a way that would maintain low centres of buoyancy and gravity - and a longitudinal centre of buoyancy, that was as close to amidships as possible

---
Harland & Wolff's Original Builder's Drawings - Deck by Deck

Captain & Officers Accommodation Deck and the Bridge and the 'Casing Top' under the twin funnels.

Games Deck, the top deck open to passengers, with a games area and cabins for female staff and engineers.

Arena Deck, with entertainment facilities for first and tourist class passengers.

Promenade Deck, with lounges, bars and a 'teenagers' room'.

A Deck, with cabins and cinema.
B Deck, showing cabins and lifeboats.

C Deck, passenger and crew cabins

D Deck, passenger and crew cabins

E Deck, dining areas and galley

F Deck, stewards' cabins

G Deck, tourist class and crew cabins.

Tank Tops, the lowest deck, with fuel tanks and propellers.
The above drawings are archived at Lagan Legacy, The Barge, 1 Lanyon Quay, Belfast BT1 3LG

---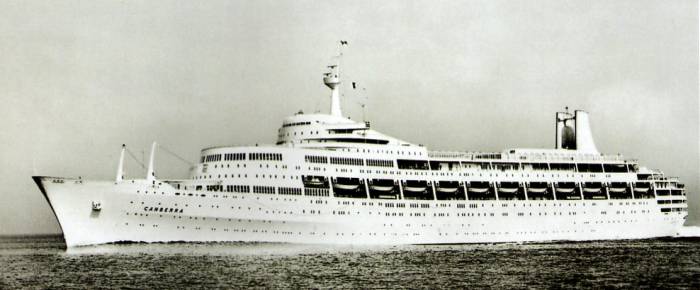 Speed trials off the Isle of Arran, in Scottish waters, 18th May 1961.
After two weeks in Southampton during which time fitting out continued, she left for her acceptance trials on the Clyde, achieving an impressive 29.27 knots over the 'measured mile'. Unfortunately, her longitudinal stability problems would resurface again in the not too distant future.....
After the official handing-over ceremony, Canberra sailed down the west coast of England, close inshore, the Company keen to show her off to the general public. Onlookers at Lands End were able to watch her steam past, and then at Torbay, she was surrounded by a flotilla of small boats. She reached Dover, then turned back for Southampton, where she berthed at the new £300,000 cruise terminal - soon to be replaced by the Mayflower Cruise Terminal, built especially for her and Orient Line's new flagship, Oriana. Throughout the coastal voyage, 300 Harland & Wolff employees fought against the clock to get Canberra's interiors ready for her maiden voyage.
---
Canberra's interiors were designed by a team, headed by Sir Hugh Maxwell Casson FRIBA, whose brief was to produce a range of rooms and facilities of a higher standard than anything seen before in a British passenger ship. Sir Hugh had been a director of architecture for the 1951 Festival of Britain and in 1961, held the august position of Professor of Interior Design at the prestigious Royal College of Art in London. He came with impeccable credentials, having also designed the interiors of the Royal Yacht Britannia.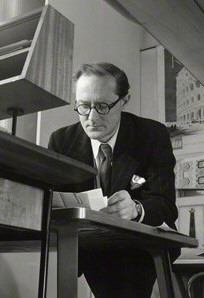 His parents had first met on board a P&O steamer, while on passage to India, which gave him a personal, family interest in the project. Sir Donald Anderson, P&O's Chairman, told him, 'that as to taste, all decisions are to be made by you , although there is no one better fitted than my brother, Colin, to guide decisions on anything upon which you want a ruling - You are responsible for choosing and Colin for authorising.' As a result, Canberra was not only fitted out with 'functional modernity' of Colin Andersons Orient Line ships, but had much of the frivolity and colour of the Festival of Britain.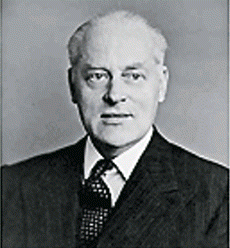 Ruth Artmonsky, in her book, Shipboard Style - Colin Anderson of the Orient Line, writes, 'The 1930s saw a sea change in the interior design of ocean liners. The great Edwardian boats on the Transatlantic routes, ornate with Jacobean, Georgian and Louis Quinze style furnishings, had resembled stately country mansions, aiming to cocoon their passengers from any notion that they were actually at sea. The Cunard liners of the 30s, the Queens Mary and Elizabeth, along with such Continental rivals as the Normandie, were to exchange the pomposity of the earlier boats for the glitzy, jazzy art deco of New York hotels. Two young men, Colin Anderson, a director of the Orient Line, and Brian O'Rorke, his architect, turned, for the new 30s Orient Line boats, on their Australasian routes, to the functionalism of the Bauhaus, 'fitness for purpose'. Starting with the Orion in 1935, they saw boats as' vehicles at sea', so that their design emphasis was on durable materials, ergonomically designed furniture, simplicity of decoration and, on actually having their passengers aware of, and enjoying, what lay outside their portholes and viewing windows.' Anderson went on to provide a steady hand both for the Tate Gallery - where he was Chairman of the Trustees during one of its most turbulent periods; and for the Royal College of Art, of which he was its first Provost.
---
'Functional Modernity & Fitness For Purpose'
The First Class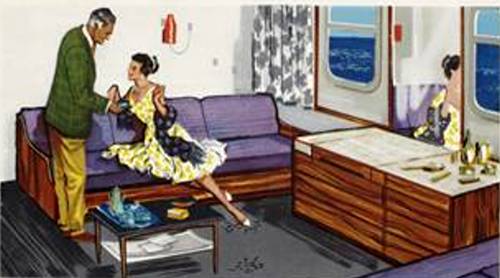 'The first impression on entering a double cabin such as this is one of spaciousness. Next you notice the cool but friendly colours, the gay furnishings. Then the amenities . . . the air-conditioning, with finger-tip control, the lighting, the large drawer and wardrobe space, the hot, cold and iced drinking water, the bathroom or shower (with which all first-class cabins are fitted), the two-band radio, the universal razor socket. The ceiling is flush, with no projections to mar the clean lines of the cabin. Behind the bed head is a compact panel containing light, radio and air-conditioning controls. The fitted carpet adds a final satisfying touch to a room that contains every detail for individual comfort. And in the accommodation and public rooms, new thinking has been equally applied - and to the same end of comfort and pleasure. All sections of this remark≠able ship reflect the infinite care and expense lavished on them. Truly, a ship that shapes the future.'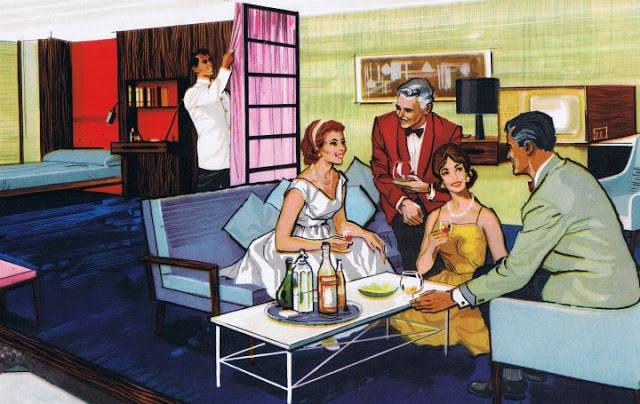 'Added to the normal charms and comforts, the Veranda Suites have the extra touch of distinction to make each a perfect haven of rest and enchant≠ment. There are four such suites in Canberra, and each comprises a double bedroom, with twin beds, leading off a veranda sitting room with large windows overlooking the sea. A private bathroom and toilet are adjacent. Two of these suites have communicating doors so that family travel presents no problem ... an idea haven for young and old. This spacious, sound-proofed apartment for gracious living includes among it; amenities a refrigerator, cocktail cabinet and television. On a slightly smaller scale, but with no fewer amenities, are eight de-luxe cabins, also twin bedded. These cabins can be converted into delightful sitting rooms during the daytime. Four of the de-luxe cabins have communicating doors.'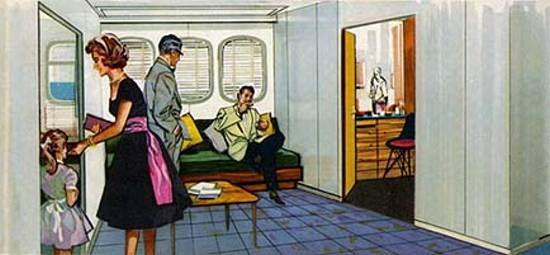 'The Court cabin is a brilliantly simple answer to the old problem of the 'inside' cabin. Along the ship's side are many courts, or verandas, with large windows overlooking the sea. Each Court cabin, similarly, has a window which looks out through the veranda to the ocean. Truly, each is a room with a view. No need to wonder, now, about the weather - you can see the sun is shining. And complete privacy is yours at the flick of a blind.'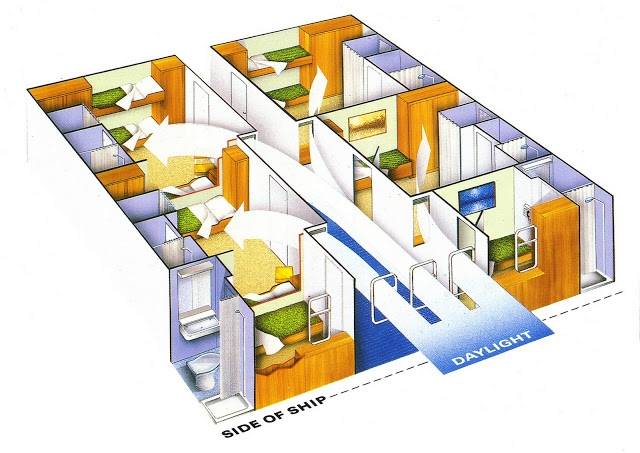 Arrangement of Canberra's Court Cabins - viewed from outside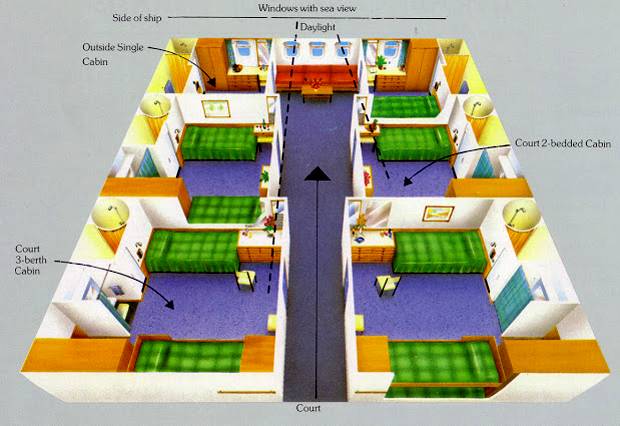 Viewed from inside...

'The Meridian Room - Canberra's main first-class lounge, is more than a room: it is the centre of a ship, designed for peace and the gentler displays of animation. Within its area is a writing room, a library, an annexe called the Menzies Room, and also the Century Bar. Large windows cater for those who, from their very comfortable easy chairs, wish to do no more than watch the sea go by. In the Century Bar an imaginative display of pictures captures life as it was lived one hundred years ago. From the Meridian Room a brightly- illuminated white staircase spirals up through three decks to the Crow's Nest, one of Canberra's most exciting features. Here you can look ahead for a not entirely welcome landfall, or behind and down at the friendly battles in the games arena. Either way the view is totally unobstructed. Comfortable seats, light furniture and warm carpeting make this a vantage point of unrivalled charm.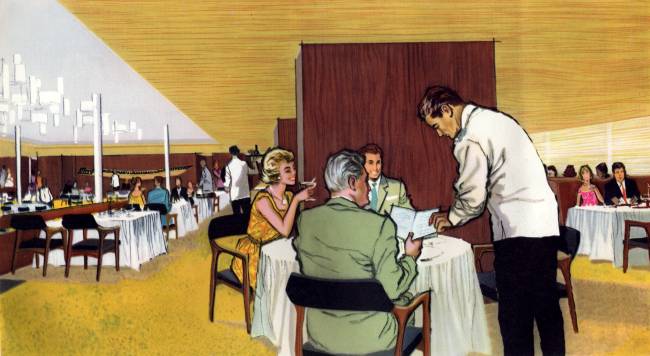 'The first class restaurant, a room of beauty and dignity, a room one hundred feet wide and seating - comfortably - 320 people. The dimensions do not suggest mere vastness however, for the skill of the designer has been employed to give the room more intimate proportions. This has been achieved largely by the use of strong pillar casings and high banquette seating, and by sinking the centre of the room in a 'well' and raising the central ceiling. A cluster of glowing cylinders, suspended like stalactites, hangs from the higher portion of the ceiling, and the lighting can be bright or subdued. The decorative themes are Polynesian. The food itself is international and, of course of a quality to tempt and satisfy sea sharpened appetites.'

'The Bonito Club: Step inside from the pool area and you will find a gay, romantic atmosphere. Light filters down from the glass ceiling through honeycombed cells, and the tables have their own inner radiance glowing softly through translucent tops. Spotlighted against a richly-coloured aboriginal mural, the orchestra plays, summoning the dancers on to the smooth, sprung dance floor. At the after end of the room is a glass wall; this can be retracted vertically into the floor so that the club and lido areas can be merged into one.'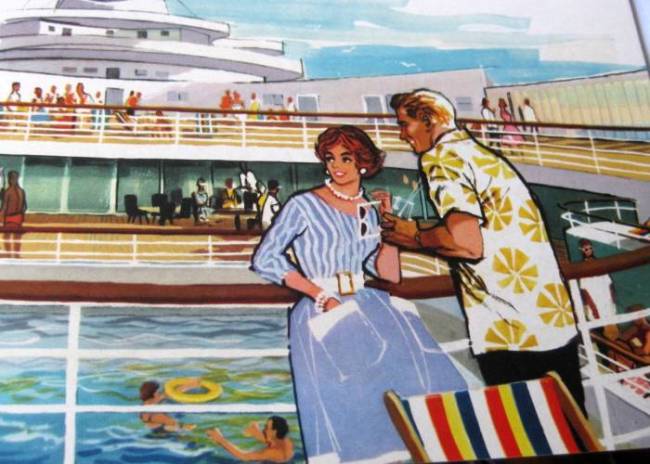 'The Pool : Most people will go far for their sunshine and their swimming, but in Canberra the sun and the fun are with you all the way. Step out of the Bonito Club on to the terraces surrounding a tiled pool....take a leisurely dip or simply laze on one of the sunbathing terraces. In a ship like Canberra travel is not a means to pleasure, but a sun-tanned pleasure in itself.'
---
The Tourist Class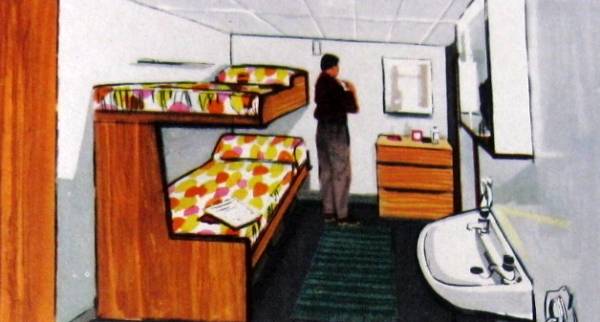 Room for Two - The two-berth cabin has all the new, exciting features which make Canberra a delight for travellers - always airy and with the air always at the right temperature perhaps with a private shower and toilet - and certainly with beds so comfortable that they make sound sleep a habit.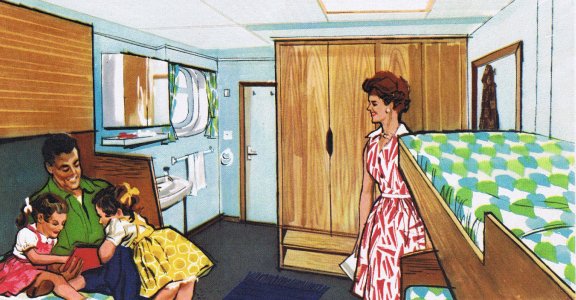 Four-berth Cabin - this is a Tourist-Class cabin, yet it has so many of the features often found only in First-Class accommodation: air-conditioning, hot, cold and iced drinking water, two-band radio. Walls and ceilings are covered by plastic - hygienic, easy to clean-and the furnishings are gay. Add to all this the ample drawer and wardrobe space, and the total is an ideal cabin for a young family.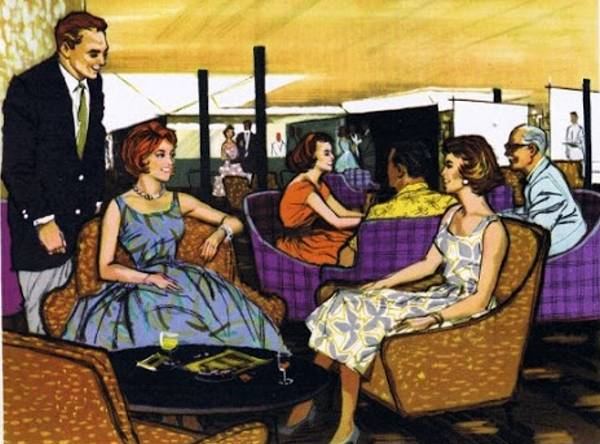 The William Fawcett Room - The large, open-plan main lounge perpetuates the name of the first P&O steamship. Open-plan because the space encompasses writing rooms, a library and a reading room, separated from each other by mirrored walls. This elegant room has a high, flat ceiling, rich wood veneers, and walls with gold and silver finishes. Added attraction is lent by the floor to ceiling sculptural features and the sparkling water-scapes. The furniture is designed for relaxation . . . comfortable easy chairs .... settees ... low, convenient tables . . . and a fitted carpet.

'Games Deck - For the young in heart of all ages, the Games deck is that part of the ship where the therapy of an ocean voyage can be seen to work. At first the games equipment is picked up with some diffidence, and land-locked muscles remain taught. But gradually, as sun and sea air work their magic, a gleam comes to the eye, forgotten skills return, and it is learned again that health is a positive thing and not mere truancy from seasickness.'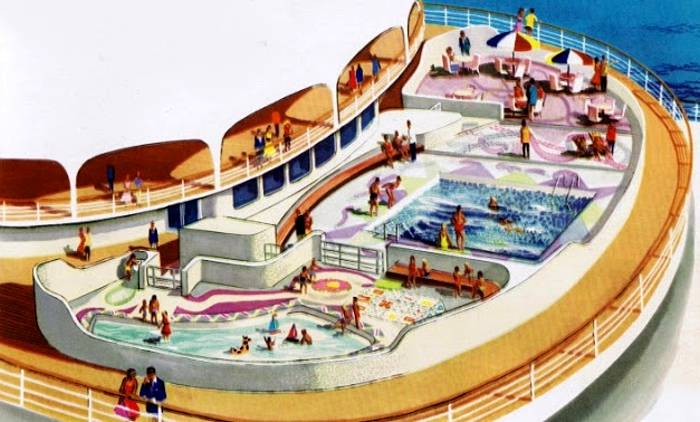 'Lido-Lazing.....from the shade of gay umbrellas, the rippling, sunlit surface of the pool beckons, and it is a dedicated sloth who can resist it. There are two swimming pools in tourist class, and the youngsters have their own safe paddling pool.'
---
Lets go to the movies!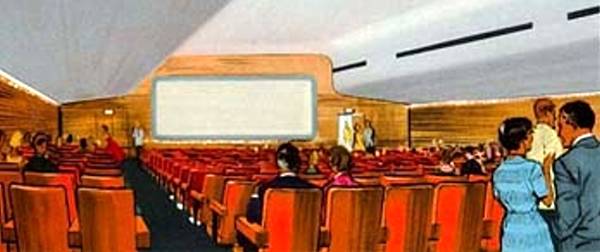 'The Cinema - With seating for 340, the cinema is strategically placed so that it can serve passengers in both classes. For lighting, there are two batteries of spotlights placed at the back. The beams are thrown on to the ceiling which acts as a reflector to light the whole interior. As the illustration shows, it is equipped for Cinemascope productions as well as Stereophonic sound. Excellent viewing is matched by perfect acoustics. (Quite apart from the cinema, television programmes can be seen in some of the public rooms.)'
Please Note: All the above, artists impressions and text, are taken from P&O's 1961 Canberra introductory brochure, designed by Embassy Arts Limited and printed in England by Print Planning (London) Limited. The text is verbatim, with some words and phrases deemed unacceptable by today's standards. Eg: The use of Gay to denote 'full of or disposed to or indicating mirth; light-hearted, carefree, sportive - OED.
I particular like the following comments: ' health is a positive thing and not mere truancy from seasickness' and 'it is a dedicated sloth who can resist it (lido-lazing !)'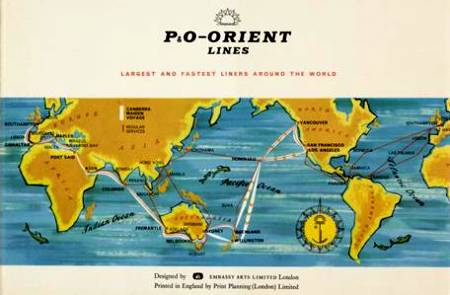 ---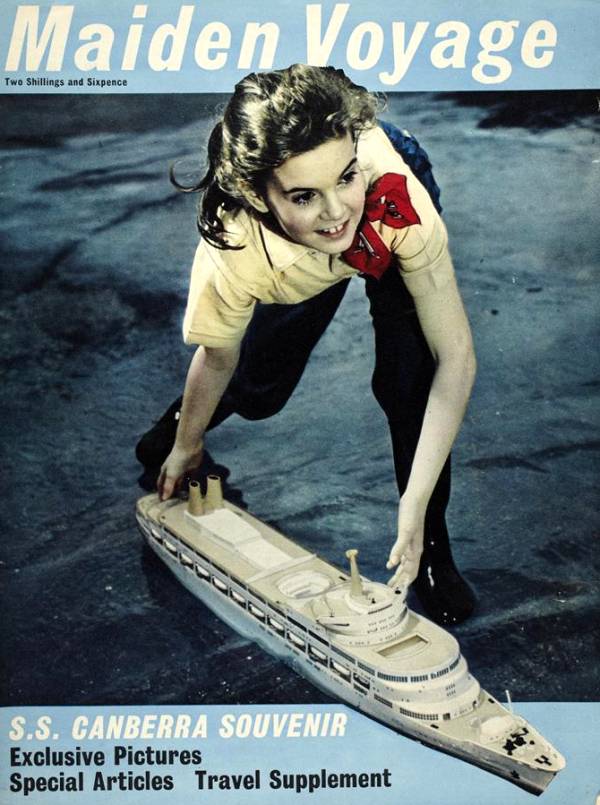 P&O's management were justly proud of their fine new ship and commissioned a brochure to celebrate her arrival on the scene. Many of the companies involved in her construction and fitting out were proud to advertise their products and involvement.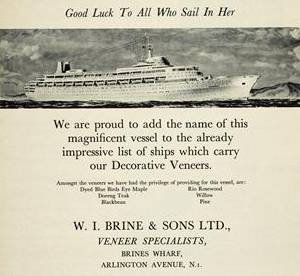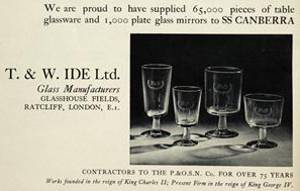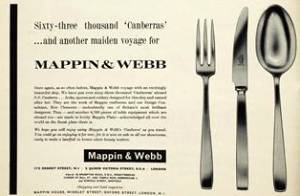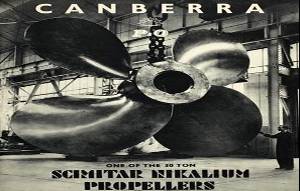 ---