Ordered in May 1946, the third ship to proudly bear the name Chusan, was a smaller version of the P&O Company's Himalaya and designed as the principal element in the postwar regeneration of P&O's Indian and Far East service. Considered by many as a long overdue replacement for the celebrated Viceroy of India, which was sunk in November 1942 by the German U-boat U-407. Like her celebrated predecessor, the new Chusan introduced superior standards, which were much appreciated by the good people of postwar austerity Britain, on the routes to the Orient and the Far East.
Built by Vickers Armstrong Ltd of Barrow in Furness, her keel was laid in February 1947. She was launched on the 28th June 1949 by Viscountess Bruce, wife of Viscount Bruce of Melbourne, a Director of the P&O.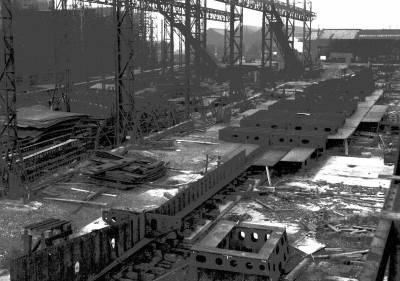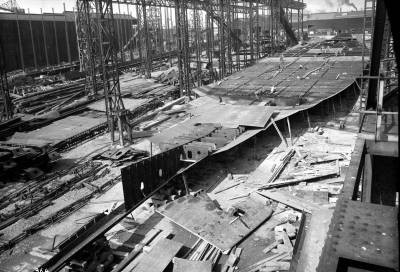 Under construction on slipway: Keel and double bottom plates in position View from crane looking forward - laying plates over the double bottoms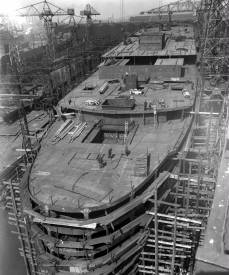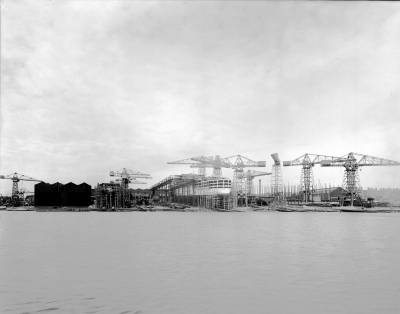 View from crane looking forward - building up the superstructure Nearing completion on the slipway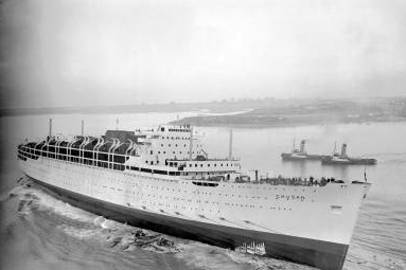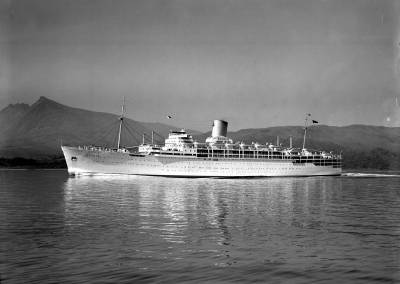 Launch Sea Trials on the Clyde
---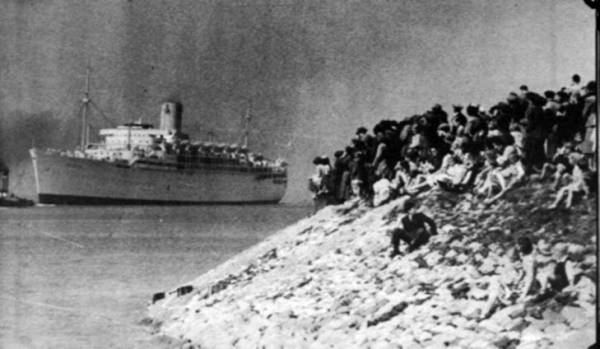 Chusan leaving Barrow, 14th June 1950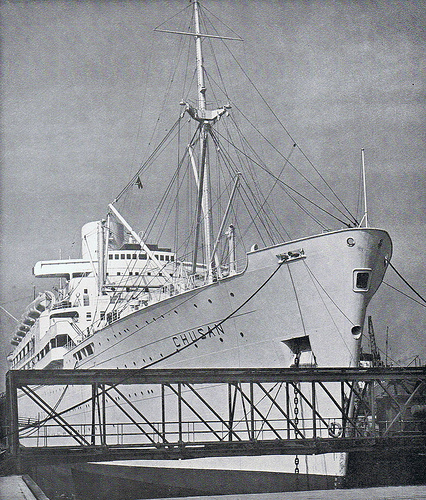 Following sea trials, she was delivered to P&O on 14th June 1950, the last and largest of the ships built for the Company's Far East Service. Like the technically advanced Viceroy of India before her, she was fitted with the very latest in marine technology, and heralded as the first ocean going passenger ship to be fitted with anti-roll stabilisers.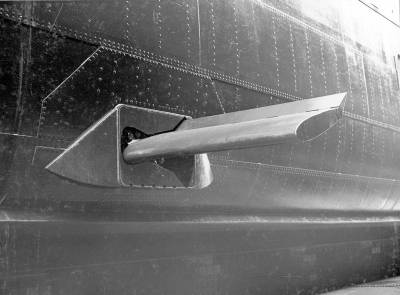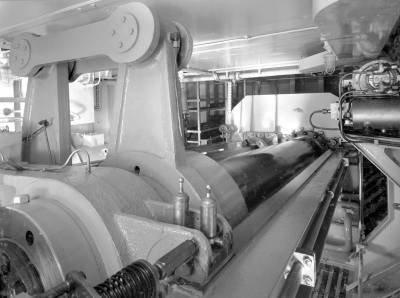 Stabiliser Fin Extended Stabiliser Machinery Compartment
---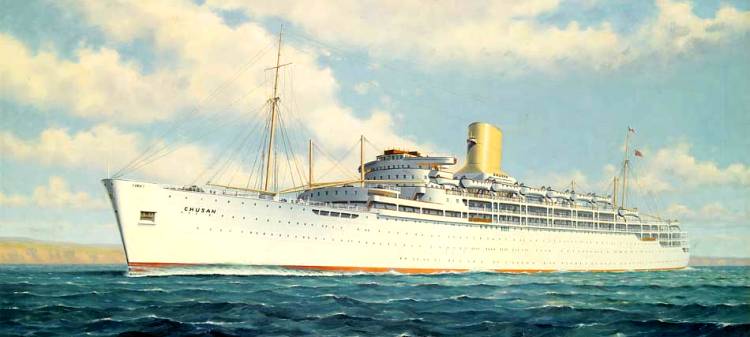 Painting, oil on canvas, SS Chusan by Edward Beckett. The painting formerly hung in the "mahogany corridor" at Vickers.
She had initially been scheduled to make four North Atlantic crossings on charter to the Cunard Line, but was delayed. She made a less glamorous first voyage, to Rotterdam, with British officials who were attending a freight conference, while the Stratheden took her place on the Cunard charter.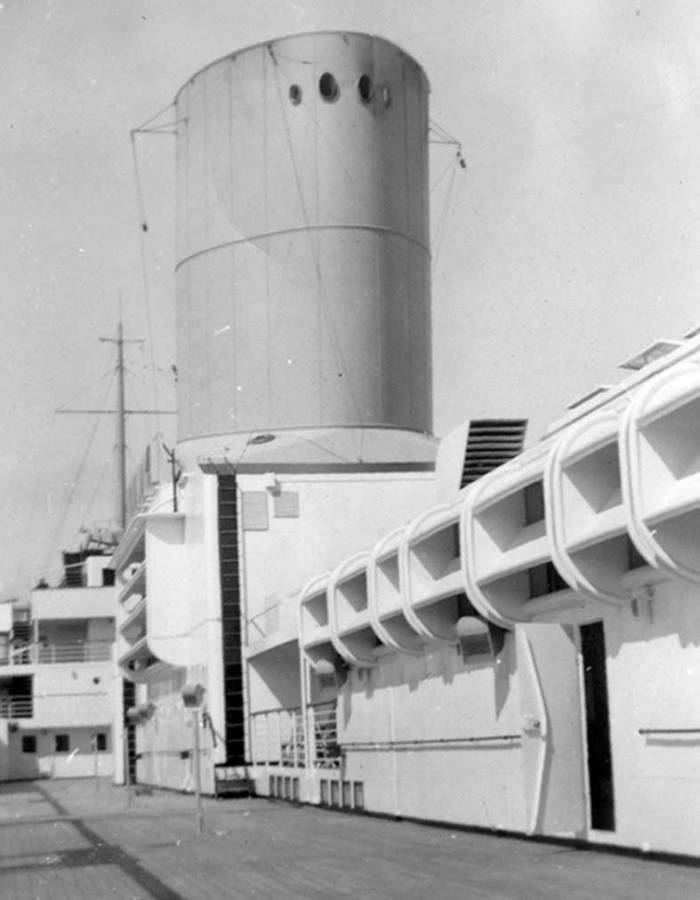 On the 1st July 1950 she sailed on her maiden commercial sailing, which was a 9 day cruise from Southampton to Madeira and Lisbon. Her maiden voyage proper, commenced on 15th September 1950, when she departed Tilbury, London, bound for Bombay via the Suez Canal.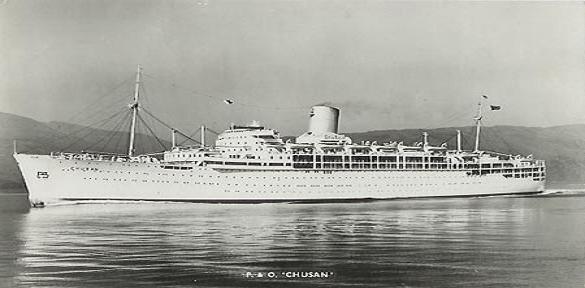 On the 7th November 1950 she commenced a regular Far East service, departing Tilbury, bound for Hong Kong. Thereafter she continued to China and the Far East, working in partnership with the P&O Company's Corfu, Carthage and Canton. Thus she reinstated P&O's service to Japan, making the first post-war call at Yokohama.

Himalaya, Chusan and Strathmore at Tilbury in 1953
---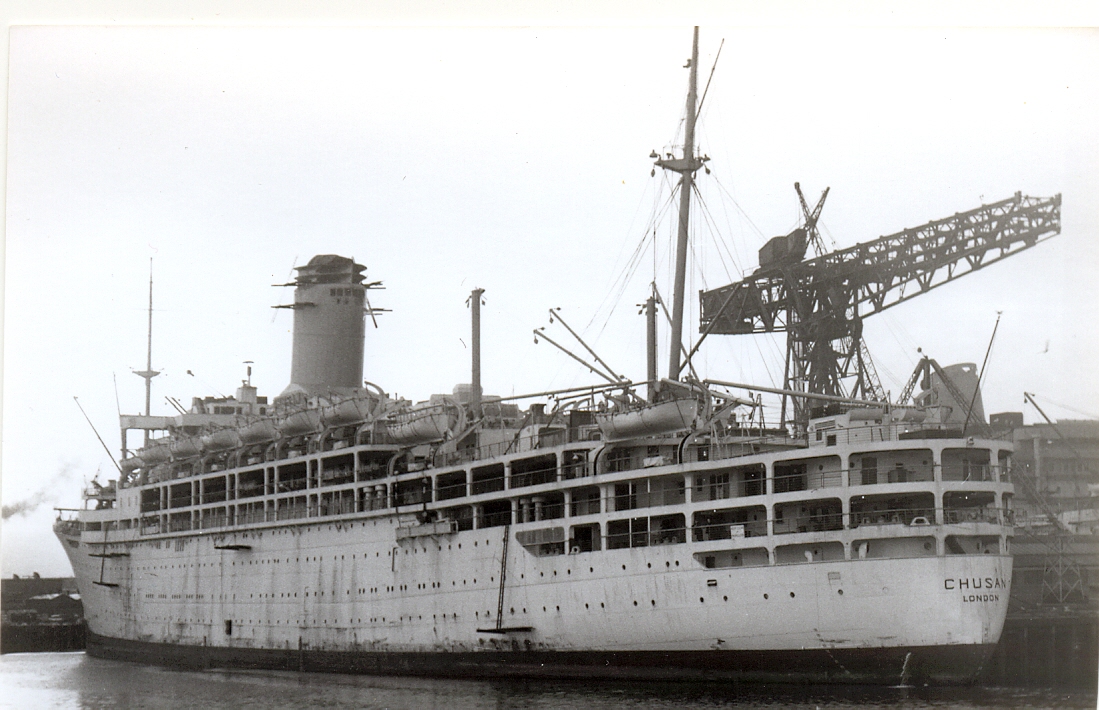 In May 1952, in order to reduce soot smuts falling on passenger decks, she was fitted with a patent Thornycroft funnel top by R & H Green & Silley Weir Ltd at Tilbury.
---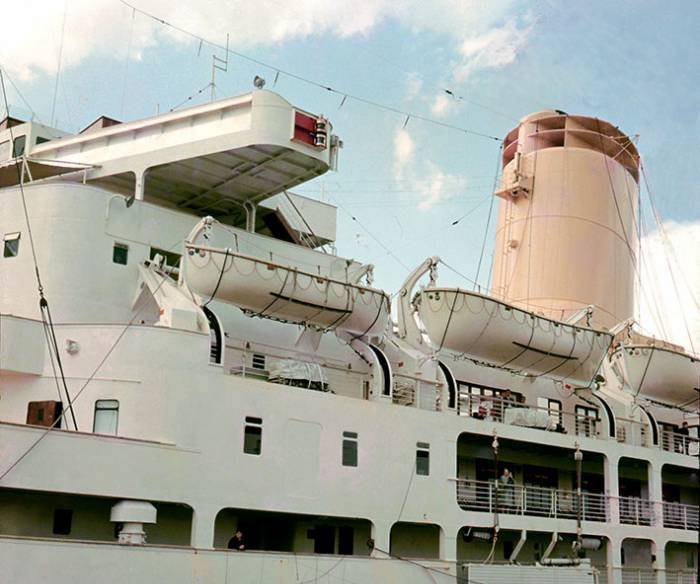 ---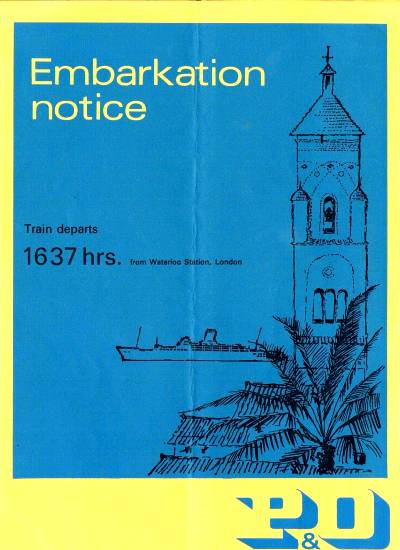 Some noteworthy events in Chusan's history:
On the 12th June 1953 she collided with the cargo ship Prospector off the Goodwin Sands. She returned to Tilbury for two days of repairs to an 8 metre gash in her bow. In March 1955 she landed a passenger with smallpox at Port Said. On the 2nd September 1955 she received a bomb hoax during a Mediterranean cruise, and, as a result, the ship was thoroughly searched at Naples. In June 1963 she was transferred from the UK to Far East Service and onto the UK to Australia service. The ship played an important role in the famous London to Sydney Marathon, a car rally across the world which started from the Crystal Palace racing circuit in London at 2pm on Sunday, 24th November 1968 and ended at Warwick Farm (an outer Sydney suburb), on Tuesday, 17th December 1968. The cars drove from London to Paris, and then overland via Munich, Venice, Trieste, Belgrade, Istanbul, Teheran, Kabul to Bombay. The crews had a cut-off time by which they had to be at dockside to board Chusan for Fremantle and only the leading 70 cars would be loaded. The cars were offloaded at Fremantle for the start of the last leg across Australia. The winner was Car 75, a Hillman Hunter driven by Scotsman Andrew Cowan. In January 1970 she had the honour of sailing the final London to India service, leaving Tilbury on the 15th Sep 1970, thus ending P&O's long association with India. I n July 1971, Chusan suffered a fire in the funnel uptakes while docked in Southampton.
"My first indication that something was amiss was a whiff of smoke from the ventilation system as I passed by the Bureau. Phoning the Engine Room I was told all was OK - then, seconds later, 'We've got a fire down here!' I called the Southampton Fire Brigade and having located the source of the fire, the Second Engineer and I organised a fire-fighting party with water wall and foam branch pipe in the approved manner. One of the Pakistani engine room crew was selected to attack the seat of the fire with an extinguisher, and with a bamboo pole (normally reserved for painting ship) lashed to his waist, he was steered towards the eerie glow, while being sprayed with dock water, and protesting he had a wife and many children at home! Then the Fire Brigade arrived and with the temperature in the hundreds, the fire was extinguished. Only then did I realise that my best doeskin trousers were falling apart, having become brittle with the heat. By the time we finished damping down, several firemen were receiving treatment for heat exhaustion, while we shovelled in the salt tablets." Nick Messinger First Officer
From December 1971 to January 1972, she operated P&O's first cruise program out of Cape Town, South Africa.
---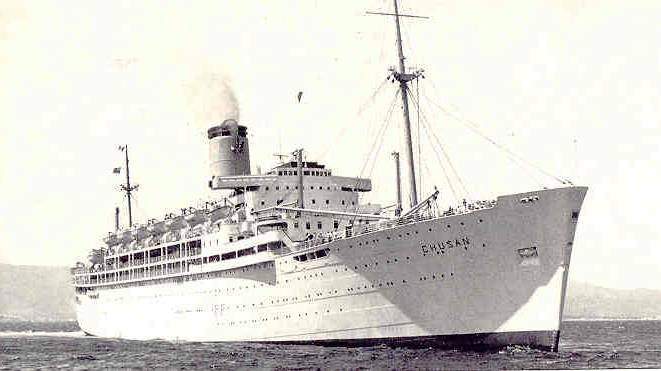 In 1959 her passenger capacity was revised to 464 first class and 541 tourist class. In April 1954 she departed London,Tilbury, for a 92 day round-the-world voyage, heralded as P&O's first World Cruise.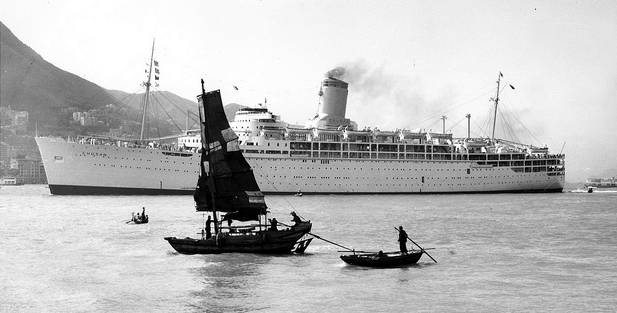 Chusan at Hong Kong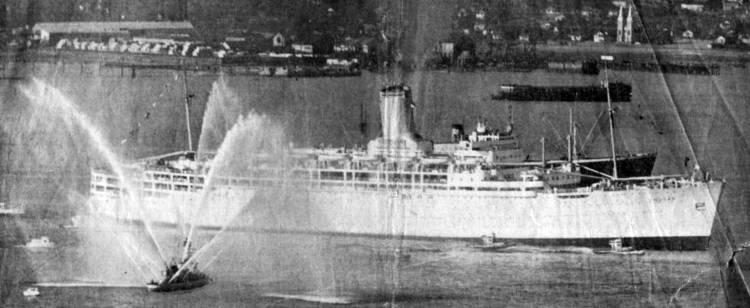 Friday 29th May 1959, Chusan receives a big welcome at Vancouver, inaugurating a new 'West-East run'. Photo: Vancouver Sun Newspaper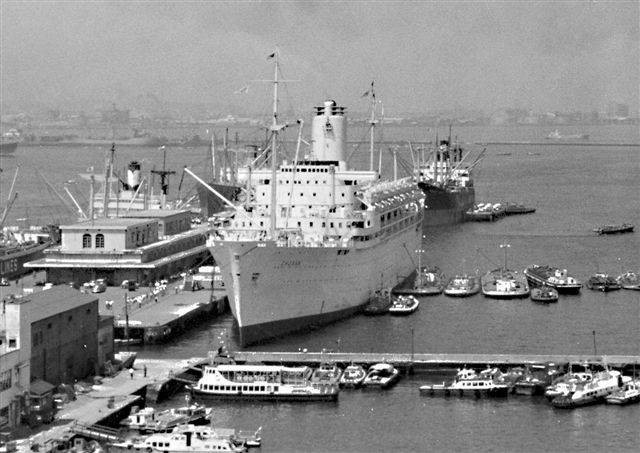 Chusan at Yokohama, Japan in the 1960s.
---
Around the ship.....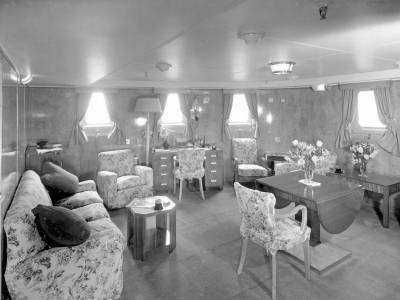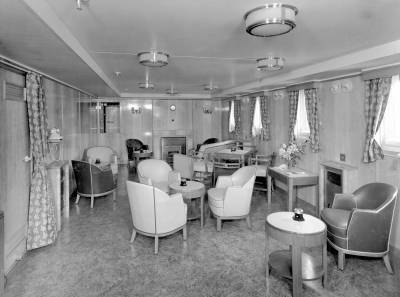 The Captain's Day Room The Wardroom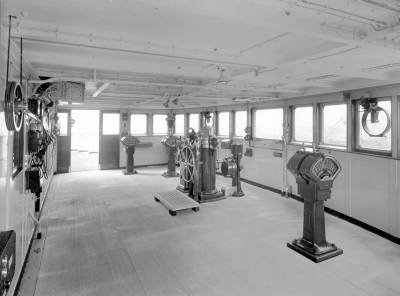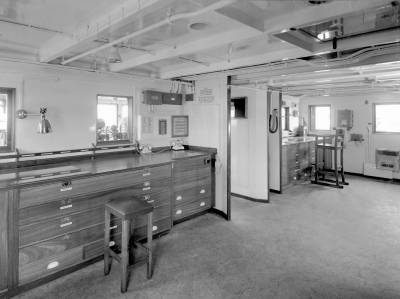 Wheelhouse Chart Room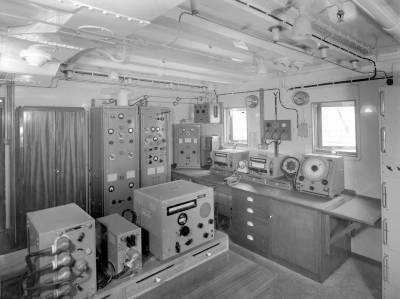 Radio Office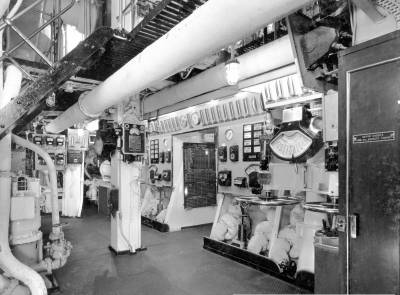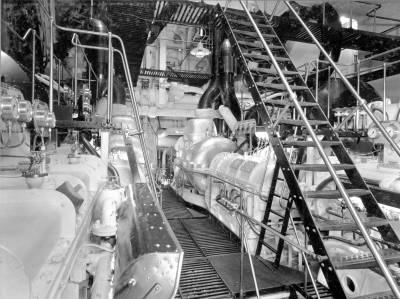 Engine Room Control Station Main Engine Room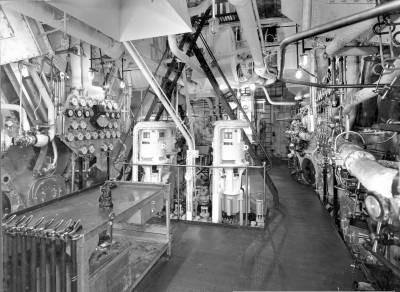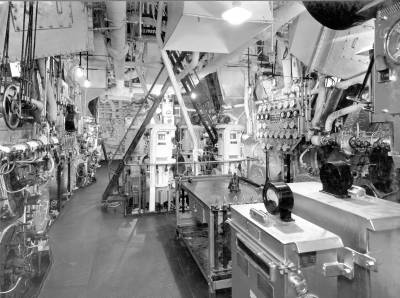 Boiler Room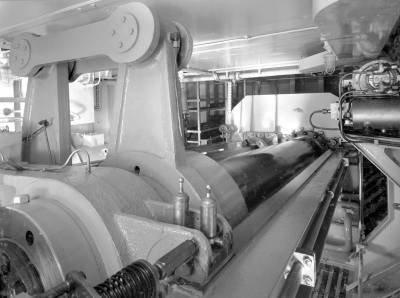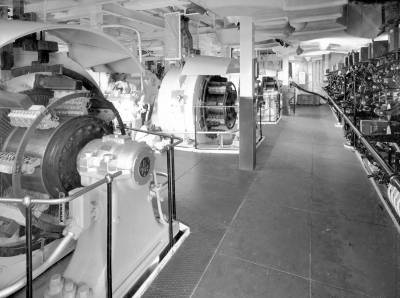 Stabiliser Compartment Generator Compartment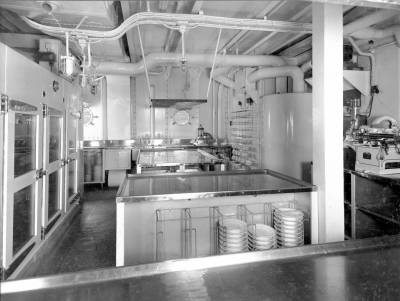 Bakery Cold Larder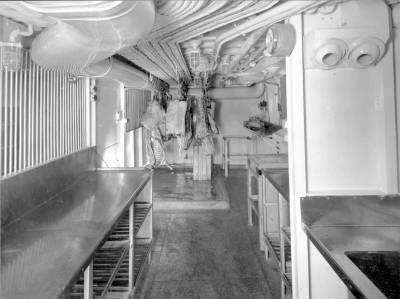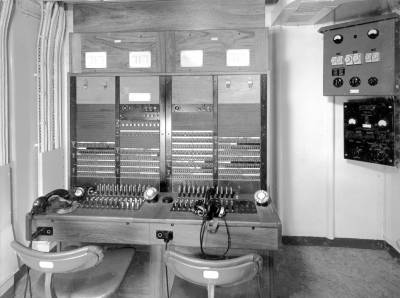 Butcher's Shop Telephone Exchange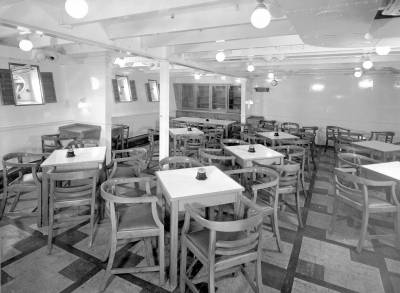 The Purser's Day Room Crew Recreation Room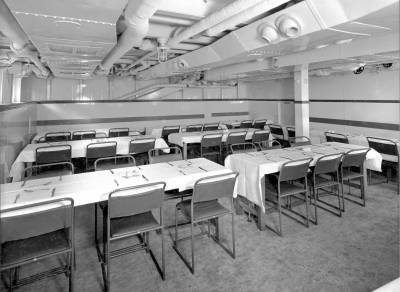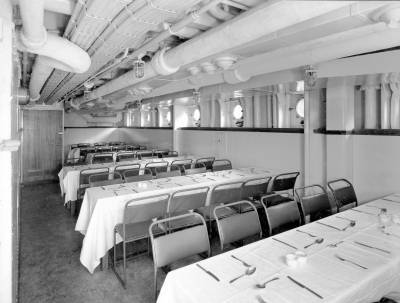 European Crew Mess Room Goanese Cooks & Stewards Mess Room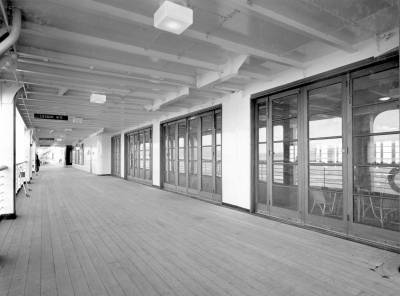 Promenade Deck
View forward, from winch platform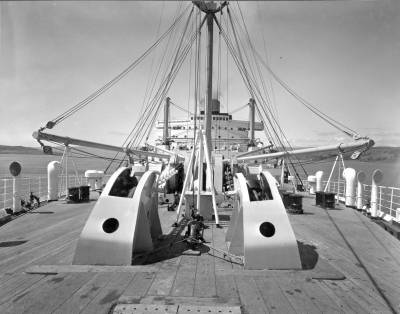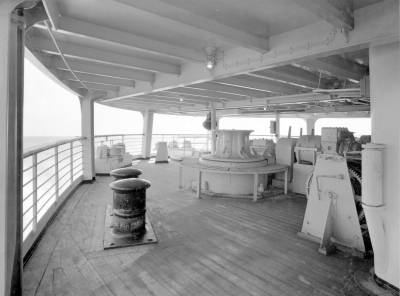 Forecastle, looking aft Aft Mooring Deck
---
Public Rooms and Passenger Accommodation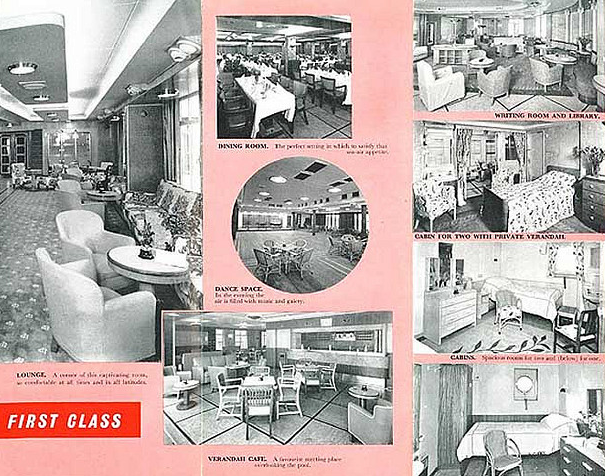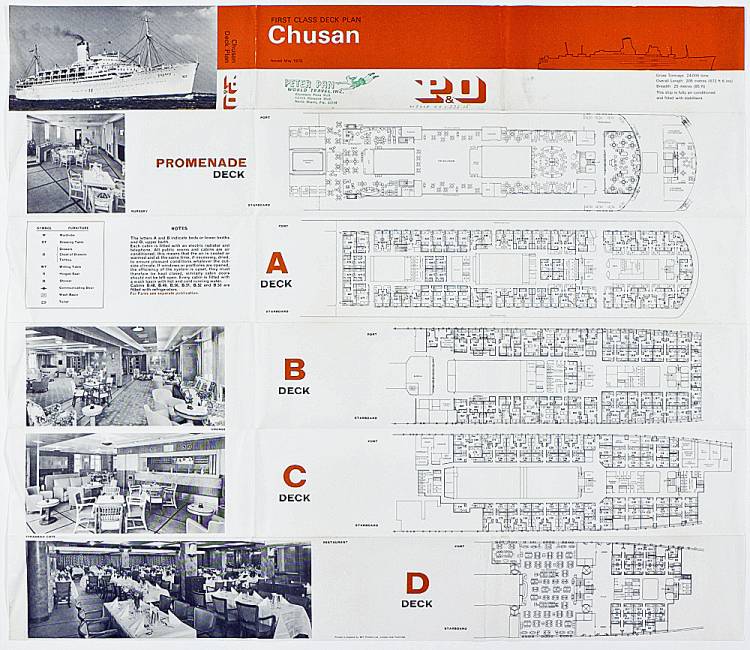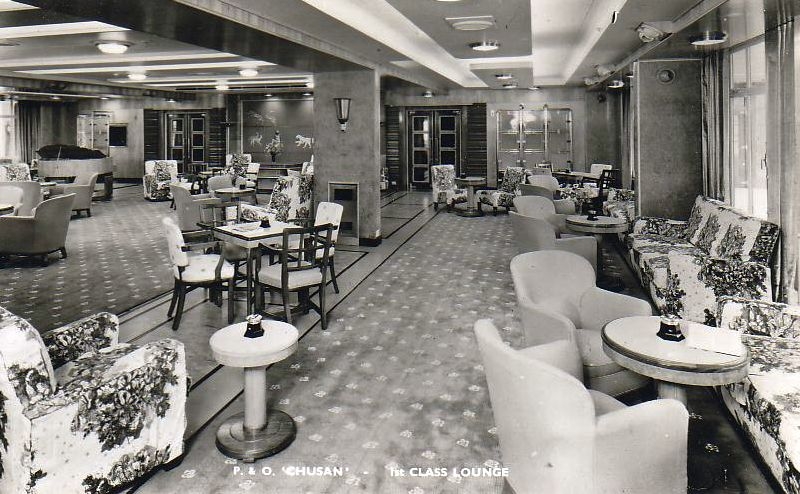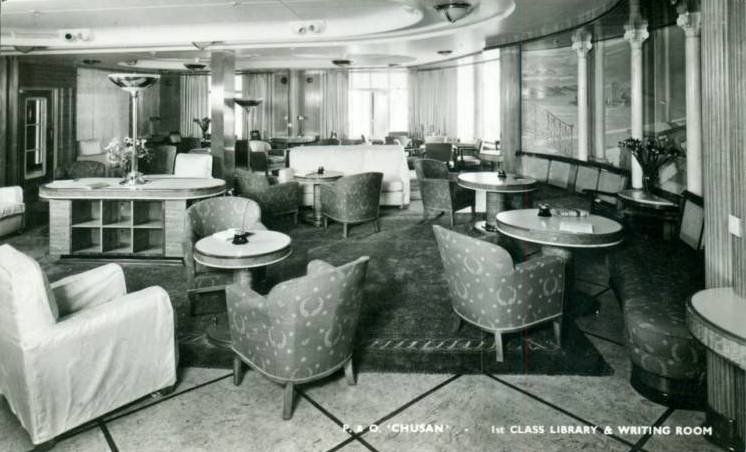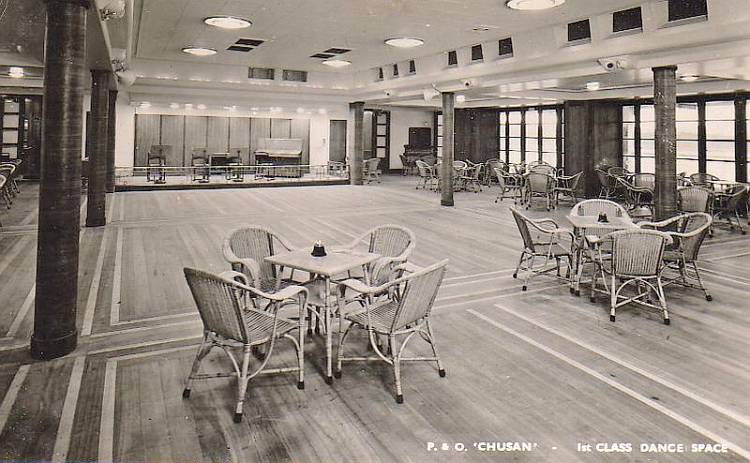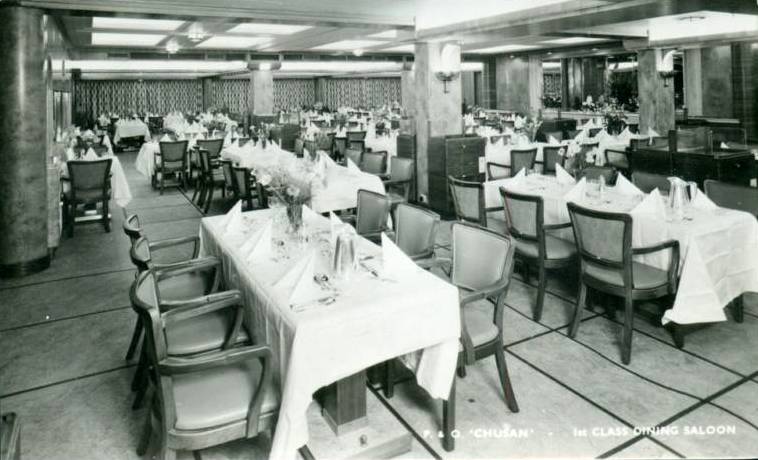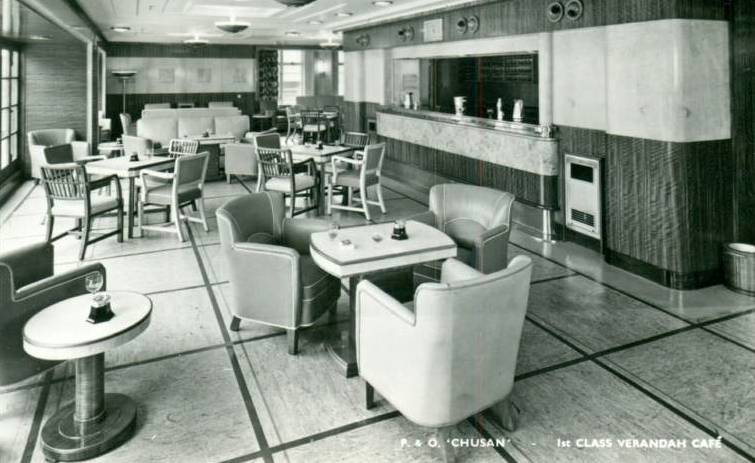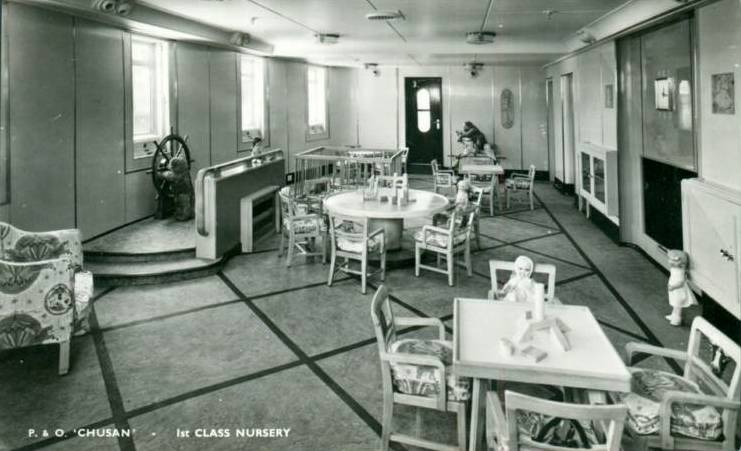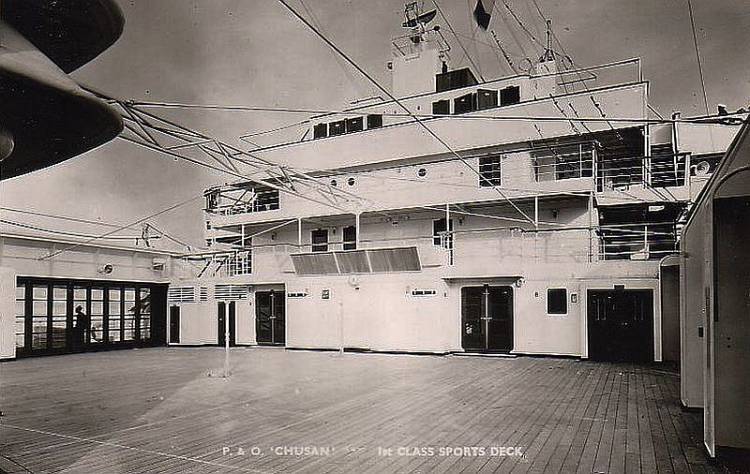 From December 1959 to March 1960 she was refitted at Harland & Wolff Ltd, Belfast and fitted with air conditioning throughout the ship.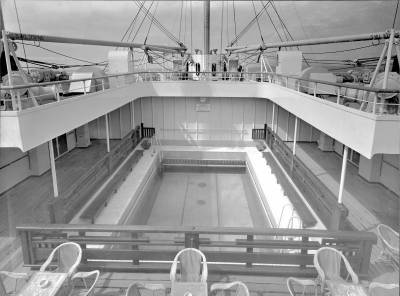 First Class Swimming Pool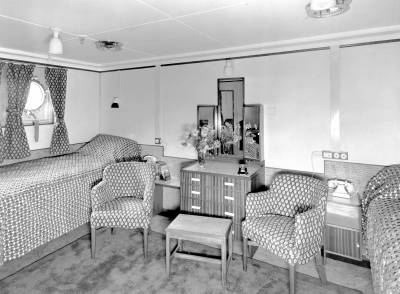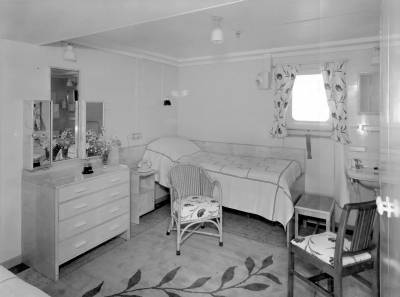 First Class A-Deck Double Cabin First Class Double Cabin with Bathroom Ensuite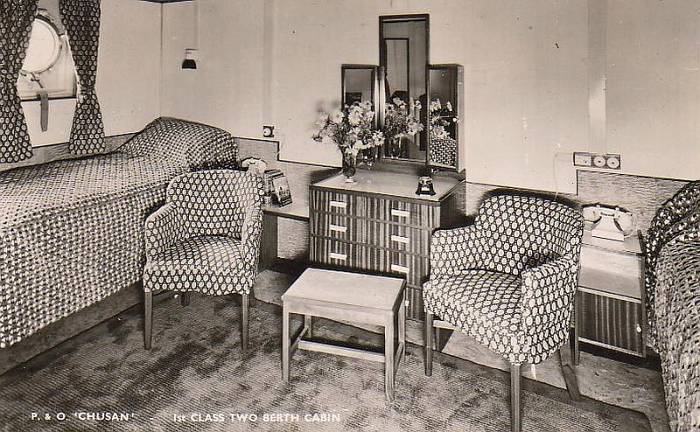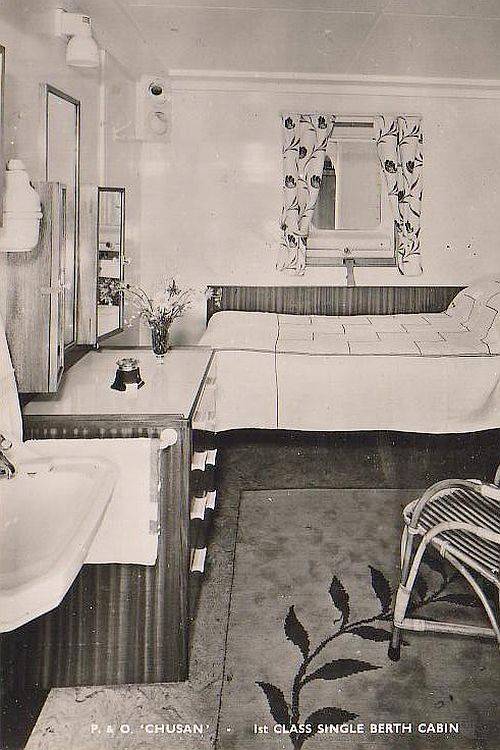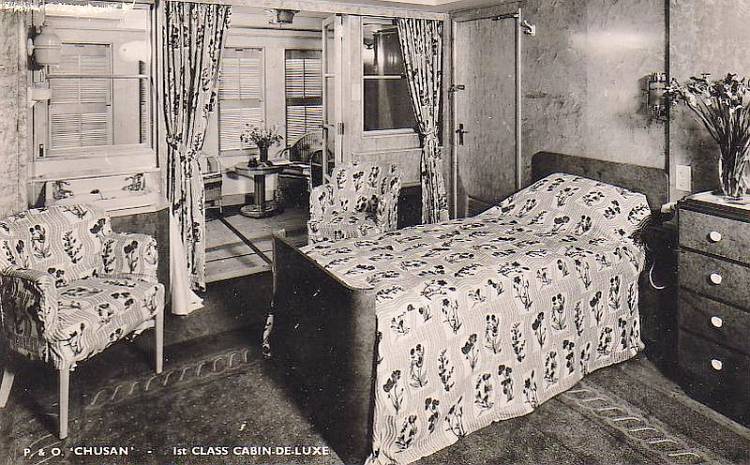 ---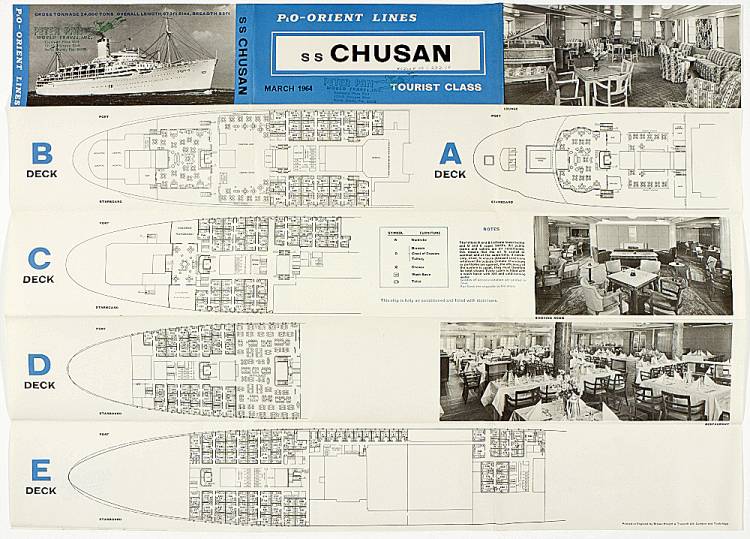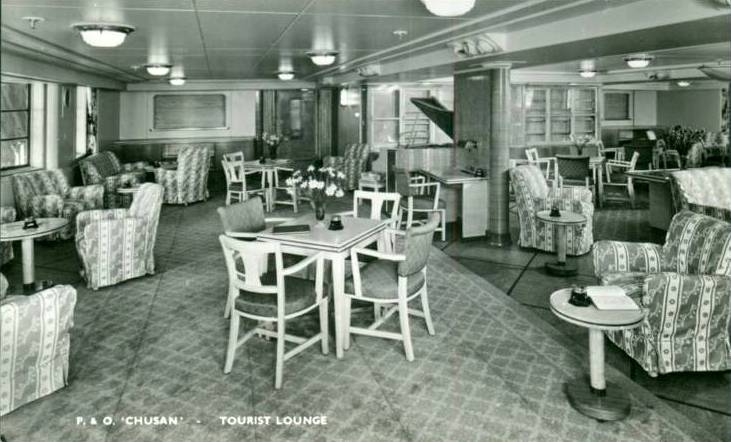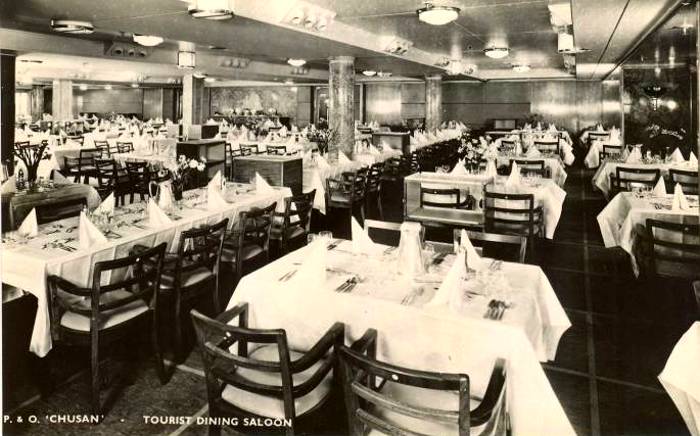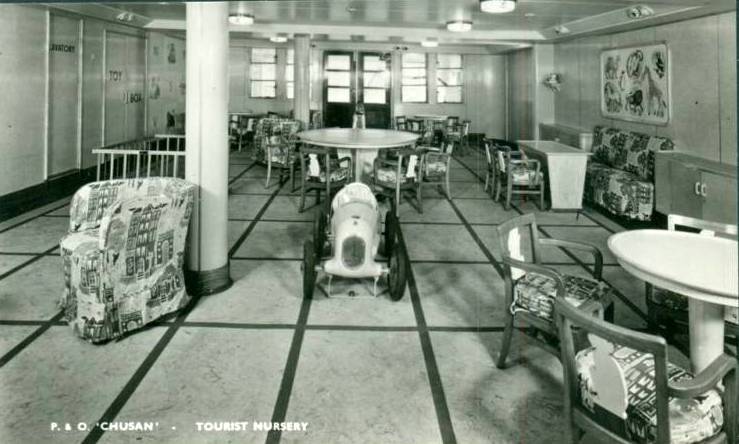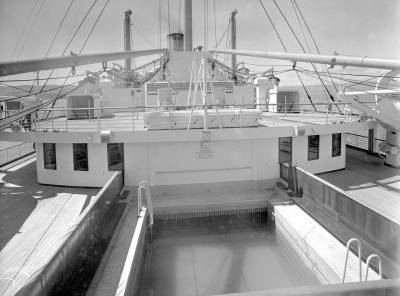 Tourist Class Swimming Pool, from aft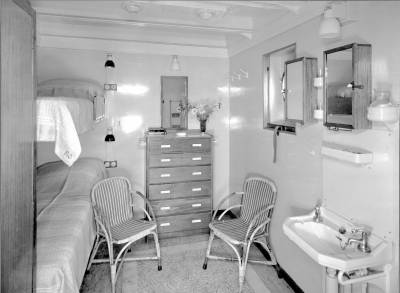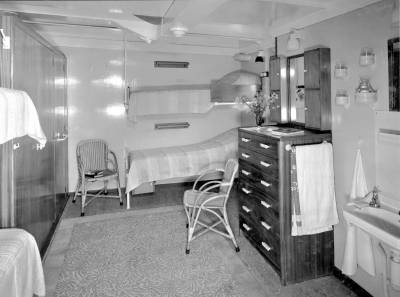 Tourist Class Double Berth Cabin Tourist Four Berth Cabin
---
The Happy Ship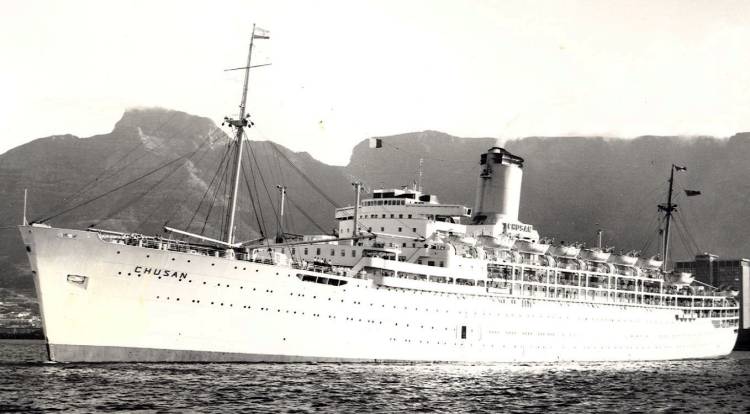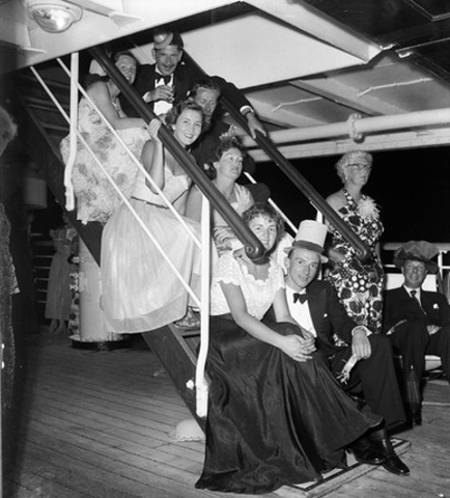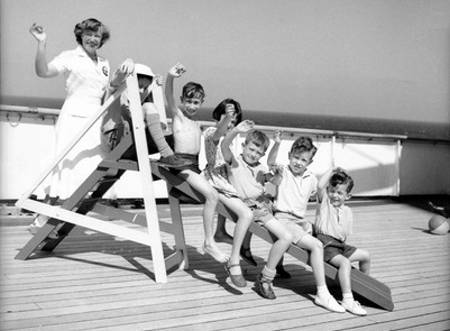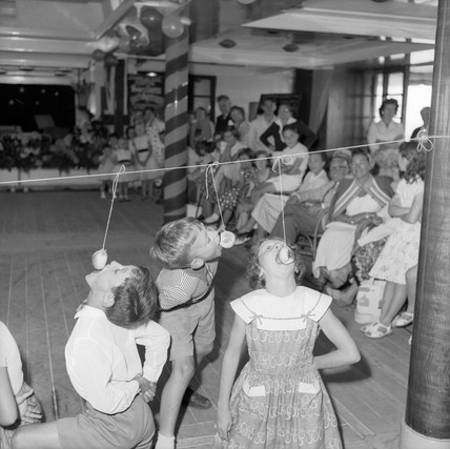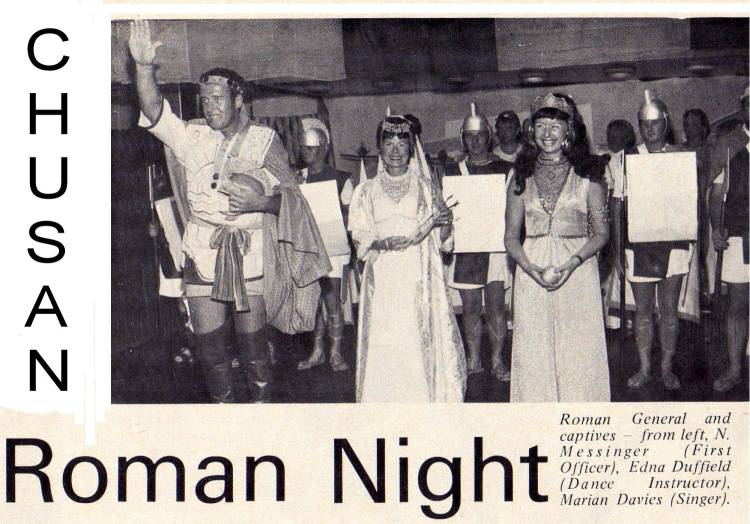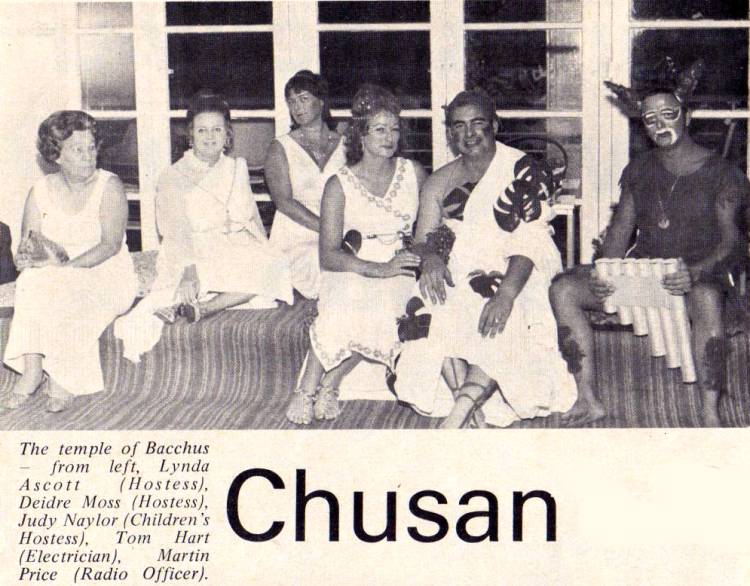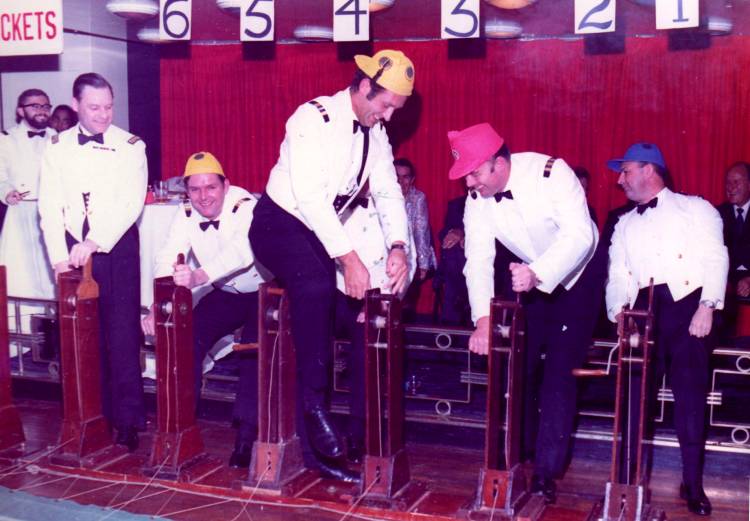 Senior Officer's Horse Race 1971 - Staff Captain, Deputy Purser, First Officer, Chief Officer, Second Engineer Officer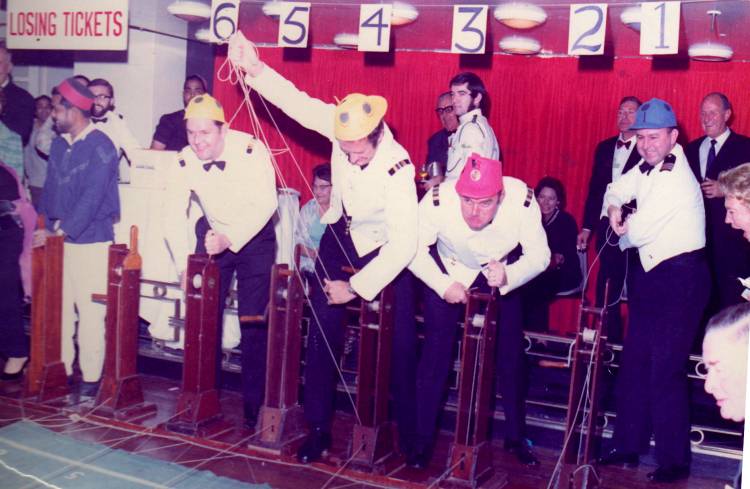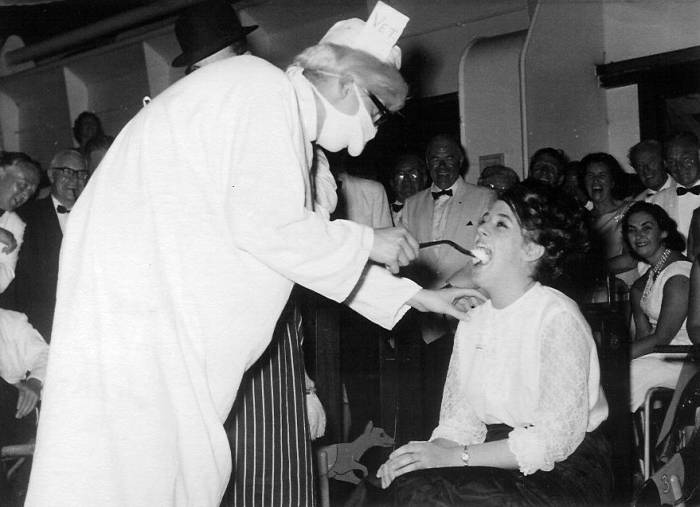 Horse Race 'Objection and Vet's Inspection!
---
The Norwegian Fjiords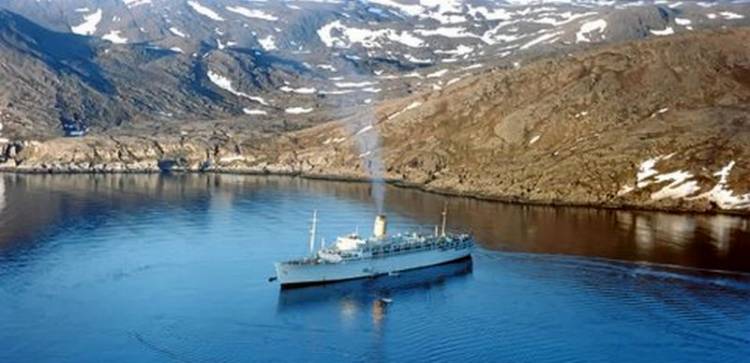 Chusan at the North Cape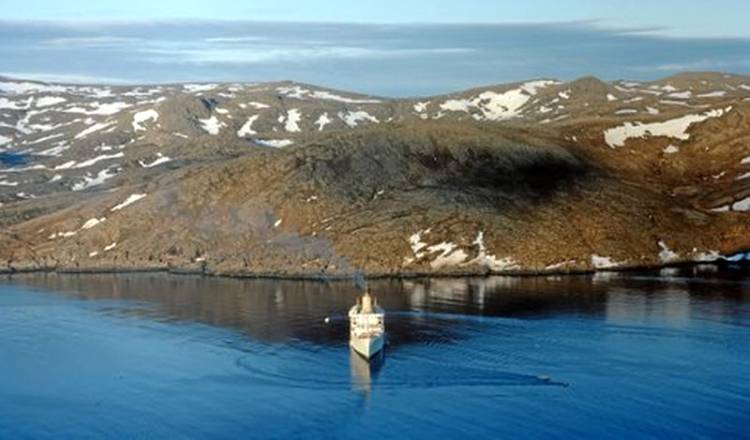 Chusan at the North Cape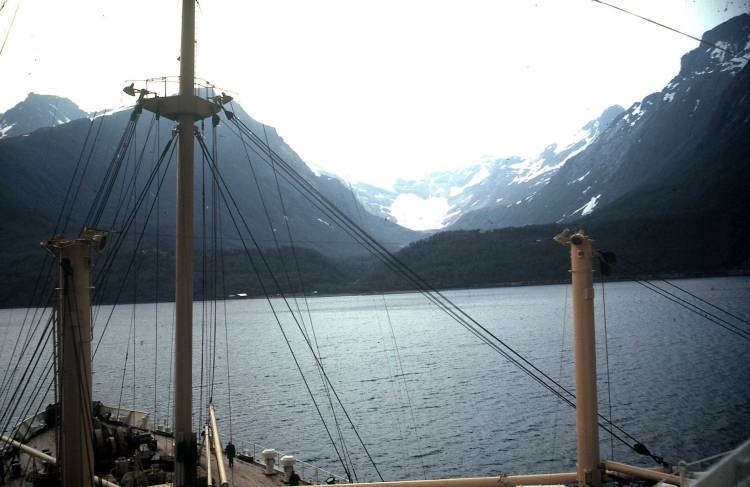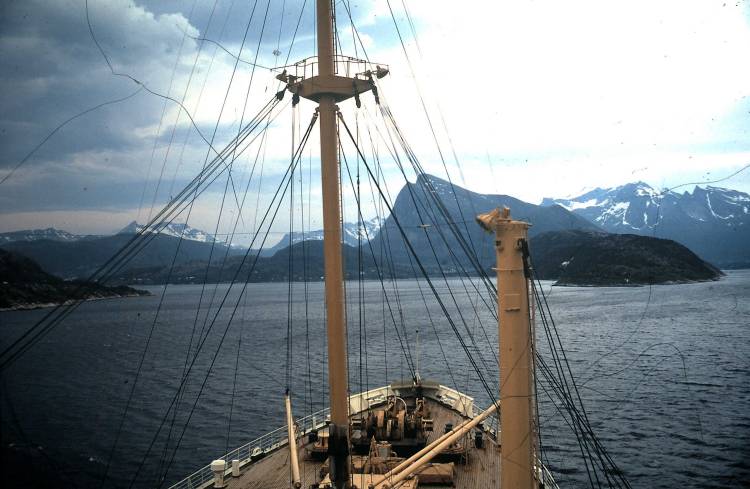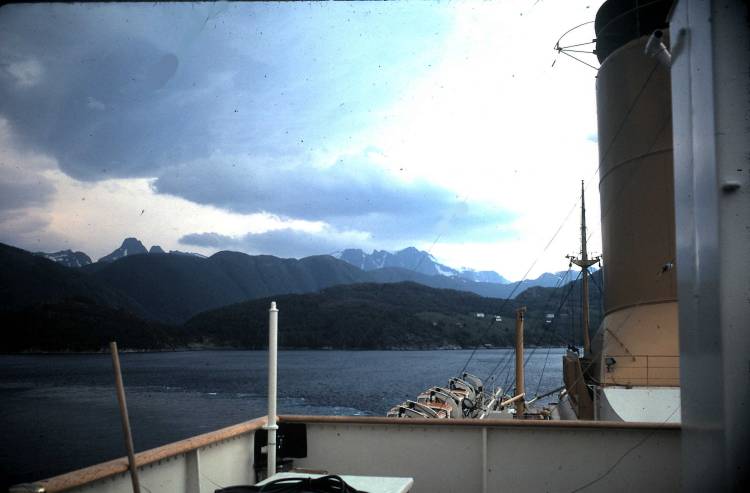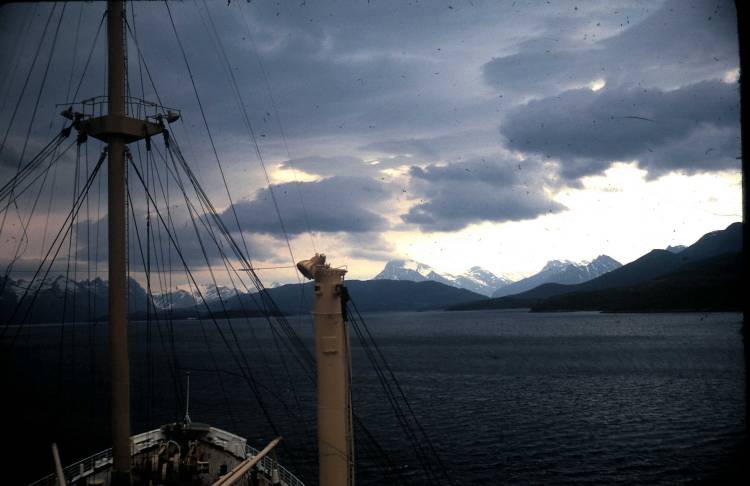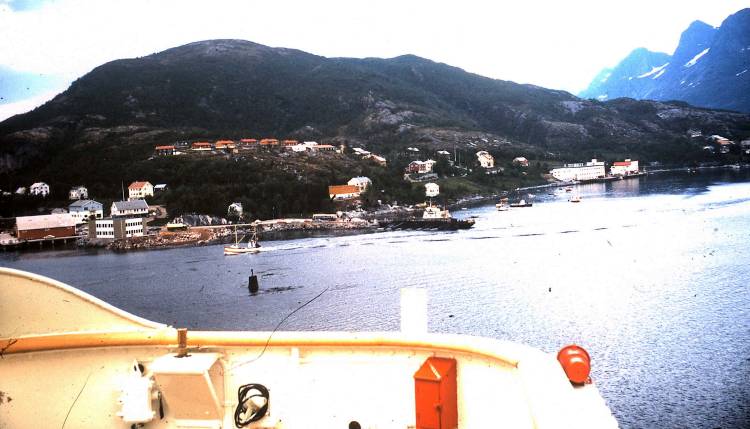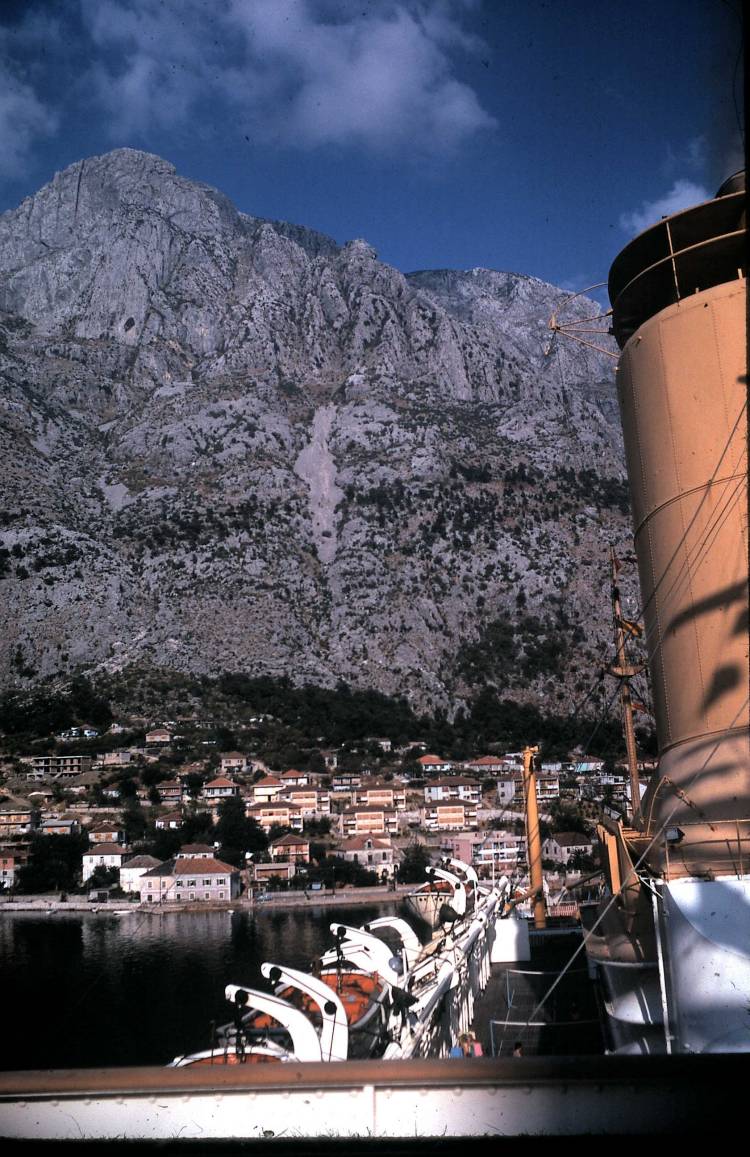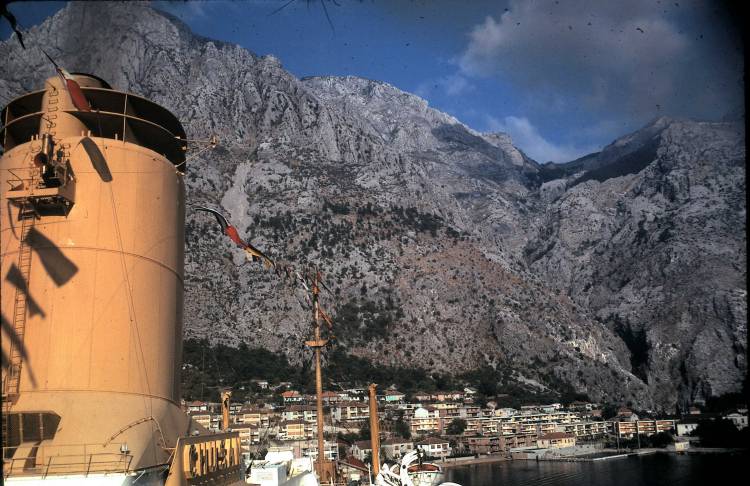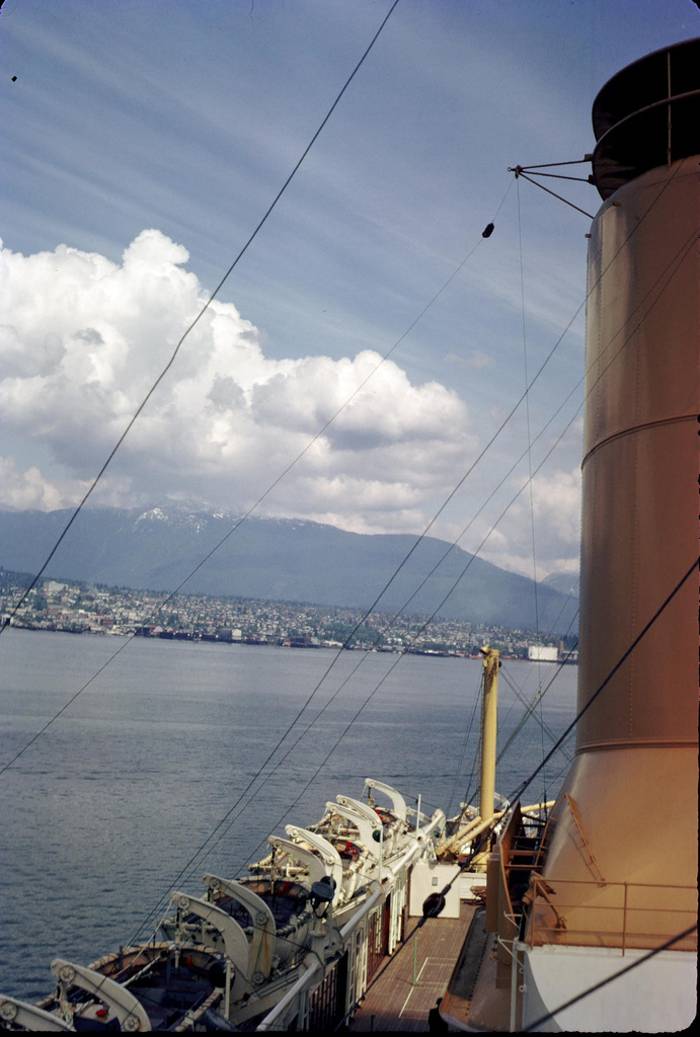 ---
Around The World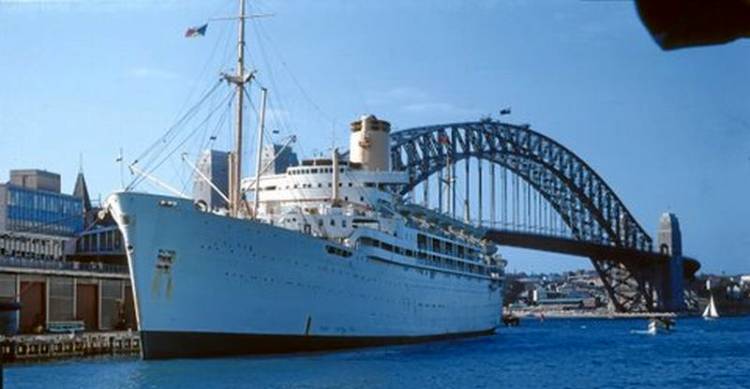 Chusan berthed at Circular Quay, Sydney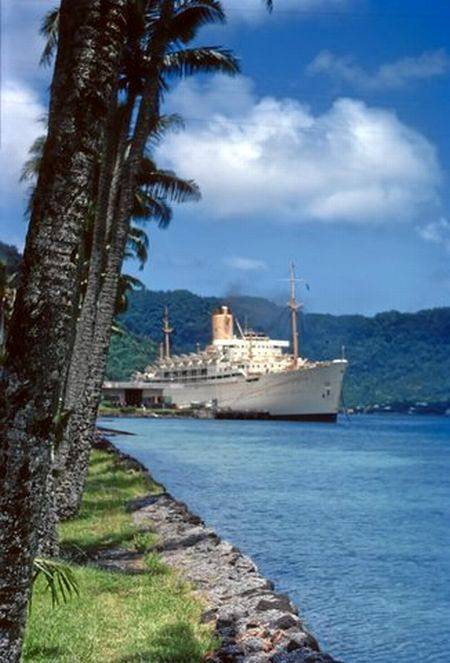 Chusan at Pago Pago, Western Samoa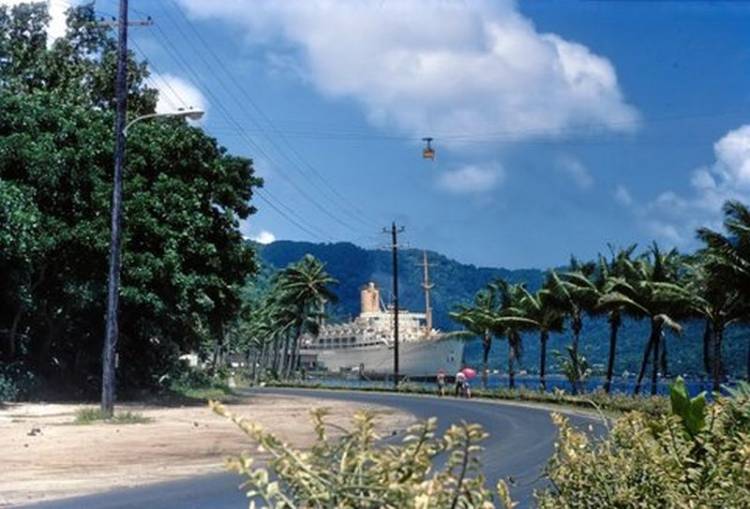 Chusan at Pago Pago, Western Samoa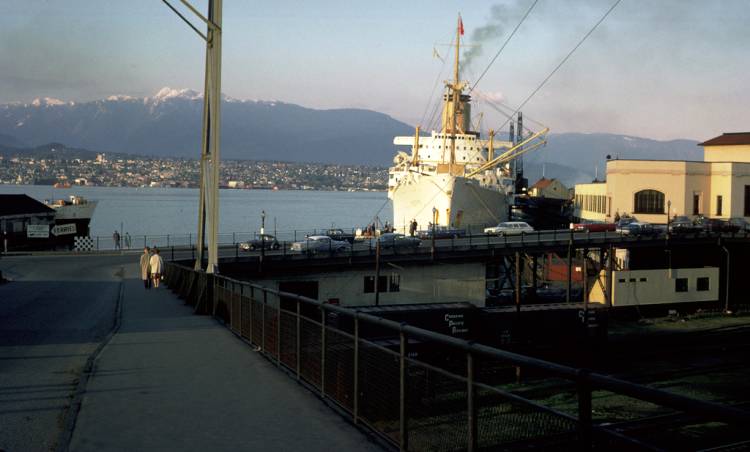 Chusan at Vancouver,BC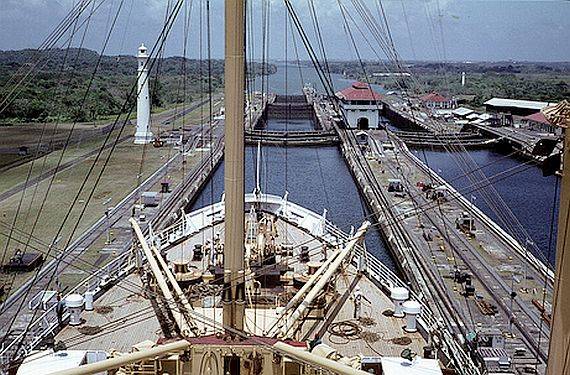 Chusan in the Panama Canal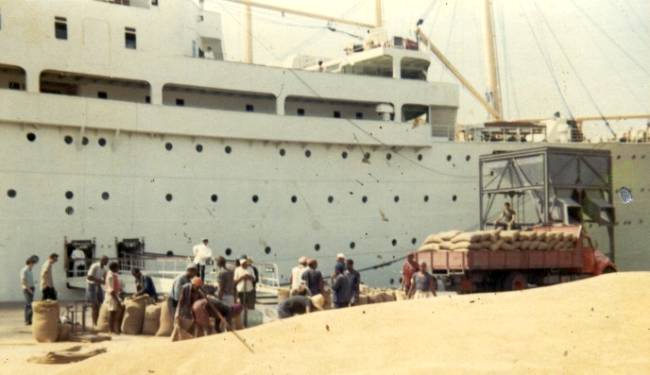 Chusan at Casa Blanca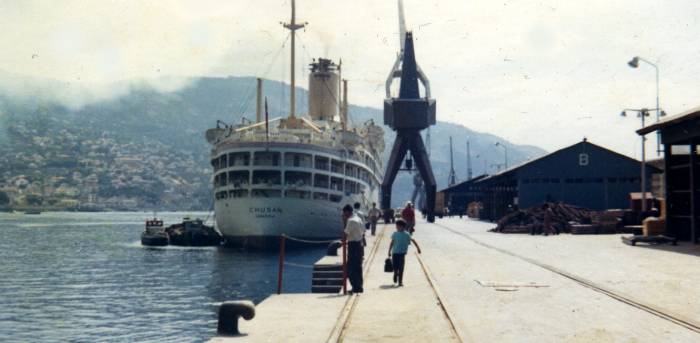 Chusan alongside at Funchal, Madeira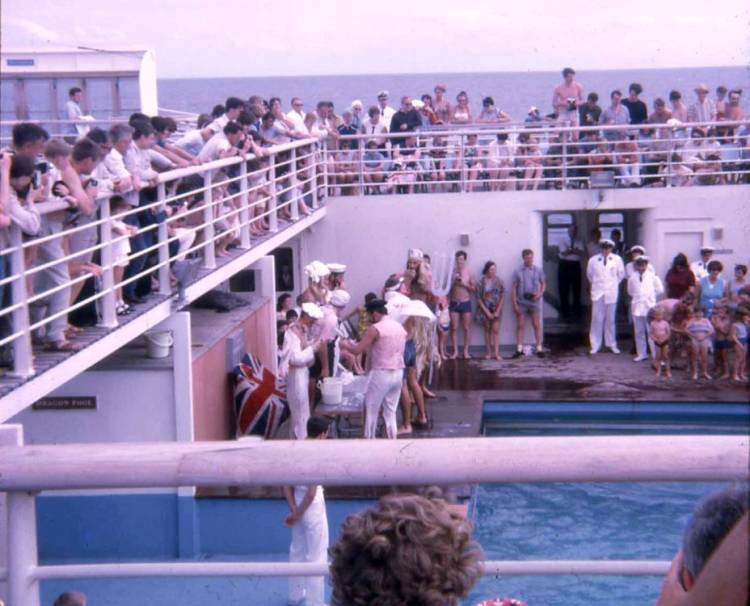 Crossing the Line
---
Chusan was my favourite ship, and both my parents and my wife-to-be were able to join me on board during her final cruises out of Southampton in 1972.
As First Officer, I was the ship's Senior Bridge Watchkeeper, and also responsible for Royal Mail, Cargo and Stability Calculations. I kept a standing 0400-0800 and 1600-2000 watch, ably assisted by Third Officer Simon Richardson, my Junior Officer of the watch, and later best man at my wedding in September 1972.
Under the command of Captain Eric Snowden, Captain John Wacher and Captain Dennis Scott-Masson, Chusan lived up to its reputation as the happiest ship in the P&O fleet.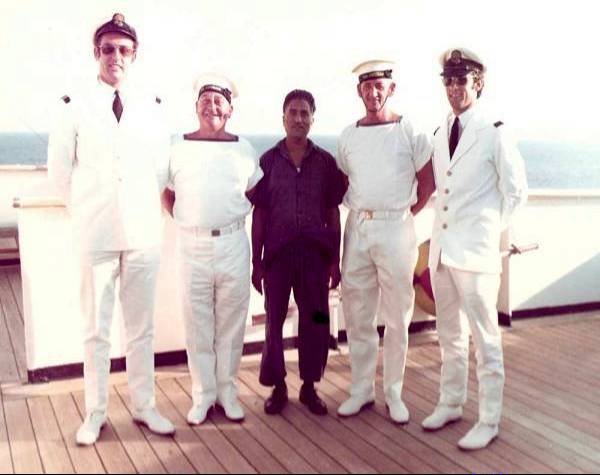 The Four-to-Eight Watch team
First Officer Nick Messinger, Quartermaster Duddy, Bridge Wallah, Quartermaster Two and Third Officer Simon Richardson.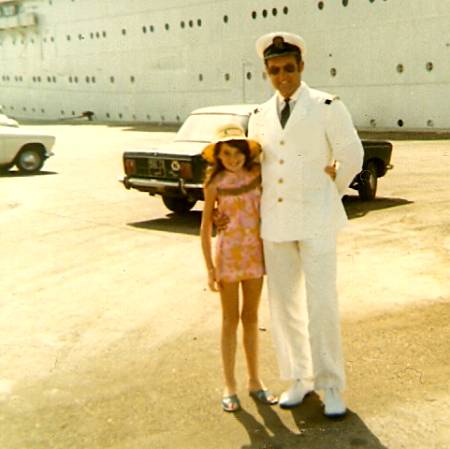 The First Officer's Lady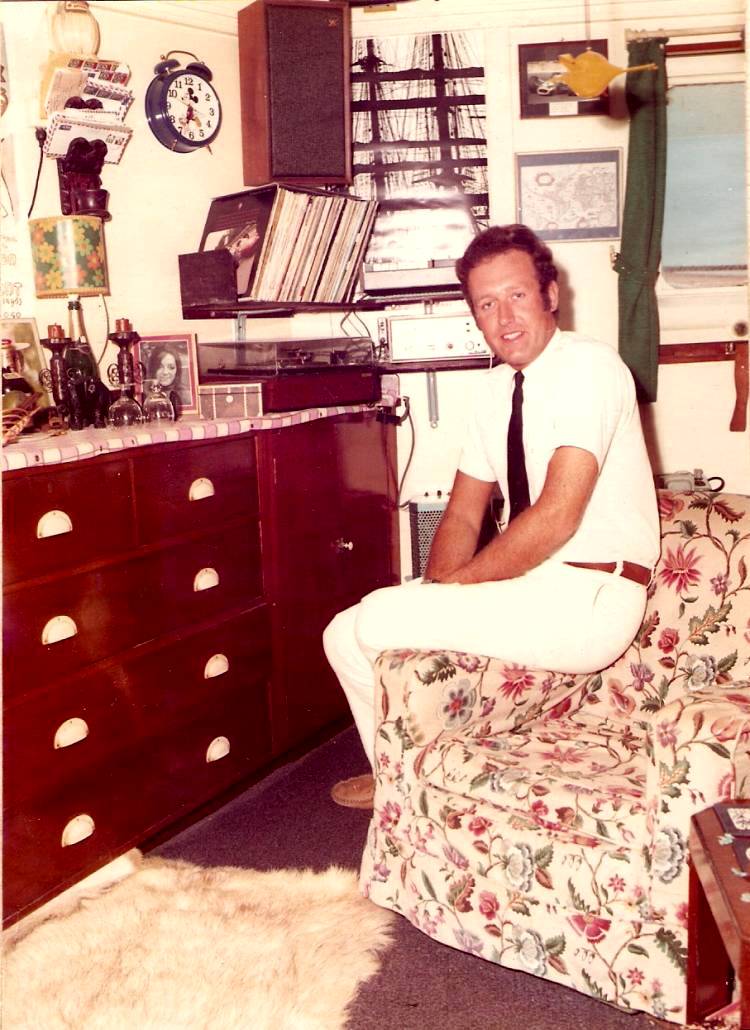 The First Officer's Cabin
T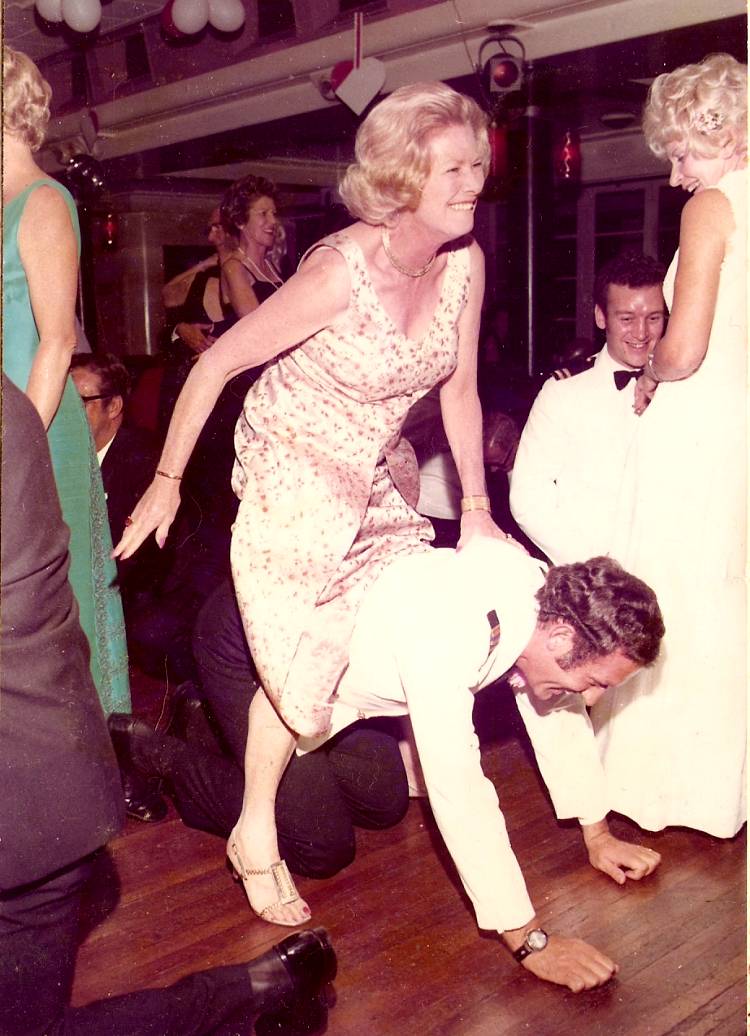 First Class Gala Night Dance! ~ 1971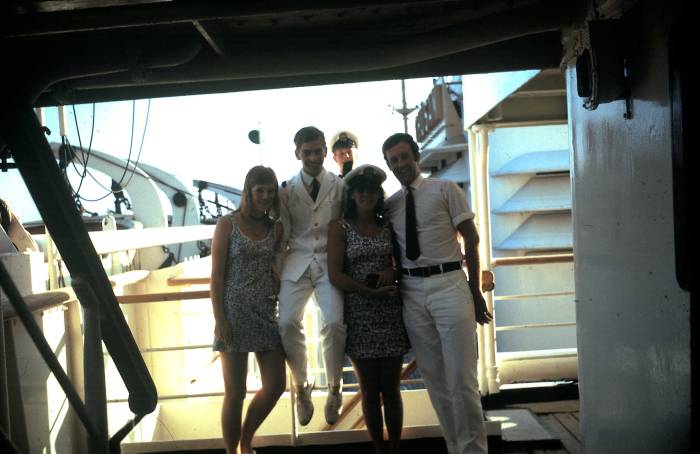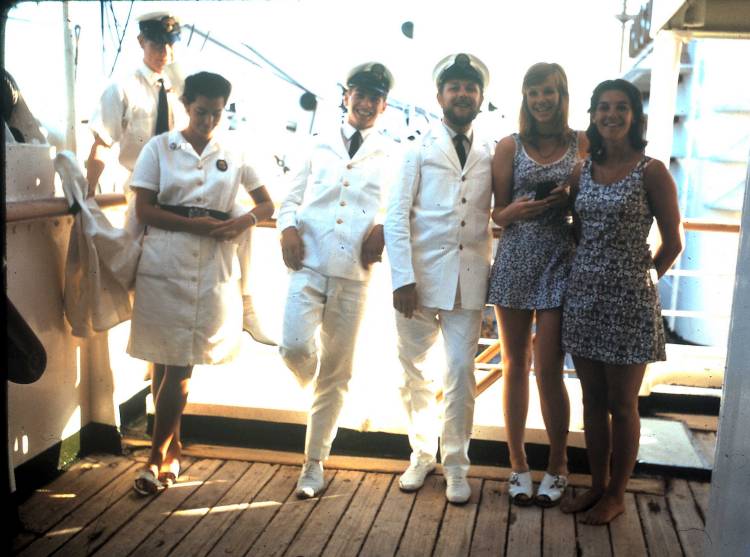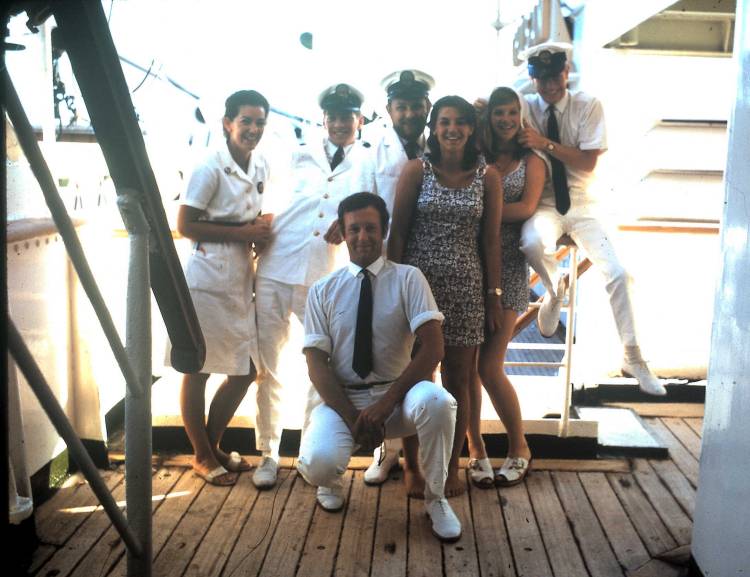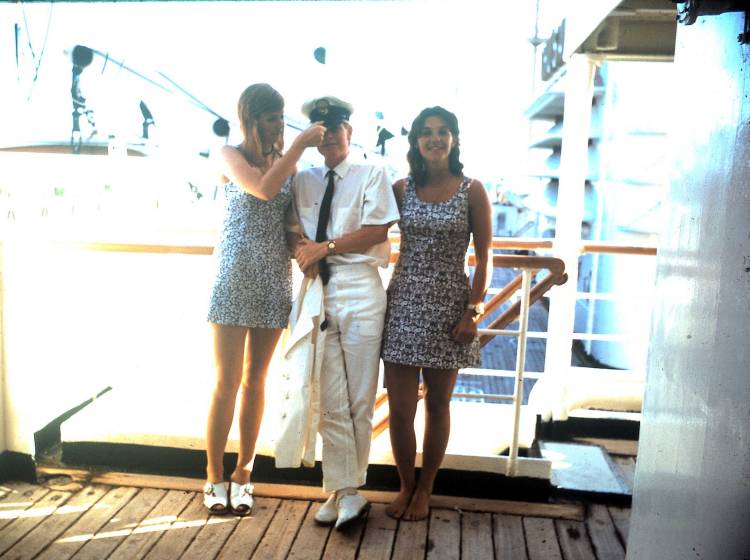 ---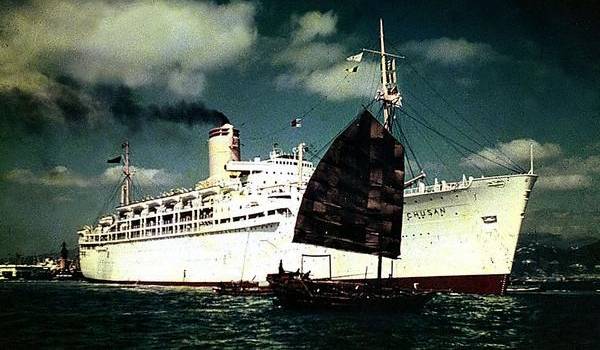 The final regular P&O passenger ship sailing from India was on February 8th, 1970, when Chusan departed from Bombay's Ballard Pier - thus ending more than a century of scheduled UK-India main-line voyages.
In this fine 1997 watercolour by the Scottish artist, Ian Marshall, Chusan is shown amidst the hustle and bustle, alongside at Ballard Pier.