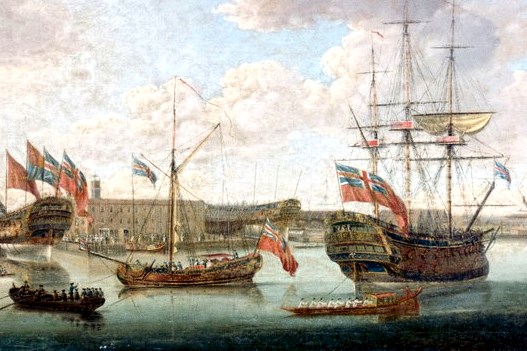 Centuries ago a merchant ship could be converted to a warship quite easily. Civilian ships and the king's ships were in most ways similar: armament was elementary and armour unheard of. But since the advent of the steam engine, the explosive shell, the iron - and then the steel hull, no merchantman could ever make a thoroughly satisfactory warship again. Nevertheless, in both World Wars, British merchant ships were taken up from trade, not only to act as transports but as warships too, known as Armed Merchant Cruisers. Inadequately armed and scarcely armoured at all, they patrolled, blockaded, bombarded and fought - acting in every way, indeed, as if they were real warships, and not thin-skinned vessels intended only for peace. Their Captains, and some of their crews, would be Royal Navy men - but often their peacetime commanding officer would remain, with the rank of Commander RNR - Royal Naval Reserve - as navigating officer, accompanied by other volunteers from the ship's peacetime crew.
Such men were exceptionally brave: Armed Merchant Cruisers were certain to be attacked - and less likely to survive.
The twenty-one year old Armed Merchant Cruiser India was the first P&O liner to be lost to enemy action. Two Sub-Lieutenants, a Lieutenant and a Commander RNR from her peacetime P&O crew died with her.
'All through this trying and anxious time they have displayed the greatest gallantry and they have never uttered a murmur. The war has made heavy inroads on our officers and engineers, and all who could be spared have joined the forces…' Lord Inchcape, P&O Chairman 1916.
---

A ship is born......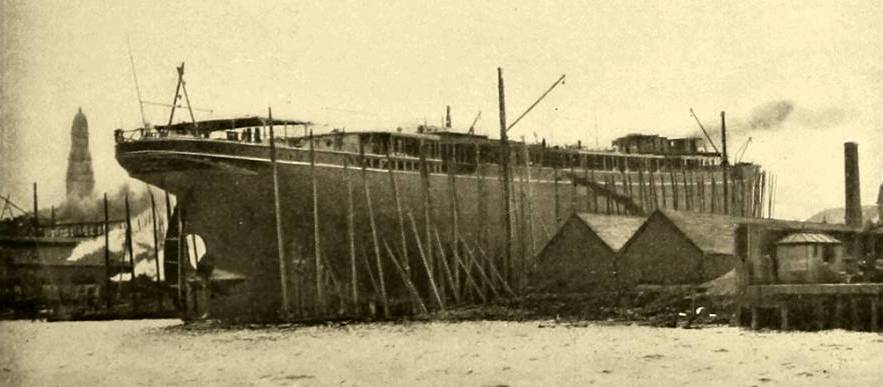 Cassier's Magazine of August 1897 had an article on page 341-350, written by Robert Caird and titled The Launching of a Ship.
It was accompanied by a number of illustrations, including this photo of the launch of the India, built for the P & O Line by Caird and Co, and launched by Miss Mary Anne Kendall, daughter of a P&O Manager, on 15th April 1896.
The first of five 'sisters' India was the largest ship in the fleet at the time, and was followed by Persia, China, Egypt and Arabia. Her equipment, according to press reports, included a state of the art 'speaking tube' measuring 408 ft in length.
Following sea trials and acceptance, she was handed over on 12th September 1896, and after several voyages to India, sailed for Australia on 28th January 1898.
Eighteen months later, she became the first P&O steamer to use the new harbour at Fremantle, which had recently replaced Albany as a first port of call.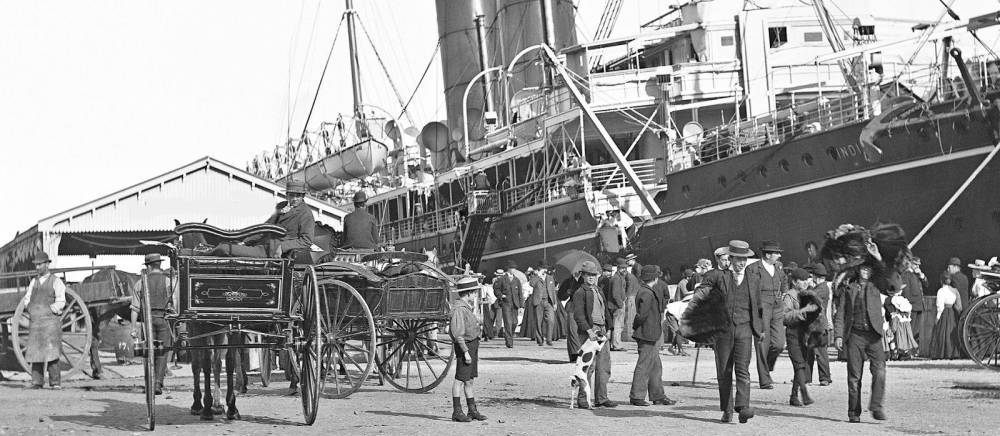 From The West Australian", 21 August 1900
'After a quick passage across the Australian Bight from Adelaide which was left on Thursday afternoon last, the India was reported to have passed Breaksea Island at noon on Sunday. She was therefore expected at Fremantle about twelve hours later but somewhat contrary weather about Cape Leeuwin threw her back a bit and it was not until half past twelve o'clock that she was sighted from Rottnest. Gradually India crept into view of hundreds of people who were collected on the high vantage grounds to witness her approach and at 3 o'clock she entered between the moles, the tug Penguin showing her the way in.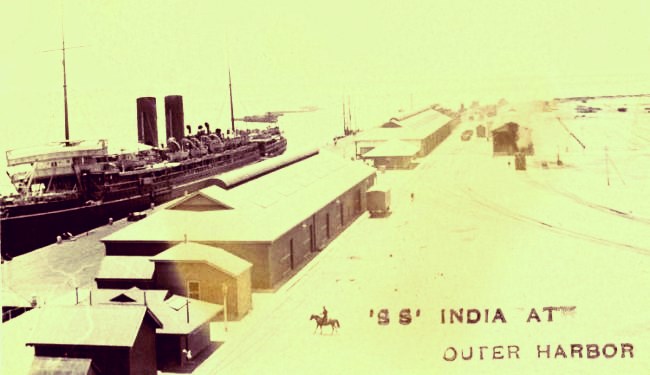 During the morning the wind was gusty, but it had moderated in the afternoon, (and) a breeze was blowing from the west, which helped the India to swing into her berth. The big steamer at first managed to knock some splinters off the wharf with her nose, but she was then nicely manoeuvred into her berth, and about 4 o'clock the gangway was lowered. When the India entered the harbour, she was drawing about 25 ft. of water on an even keel.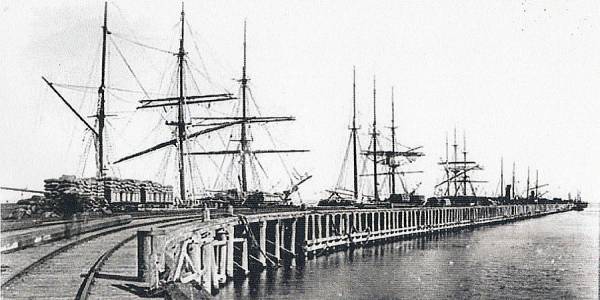 Fremantle Harbour's Long Jetty in 1900
A large crowd which had been collecting all the afternoon had by this time assembled, and an eager rush was made to get on board. Sir George Shenton, Sir A Onslow and Sir John Forrest were the first three to proceed up the ladderway, and then the crowd, with or without tickets of admission, surged on board. The splendid liner was speedily over-run in all parts, the many notices such as "Do Not Enter this Cabin" and "Keep off the Bridge" only served as incentives to do exactly the contrary. On one side of the spacious First Class Dining Saloon, a few guests from Perth and Adelaide were entertained by the representatives of the Company, but for the bulk of the company, the fact that such a fine British mailboat was alongside the Fremantle Wharf, and the opportunity of inspecting her were quite sufficient.'
She was commander by Captain W.D.G. Worcester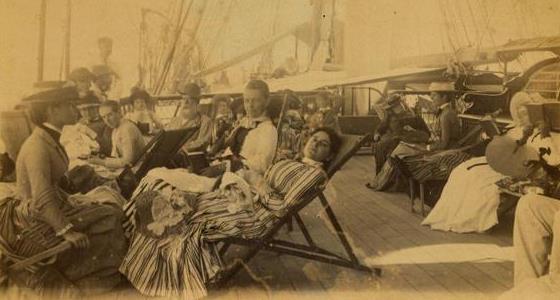 Between 1900 and 1914, India was to make a further 42 voyages to Fremantle, disembarking 2,891 passengers at the port.
---
I would not come to this port again and be obliged to discharge at this wharf, if they made me a present of the vessel.
– Captain D B Shaw, 1892
Early shipowners considered Fremantle a port to avoid and demanded high freight rates in order to compensate for the risk of calling there. A rocky bar blocked the Swan River entrance, and the few jetties situated outside the river-mouth were exposed to the strong south-westerly winds - known locally as the 'Fremantle Doctor'. Frightened migrants would have to wait for the weather to calm before making their first intrepid steps to shore. In protest, vessels headed 400 kilometres south to the safe deep-water anchorage of Albany.
In 1892 work began on creating a safe, deep and protected harbour with the first migrant ships tying up at the new Victoria Quay in 1897. From this time on, Fremantle replaced Albany on the Australian shipping route.
---

The SS India was a steam passenger liner, first of the five P&O Egypt Class, and operated between 1896 and 1915.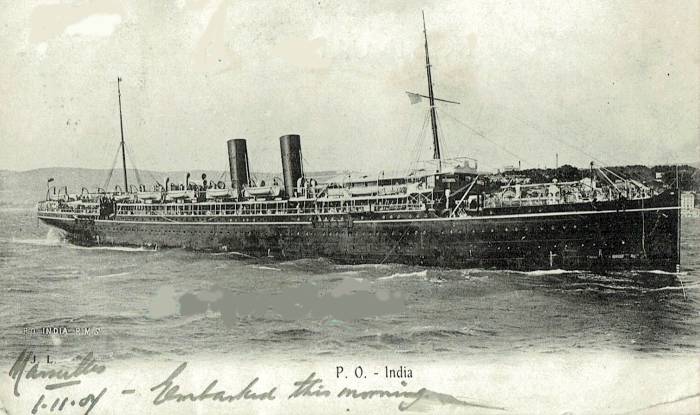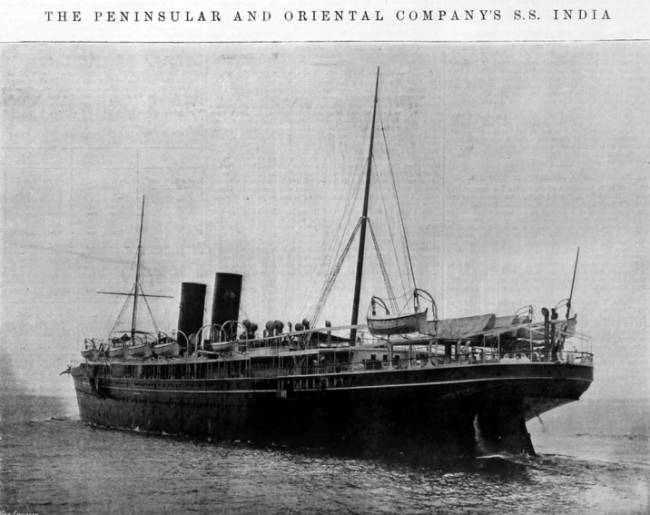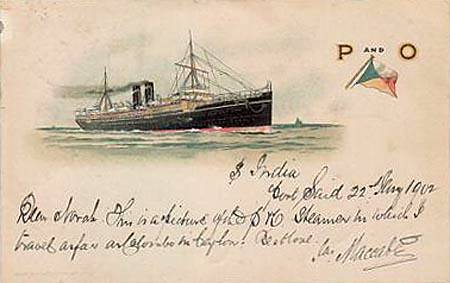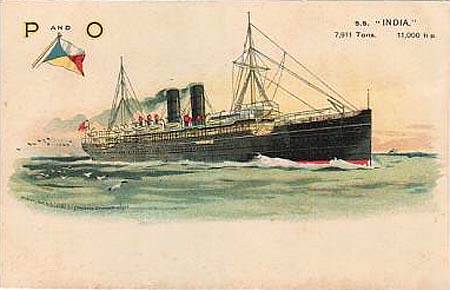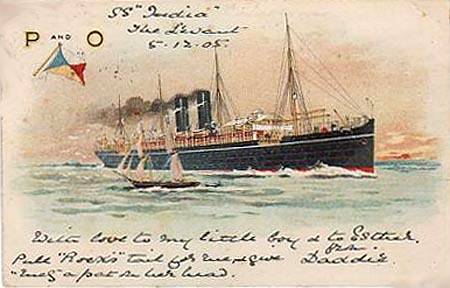 She ran trials on 12th September 1896, and entered service later that year, operating on P&O's route between Britain, India and Australia.
Her 314 first class passengers were accommodated amidships, with 212 second class further forward.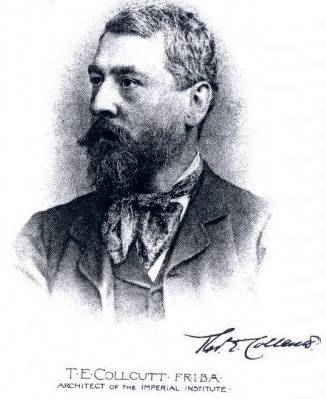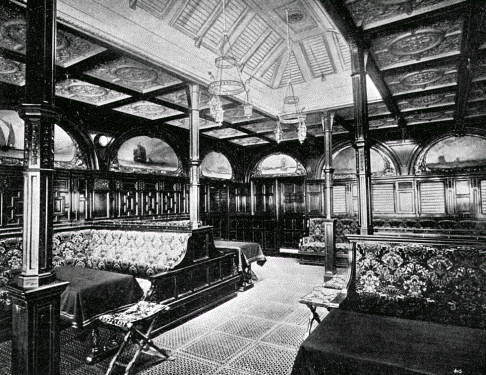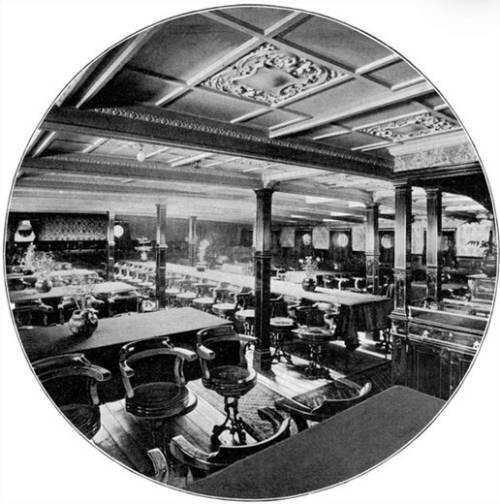 Her elegant interiors were designed by the eminent Victorian Arts and Crafts' architect Thomas Edward Collcutt. Dining chairs had solidly carved wooden backs and arms with decorative patterned squabs, and were firmly bolted to the deck in order to prevent movement in rough weather.
In 1900 she became the first ship to use P&O's new harbour facilities at Fremantle. After the outbreak of World War One, she remained in service with P&O and carried Admiral Doveton Sturdee from Gibraltar back to England after the Battle of the Falkland Islands.
---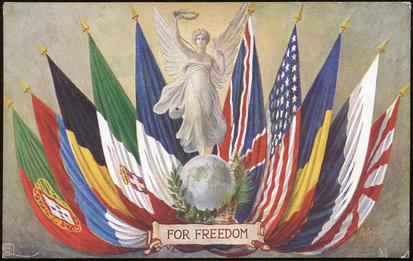 When the peace was broken on 4th August 1914, nothing suggested that British merchant seamen would fare worse than their predecessors of the Napoleonic era, and the statement that they would be compelled to face perils in intensity and variety unparalleled in human experience would have been rejected as unbelievable in face of all the efforts made at The Hague to humanise warfare.
Events falsified all anticipations.......
---
The 10th Cruiser Squadron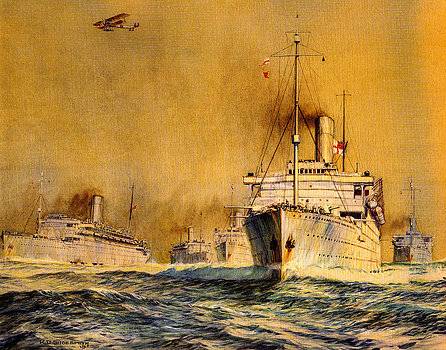 Ships of The 10th Cruiser Squadron - Kenneth D.Shoesmith
The resources of the Royal Navy, large as they were, proved inadequate to maintain the blockade of Germany, which it became necessary to organise, in order deny the enemy raw materials, fuel and other essential resources. By denying Germany access to the North Atlantic, the Royal Navy was greatly supporting the hard-pressed armies of Britain and France in action on the Western Front.
Blockade had long been a British weapon in disputes with the continent. The northern approaches comprised a huge area of sea potentially as far west as Greenland. It was a taxing, difficult, environment.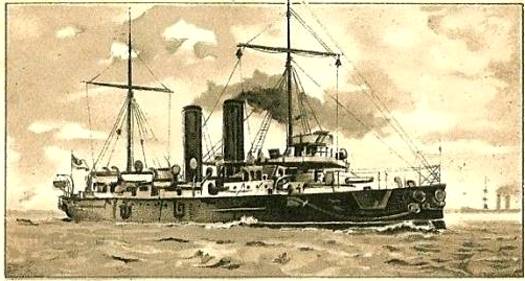 Merchant ships replaced an ageing fleet of Royal Navy Edgar Class Cruisers that had proved unsuited to the harsh conditions of the North Atlantic....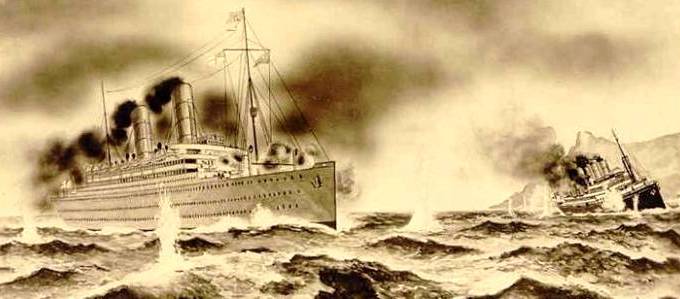 Some of the swiftest liners were quickly taken up and commissioned under the White Ensign, and from the varied resources of the Merchant Navy, and placed under the command of Rear Admiral Dudley Rawson Stratford de Chair MVO, RN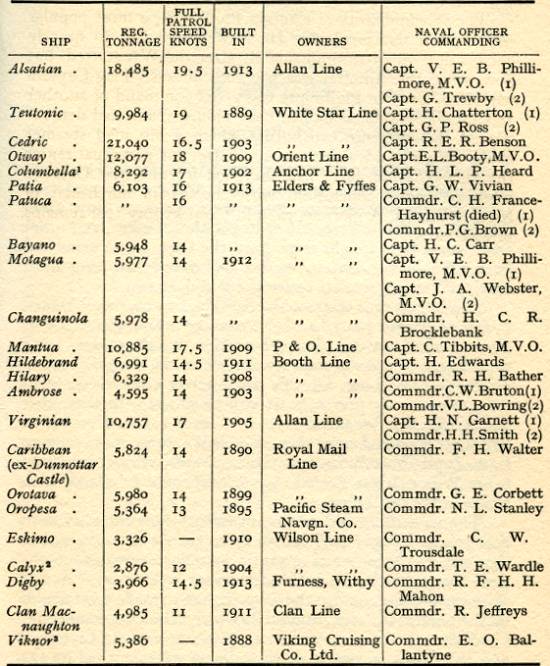 Initial strength of the Northern Patrol - 23 ships - January 1915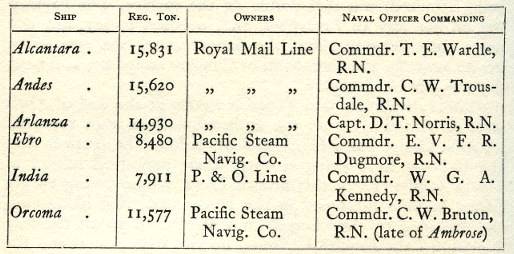 Additional Ships - April 1915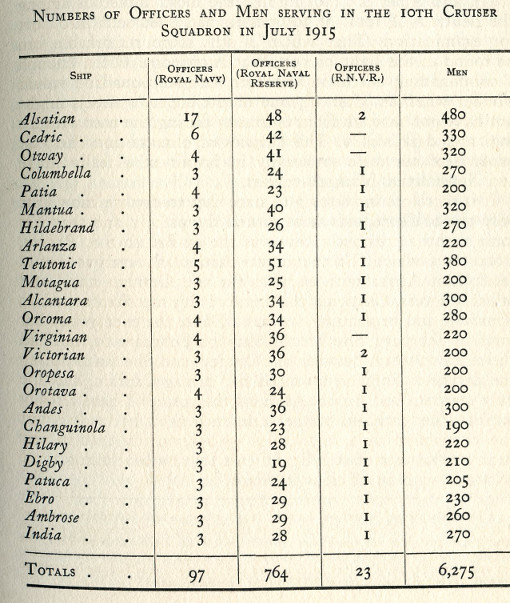 Some ships were lost, some redeployed , but by July 1915, the Northern Patrol numbered 24 ships.
It was a fortunate circumstance that this country possessed about half the world's merchant shipping - without which it would have been seriously hampered in the prosecution of the War.
World Merchant Fleet Tonnage June 1914
Great Britain 12,440,000 grt
Germany 3,096,000 grt
United States 1,195,000 grt
Norway 1,153,000 grt
France 1,098,000
---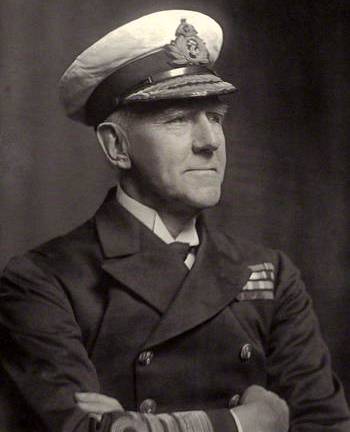 Rear Admiral Dudley Rawson Stratford de Chair CB, MVO, Royal Navy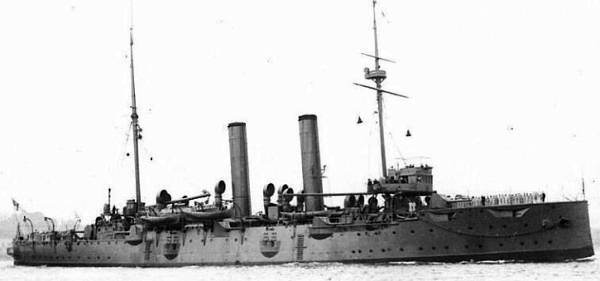 HMS Crescent - a first class cruiser of the Edgar Class, launched 1892.
On 1st August 1914 Rear Admiral Dudley de Chair was appointed to HMS Crescent as Rear-Admiral Commanding Cruiser Force B, also known as the Tenth Cruiser Squadron, the formation tasked with enforcing the distant blockade of Germany in the form of the Northern Patrol.

HMS Alsatian - built by William Beardmore and Company of Glasgow, launched 22nd March 1913
On 4th December he shifted his flag to the armed merchant cruiser HMS Alsatian, a switch that was a reflection on how ill-suited to the North Sea's heavy weather the old cruisers were for the mission. Built as an ocean liner in 1913 for the Allen Line, the Alsatian's maiden voyage was in January 1914. She was requisitioned for service with the Royal Navy on 7th August 1914 and initially armed with eight 4.7-inch guns, later increased to eight 6-inch guns and two smaller 6-pound anti-aircraft guns. She was manned by 17 Royal Navy officers, 48 Royal Naval Reserve officers, 2 Royal Naval Volunteer Reserve officers, and 480 men of the RNR, RMLI and the Mercantile Marine Reserve.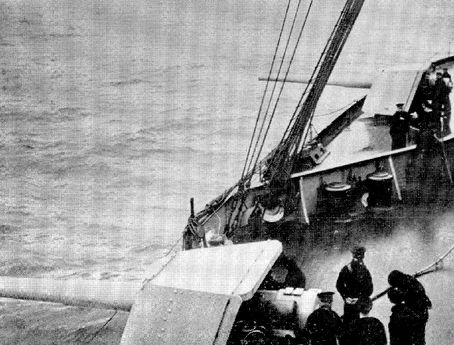 Two of HMS Alsatian's forward six-inch guns
---
Tough as they were, the ships of the Northern Patrol were overwhelmed by storms, sunk by enemy action, torpedoed - perhaps the most constantly active Royal Navy vessels in the Great War, a barely acknowledged yet vital component in the eventual Allied victory.
During the winter months on these latitudes the sun rose at 9 a.m. and set at 3 p.m. approximately; daylight was short and the nights long. The weather was nearly always bad, with heavy gales roaring in from the south-west. Many days it was impossible to lower boats, consequently when overhauling a ship that was trying to break through the blockade my ships had to stand by her till she could be boarded. The seamen became very efficient in lowering boats and boarding ships in heavy weather. In Alsatian a strong six-oared boat was generally used, and we found it most successful to hoist her out by a swinging derrick, and drop her fully manned on the crest of a wave as the ship rolled. It was always found necessary to give the boat a lee while alongside, so that it was protected from the gale until clear of the ship's side. Sometimes I had to board another ship in rough weather, and I found the best plan for me was to stand at the lee gangway, and wait till the ship rolled towards the boat, and the latter rose to the level of the upper deck, when I would step into it, being caught by the boat's crew as it sank down in the trough of the sea as the ship rolled away. It was rather an airy feeling, and I seemed as if I were floating in air till the boat began to rise again.....The Sea is Strong, by Admiral Sir Dudley de Chair
---
It was fortunate that British merchant ships, and P&O in particular, were manned by officers and crews who were not frightened by the enemy's threats.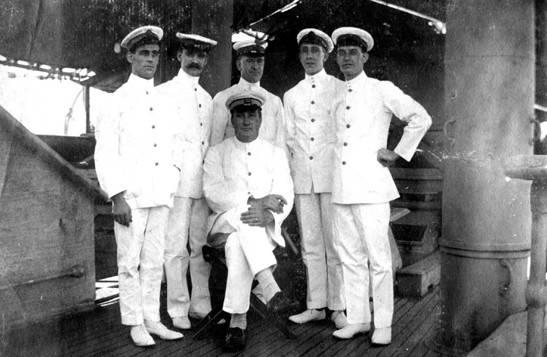 P&O Officers onboard the ss India in 1913 - the Engineer wearing black shoes.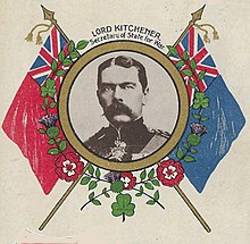 As to mobilising the Reserves and the P&O, Marine Superintendent Captain Parfitt's internal memo stated:.........Our Company has at the present time 221 Officers (Executive and Engineer) holding commissions in the Royal Naval Reserve, also a large proportion of the European Seamen are belonging to that force. In the event of the Admiralty enrolling our Native Firemen for service on Men of War in the East, we should have a large number of Officers and Men for the service of the Country
On 13th March 1915, the India was chartered by the Royal Navy, fitted with guns at Silley Weir's Wharf, London, and deployed as an armed merchant cruiser, with the 10th Cruiser Squadron, tasked with maintaining the Northern Blockade.
Owners of all ships and vessels so requisitioned shall receive payment for their use, and for services rendered during their employment in the Government service, and compensation for loss or damage thereby occasioned, according to terms to be arranged as soon as possible after the said ship has been taken up, either by mutual agreement between the Lords Commissioners of the Admiralty and the Owners or failing such Agreement by the award of a Board of Arbitration to be constituted and Appointed by Us for this purpose.
---
Armed Merchant Cruiser HMS India, mercantile conversion
Pendant No. M.81 (on coming into service). Built 1896, 7,940 grt, 18kts. Armed. Crew: 32 officers & 270 crew. In service 13.3.15. Of over 60 commissioned Armed Merchant Cruisers employed on patrol and later convoy protection, 33 served with the 10th Cruiser Squadron on the Northern Patrol.
Decks under gun platforms were strengthened and shored up, packing rings were fitted, and the guns themselves secured in place –eight 4.7's, four with shields, four older ones without. Bollards and fairleads were cut away to give a good arc of fire. A rangefinder was fitted on the bridge, magazines and shell rooms built in the fore and aft holds, with flooding arrangements. Steel plate half an inch thick was installed round the steering engine house, bagged coal was stowed abreast the engine cylinder tops. Cabin bulkheads, glass ventilators and furniture were removed to make space for mess-decks, a large sick bay with cots was fitted up in the old smoking room and an operating theatre set up amidships, the most stable part of the ship at sea. The vessel's upperworks and funnels would have been painted grey at this time.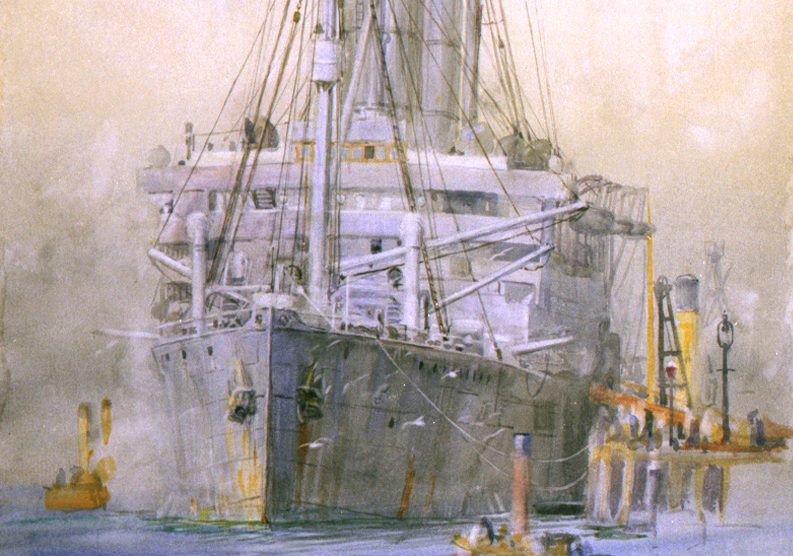 The Cunard liner Carmania, refitting as an Armed Merchant Cruiser.
The merchant ships designated for the 10th Cruiser Squadron were either passenger/cargo or cargo/passenger ships, depending on the predominant activity. To change the nature of these vessels to auxiliary cruisers meant compromises and some fundamental reworking of essential elements of a ship's design. The most basic of these was the vessel's stability. A merchant ship's draught will vary hugely between her loaded condition and when 'light'ship with no cargo aboard. The loaded condition means that propellers are fully immersed and most efficient. This be appreciated by recognising in a single screw cargo ship in a 'light' condition, a propeller may not even be immersed for a full revolution, resulting in loss of power. For this reason, twin screw steamers were preferred since their propellers were more deeply immersed for most of the time. The armed merchant cruisers needed permanent ballast, using either stone or pig iron, so that they floated close to their loaded draft. This ballast compensated for the absence of cargo which when carried was always carefully apportioned between lower hold and 'tween deck. Too much weight in the holds created too great a 'righting lever', making the vessel 'stiff'or 'crank' in a seaway. This could cause severe 'racking' stresses on the ship's framing as she rolled quickly. Conversely, too little weight in the hold made the vessel 'tender' and created a slow, gentler rolling since the 'righting lever' was reduced. In practice the vessels would be loaded slightly 'stiff' so that as bunkers and water were used, the severity of the rolling decreased. This was a most important issue for the Squadron's ships, in view of being tasked to the Norwegian Sea and Icelandic waters. Precautions had to be taken to prevent the ballast from moving in a sea way. Warships, once built and fitted out vary their drafts by only a small amount depending on how much fuel, water and ammunition is on board, consequently unlike a merchant ship their stability changes little during normal operations
The main armament was intended to allow the ships to fire a four barrel broadside from either side of the ship. The larger ships had eight guns, four on each side. The smaller ships, had six guns, two on each side plus one on the f'c'sle and one on the poop deck. The f'c'sle and poop guns were on the ship's centreline and had a wide arc of fire to allow four barrels to be brought to bear on either side of the ship. Originally the plans were for 4½ inch guns on all ships but these were replaced with 6 inch guns whenever possible, when it was realised that German commerce raiders had more powerful 6 inch guns. Ships joining the Squadron later in the war were fitted with 6 inch guns when taken up.
HMS India's particular armament is not recorded in any detail, however, British Admiralty planning was to fit all Armed Merchant Cruisers with eight 4.7 inch guns, allowing a broadside of four from either side of the ship.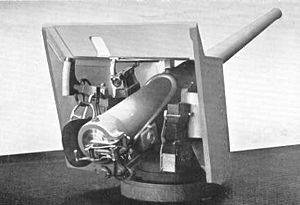 In order to facilitate the speedy conversion of merchant ships, stockpiles of guns had been arranged at strategic ports throughout the British Empire. The majority of the guns were obsolete weapons, that had been removed from obsolete cruisers. Initially accepted as the primary armament for attack and defence against enemy warships and submarines, they were also used to fire a single live round as a warning shot across the bows of a suspect ship that had ignored the standard two blank shots from a six-pounder. It did not take long for Their Lordships to discover that these puny 4.7 inch guns were no match for any German warship. Consequently, by early 1915, they were being progressively replaced by larger, more powerful, six-inch guns. It is therefore likely that India's main armament would have been six-inch.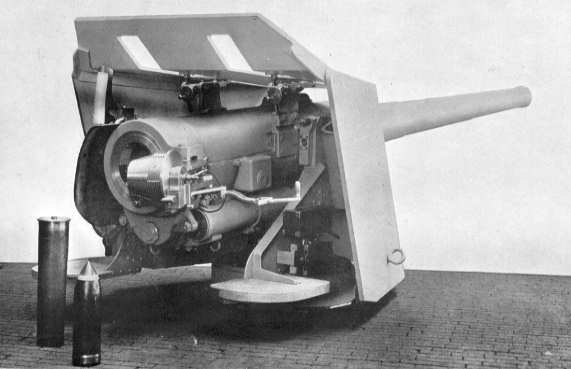 The illustrations above show both 4.7 and 6 inch guns fitted with shields - but this was not always the case.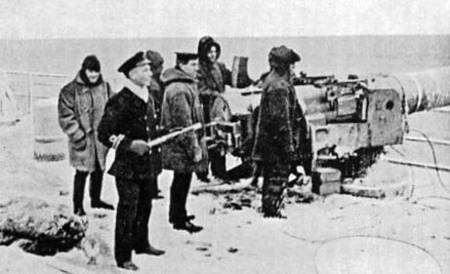 Due to the harshness of the weather in the Northern Patrol's latitudes, shelters were constructed in the vicinity of any gun not fitted with a shield.
The six-inch guns had a range of 11,000 yards at maximum elevation, with a rate of fire of six rounds per minute with an experienced crew.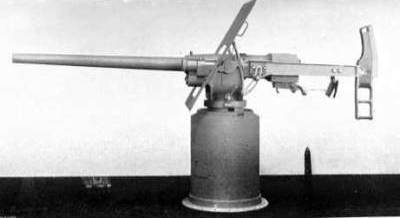 In addition to her main armament, India would have been fitted with two six-pounder guns of 1897 vintage, one on each side of the ship, and used to fire warning blanks at suspect ships, and live rounds against enemy aircraft.......
Ammunition supply to all the guns was a major problem. Ready-use lockers were constructed close-by the guns, which remained loaded at all times.
Magazines were constructed in the forward and after holds, giant steel tanks with a cofferdam if time permitted. Ventilation, precautions against flooding and flash were designed into the system, which still required a great deal of manpower to hoist ammunition to the guns on the weather decks above. 10th Cruiser Squadron standing orders laid out strict rules for the storage and handling of projectiles and cordite, with close attention being paid to the constant monitoring of magazine temperatures. Commissioned and Warrant Gunnery Officers managed gunnery, with communication by voice pipes and bridge telephones. Such was the ad-hoc nature of the gunnery system that most command and control was left to the skill of the gunlayers. An optical rangefinder mounted above the bridge, and large, powerful searchlights mounted on each bridge wing completed the India's gunnery outfit.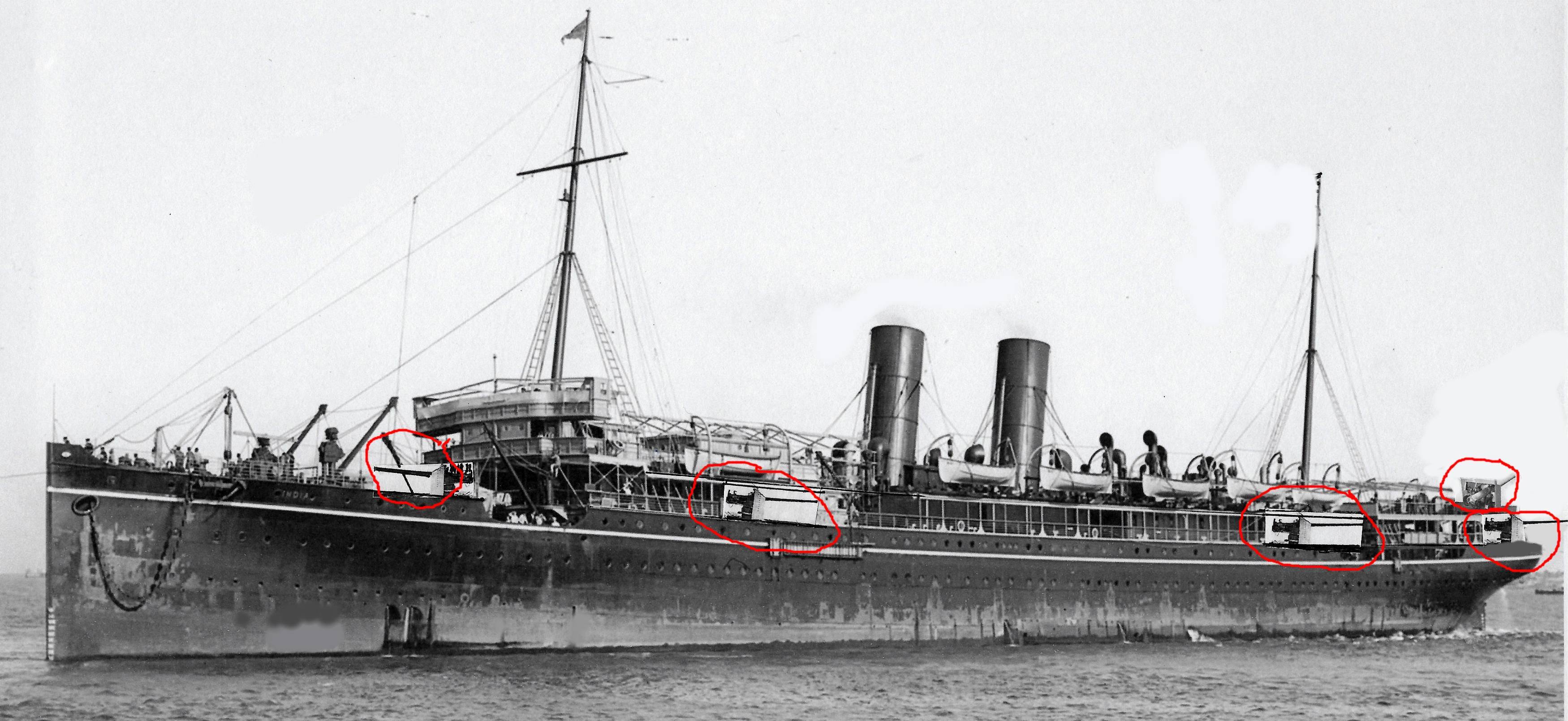 HMS India, with approximate locations of her main armament.
HMS India ~ Commander W G A Kennedy Royal Navy, Commanding ~ extracts from Log
12 April 1915 Royal Albert Docks, London. Ship at Messrs Silley Weir's Wharf; men employed as requisite for mounting guns and refitting ship during whole of day
15 April 1915 Royal Albert Docks, London 6.30am: Hands fall in; taking in ammunition, cleaning mess decks etc 9.00am: Ammunitioning fore shell room; armed sentry placed on guard; commenced receiving ammunition in after shell room 3.00pm: Rifles and stores came alongside
18 April 1915 Royal Albert Docks, London, to Lower Hope Reach 12.25pm: Received draft of 40 men from HMS Pembroke 2.10pm: Cast off hawsers and proceeded towards the river, assisted by 2 tugs 3.45pm: Cleared dock gates and proceeded down the river 5.15pm: Reached Gravesend and changed pilots 5.43pm: Anchored in Lower Hope Reach 7.00pm: Tugs cast off for shore with all dock labourers 11.10pm: Ship riding to flood tide
27 April 1915 Sheerness to Northern Patrol 4.00am: Proceeding in company with TBDs Leonidas and Lark 2.40pm: Parted company with TBDs Leonidas and Lark 5.30pm: Read 1, 2 and 3 warrants
29 April 1915 Sheerness to Northern Patrol 9.00am: Action stations; submarine sighted on starboard beam, distance about 3 miles SE; commenced zigzagging 9.25am: Wake of submarine sighted crossing astern1.00pm: Hands employed fitting collision mats
30 April 1915 Northern Patrol Lat 59.1, Long -10.7 2.40am: Sighted two ships on port bow 3.00am: Full speed ahead; challenged ships 3.05am: Hands to action stations 7.00am: Sighted HMS Cedric; challenged 8.10am: Commenced zigzag 3.10pm: Sighted HMS Alsatian 4.03pm: Engines as requisite for keeping ship in position 5 cables from HMS Alsatian 4.23pm: Lowered starboard cutter; Lieutenant Groundwater RNR and paymaster left for HMS Alsatian 5.36pm: Parted company with HMS Cedric and HMS Alsatian 6.07pm: Challenged Norwegian barque Rollo, bound to Canada in ballast 7.13pm: Stopped and challenged Danish SS Jens Bang7.20pm: Sub-Lieutenant Nelson RNR boarded her; bound for Copenhagen from Boston with grain 7.55pm: Signalled her to proceed to Kirkwall
2 May 1915 Northern Patrol Lat 61.1, Long -5.8 11.20am: Akraberg Point N20½ W, Store Dimon N6½W 2.00pm: Ordered sailing ship to heave to 4.00pm: Lowered sea boat and boarded US barque Annie M Reid, left Leith 22/4/15 in ballast for New York 4.30pm: Hoisted sea boat and proceeded.
9 May 1915 Northern Patrol Lat 65.4, Long 9.7 8.20am: Altered course N5W to intercept 2 SS on port bow 10.10am: Stopped and sent boarding officer to Norwegian SS Baune with coal to Archangel 10.40am: Let her proceed 11.00am: Hoisted cutter and proceeded.
14 May 1915 Northern Patrol Lat 65.1, Long 8.3 6.10am: Boarded SS Malmland 10.38am: Boarded SS Nordland 11.45am: Ordered SS Nordland to proceed to Kirkwall 1.00pm: Stopped SS Volrath Tham 1.30pm: SS Volrath Tham ordered to proceed to Kirkwall 7.00pm: Signalled HMS Alsatian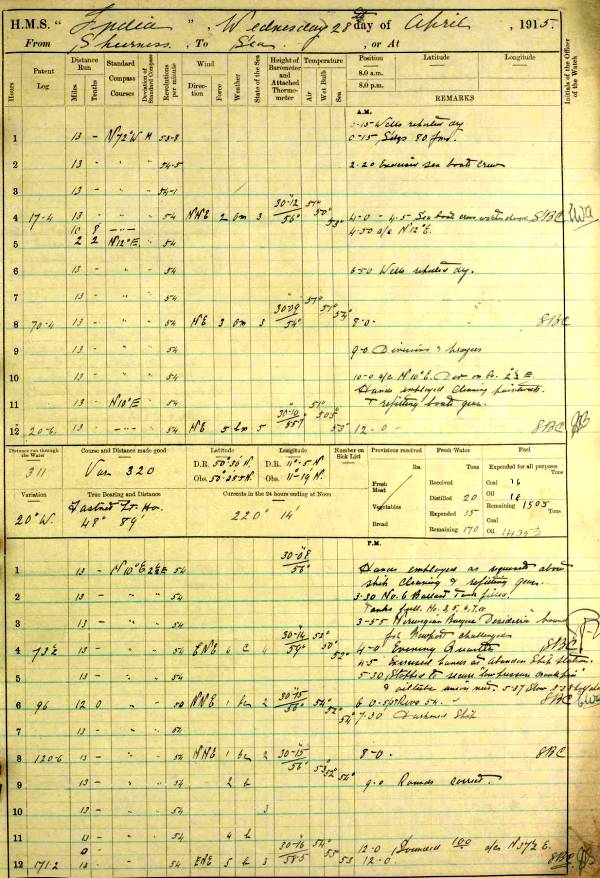 ---
The commanding Admiral estimated that 10,000 men were required to man the AMCs of the 10th Cruiser Squadron.
On Monday, 3rd August 1914, the King's Proclamation called out 'Men of the Royal Naval Reserve and Royal Fleet Reserve as well as Officers and Men of the Royal Naval Volunteer Reserve.
A separate Proclamation on the same day called out 'Officers of the Royal Naval Reserve.'
There was no mention of Mercantile Marine ratings that, as civilians, would be expected to form a vital part of manning 10th Cruiser Squadron. Technically, these civilian personnel were free to stay or go, since conscription had not yet been introduced.....
---
The Men Who Served Onboard HMS India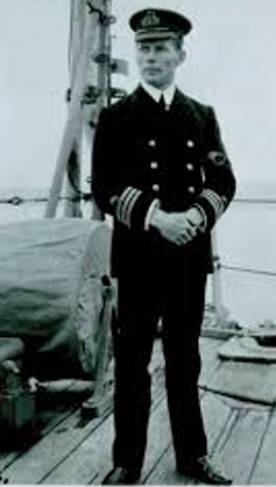 Initially, Armed Merchant Cruisers were commanded by serving Naval Officers, and Officers appointed from the Retired List
HMS India's Commander, William George Ainslie Kennedy, RN, had been promoted on 30th June, 1907. and appointed in command of the destroyer HMS Syren on 4th June, 1913.
Master of the ship and second-in-command was Lieutanant Richard Groundwater, Royal Naval Reserve.
---
The Reservists
An on-going problem of the Royal Navy for at least 100 years before the outbreak of the First World War was to have enough men available to man the additional ships commissioned in wartime. This was highlighted during the Crimean War when it was noted that when most of the reservists called out took their caps off for prayers, they were bald and they also wore glasses. Although it was also reported that these men were generally very capable, their age was a significant detrimental factor in the rigours of life at sea.
Commander Kennedy was the only regular Naval Officer on board HMS India, his First Lieutenant, Senior Watchkeeping Officers and Boarding Officers were all drawn from the Royal Naval Reserve of Certificated Mercantile Marine Officers.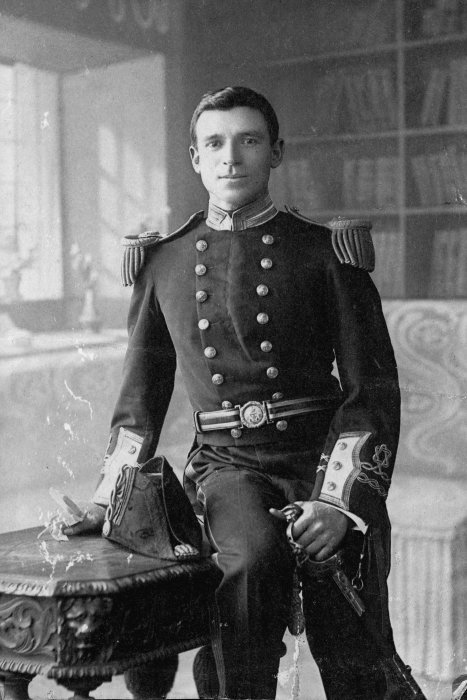 Lieutenant RNR 1906
In addition to the RNRs, the ship's company comprised men of the Royal Fleet Reserve RFR, Royal Naval Volunteer Reserve RNVR, Mercantile Marine Reserve MMR, Royal Marines Light InfantryRMLI, and Coast Guard.
"The success which attended the dispositions of the Admiralty after the institution of the patrol by the Tenth Cruiser Squadron exceeded all expectations. The stoppage of seaborne supplies combined with the system of commercial embargo which had been slowly elaborated, became so effective, in spite of political action initiated by neutral States, that the Germans were commercially isolated from the rest of the world, except insofar as they were able to obtain supplies overland from neighbouring countries, and were in a position to take the fullest advantage of the protests of neutrals