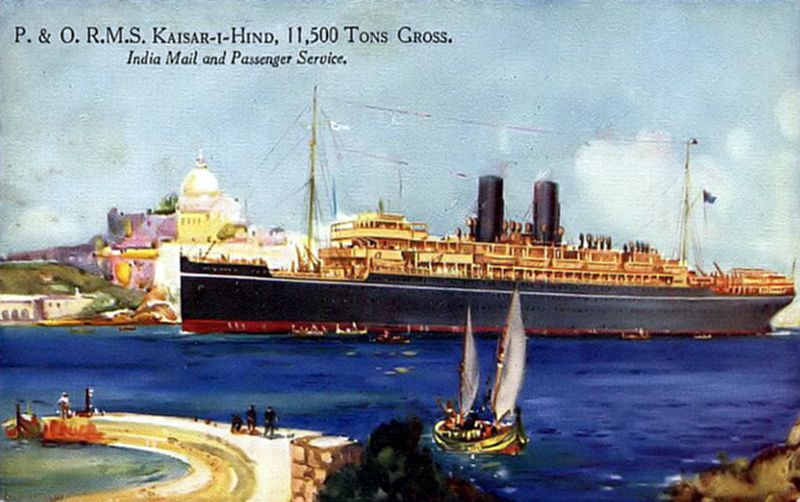 Kaisar i Hind '- the name literally means '

Empress of India

' in the

vernacular

of the Hindi and Urdu languages.
Launched on Sunday 28th June 1914, the day was marred by news of the assassination, in Sarajevo, of Archduke Francis Ferdinand and his wife,

Sophie, Duchess of Hohenberg

. On the day war was declared, the ship was fitting out in the James Watt Dock in Greenock, Scotland. Completing sea trials on 30th September, she arrived at Tilbury, commanded by Captain Charles D Bennett RD,RNR, on 5th October 1914, and made ready for sea. Sailing alone and unescorted, she set a new record for the passage to India, arriving at Bombay in just under eighteen days. One particular innovative feature that her passengers found most welcome, was an electric fan in every cabin.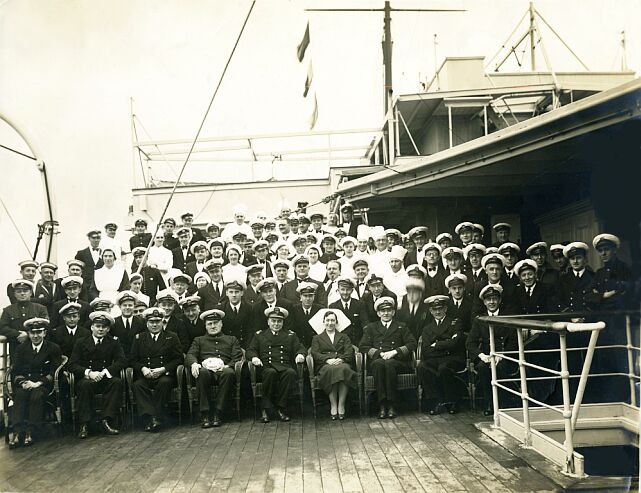 Captain, Officers, Petty Officers and British Crew members, April 1938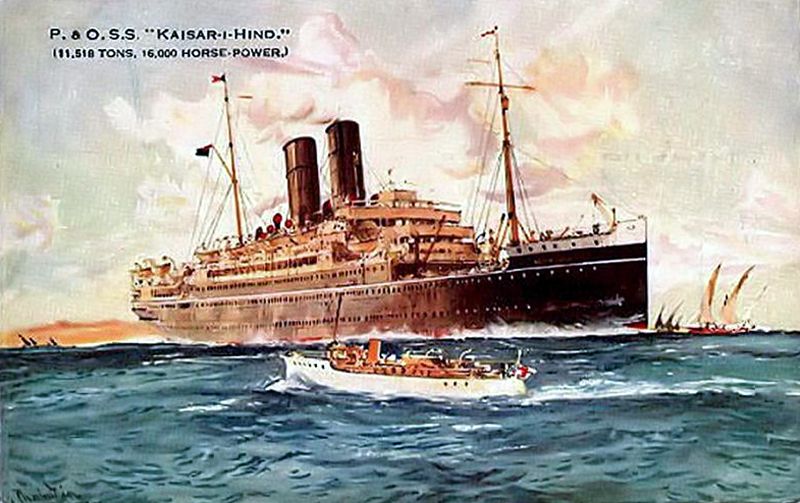 During her early voyages she became known as the luckiest of ships, for she had torpedoes aimed and fired directly at her – and yet she survived. Fortunately the German submarine commanders underestimated her speed, basing their calculations on that of other P&O liners. On five separate occasions she was targeted and torpedoes fired at her, the most famous being when the Viceroy of India, Lord Chelmsford and his family were on board. The ship was sailing between Crete and Malta on 23rd March 1916, when torpedoes were sighted, approaching to starboard. Fortunately for all on board, they passed harmlessly astern. In 1917, she was taken up from trade under the Government's Liner Requisition Scheme, spending the remainder of the war as a troop transport, mainly on Mediterranean convoys, between Marseilles, Taranto and Alexandria. Her last encounter with the enemy was on 22nd April 1918, while she was in the Mediterranean, with 3,000 troops and 500 crew on board, when a torpedo struck her in way of the engine room and stokehold – but failed to explode. She had lived up to her name 'Lucky Kaisar' and the dent in her side was painted green, in contrast to her normal P&O red boot-topping.
---
One of the most photographed passenger liners of her era, the following photographs show her during peacetime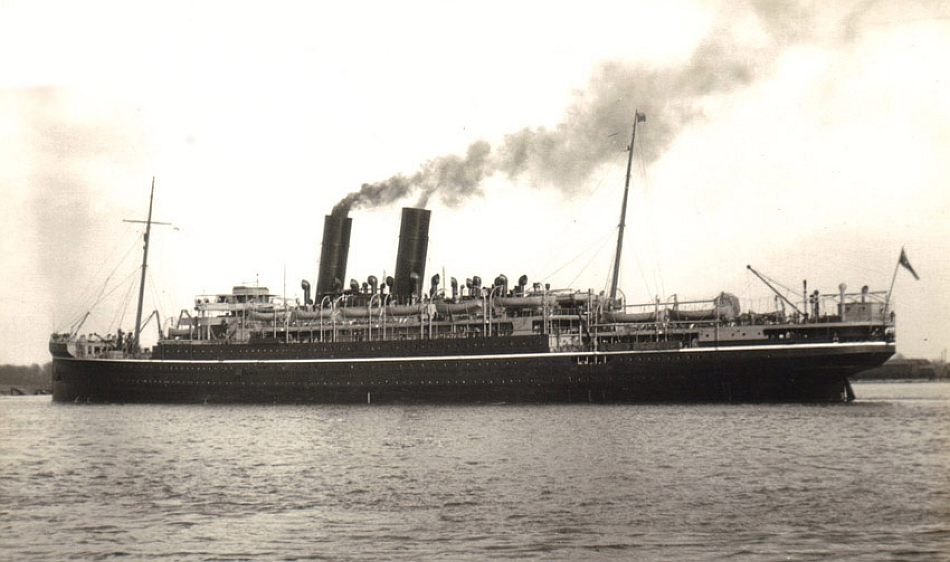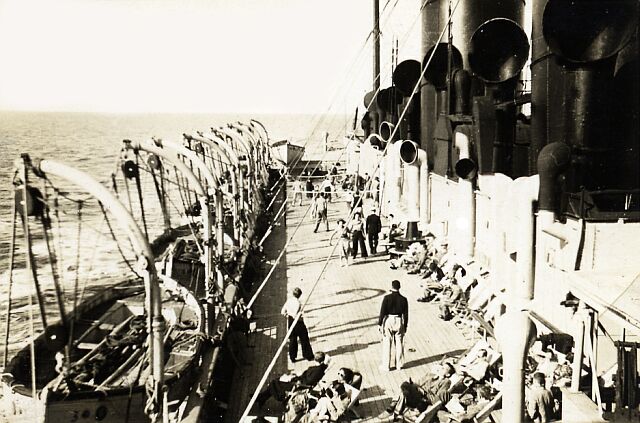 Starboard side, looking aft from the bridge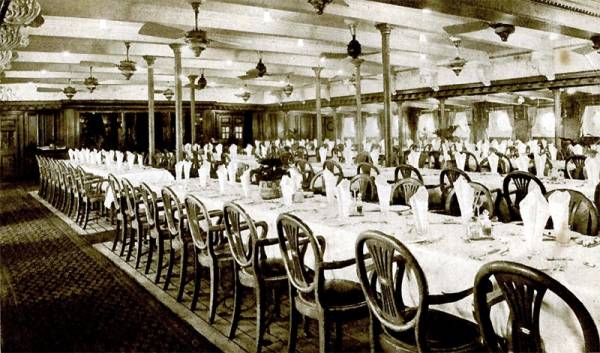 Main Dining Room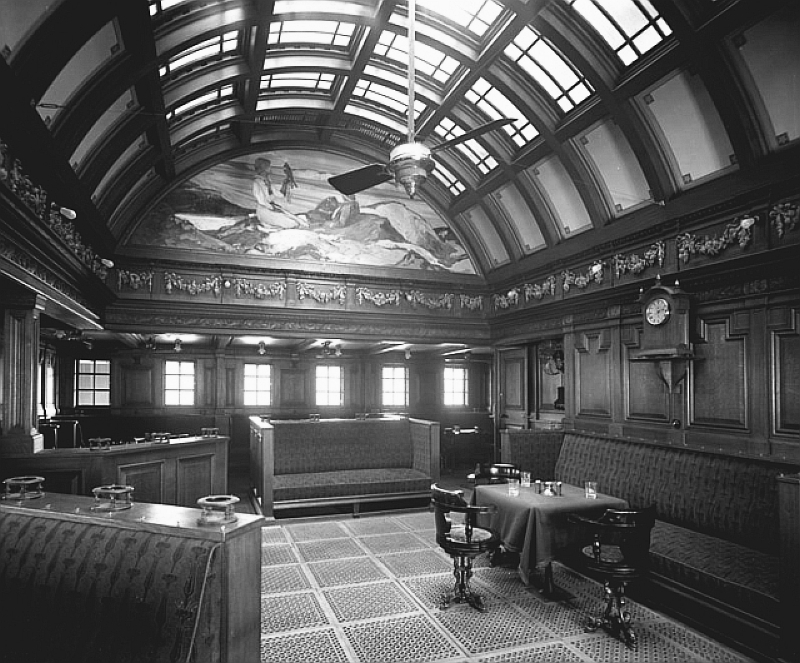 Main Saloon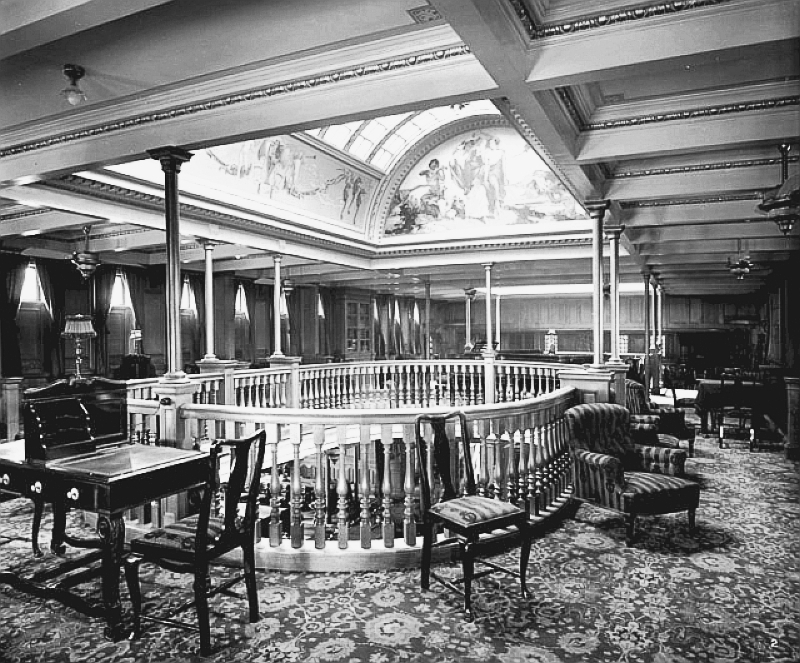 Music Room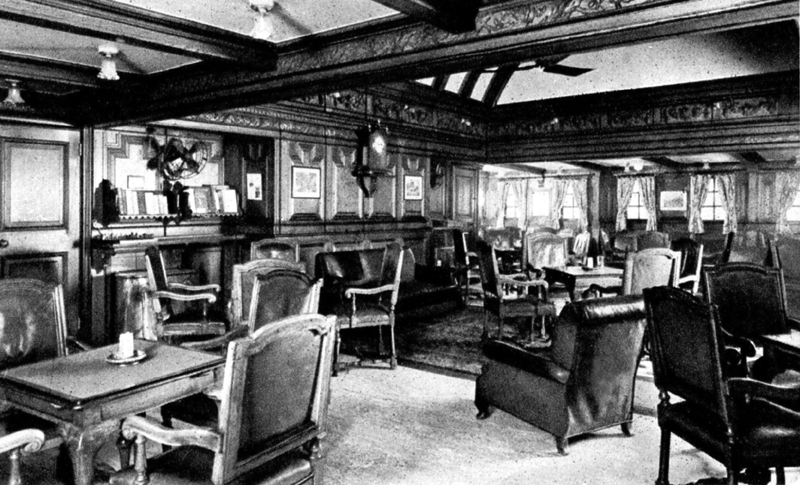 Smoking Room
Main Lounge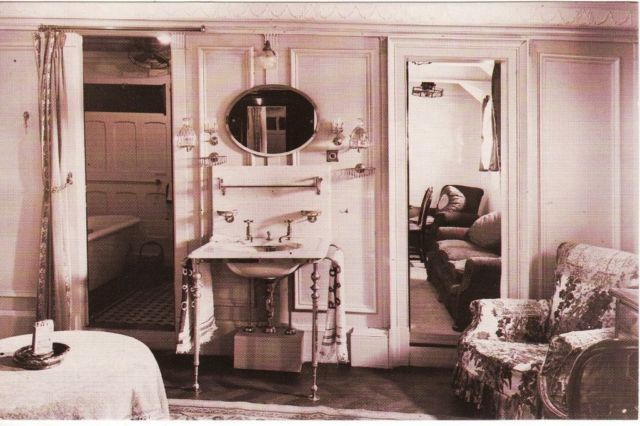 Passenger bedroom and en-suite
---
Wartime 1914-1918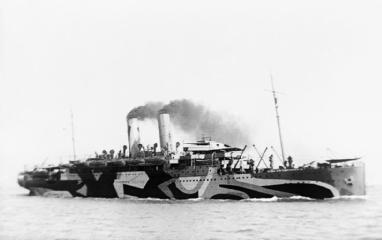 A rare photograph of the Kaisar i Hind in wartime disruptive camouflage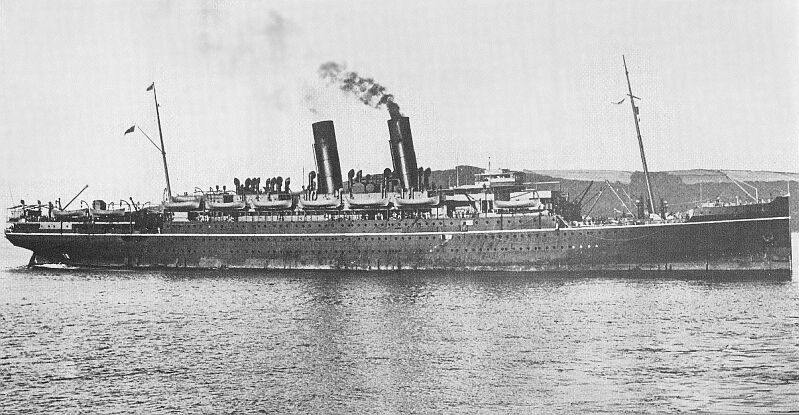 Prior to duties as a troopship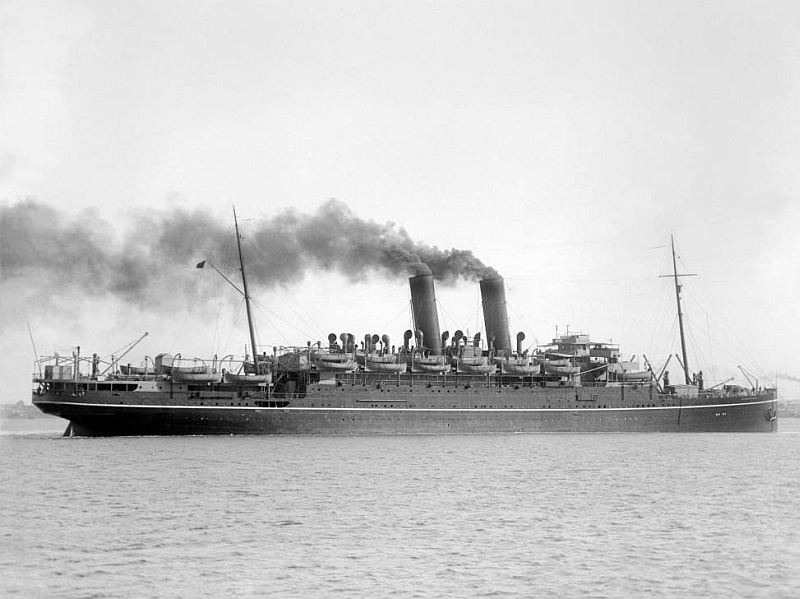 Arriving Melbourne as a troopship, with extra lifeboats on her davits
---
The final days - paying off on Friday 22nd April 1938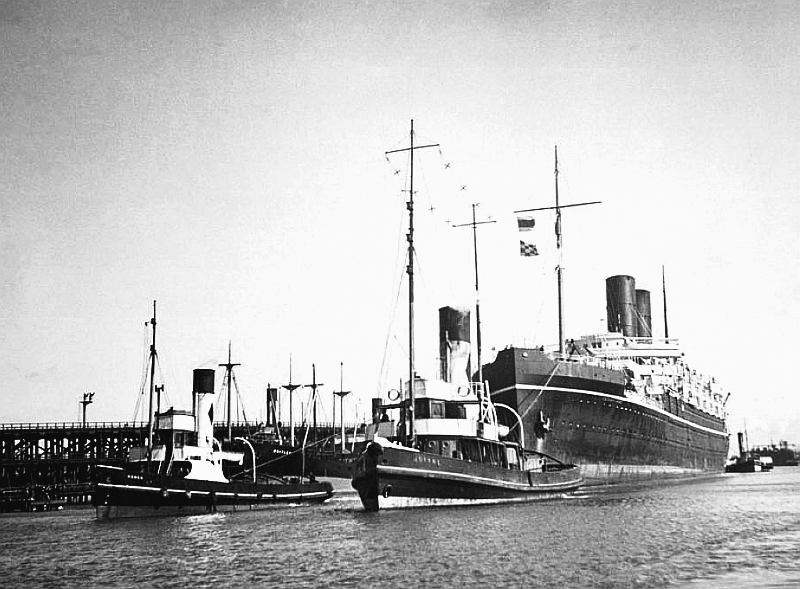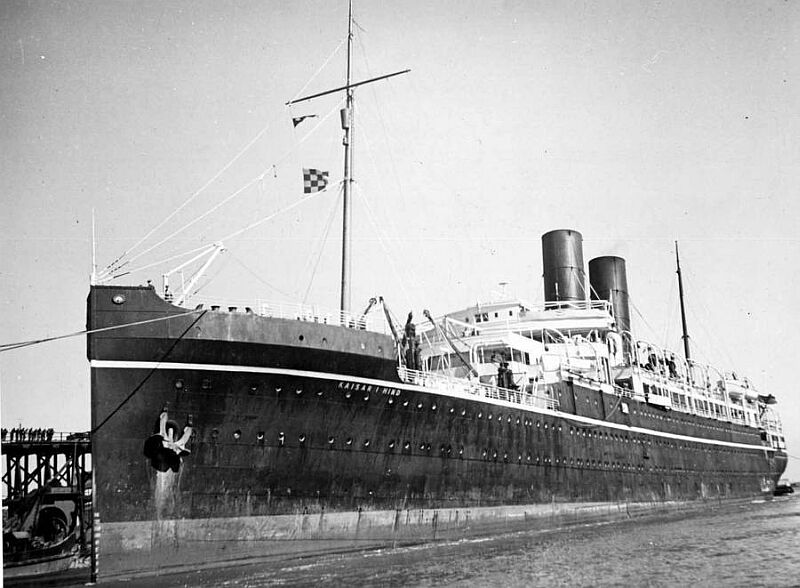 At the breakers yard - Hughes Bolkow and Co of Blyth, 29th April 1938 - sold for £28,500
---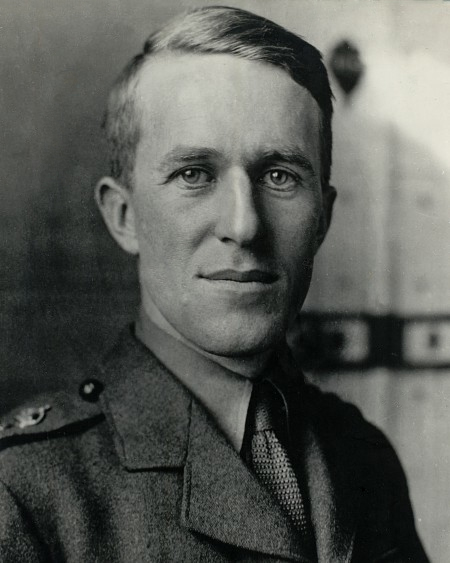 Colonel T E Lawrence - Of Arabia - who took passage in the ship immediately after the war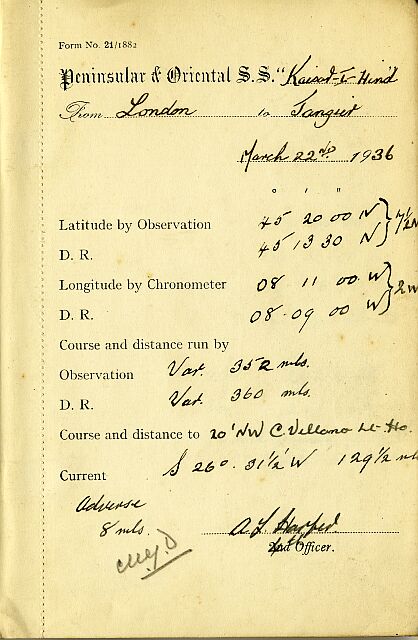 Fourth Officer Harper's Noon Position, 22nd March 1936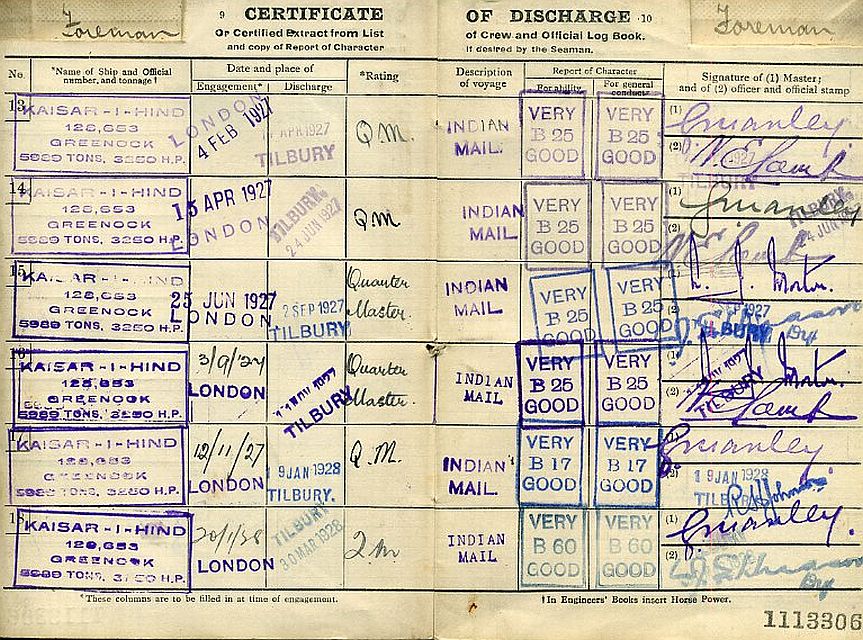 William Thomas Foreman
's Discharge Book
Kaisar I Hind's - Quartermaster & Yeoman from 1926 to 1937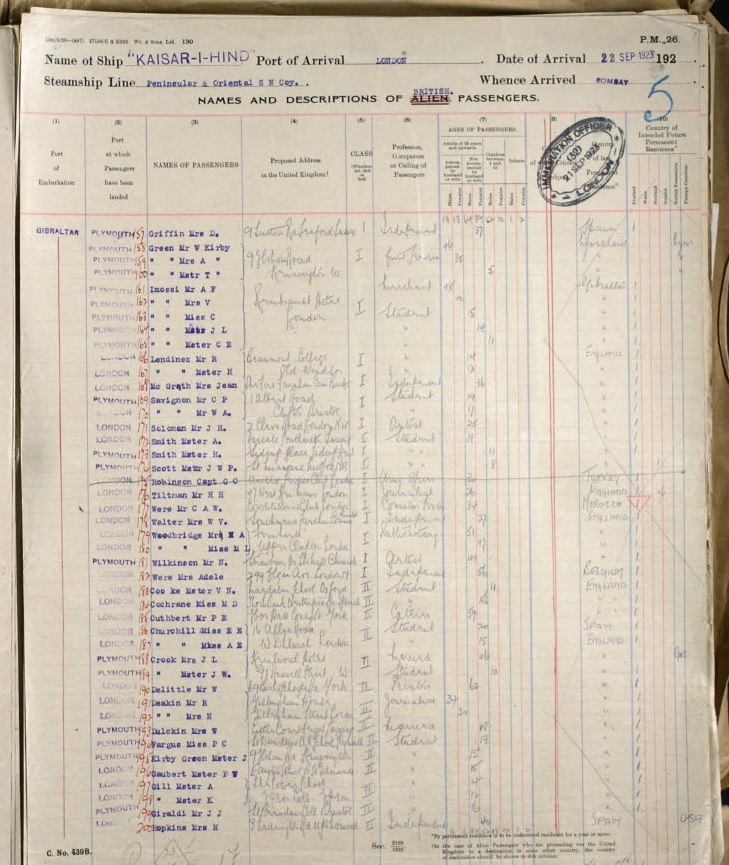 A Passenger List of 1923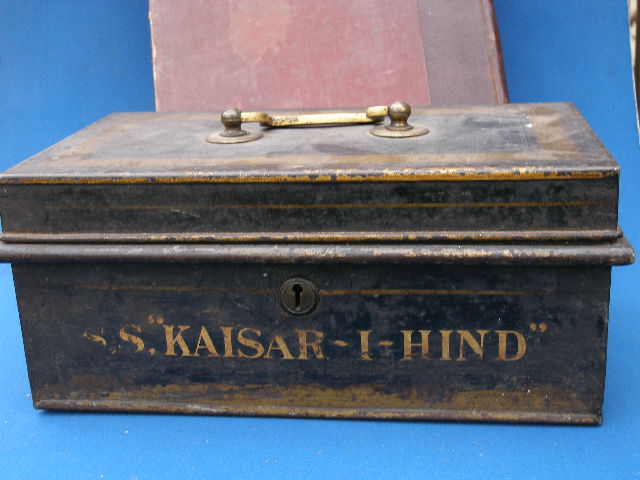 Library cash box and ledger
---