---
The P&O's ss Mantua, was completed on 15th April 1909 at John Caird's Greenock yard. A passenger and cargo ship, she had refrigerated capacity, twin screw and a service speed of 17.5 knots.
She was named after a city and commune in Lombardy, northern Italy, capital of the province of the same name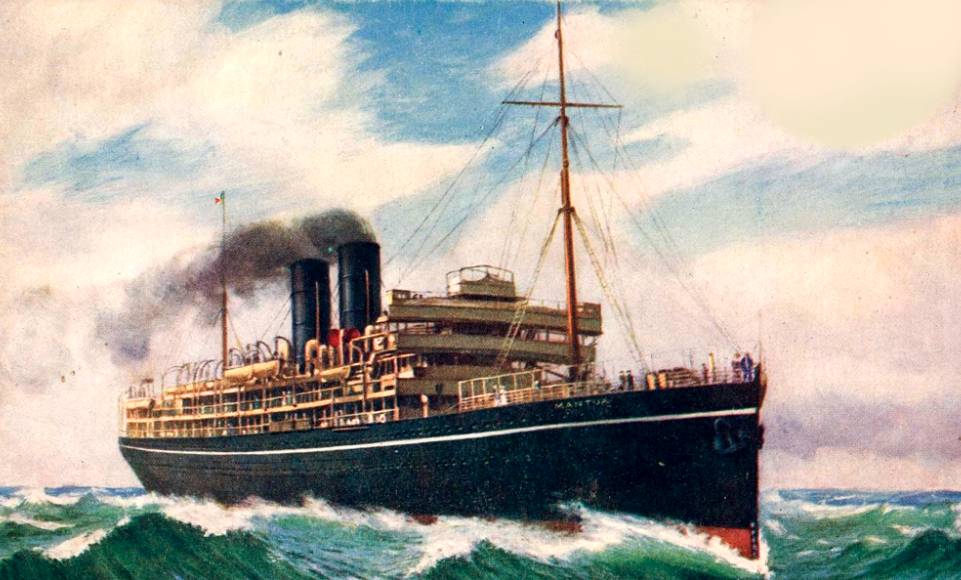 A century or so ago, Mantua was the latest P&O ship to offer a summer schedule of pleasure cruises before resuming to her more regular route to India and Australia. P&O had begun cruising in 1904, as a response to falling passenger numbers in the traditional low season for line voyages. The Company invested heavily in the new venture but in 1910 the income from the touring business was still showing a poor return. Cruising called for a different approach to berthing ratios and the Company made a conscious effort to limit the number of passengers to avoid overcrowding.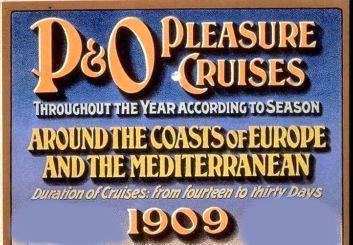 The solo traveller could enjoy the single delight of a spacious two berth cabin and "five thousand miles of travel by sea under the happiest conditions" for just a guinea a day. Few could resist the lure of the Company's advertising brochures and the pull of exotic ports: "Lisbon and the Islands! The Canaries, Madeira, and the Azores, with Gibraltar and Tangier thrown in! ... It is not easy to imagine how twenty-four sparkling spring days could be more pleasantly spent than in this invigorating cruise over the blue waters of the Atlantic"
Frederick W Vibert RNR, was Mantua's first , and remained with the ship in peace and war, for many years. Launched on 20th February 1909 by Miss Bessie Caird, she was one of the first P&O ships to be fitted with wireless from new.
She left Tilbury on her maiden voyage to Colombo, Melbourne and Sydney on 4th June 1909, and as built, could accommodate 400 first class and 200 second class passengers.
---
All too soon her regular voyaging was disrupted with the coming of the Great War; Mantua was requisitioned by the Admiralty on 5th August 1914, along with many of the P&O Company's ships. Like the ill-fated ss India, she was destined for the Northern Patrol, where the first vessels employed there had been the Royal Navy's Edgar class cruisers - authentic but elderly ships of war. They simply couldn't cope with the harsh conditions encountered in the North Atlantic and were quickly replaced by several solidly built ocean-going passengers ships, manned by the RN, RNR and MN volunteers. Under the command of a senior naval officer, C.Tibbetts RN, her P&O Frederick W. Vibert, RNR, remained on board as Master, HMS Mantua joined the Northern Patrol on 24th August 1914. It had taken just nine days to convert her to an Armed Merchant Cruiser - no mean feat. Her first task was a mission to Archangel, in company with the armoured cruiser HMS Drake.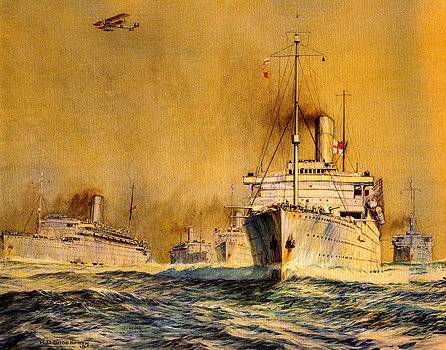 HMS Mantua joined the 10th Cruiser Squadron in March 1915, tasked with patrolling British Home Waters and protecting Central Atlantic Convoys.

Armed with eight 4.7inch and two smaller 6 pounder guns, her ship's company comprised 44 officers & 320 crew. Of over 60 commissioned AMC's employed on patrol and later convoy protection, 33 served with the 10th Cruiser Squadron on the Northern Patrol.
The 4.7 inch gun was the primary armament but it was soon discovered that they were useless against enemy warships and were soon replaced by larger 6-inch guns.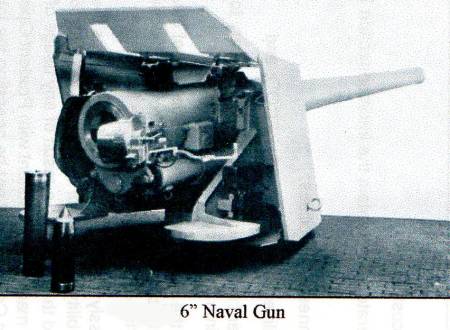 Shelters were constructed in the vicinity of each gun in order to protect the crews from the extreme weather. Additional equipment included powerful searchlights, optical rangefinders and ammunition magazines, where immense care had to be taken in handling projectiles and cordite.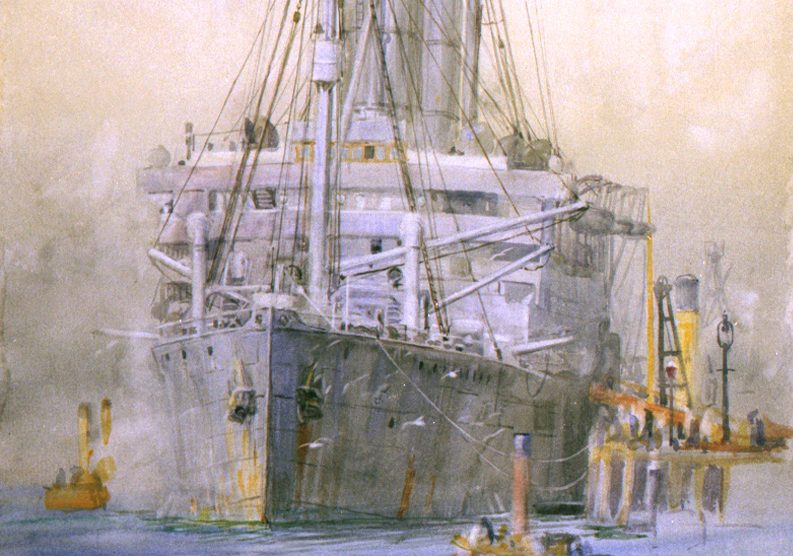 The Tenth Cruiser Squadron of the Grand Fleet had the task of patrolling the seas between Scotland and Greenland to intercept enemy ships trying to escape into the ocean and merchant ships who could be carrying goods destined for Germany. This was a task of great political sensitivity, since almost all the ships intercepted were neutrals, requiring great physical endurance from the ships and men in the violent North Atlantic seas.
Repainted drab navy grey, Mantua was later treated to Dazzle camouflage - known as razzle dazzle in the U.S.Navy - an anti-U-boat camouflage used extensively in World War I.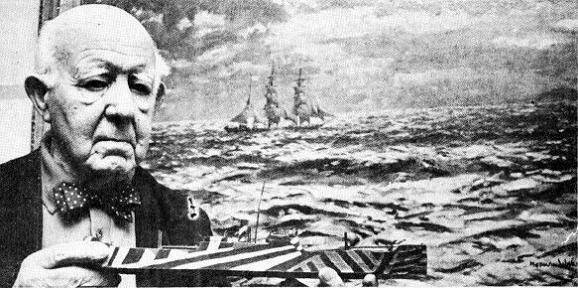 British Artist and naval officer Norman Wilkinson pioneered Dazzle camouflage, using bright, loud colours and contrasting diagonal stripes to make it incredibly difficult to gauge a ship's size and course.

It was cheap, effective, and widely-adopted during the Great War.
During one of her patrols in the North Sea, the ship reportedly hit a submerged object, an occurrence that has led to some sources suspecting that Mantua caused the loss of the German merchant submarine Bremen, an event for which Mantua did not take credit. One source records that a submarine believed to have been Bremen, was sighted 300 nautical miles south of Iceland on a course for Baltimore, when units of the 10th Cruiser Squadron were dispatched to intercept. HMS Mantua reported ramming a heavy, submerged object. However, the official log makes no mention of this.......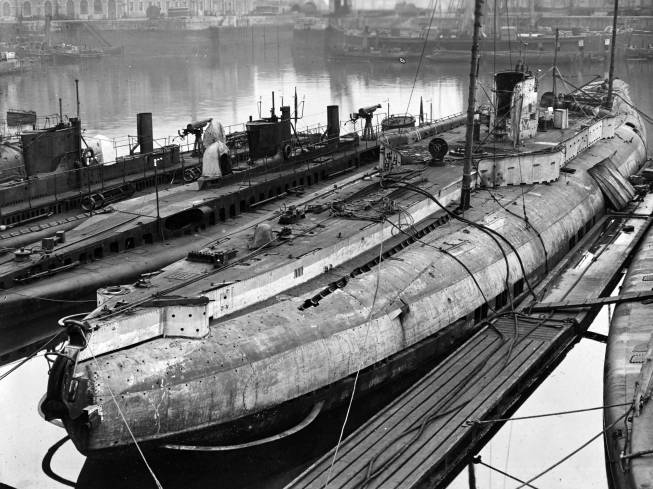 Bremen was a blockade-breaking German merchant submarine developed with private funds and operated by the Norddeutscher Lloyd Line. She was one of the first of seven U-151-class U-boats built and one of only two used as unarmed cargo submarines.
---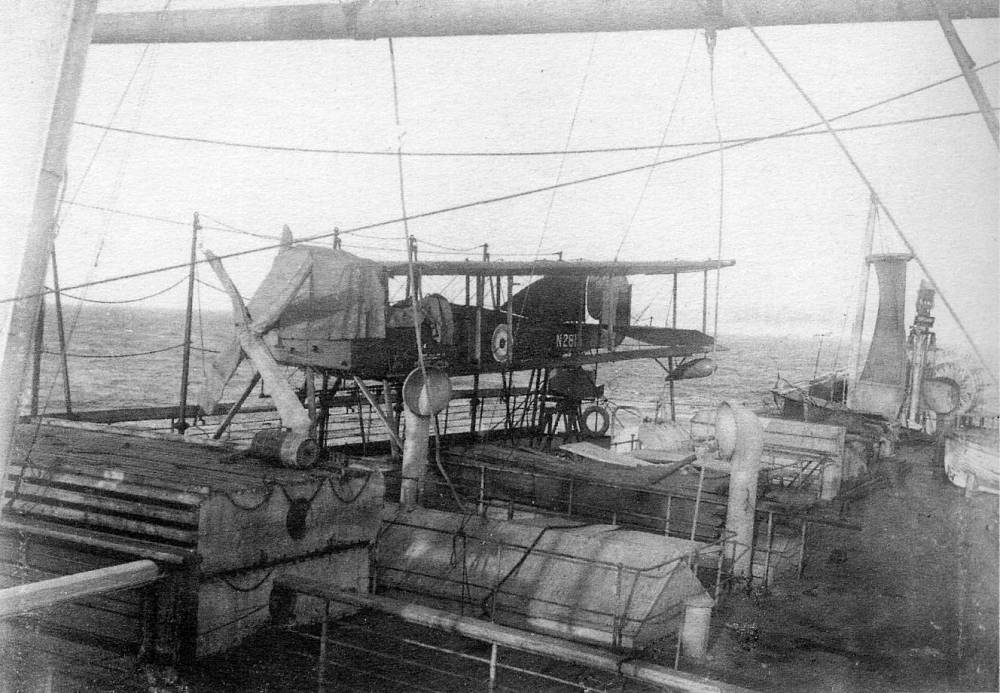 Deployed to the South Atlantic for service with the West African Ninth Cruiser Squadron during the final months of the war, Mantua embarked a Short Admiralty Type 184 Seaplane, for use in the reconnaissance role as a spotter whilst on convoy escort duties from Dakar to the UK.
In late 1918 Mantua sailed to Freetown, Sierra Leone, arriving on 15 August. As some of her passengers and crew were ill with influenza, HMS Mantua had the great misfortune to be considered one of the first ships to have spread the ongoing Spanish Influenza pandemic to the African continent.
---
Following a refit at Vickers Armstrong of Barrow, Mantua returned to P&O's Australia service in January 1920.
A selection of photographs taken on board....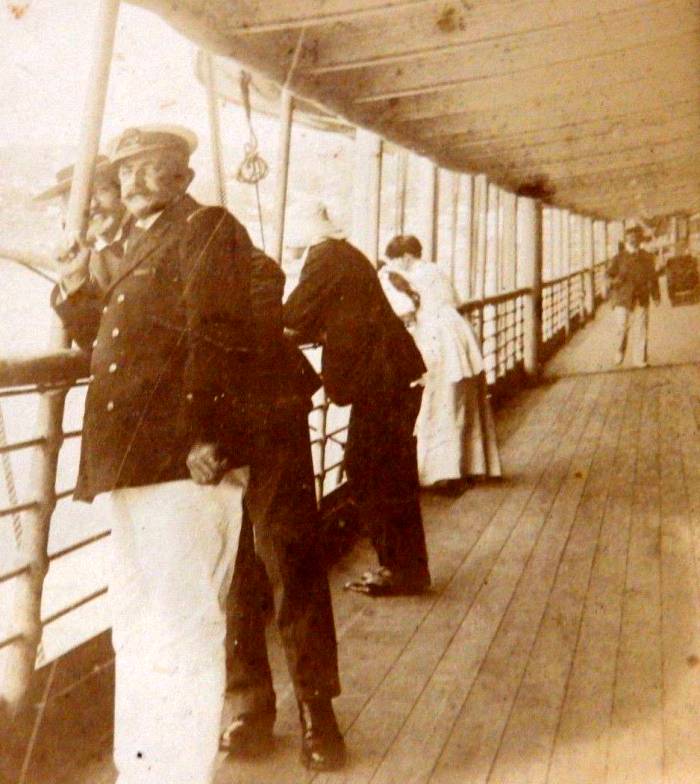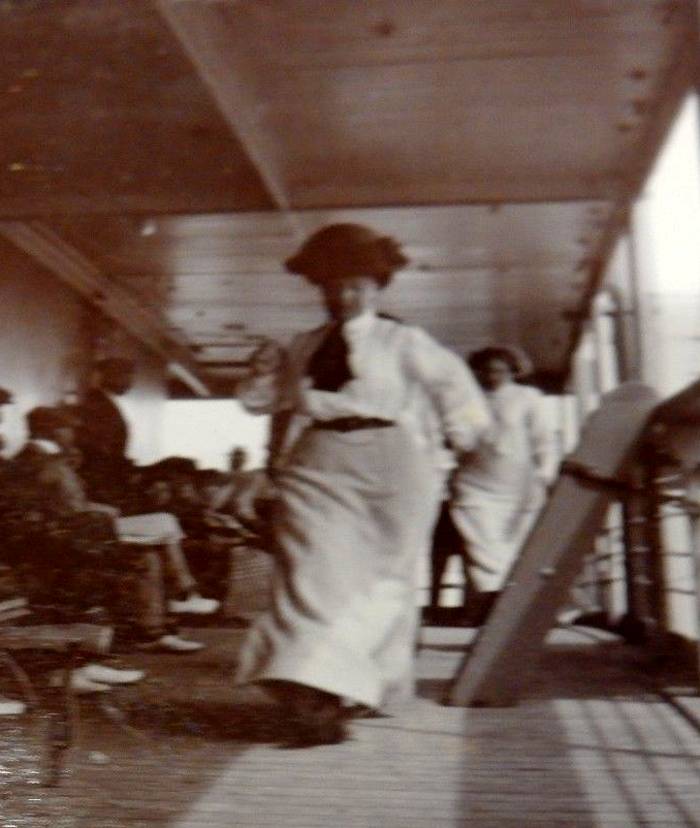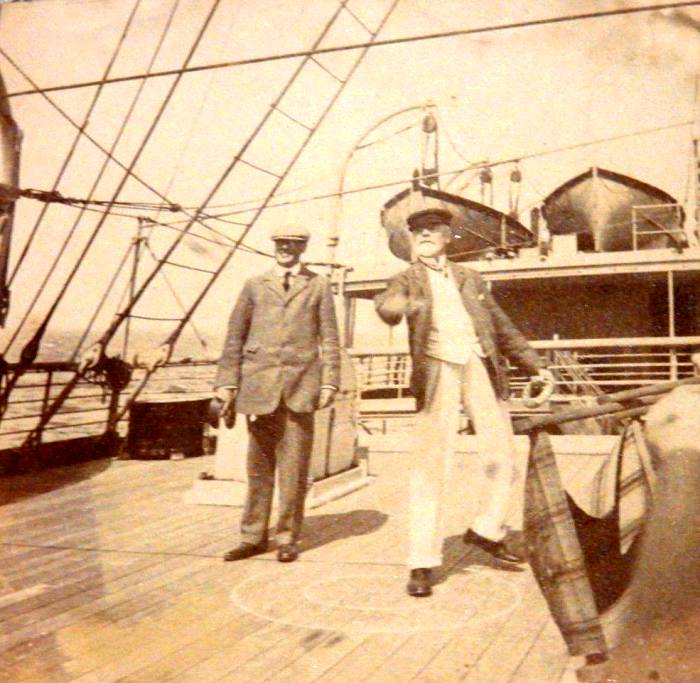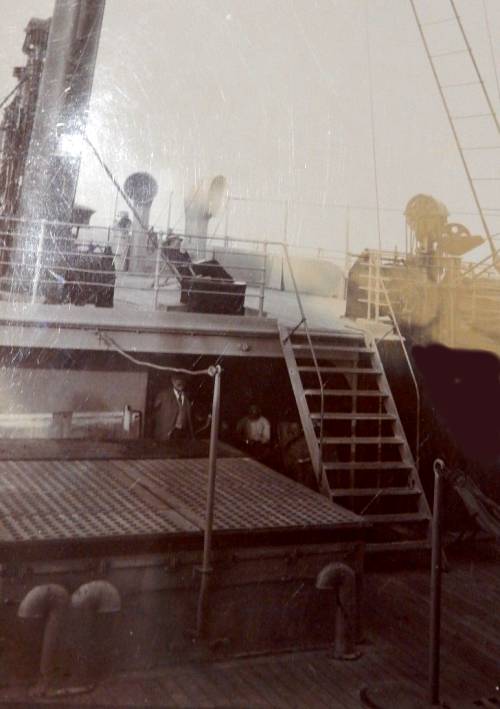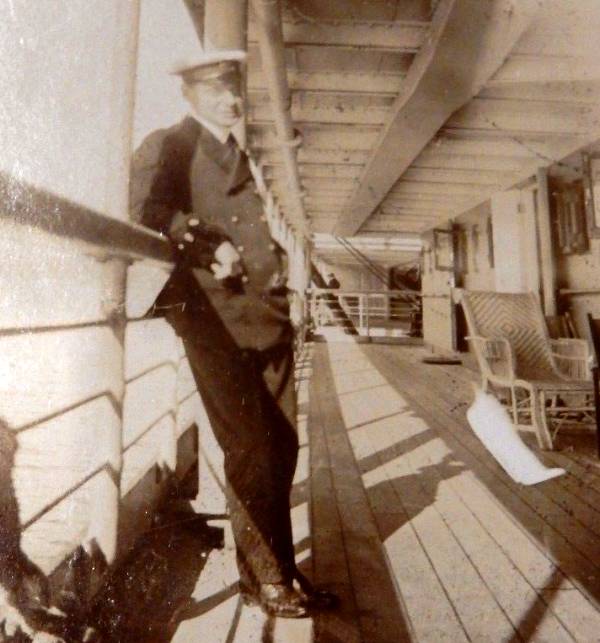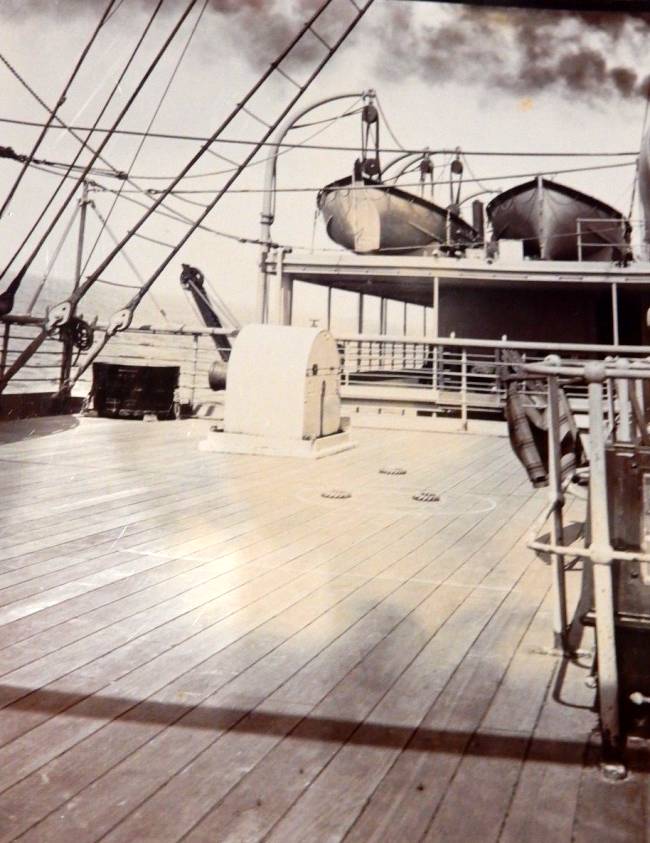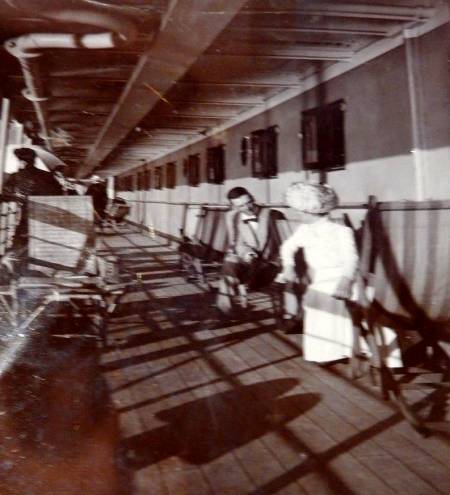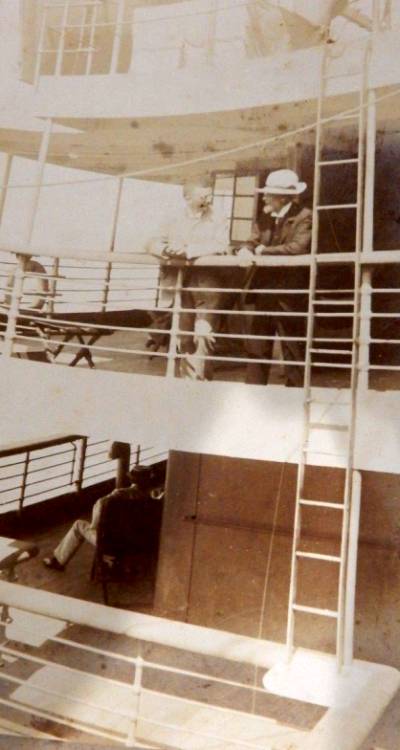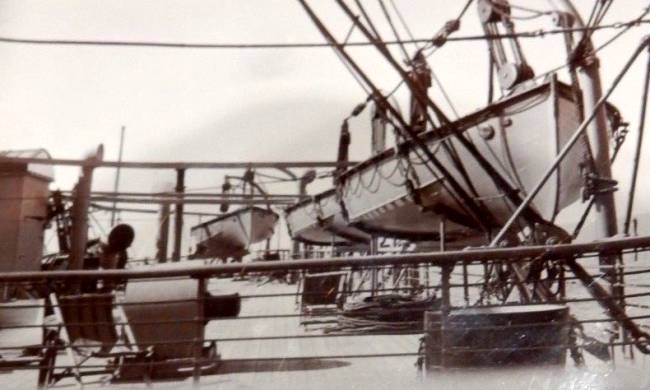 ---
S.S. "Mantua," Eastern Mediterranean
Diary entry : June 16, 1920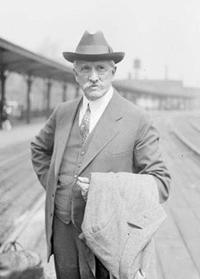 James Henry Breasted (1865 – 1935) American archaeologist, Egyptologist, and historian.
"It seems quite impossible that I am really embarked for home! It is a heavenly summer morning, with a wonderful blue sea all around us, and the usual Mediterranean sunshine. I have just breakfasted with Mrs. Morrice and Lady Allenby, and except for a short daily session with this machine, I am going to rest for ten whole days! Just think of it! Ten days with no responsibilities, no telegrams, no packing cases, no check-books, and no antiquity dealers, — but just fresh air and sunshine, and rest on a summer sea! I looked out on the canal as we ran along it last night, trying to realize all that had happened since we steamed through it on the 18th of last February to begin an untried journey entirely around Arabia. It all seemed as unreal as a dream, — particularly the return across the desert, which completed our circumnavigation of Arabia. And somehow or other, in spite of myself I have been plunged into the very midst of the great imperial game of the powers! I certainly never could have done it if I had tried.
At 11:30 last night the aides-de-camp came and got Mrs. Morrice and myself (Dr. Phillips and poor General Clayton had long since gone) and took us to a long lithe government launch which lay waiting for us at the pier. Then one of the aides-de-camp went back and got the High Commissioner and his lady, and her maid, and presently we shot out among the numerous shipping of the port toward the brilliantly lighted liner which lay some way out coaling. It was a lovely star light night and the cool breeze due to our rapid motion was delightfully refreshing after the long hot summer day in Egypt. The coal barges interfered with our getting at the gangway, and evidently the was not informed of the hour of the High Commissioner's coming. A gang of coal-heavers going on board prevented our reaching the gangway. The aides-de-camp almost fell into the water trying to shunt off these workmen, and the ranking youngster, who had charge of the arrangements was presently white with rage as he found there was no ship's officer at the gangway to assist us on board or receive the High Commissioner. Allenby took it quietly more amused than otherwise as we finally reached the deck and pushed our way through an unconcerned crowd who seemingly had no knowledge of his coming. The was nowhere to be found nor could the aide-de-camp find the purser to show us to our rooms. After the magnificence of our departure from Cairo, the contrast was shocking! The aides-de-camp presently found Lady Allenby's room, and as soon as she had been settled there, Lord Allenby with his never failing kindness turned to the aide-de-camp and said, "Where is Dr. Breasted's room? I want to know if it is comfortable and satisfactory." At that moment a manager of the Line appeared, gave me the number of my room, and told me I was to have it alone. I went down and found it a comfortable outside room with only one berth. When I came up again all had changed as in the twinkling of an eye. The and the ship's officials and officers of the Line were grouped about the High Commissioner, smiling and bowing, the aide-de-camp had been suddenly transformed from rage into beaming good nature, the usual ceremonious atmosphere around the High Commissioner had reappeared and all was in order again! Allenby asked me if my room was satisfactory and then strolled off down the gangway for a last word on the nature of the errand I was to carry out. He quite embarrassed me with the kind things he said, and I told him so. "Well", he said, "you must live up to the reputation I have given you". I purposely misconstrued him, saying, "You mean on board this ship", for he had told what he had said to the . "No", he responded, "in London. All joking aside, it is of the highest importance that the facts you have told me this evening should be plainly brought before the Prime Minister and Lord Curzon, and you have the opportunity to do a very important piece of work. For they do not realize the situation at all. They do not understand that Arab feeling, once so friendly to the English, is now stale and hostile toward us. They do not understand that the Arabs and the Christians are now united against the Jews and that the present policy is aggravating this anti-Jewish hostility to a dangerous degree. Do not fail to make this clear to them as you have done to me. And above all tell them of the danger of Arab union with Bolshevism in the north, as you told me this evening". I must confess to a very depressing sense of helplessness as I caught a glimpse of the responsibility he was putting on me.
It was long after midnight. The shouts of men, the clanging rattle of chain hoists, the crunching of many an avalanche of coal, the smell of coal dust and over all the quiet stars seemed to me to suggest the serene indifference of the tranquil powers that seem to look down so unconcernedly on the strife and turbulence of our present earthly situation. I went up to the uppermost deck, which was large and spacious and seemed lifted above the dust and noise and there I walked for a long time. As I came around a corner supposing I was entirely alone, I suddenly ran into Allenby and his wife having a last little stroll together. We passed a few facetious exchanges and I went on feeling much relieved. A few minutes later I saw Allenby's launch pushing off from the side of the ship, under the great electric lights. He waved his arm at his wife who watched him from the upper deck and his launch shot away and disappeared in the darkness. So I went below to my stateroom, but being unable to sleep I unpacked my things for an hour, and toward three o'clock I finally dropped asleep in a very uncomfortably stuffy atmosphere churned by the electric fan; for the coal dust made it impossible to keep the port hole open.
The ship is large and comfortable, but I must make some shift for a chair. They do not have chairs for rent on these oriental liners. Everybody brings his own chair. I find everybody is standing on his head for me. Evidently Allenby said every necessary word. In the dining room the chief steward had a selection of seats reserved for Lady Allenby's party, which consists of Mrs. Morrice, the aide-de-camp's wife, Lady Allenby and yours truly. We had a pleasant breakfast together, and now, as I have about caught up with this chronicle, I will begin my ten days' loafing!
June 19, 1920
The chair difficulty was easily settled for the came along and asked me how I was faring, so I took occasion to tell him I had no chair. He took me at once up on the bridge and asked me to select one of his. A sailor has now marked it as told by the , and placed it beside Lady Allenby's. I don't occupy it much, for I find in looking over my affairs that my ten days' loafing was pretty much a dream.
I shall have an opportunity to mail this at Marseilles; but I shall trust nothing more than a card or two to the French mails. I have been so busy recording for you my own doings that I have neglected to tell you that I received with great joy a bundle of home letters, I believe of May 19 and 23 (they are now filed away in my big trunk). There I learn of your telephone conversation with President Judson, telling him I came round to Beirut in an oil-tanker! That shows me that the French suppressed my full cablegram stating that we had crossed the Arab State. If they did that, it is highly probable that they got my full journal letter also. It was packed with information of value to them. I supposed war censorship had been entirely removed; moreover I had the journal registered with the daily mail of the American College. Perhaps I am all wrong, and you may have read the whole thing long ago; but all the English commanders tell me there was a very tight secret censorship by the French, and they all have no doubt the French have seized my letter. It fills me with indignation when I recall all their official assurances of every help and assistance, — assurances which General Gouraud their High Commissioner reiterated most cordially, when perhaps he had just been reading my record and profiting by the information! Allenby thinks I can recover it. "But," he added, "as you are an American citizen, that is a matter into which I cannot mix." You see there was nothing in the journal that could possibly injure French interests; but there was much in it which was of value to them, and if they have taken it, it is not from fear of any damage to their cause, but solely in order to secure, by fair means or foul, any information that may prove useful, even if they steal it from the scientific notes of a travelling orientalist, whom they have pledged themselves to aid! Well, they are welcome to a copy if they will return it all to me when they have finished with it, but it is extremely vexatious to me to be uncertain whether you have received any account of our extraordinary journey from Baghdad to the Mediterranean right across the new Arab State, — the first non-Moslems to cross it since its proclamation. The topographical notes which I made for historical purposes I can never reproduce nor can I ever restore the daily atmosphere and the thousand and one details of our progress written from hour to hour amid the changing moods of river and desert and Arabs as we slowly traversed the vast Arab wilderness that lies between Baghdad and the Western Sea, — a unique pilgrimage of twenty days! When I have cabled you the name of my Atlantic steamer from England to America, and you have found out the day of her arrival, do telegraph me at the ship, and let me know whether you have received the journal letter or not.
I hope the Foreign Office has succeeded in getting me an early passage home from England, for of course there is unprecedented congestion on the Atlantic. His Majesty's Government is all-powerful in such arrangements. Wiggin came over to me at the steps of the special train and said, "You may be interested to know that a wretched Judge of the High Court came into the Residency just as I was leaving and asked for a berth to England; but I had to tell him there was absolutely no vacancy until August. You really are very lucky, you know!" I only hope things will work with equal efficiency when I reach England. I have terribly cold feet. I have been reading Mr. Britling. If I had any wreckage of idealistic hopes left in me when I left America, the spectacle of the Great Powers plotting against each other in the Near East has quite cured me of it. That reminds me that I ought to see Wells in England; I ought also to see Dr. Hogarth, the Director of the Ashmolean Museum at Oxford and discuss the future of scientific work in Mesopotamia; I ought to see Sir Denison Ross, the Director of the new British School of Oriental Languages in London; I must of course see Gardiner and I am due to go to Liverpool to see what part of their museum the university there is willing to sell. If the Foreign Office secures me an early passage, I shall be hopping some to put all this through.
Sunday Morning June 20, 1920
We are just going into the harbour of Marseilles. We have passed up through the Strait of Messina, looking up at beautiful Taormina and snow-crowned Aetna; then between Sardinia and Corsica. It all brought back many old memories.
I find I can post this on board with a British stamp, so I am going to drop it here, which will give it just a week earlier start, for I shall not reach London until a week from today. I might have crossed France and saved a day or two, but I dreaded the long weary journey for I am very tired.
I should be home before the middle of July, Loads of love to all. I hope Charles received his check in time for use at graduation. Probably his acknowledgement went to Baghdad."
"If one were asked to name a scholar who, above all others, stimulated the development of ancient historical studies in the United States during the earlier part of the twentieth century, that honour would have to fall to the colossal figure of James Henry Breasted."
Dictionary of Literary Biography by William J. Murnane
---
On 8th July 1935, Mantua was sold for scrapping to China Shipbreakers Ltd, and delivered at Shanghai on 15th September.