Please Note: The house flag and word mark 'P&O' are Trade Marks of the DP World Company https://www.dpworld.com/
---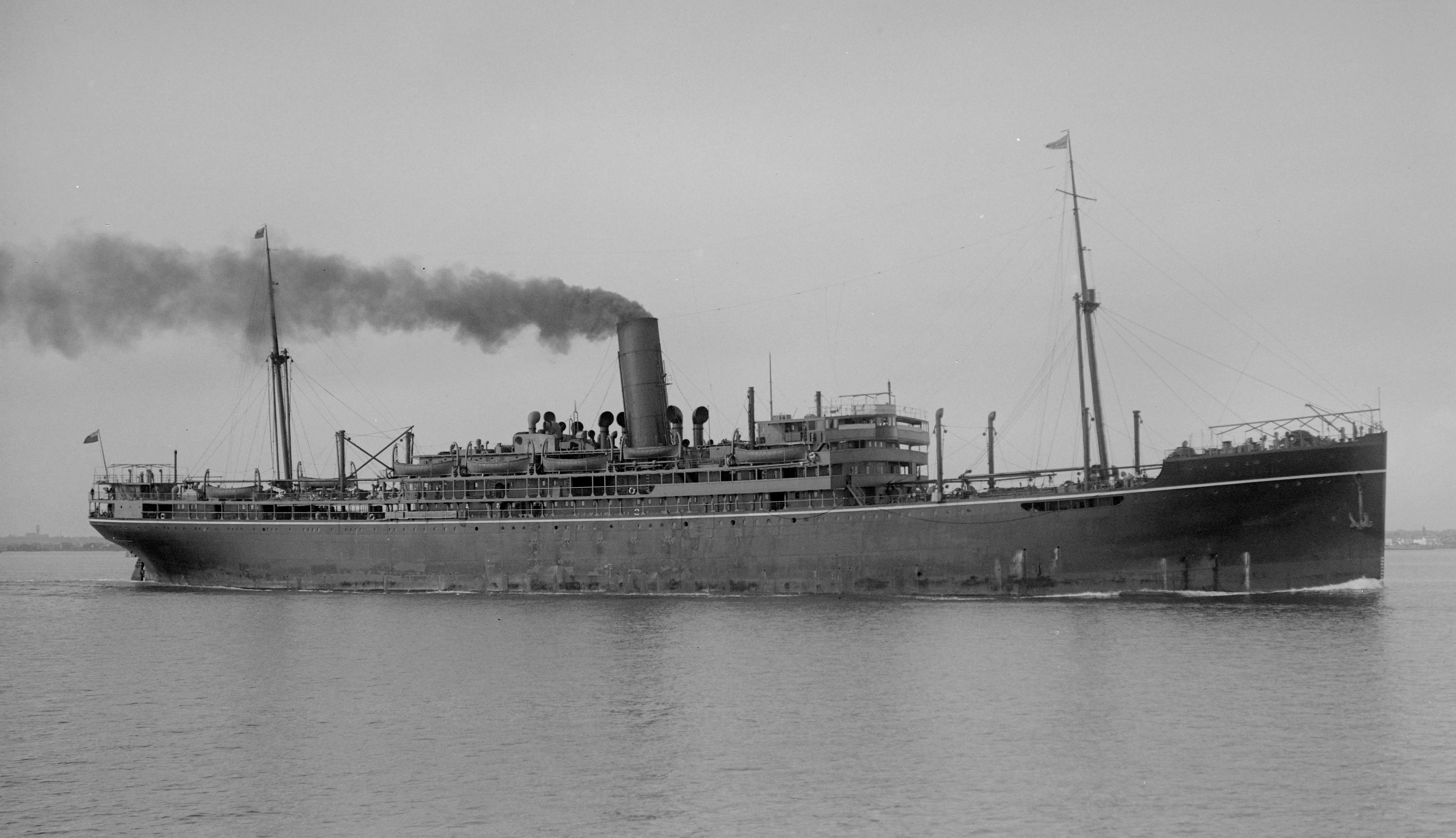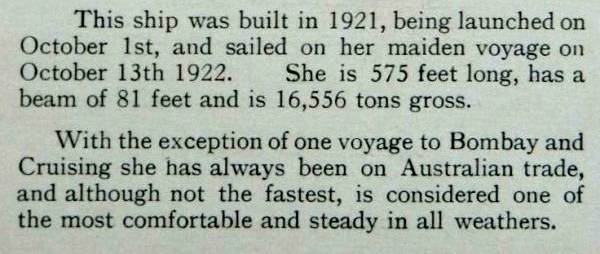 Built by Cammell, Laird and Company of Birkenhead, Moldavia was the first ship of the post Great War era, delivered to P&O on 19th September 1922. She and her sister-ship, the ss Mongolia, were designed for the Company's Australia service.
Her twin Parsons double reaction-geared turbines, developing 13,250 IHP, drove twin screws, giving her a service speed of 16 knots. Her engine room represented a major advance, and she was the first P&O to be so equipped.
On 13th October 1922, she departed Tilbury on her maiden voyage amid press criticism that she only had one funnel, and this was felt to be insignificant for a liner of her size, as it marred her appearance.
She and her sister ship were certainly somewhat dated in design, with their straight stems, counter sterns and single funnels.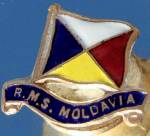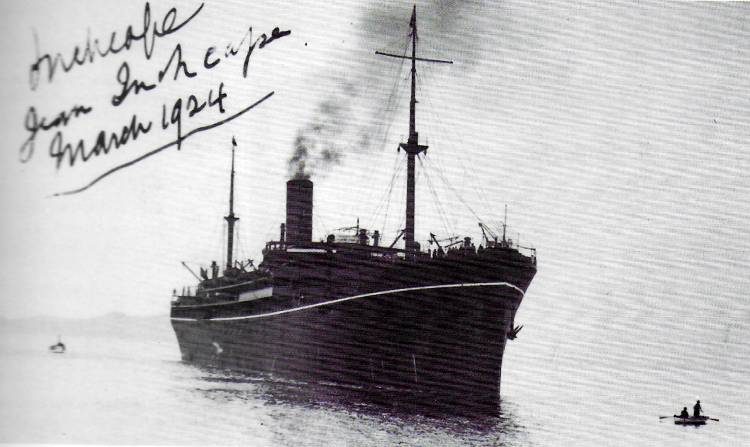 Lord and Lady Inchcape signed a photograph while travelling home from Colombo in Moldavia in March 1924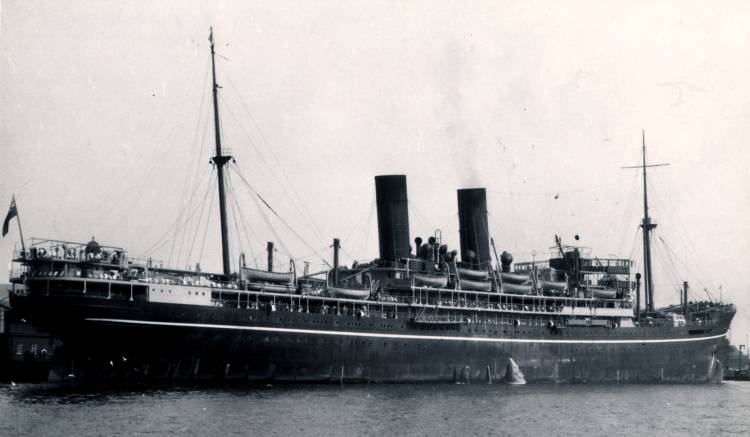 In 1928, she was fitted with a second, dummy funnel, and her boilers converted to burn oil fuel.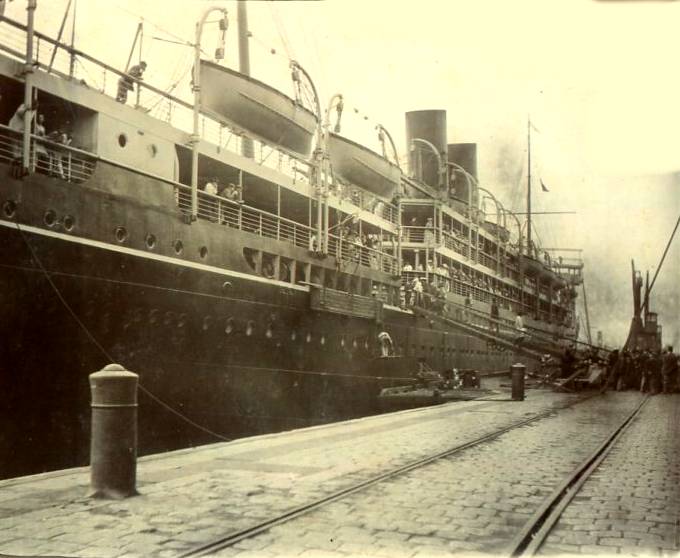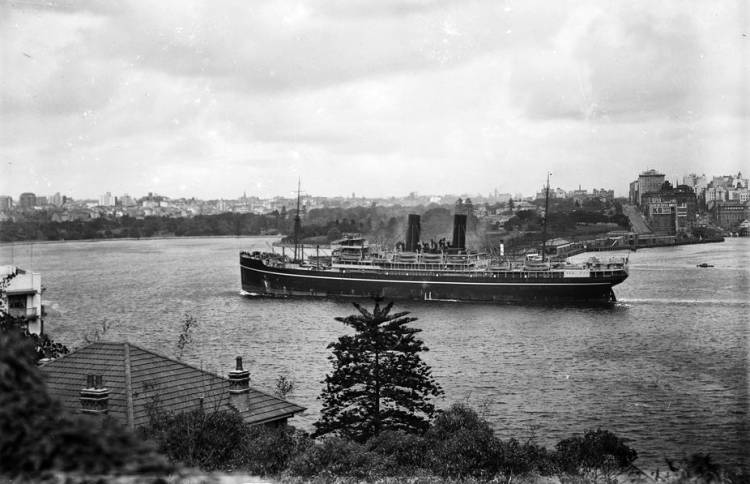 Glass plate negative depicting Moldavia passing Bennelong Point, Sydney Harbour, in the 1930s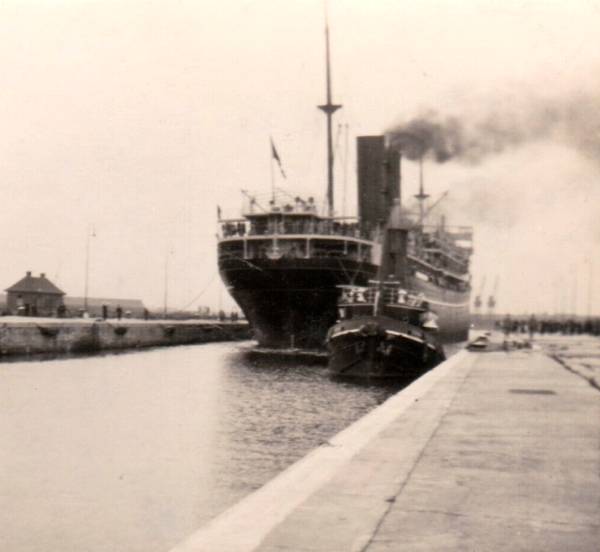 Moldavia alongside at Liverpool
In April 1930 she was refitted at Tilbury and downgraded to a 'one-class tourist' ship, with fares to Australia from as little as £38.
In 1934, she was fitted with new propellers and steam superheaters, which marginally improved her performance.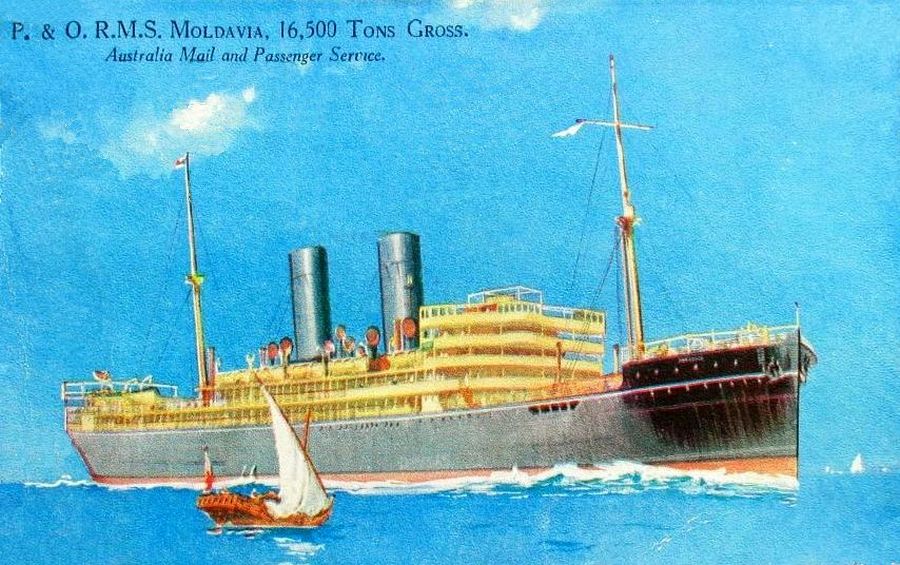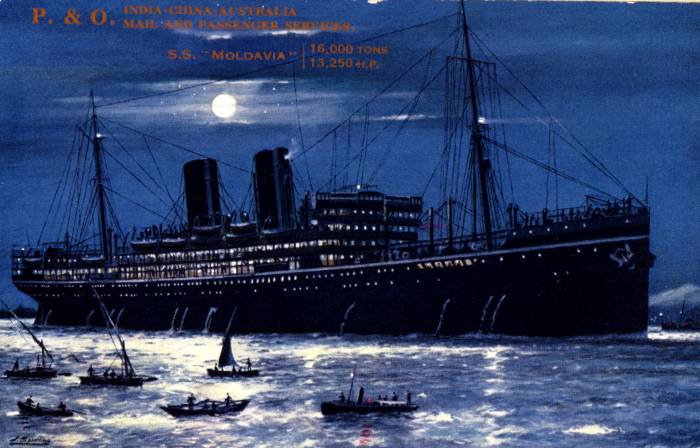 Artistic licence ruled the waves......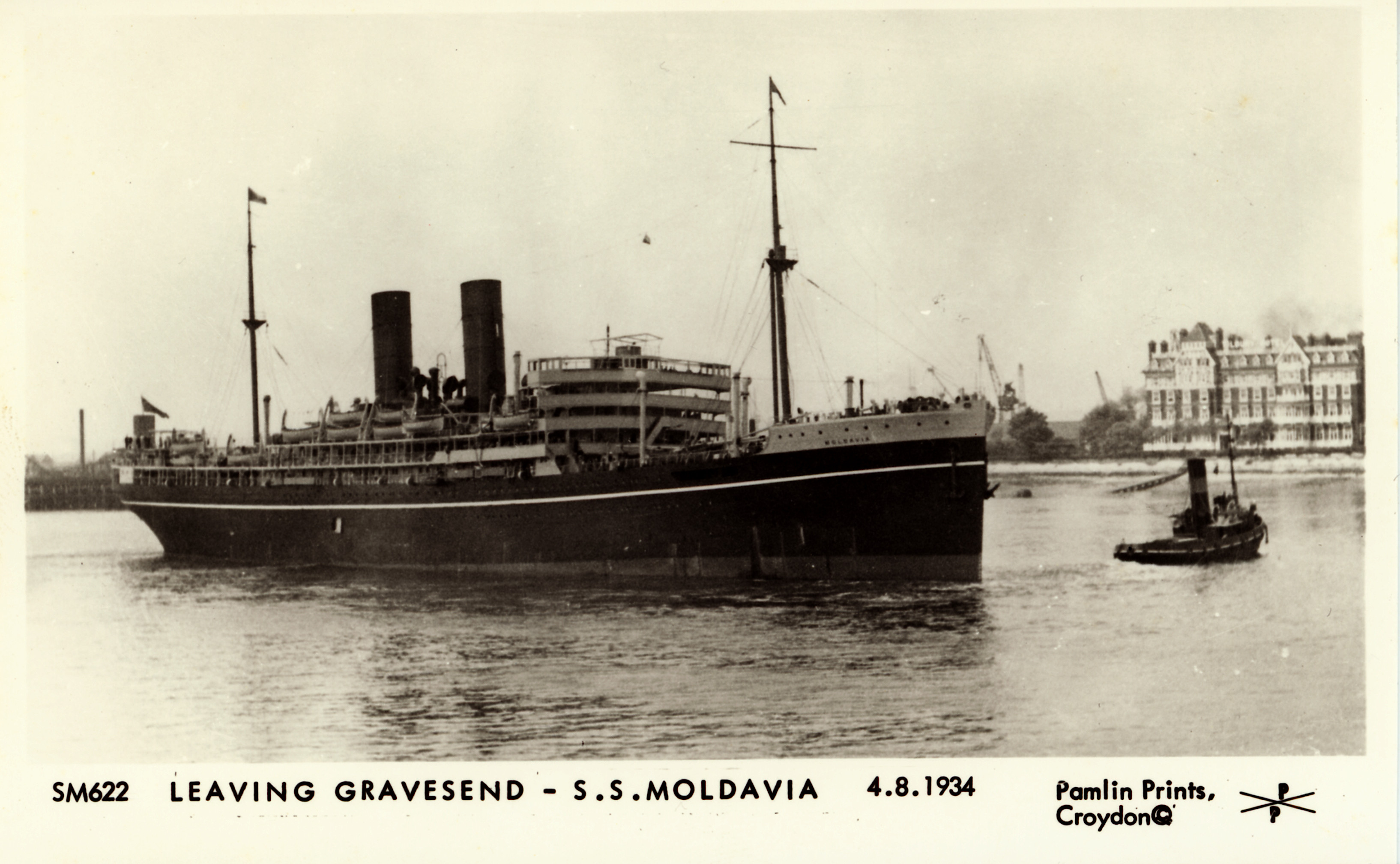 The reality being somewhat less impressive.........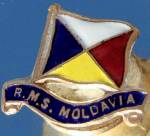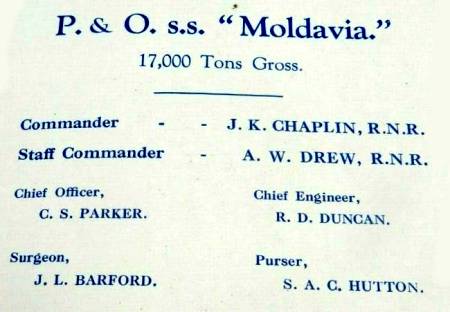 British Officers ensured your safety while onboard....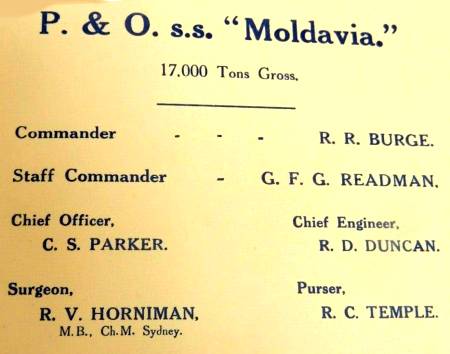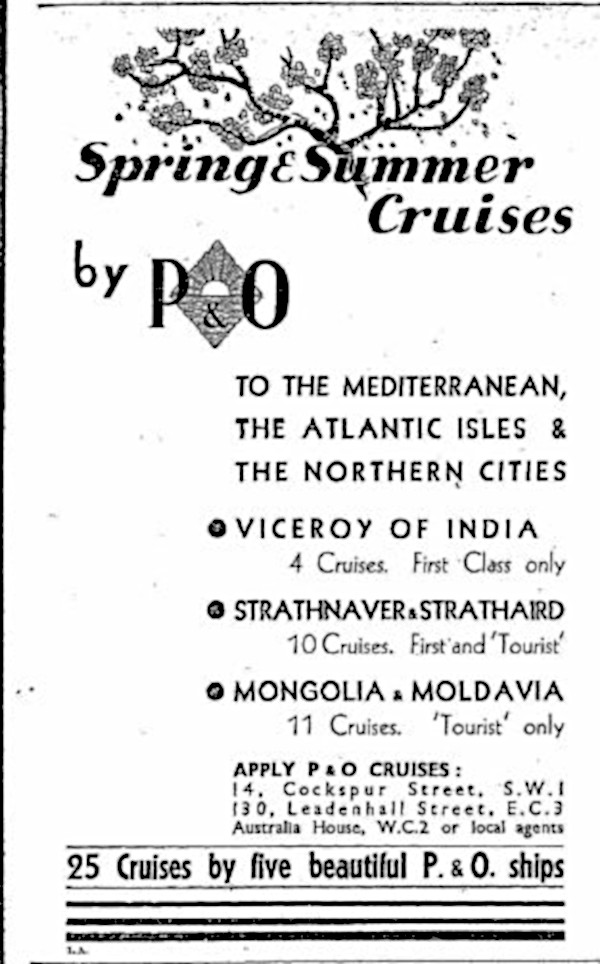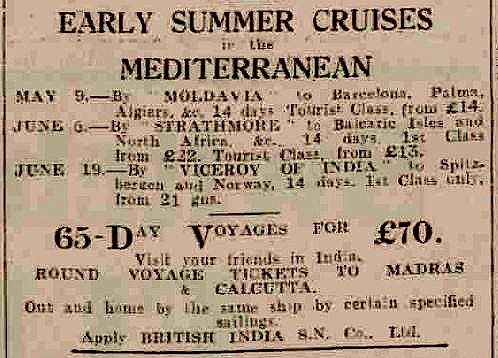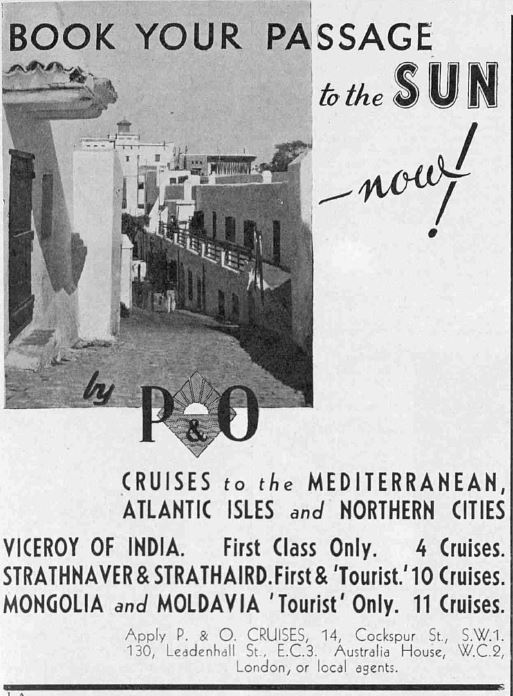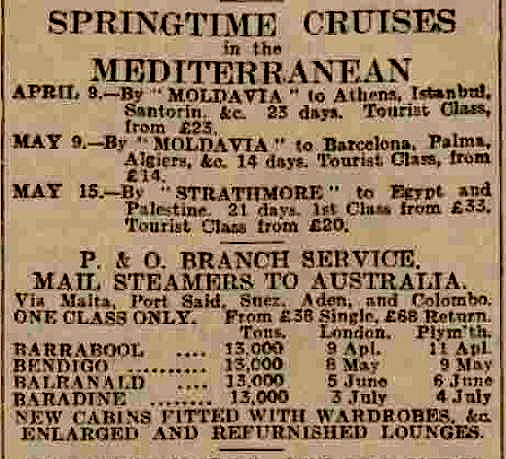 With fares starting at £14 for a two week Mediterranean cruise, she offered affordable travel to the less discerning....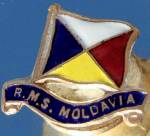 For the first time, the excitement of cruising was within reach of many....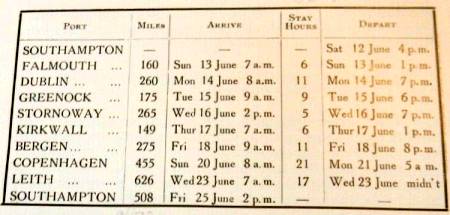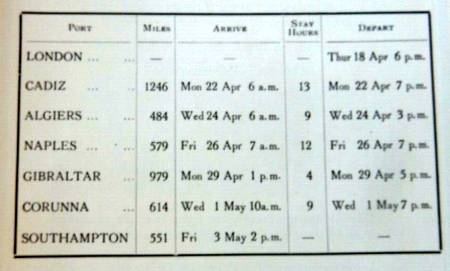 With interesting and sometimes exotic ports of call.....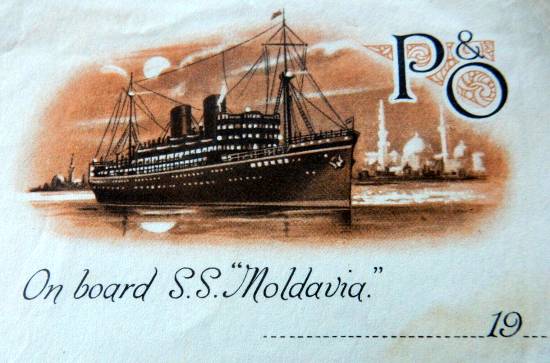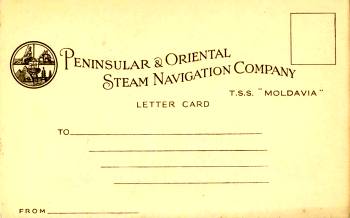 And a letter card home, with a foreign stamp, makes a nice souvenir....
---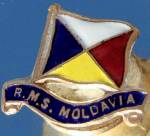 In her initial configuration, Moldavia's first class music and smoking rooms, along with a verandah cafe, were arranged on the promenade deck, while the second class music and smoking rooms were on the shade deck aft. Passenger cabins were arranged according to 'the Inchcape plan', with each having access to its own porthole for outside light and air. Inside cabins were designed with a narrow passage to the ship's side.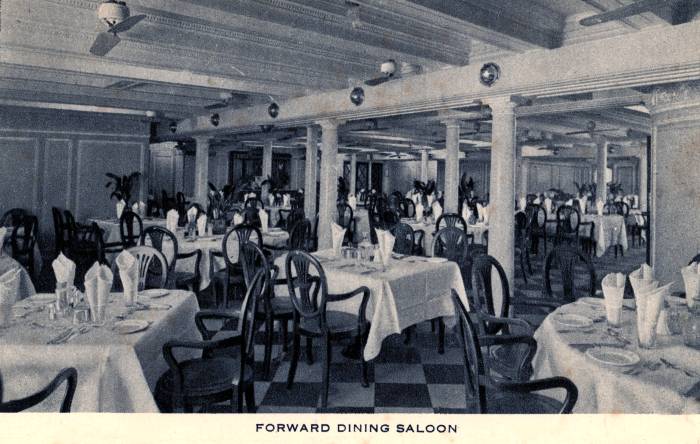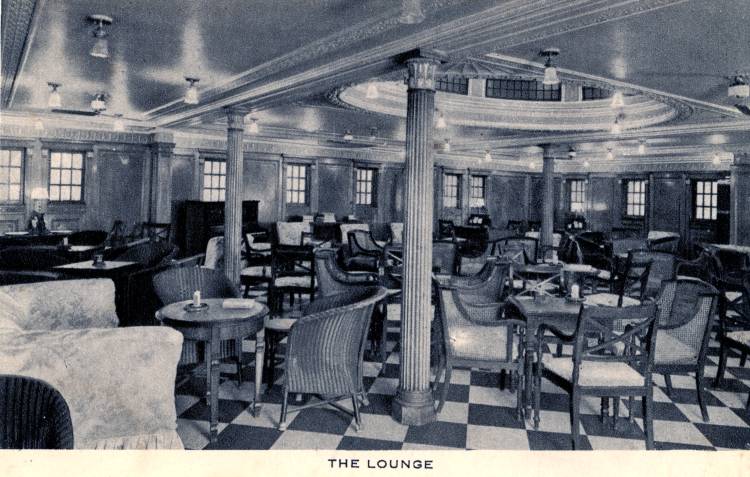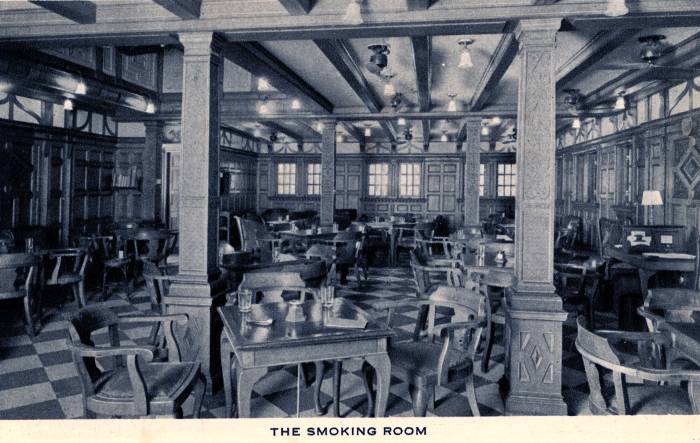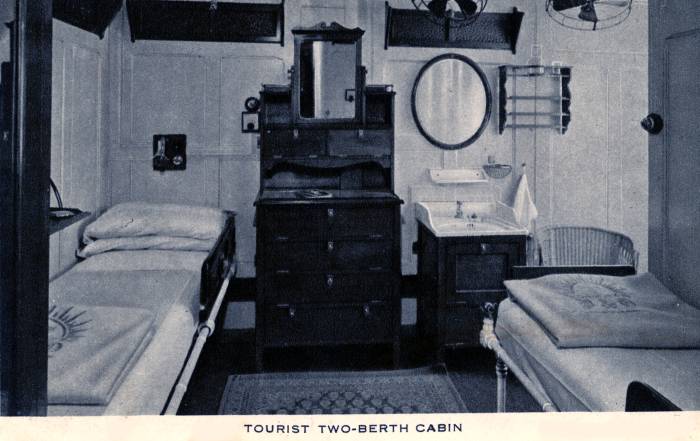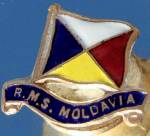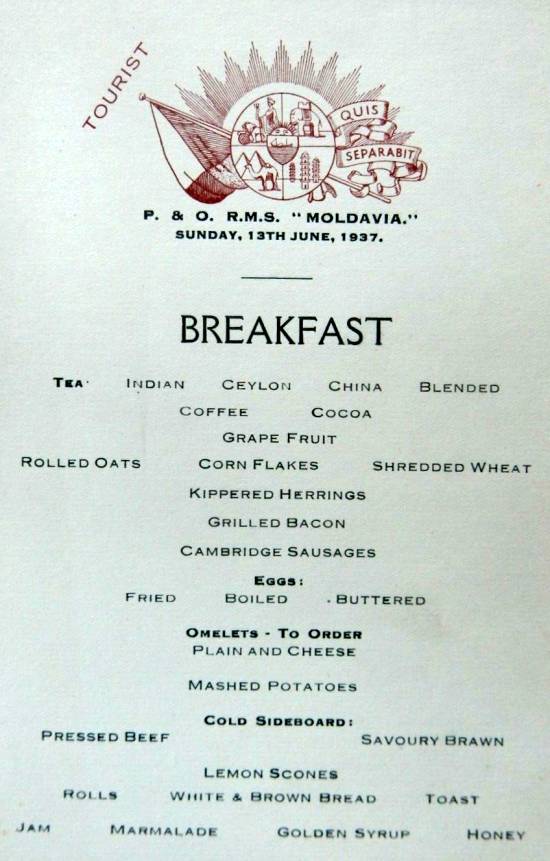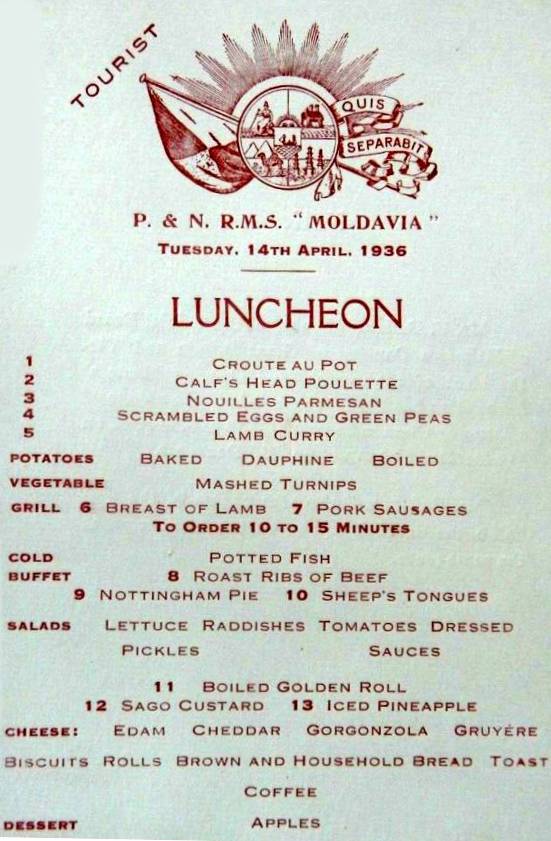 In order to facilitate service, passengers were kindly requested to order by number....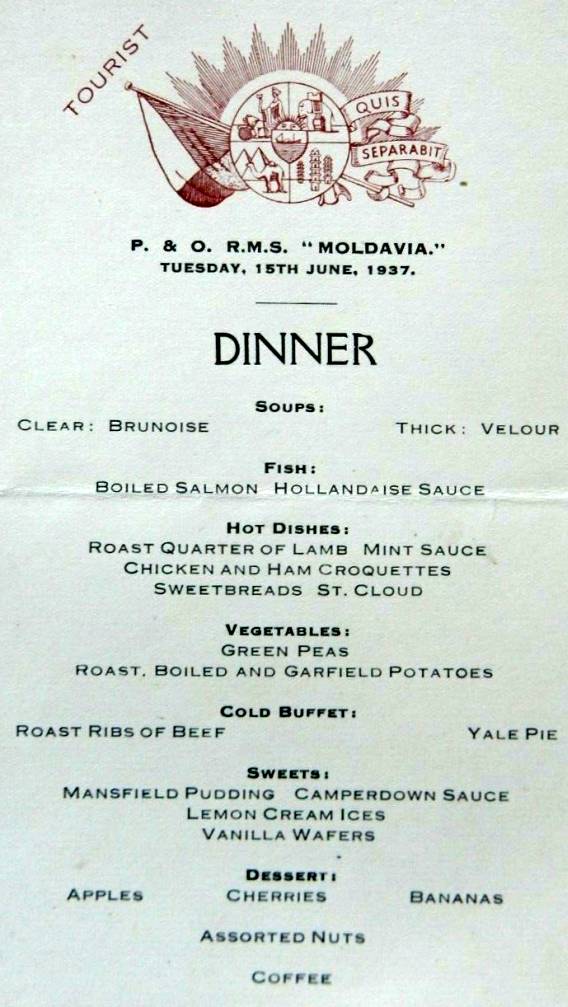 Fine dining and plenty of choices.....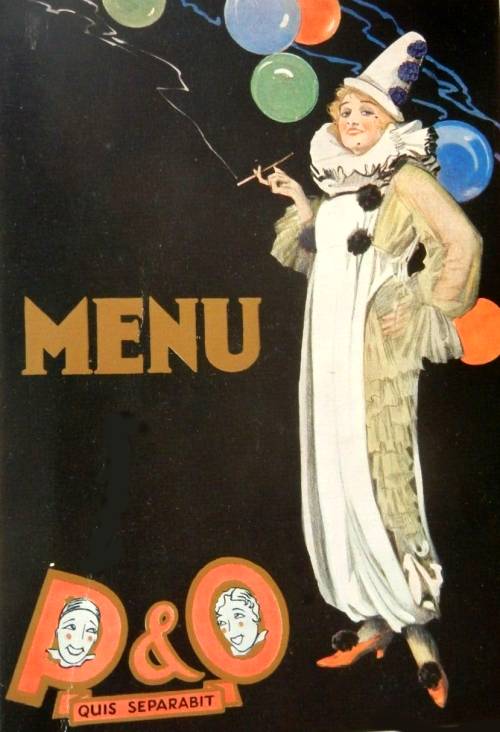 Gala Nights were special occasions.....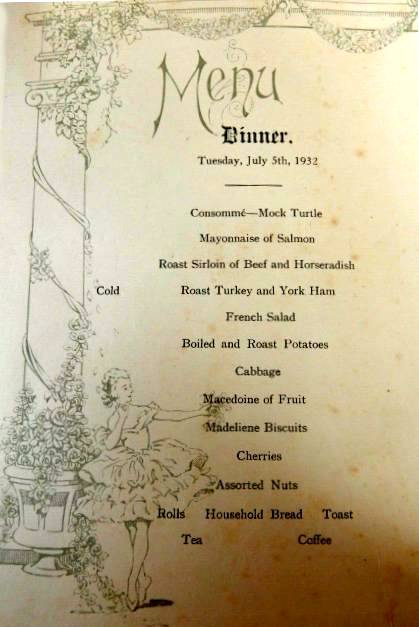 With a special menu.....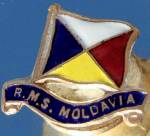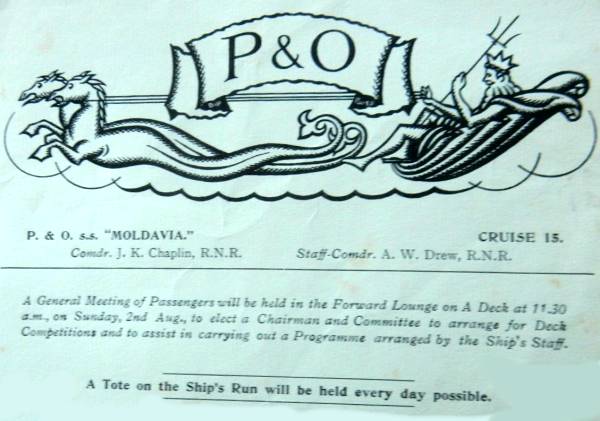 Lots of fun for all....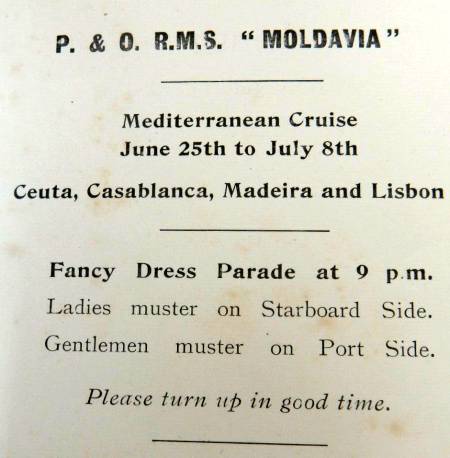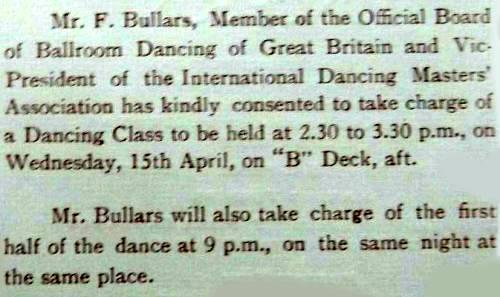 And ballroom dancing.....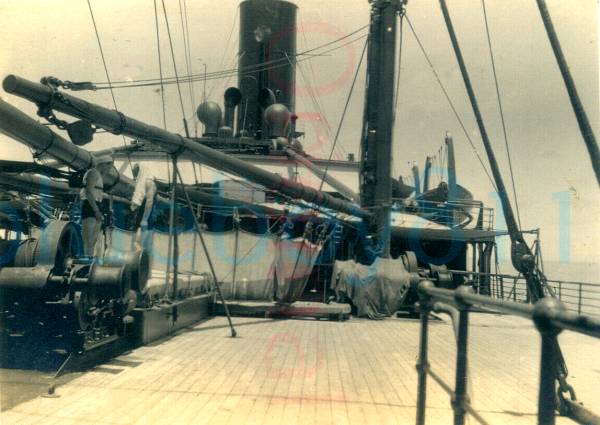 And a canvas swimming pool.....
Posing with a lifebuoy was always made a popular souvenir photo....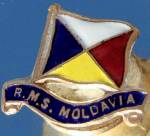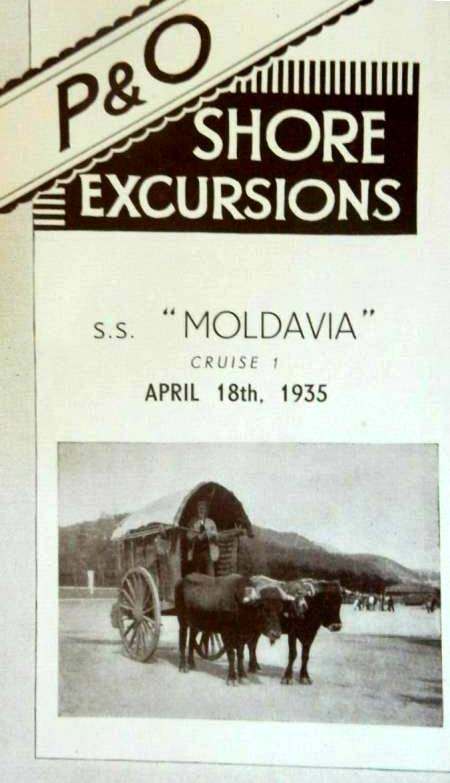 Tickets for escorted shore excursions are purchased onboard....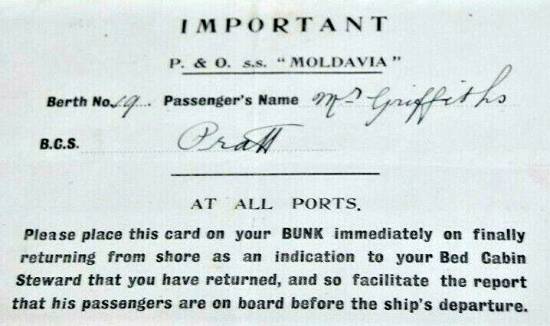 But don't stay ashore too long and miss the ship......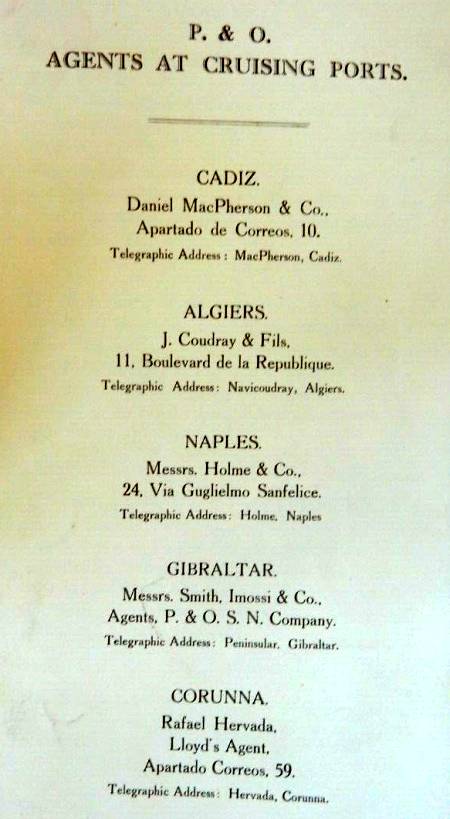 But if you are unfortunate enough to miss the ship, report to the Company's Agents immediately....
---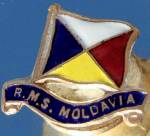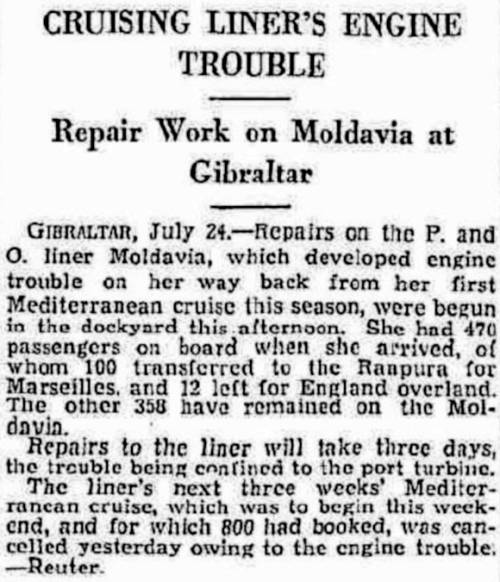 But sadly, it was not all plain sailing, on 21st July 1935, her port turbine broke down leaving Monte Carlo, requiring repairs at Gibraltar Naval Dockyard.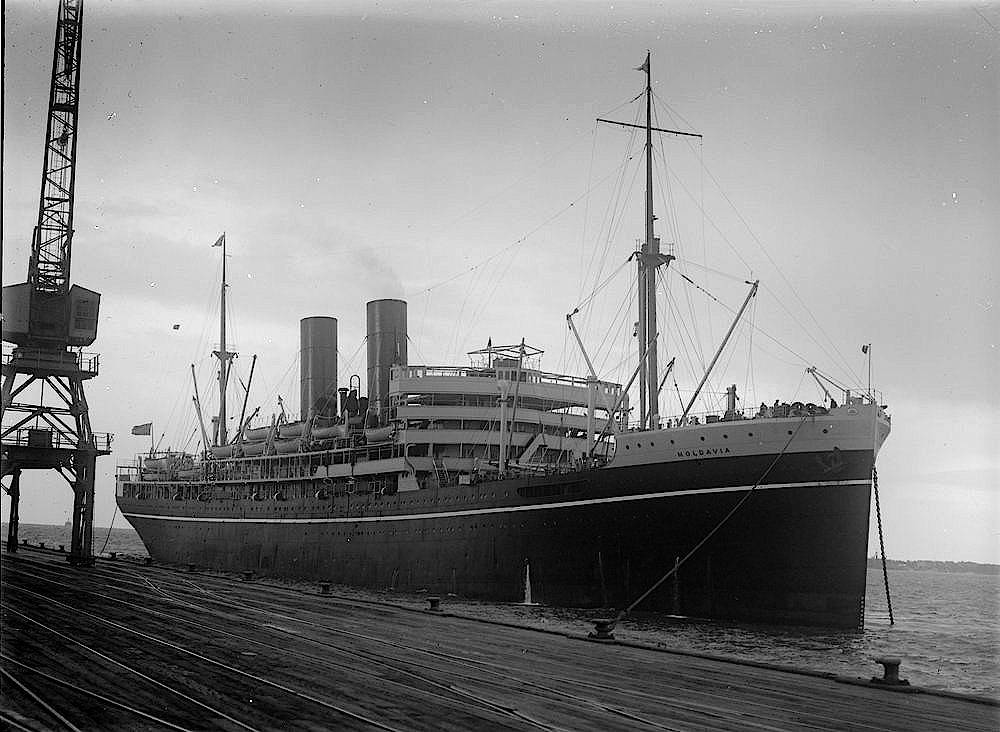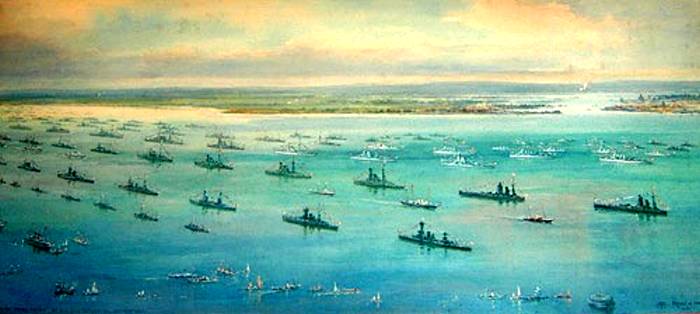 In 1937 she was chartered to carry guests to the Coronation Naval Review at Spithead, much of which was shrouded in fog.
On 17th September she departed Sydney for the last time, arriving Tilbury on Christmas Eve, where she was laid up, pending sale.
Sold for scrap, for £38,000, she arrived at Newport Monmouthshire on 18th April 1938, for demolition.
---