---

In perhaps no other business is there required an organization so complex and far reaching as in the operation of a great steamship line. It draws its business from every corner of the earth; its operations are carried on at ports widely separated and under different governments; it constantly deals with peoples differing in language, monetary systems and methods of doing business. Its various departments of necessity must exercise a large measure of independence and individual responsibility, and yet to be successful the whole organization must be closely welded, under a capable and far-seeing directing power. Thus was born - the ship's Purser and his staff.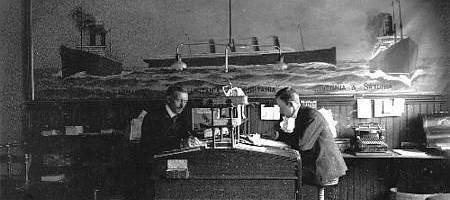 A ship's Purser, sometimes called a Pusser by those of a Royal Naval inclination, is the person responsible for the handling of money on board ship. Reporting to the Captain, the Cooks and Stewards answer to him, as their head of department. The accommodation, the service, the food and the entertainment are what the passengers are paying for and they will want to have their moneyís worth. It is the vesselís Purser who will be regarded as accountable for their satisfaction.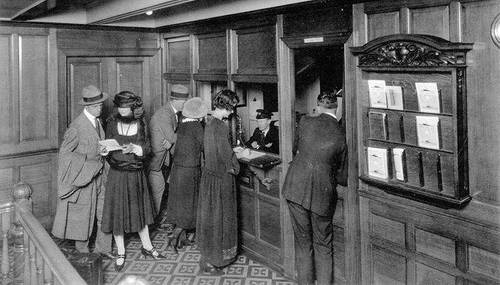 The hotel services department of a passenger ship is by far its biggest, distinguishable from that of a large hotel itself only by the degree of self-containment that will be necessary aboard a ship. It might also be thought of as the chief revenue-generating department, with the takings from the passengers, during the voyage, as important as the ticket prices themselves. And it is the purserís department where all the wishes, demands, comments and complaints of the passengers will end up.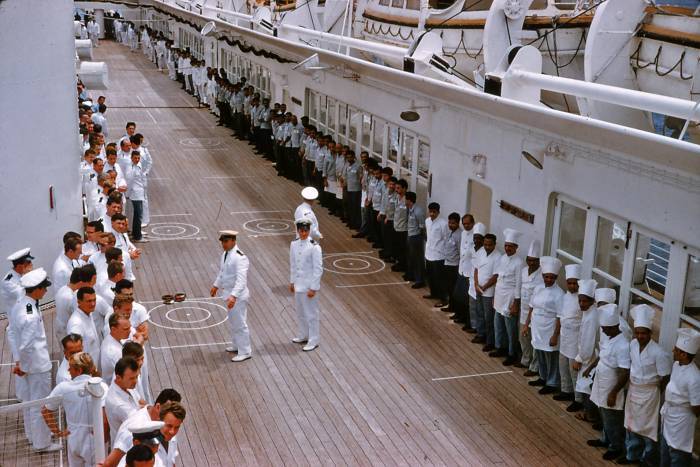 The Purser's department, ss Ibera 1963. Photo: Diana Borcherds (nee French)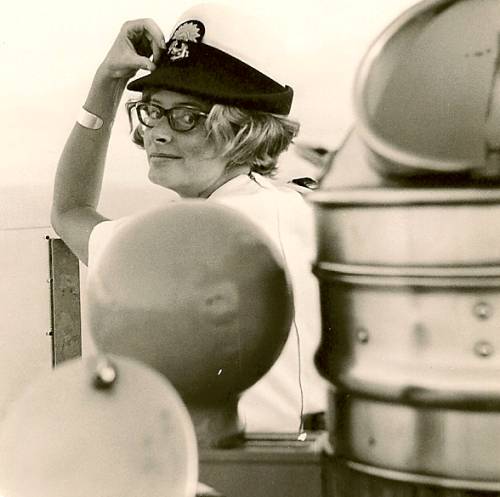 Ank Bakker, Dutch Woman Assistant Purser, 1971
Within the responsibility of the Chief Purser of a large passenger ship will be found whole armies of stewards, cooks and catering staff, barmen, shopkeepers, casino staff and entertainers, all of whom must be led and motivated to ensure that the experience of the passengers is wholly positive. It is a role for the financially astute, well educated person with a delight in serving others, just as the manager of any large hotel requires these increasingly professional qualities.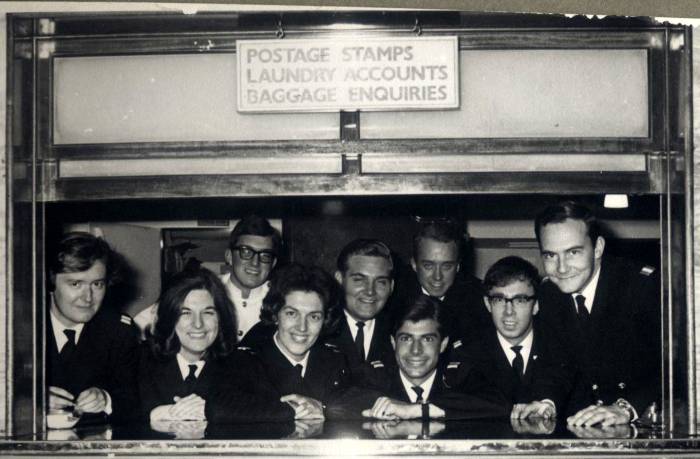 Chusan, Bureau Staff March 1966: Pat Archibald, Carole Thoms, Bureau Bellboy, Nell Broekman, Derek Warmington, Anthony Adams, John Harris, Malcolm Dawes, Barrie Griffiths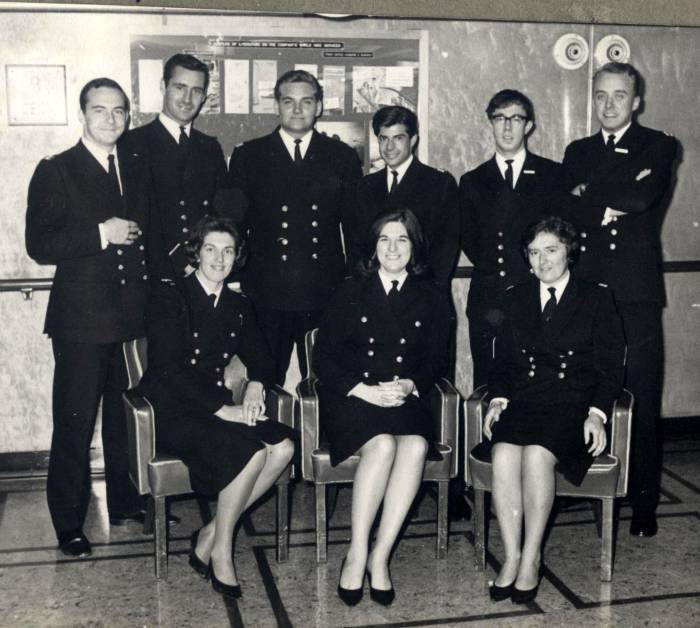 Chusan, Bureau Staff March 1966: Standing left to right: Barrie Griffiths, D/Pís Writer, Derek Warmington, Anthony Adams, Malcolm Dawes, John Harris
Seated left to right: Nell Broekman, Carole Thoms, Pat Archibald.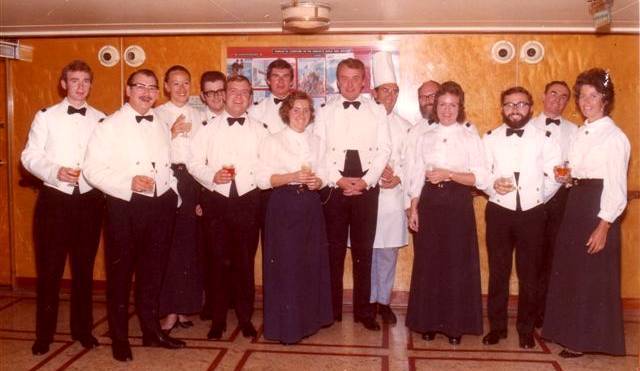 ss Chusan Pursers' Officers 1972
While the Chief Purser holds the reins, reporting to the shipís Captain, there will be a distinct departmental structure with a number of other purser staff with their own responsibilities for the well-being of the passengers, not only for their time on board, but during the shore-side excursions which will have to be organised and advertised.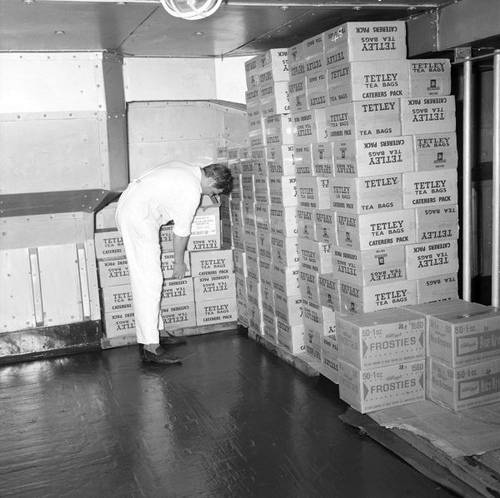 A large passenger ship is a vast consumer of stores, and these will have to be organised so that some vital foodstuff is not lacking when the ship is at sea. There will be a considerable throughput of money during the voyage and the financial expertise of the Purserís staff will be vital to the success of the voyage.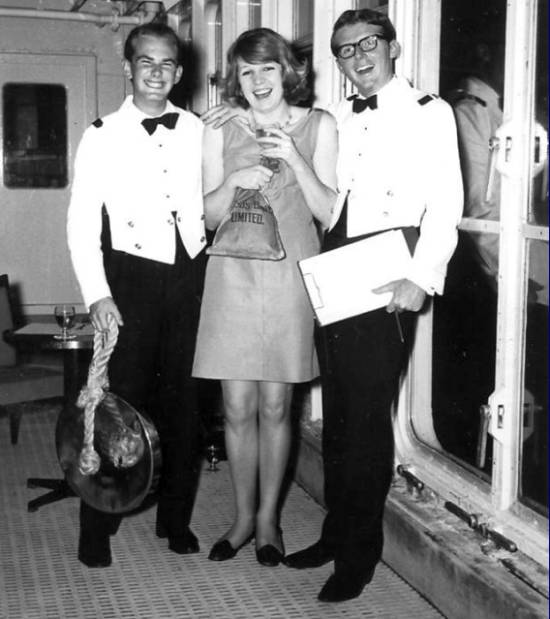 Young pursers are sometimes first employed as purser cadets aboard passenger ships, although they may be people who have been trained in colleges specialising in hotel and catering management. Once aboard ship, they will work their way through the ranks within the purserís department, learning about the various elements that keep the complex system designed for passenger satisfaction working correctly. Ideally, they will be socially skilled individuals who are calm in a crisis and like their fellow human beings!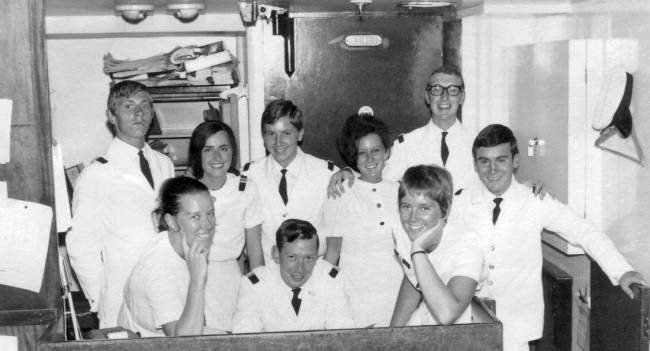 ss Orcades Bureau Staff ~ c1969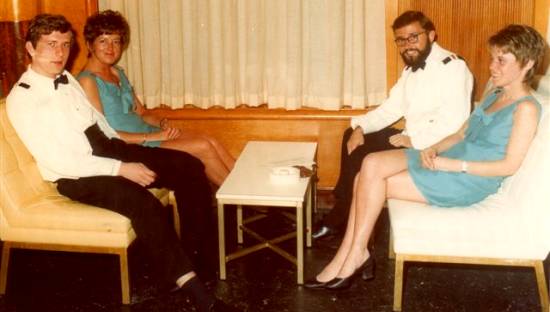 ss Chusan's Bureau Staff ~ c1971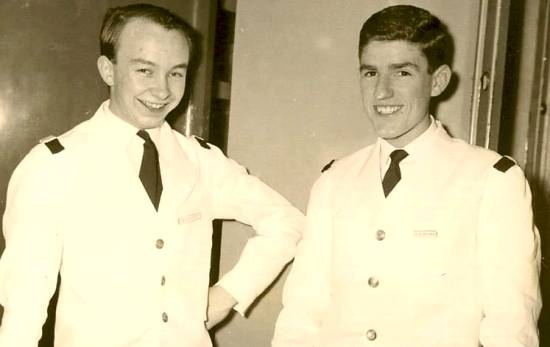 ss Iberia Pursers 1966
ss Stratheden Bureau Staff ~ 1952
---
P&O and the Orient Line were formally merged in 1960, to form P&O-Orient Lines. Purser Cadets served on board ships of both P&O and the former Orient Line. Knowledge of typewriting was an advantage"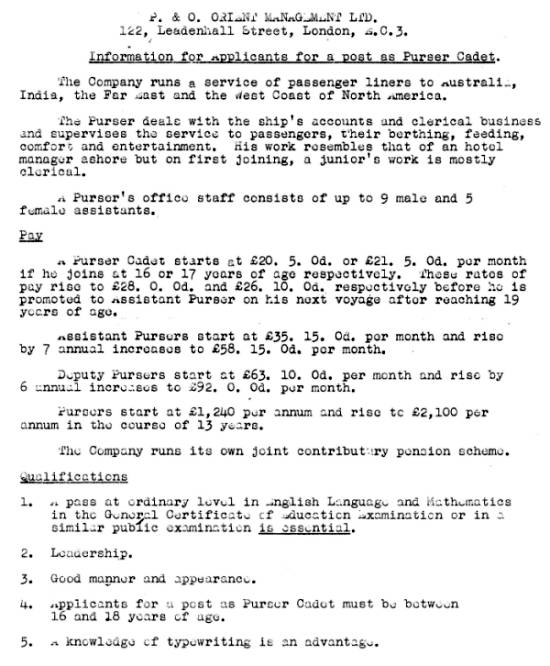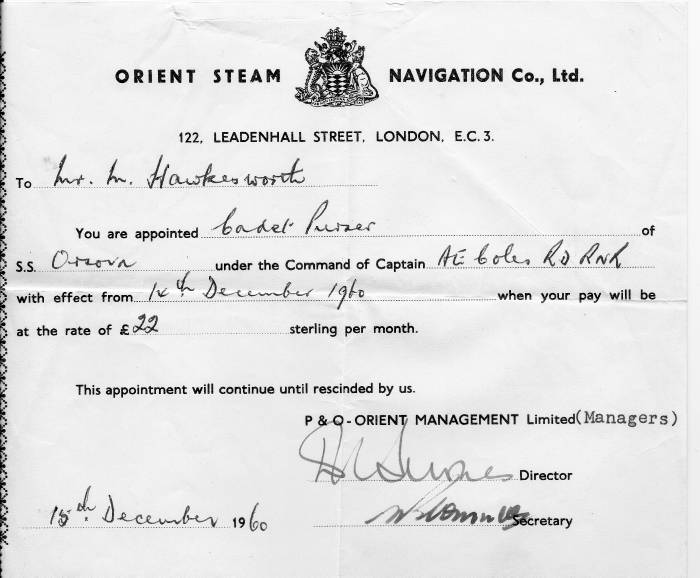 ---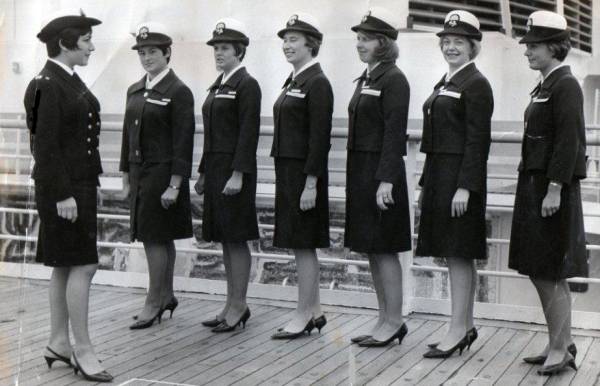 Purser's staff modelling their new-look Hardy Amies uniforms on board Oriana in 1967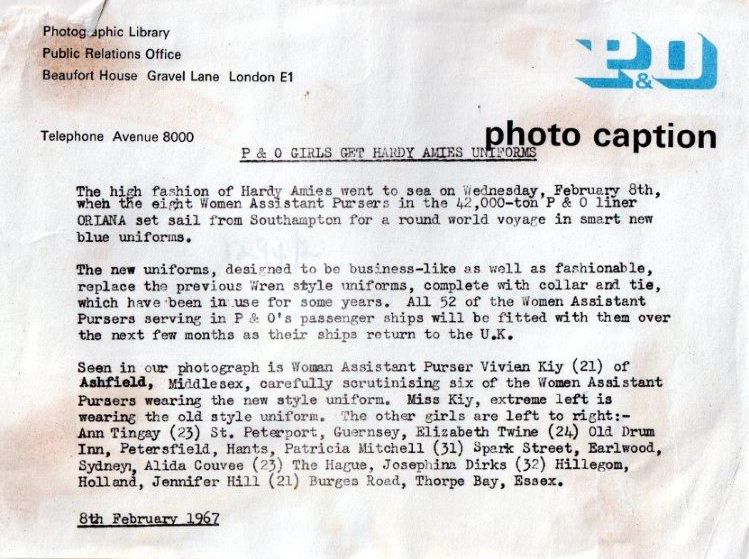 ---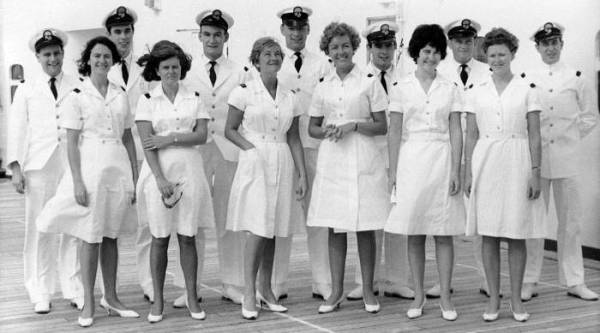 ss Canberra, Purser's Officers 1965
---
Pursers' Officers Rank Insignia





---