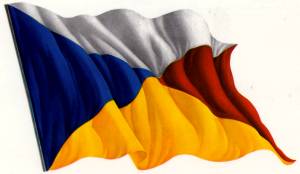 Please Note: The house flag and word mark 'P&O' are Trade Marks of the DP World Company https://www.dpworld.com/
---

A good read 2021
Now available from Amazon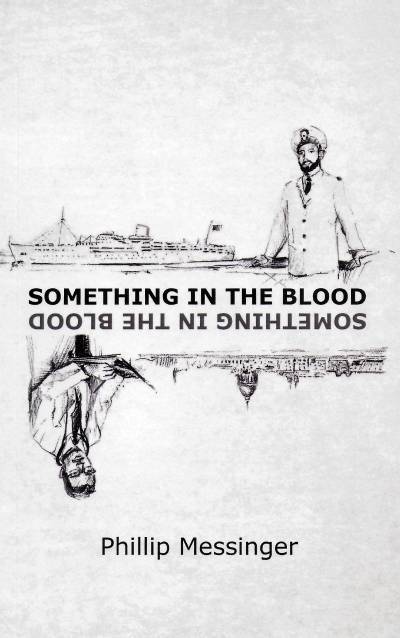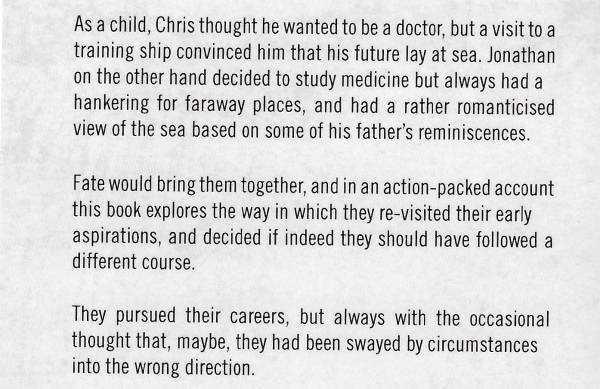 Commander Phillip Messinger RD* RNR, my younger brother, joined P&O from the Training Ship Worcester and served with the Company until 1972.
His last ship was Canberra, as First Officer.
---
With Orient Line to Australia
By Dennis Andrews
By the time I left school in 1958, National Service had ended. If things had been different, and given the choice, I would probably have opted to join the Royal Navy following on from my father who served through both World Wars in the Royal Marines. Living in Gravesend, right opposite Tilbury, I was well accustomed to seeing the great liners taking off to foreign parts and it was not a very big decision to direct my steps towards the Merchant Navy – and having been a radio ham – callsign G3MXJ - for some years, becoming a Radio Officer seemed the way to go.
Norwood Tech, in South London, appeared to be the best choice for gaining the required qualifications and an appointment for interview found me across the desk from the renowned George Danielson who, together with Frank Mayoh, was responsible for a number of the classic telecoms textbooks.
George was quick to emphasise that places on his courses were well sought after and only the best were likely to be accepted. He didn't seem overly impressed with my minimal five 'O' levels and he was certainly not overwhelmed with my current knowledge of the Merchant Marine. Perhaps, as a last resort before throwing out of the door, he asked me about any 'other interests'. My mention of ham radio was like turning on a bright light and my acceptance on to the course was immediate. Of course, George was also an enthusiastic ham. I came to know him very well in later life after he had retired to the Isle of Man as GD4AM.
Three years of commuting between Gravesend and West Norwood produced a 1st Class PMG, MOT Radar Certificate and C&G Intermediate Telecoms. In mid-61, there was a healthy demand for R/Os and there was a good choice of potential employers. For its range of potential vessels, I opted for the Marconi Company. I can't recall having an interview – maybe it was just a case of applying! Following generations of others via the East Ham Depot and the Mercantile Marine Office in Poplar, I was assigned as 4th R/O to the Orient Liner Orion/GYKL at Tilbury in August 1961.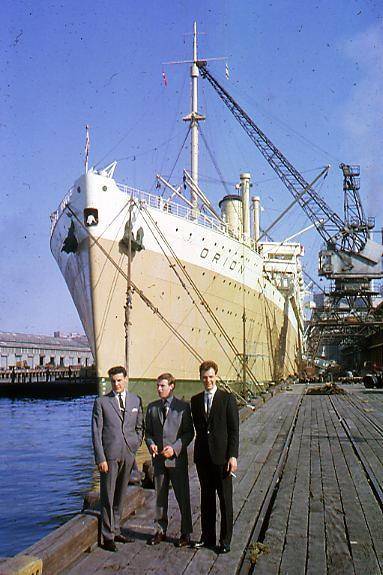 Launched in 1934, Orion marked a huge departure in passenger ship design. Moving away from the traditional interiors that sought to emulate the formal décor of English country houses, Orient Line had given the job to Brian O'Rorke, a native of New Zealand. He came up with a revolutionary concept with light furnishings, and large open promenade decks promoting good circulation of air. It was one of the first British liners to be fitted with air conditioning. A classic of its time, Orion was now in its fading years, reduced to the £10 emigrant trade to Australia and New Zealand and budget return trips for 'emigrants' who found that Oceania was not for them and many youngsters on what would, these days, be called 'gap years'.
The 'Chief' was Fred Harrop who had been at sea for many years surviving multiple torpedoings during WW2. He had a quiet manner and showed great patience with what must have been a continuing flow of 'wet behind the ears' newcomers.
Sailing day arrived and my Mother and Father came to look over the ship and see their son begin exposure to the wide world. Fred, exuding a fatherly approach, assured mum that I would be well looked after – good meals, regular laundry, nothing to worry about. With the PA announcing imminent departure, they went down to the dockside to tearfully watch us leave. Meantime, Fred initiated me into the art of putting together a pink gin.
Out through the locks and into the Thames and it was time to get the Radio Room moving. Even after all these years, I can recall the distinctive aroma of stale cigarette smoke coupled with stencil correcting fluid and the paste that we used for sticking in the manual updates! The principal equipment was the Oceanspan IV with the matching amplifier giving out a healthy 1kW or so; receivers were the usual Electra and Mercury pair. Across the room, installed in more recent years were the Globespan and Atalanta pair for radiotelephone work. Having been a constant listener on the airwaves from just across the river, it came as something of a surprise when we fired up while still virtually off Gravesend and cleared sent departure information to North Foreland Radio (GNF) that would handle our local traffic, and Portishead Radio (GKL) that would be our long distance contact.
It would have been normal practice for the 4th to take the 8-12 watch. But in this case, Sid Jones –the close to retirement 2nd – liked to play chess in the afternoon and enjoyed an uninterrupted night's sleep. So he took the 8-12 with myself filling the 4-8 slot. Ham Radio had made me a proficient Morse Code operator long before I went to college. So 25 words per minute for my 1st Class PMG was no problem and it also put me well ahead for handling the considerable amount of passenger ship traffic and the press broadcasts. It was not long before I could type and format the incoming traffic direct onto the duplicating stencils which then went to the Pursers Office to produce the ships newspaper. Its arrival at breakfast time was, naturally, taken very much for granted. However, bad radio conditions would sometimes intervene and the official press broadcast might be missed. So it was occasionally necessary to look around for other items of world news. I always hoped that the long reports on the sugar industry in Fiji were found to be of some interest!
Perhaps the biggest challenge was being plunged into the middle of a social scene totally outside my experience at 19 years of age. As with P&O, Orient Line had a tradition of recruiting their Deck and Purser officers almost exclusively from centres of private education where social graces seemed to be high on the curriculum but totally absent from the syllabus at my grammar school. The Chief and 2nd hosted their own tables in the restaurant and the 3rd and myself shared a table with the Pursers and Nursing staff. I never felt any unfriendliness but it was real 'fish-out-of-water' stuff. At home, we only ever had one set of knife, fork and dessert spoon – but there was an unfamiliar lot of different cutlery to choose from here. Used to eating what was put in front of me, either at home or at school dinners, I was now faced with an extensive menu of many courses. I think it was at the first meal in the restaurant that I had my first ever glass of wine. (I have made up for it since though!)
Unlike P&O, Orient Line had a policy of encouraging social contact between officers and the passengers – although the limits of this contact were strictly defined (but often breached) in the standing orders. So part way down the Channel, Fred informed me that my presence would be required at the Captain's Cocktail Party. Mess kit, don't drink too much, be polite to the clients, watch out for when the Captain indicates it's time to go to Dinner – nothing to it. Well, that was the plan. But I got snared by a gentleman and his wife who really enjoyed talking – to the point of lecturing. They just went on and on – hardly pausing for breath. After some time, I realised that the room was emptying and the Captain and Staff Commander were glowering at me. I was on the point of doing a John Cleese type of fainting fit when the Senior Nursing Sister came to my rescue and piloted the pair off to dinner. Fortunately, by the time my second voyage on Orion came around and I had become 3rd, with the 12-4 watch, I had learned the ropes and was quite comfortable with everything – but it had been a steep learning curve!
As an emigrant ship, Orion followed a standard itinerary through Suez to Aden, Colombo, then round the Australian coast for a turnaround in Sydney with possible extensions to Brisbane or Wellington – typically a 14-week round trip. Today's package holidays and relatively cheap foreign travel were very much things of the future. My previous experiences had been limited to the odd stay with relatives in Jersey and trips to Boulogne on the Royal Daffodil. I suppose that, after a few years at sea, the novelty of new places wore off. But for the newcomer, every different place had its individual interest.
Port Said – gateway to a different world – the Simon Artz department store, challenging communications with SUH – the Suez Canal's own radio station; Aden – electronics like I had never seen before and a fast learning curve on the art of bargaining, the slick Cable & Wireless operators at Aden Radio (ZNR); Colombo – Only time for a taxi ride for a swim at the paradise-like Mount Lavinia Hotel – never forget the torturous Morse from Colombo Radio (4PB)!.
On the way to Fremantle, P&O and Orient Line had a long tradition of passing close to and saluting the Cocos-Keeling Islands ruled as a fiefdom by the Clunies-Ross family for over 150 years. Prior to the opening of an airport, an approaching liner would contact the cable station on Direction Island and arrange to drop and pick up mail in barrels. If there was an emergency, a bonfire would signify "Help required". In relatively recent years, I had the opportunity to make a ham-radio related visit to the islands and had a very interesting meeting with John Clunies-Ross the current head of the family.
And then on to the fabulous Australian Coast – Fremantle, Adelaide, Melbourne, Sydney and maybe Brisbane.
Once in range of VIO, the radio station at Broome, we would pass local traffic through the super-efficient chain of local coast stations while, of course, keeping contact with the wider world through the Commonwealth Area Scheme's centre at Sydney (VIS). It was always interesting to be part of the passenger ship radio community transiting the coast and eventually meeting up in port. On my first voyage, we found Canberra/GBVC in Sydney on its maiden voyage and were invited to a party on board and a visit to the super up-to-date electronics. 36 years later, my wife and I booked on the Farewell Cruise in September 1997. I felt that my previous visit qualified me to attend the special cocktail party for people who had been on both the first and last voyages. It was surprising how many were there. On cruises, I have always taken my Discharge Book to get an entry. I duly presented it to Captain Mike Carr who, in place of the usual "Very Good/Very Good" – with obvious great personal amusement, made the entry recording "For Ability" as Not Known and "For General Conduct" as D/R (Decline to Report)!
After a short call at Fremantle providing our immigrant passengers with a first sight of their new home, and a call at Adelaide's "Outer Harbour" seemingly on the edge of the desert we would arrive at Melbourne. A stop of a few days for cargo work gave our group a chance to pile on the train to Flinders Street Station right in the centre of the city. . As with past generations of visitors, first stop was always "Chloe's" otherwise known as Young & Jackson's Hotel to make the most of beer time until the shutters of the notorious "Six o' Clock" swill came down. From there, we would progress to the local Chinese restaurant that would overcome the alcohol restrictions by serving their own special pots of "tea".
"Chloe's" refers to the famous nude painting that graces the wall of the main bar. It came to Australia in 1879 after various exhibitions in Paris. It was purchased by a Melbourne doctor with the intention of being exhibited in a local gallery. However, the explicitness of the subject was too much for the straight laced ladies of Victoria and it disappeared from view until it was purchased by the owners of the hotel following the doctor's death in 1908. The National Trust of Victoria has declared that the painting must remain as part of the hotel forever and it has become an essential part of tourist tours of the city.
The progression around the coast from VIP at Perth, past VIE at lonely Esperance, VIA at Adelaide, VIM at Melbourne to, eventually, VIS at Sydney was matched by an equally important progression - that being from Swan Lager at Perth to Victoria Bitter at Melbourne to good old Foster's in Sydney. Being one of the older liners, Orion was not privileged to berth at the swanky new passenger terminal at Circular Quay. For us, it was under the bridge to the old terminal at Pyrmont.
Just as school summer holidays were always hot and sunny in memory, so my recollections of Sydney were always of bright, hot and sunny days – even though many of my visits were during the winter months. I vividly recall the walk from the Docks across Pyrmont Bridge to the oasis of the hotel (pub) that stood on the left immediately over the bridge – I can't remember its name. But on a hot day, its cool, tiled interior had an atmosphere unique to Australian watering holes. The barman, dispensing pistol at the ready, would greet you with the immortal call "Midi or Schooner, mate?"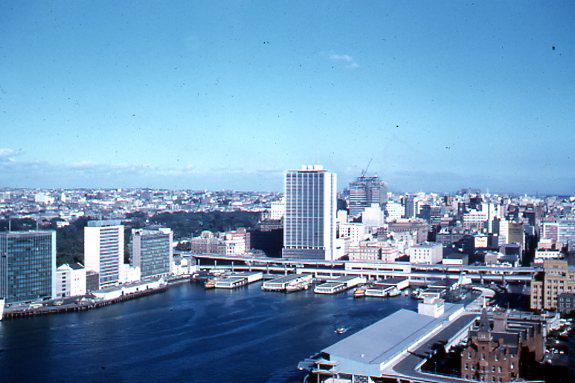 Revisiting Sydney in recent years, I was disappointed to find that the bridge is now pedestrianised, all the old buildings, including the bar have been demolished and the area is now dominated by a multi-lane flyover to handle the modern levels of traffic. And, of course, the same applies to the rest of the city. In the early 60s, there were only the first foundations of the Opera House in place; the only high-rise was the AMP building behind Circular Quay – still there, but lost in the maze of higher rises that now form the City Business District. Surrounding the Quay were a number of virtually no more than tea rooms that served delicious sea food from where you could watch the ferries serving all parts of the harbour. The "tea rooms" are, of course, long gone. But have been replaced by top grade eating places, still serving some of the world's best seafood accompanied by those great Australian wines that have, for most Aussies, replaced the traditional Fosters.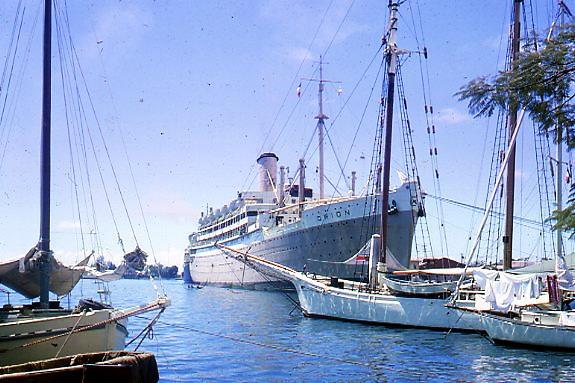 I stayed with Orion for four round trips with the final voyage taking in a cruise to Tahiti which generated a thirst for Pacific exploration that was only satisfied during much later years and at my own expense.
Most Radio Officers only stayed at sea for a short time – often no longer than five or six years. Being a "Marconi Man" meant that, during that time, you might experience a range of ships and shipping companies. During the remainder of my five years, I would visit Kuwait on a super-tanker, circumnavigate the world seeing a host of unusual places on a 10,000 ton cargo ship and even take a small 2,500 ton coaster on a five week trip to Lisbon and back.
I enjoyed every minute of it But my time with Orion was the highlight of it all and formed a lifetime love of passenger ship history.
© Dennis Andrews
---
Jim Wallis

Joined P & O, after 2 years in Berlin and Germany (National Service) to 'see the world'.
Chef's Writer 9/51 -1/53. Then 2 weeks final voyage to Breakers' Yard in Newport. S.Wales
2/53 - 8/53 Asst. to Marine Supt. KGV Docks
8/53 - 7/54 s,s "Carthage" Captain's Writer
8/54 - 13/54 s.s "Strathmore"
Bureau Staff
12/54 - 11/55 s.s. "Chusan"
2nd Linenkeeper then Linenkeeper. (SLH)

s.s RANCHI.
P&O designated Tourist 'B' ship. Took £10 Poms to AUS, brought Anglo Indians (including Cliff Richards) from India to UK.
When picking up Anglo Indians in Bombay the RANCHI sailed withlout passengers to Colombo except on one occasion when we took a squadron of AAAF CB's to the Cocos Islands to build an airfield. We carried a Tank Landing craft on the foredeck to transfer the Squadron ashore. A hairy business as the swell rose and dropped 14'.
When the airfield became operable it put paid to the regular diversions of the White ships to AUS to drop off mail and supplies to the Cocos Islands. The British owner of the Islands who came out to meet the ship was carried on to Fremantle if the seas were too rough ( as often happened) for him to get back.
1st trip blocked Suez Canal for 2 days during breakdown then 7 days sweltering anchored in Port Suez, no power. Proceeding to AUS, caught fire between Colombo and Fremantle. Dealt with by ship's crew and then she behaved herself ever afterwards. Treated by '122' "Home Port" as a punishment ship to which applicants with bad discharges from previous "White ships" were told to accept a berth with a transfer back to a "White ship" if they had redeemed themselves.
Reason? No tips to be earned from £10 families who had little anyway.

s.s. CARTHAGE.
Sank our assisting berthing tug alongside Ballard Pier, Bombay. 10/55 Capsized in H.K. Dry Dock when being re-floated.
Cargo Inducement at Almeria, Spain with Grapes to Singapore. Alemerian Governor proclaims a day's holiday for town.

Homeward bound take on stores in Singapore that includes Almerian grapes!

s.s. STRATHMORE
Called back from Honeymoon to fill Writer vacancy.
Predecessor Trevor Stanford who ultimately changed his name to Russ Conway. As Tourist Baggage Steward his evening task was to close tourist swimming pool with cargo net and the pair of us would throw any bell boys, standing about on top of it. Each following morning 2nd Steward would demand Whites from us both as bellboys, generally, only had 2 sets (1 On, 1 Off) to their names.
Brakes don't work berthing in Adelaide. Large 'V' taken out of Quayside but stops short of GoDown. Inspection of bows delay enables me to reunite with RANCHI family from 1951

s.s. CHUSAN
Each trip reunited with my Regiment that since my demob had been posted to Jahore in Malaya at the time of The Troubles. Trips up to Japan were fraught with Communist activity in China and separately further North in Korea. Highlight in Japan was a Cargo inducement destination at Shimizsu with a fantastic view of Mount Fuji.

During the year we had 5 x 2 weeks and 1 x 3 weeks cruises from Southampton. As 2nd Linenkeeper it was my job to strip ship after each cruise and and land the dirty linen ashore to a laundry.

During my time afloat and probably unknown to passengers, I, like other ratings, was entitled to 400 cigarettes a week for 4s 2d (21p). As a Junor Leading Hand (JLH) I was entitled to a weekly issue of 1 bottle of Gin 6s. with a discount of 25% = 4s/6p (23p). When I was promoted 2nd Linenkeeper (JLH) I shared a bottle of Crew Issue rum with the Linenkeeper. As Linenkeeper, the Laundryman relied upon my records to claim his End of Voyage bonus and each week during a voyage provided me with 'sippers'. A pint of crew rum to tie me over until the next Crew issue took place. But that is another story.
Crew entitlements. Senior Leading Hands could buy Whiskey instead of Gin. 10/-s a bottle less 25% =7/6d (38p.)

The dearest drink to buy at the Crew Bar was a bottle of cordial........
Continued ~ Posted 5th November 2019:-
All the Directors had chauffeur driven Rolls Royces and would arrive at 122 through an archway into the Forecourt. Any spare Male in the vicinity was roped in to help the chauffeur swing the Rolls round on the Turntable that was embedded in the ground so he could drive out of the building and leave it free for the next arrival. As you remark somewhere else in the Web P & O was regarded as being a cut above the others. Indeed I heard of one celebration in Hong Kong that started with the opening address of "Gentlemen of P & O, Officers of the Royal Navy (or Grey Funnel Line) and men of the Merchant Navy". There, we Ratings had honorary membership, during our stay, at the China Fleet Club and learnt the rallying cry of "Good Old Fred" in appreciation of the original Producer, Fred Quimby, of the Tom & Jerry Cartoons that were always shown in the cinema programme.
I don't have any photos unfortunately but then I am writing about the early '50's and they would be black and white only. No colour. That might be surprising when I tell you that when I was 2nd Linenkeeper on the CHUSAN the Linenkeeper and I had the perk to develop and print all the rolls of film taken by passengers and past through the Shop. As you probably know the Developing and Printing perk was exclusively the Ship's Printer but on the CHUSAN he wasn't interested. As the Ocean Trading Shop (OTS) Manager expected a 24 hour turn round we got little sleep and in fact pressed into service a couple of the presses in the laundry to speed up the drying process. The OTS was a separate franchise run on board , as was the Radio Shack with Marconi employees but they were both taken In House after I left the sea.
I don't know what the Officers' bar allowances were but as a Senior Leading Hand mine was a bottle of whisky a week (10/- less 25%!) and I shared a bottle of Crew rum a week with the other Linenkeeper for the conditions we worked in. My two closest shipmates on board were the Tourist Second Waiter and the Second Printer. Their allowance was each a bottle of gin (6/-s less 25%) and the 2nd Printer shared a bottle of Crew rum a week with the Printer. The spirit issue was made on a Thursday whilst at sea and by the following Wednesday we had drunk ourselves dry. That was when, in time honoured fashion as Linenkeeper I would bang on the steel covers of my hoist to the Laundry and send it up and with little delay the Laundryman would return the hoist with a pint glass full of rum to tie us over. He relied upon my records for his End of Voyage bonus but how could he show such gratitude?
The Laundry staff was 3 Europeans and 12 Goans and each week the Laundryman got 6 bottles of Crew rum as their ration. One for himself, one shared by the 2nd and 3rd Laundrymen and 4 bottles to be shared by the Laundry Boys. The latter had to have their's dispensed (a la R.N.) and the Laundryman used to 'bash' their tots (a la R.N.) with water so there was sufficient to keep me happy two decks below. The Laundry boys didn't complain because it was up to the Laundryman to call for steam on a Sunday, at sea, so that the boys could do private laundry work. Their perk.
I told you that in my view the RANCHI was the happiest ship in the Fleet. Partly because there weren't any tips to go after. We also had a disproportionate number of 'girls' on board, Bedroom Stewards and the like. who would be quite dramatic in keeping spirits up and putting on impromptu cabaret. Amongst the passengers there was no class distinction although the problem was the separation of families. Males over 12 in Dormitories (Peaks) in the lower decks and women and younger children higher up. The latter's accommodation festooned with nappies and washing hanging from the deckheads. No privacy for the husbands and wives but the Main and Boat decks were dimmed with emergency lighting at night and there was an understanding that the Nightwatchmen didn't patrol those decks till midnight.
Because of our set up in accommodation the RANCHI sailed empty Homeward Bound to Colombo when we took on board some passengers to the UK until we reached Bombay and filled up with Anglo Indian families relocating to the UK. On one Homeward bound trip we took on board 200 Australian RAF personnel with a landing craft in Melbourne and then stood off the Cocos Islands in a high sea and watched the fun transferring them and equipment to shore where they built a landing strip for aircraft. They were treated as normal passengers and had the cinema every night and a selection of films to choose from. 'High Noon' was played every night.
The airstrip put paid to the time honoured practice of the P & O White ships on the Aussie run diverting past the Cocos Islands and dropping Mail and other items, in a barrel, over the side to be collected by one of the Ross family who came out in a canoe. The STRATHMORE did it on my trip and as usual the European came aboard and had a drink with the Captain and offer his thanks. There were occasions when whomever came aboard couldn't rejoin his canoe and was carried on to Fremantle and returned on the next Homeward bound ship
In my day there was a 'strict' observance of the P & O rule of No Fraternising between Passengers and Crew below Office rank but it happened and there was a couple of Crew romances always on the go. The Saloon Barman and 2nd Chef were vying for the attentions of one of the Stewardesses on the RANCHI's last voyage and that caused some rivalry. Before we took the ship round to Newport to the Breaker's Yard she was de-stored in Tilbury but the Saloon Barman put word around that unless we reserved drinks the ship would be dry . He didn't tell the 2nd Chef who was kept on to run the Galley. Our voyage round to Newport was scheduled for 4 days with a day anchored off Weston super Mare waiting for the once in so many weeks' tide that would get us up to the Yard. The ship's routines were observed and the Saloon Barman opened the Crew Bar as usual. Tommy, the 2nd Chef, turned up and found he couldn't get served. I gave him an Alsop's but he liked his drink. He decided to brew hooch and that wouldn't have been a problem but before we got to the Anchorage the Assistant Ship's surgeon went down with a chest infection that was thought to have arisen from the cockatoos that the Bo'sun had bought in Oz to sell in London. It coincided with the lifting of the restriction on importing the Parrot family and its reputation of being psittacosis carriers. We were put in quarantine for 3 days while tests were carried out and cleared us to catch the tide but it lengthened the voyage and gave time for Tommy to get raving drunk and trying to have a go at the Saloon Barman with a meat cleaver.
---
Life as a Junior Purser with P&O
Harry Bonning FRICS.
Whilst reading this remember that in the mid 1960's we did not have mobile phones, the internet, electronic calculators, computers of any kind and messages were sent by telex or to and from ships by Radio Officers using Morse code. Ships were navigated by sun and star sights – satellite navigation was in its infancy and the only ship to have this at the time was the new QE2.
The beginning is a good place to start and that was the initial interview in London. A couple of weeks prior to this I had smashed my teeth and bitten through my tongue playing rugby and so my first words were to apologize for my slurred speech. Luckily one of the interviewing panel was a keen rugby player and much of our conversation revolved around this and I am sure that aided my selection.
Several weeks later, May 1967 I presented myself at Beaufort House, a 1950's multi storey office building behind Aldgate tube station. There were six of us in this intake and we came from all walks of life. Rick was a short lad straight out of the East End with a cheery smile but a bit of a chip on his shoulder; Rich was a dark, tall Scot with a mischievous sense of humour and another keen rugby player; Dave was a tall effete young man who lived at home in Harrow and commuted daily to the office; Jeff was a country lad from near Oxford and pleasantly naïve; Nick was from a well off family in Torquay and typically public school. Nevertheless we all bonded quickly and enjoyed each others company for the length of our training ashore.
Apart from Dave who lived at home, the rest of us had accommodation in London. I was at the London Central YMCA and the other four found digs in a nearby club for seamen. My daily commute was the Central Line from Tottenham Court Road to Liverpool Street and then a walk through the back streets to the office.
Our time at Beaufort House was spent in various departments but the main focus was on Pay Department. There we were introduced to the delights of the Portage Bill which was the record of earnings of all the crew on board. Officers were salaried and paid direct from Head Office. It was a large sheet of paper about one metre in width and half that in depth. It was divided into two sections with two vertical columns in the centre.
The left hand side had columns for the name and rank, date of birth, joining date, rate of pay and days on board. These when completed gave the total earnings for the voyage and filled the first of the central columns. The right hand side had columns for deductions, income tax, National Insurance, Union dues, Allotments (money sent home to family usually), advances etc. These when complete were added to the second central column and the net wages due could be calculated. All well and good when you are sitting in a London office but, as we found out later, somewhat different when you were at sea. I will deal with that later.
We also spent time with the Stationery Department to see how the leaflets and brochures were printed. The Correspondence Department was an eye opener. There was this wonderful elderly gentleman who dealt with all the incoming mail to the Directors. He knew their style and would compose replies for them which they would then sign. So if you think a reply to a letter to a Director actually came from them, you would be mistaken. He also had a store of fascinating letters received by the company from passengers complimenting the crew, in particular the bedroom stewards on their service, and not just how they made the bed!
We were sent on various courses. Twice a week we would attend a small office behind the West End Booking Hall for German lessons. This dear old German lady tried her best to teach us the language and I am pleased to say I learned enough to pass the end of course examination. She was delightful and so patient with us. At the end we all realised that we had perhaps not been the best of students and on our last day presented her with a large bouquet of flowers and chocolates with which she was thrilled and forgave us for everything.
We were sent on a month's cookery course at the Red Ensign Club in Dock Street with the aim of getting a 2nd Cooks Certificate – which we all did, deserved or not. Each day started with us baking a loaf of bread and proceeding to cook a different lunch every day. However, as the German lessons mentioned above were on Monday and Friday mornings, we could never get there in time to cook our lunch. We therefor applied for luncheon vouchers for these two days each week. Bureaucracy being what it was, it was easier for them to just give us a full months worth – 20 days rather than 8 days – so we all dined out well that month!
Other courses we were required to take were an evening class on accountancy, a typing class and then the fun ones such as the Fire Fighting Course at East Ham Fire Station. We spent a couple of days with the MMO, partly at the docks with an MMO officer but we were sworn to secrecy that we were P&O Cadets as they took us on other company ships. These should have been memorable visits but due to the excessive consumption of alcohol provided by the Master of each ship, my recollection is somewhat hazy. In the MMO office we got to issue our own Discharge Books and Red Seamens ID Books.
We spent a couple weeks in the West End Booking Hall where we were introduced to face to face meetings with potential passengers and the complexity of bookings. Each voyage had a number and a large hard back book. This showed every cabin on the ship with the first column being the home port and then intervening ports up to say Sydney. There were booking offices in San Francisco and Sydney and each office had its own allocation of cabins for different sectors. If you had a passenger, as an example, travelling from the UK to Sydney in a specific class of cabin, and it was not in your allocation for the whole trip, you would have to ask the San Francisco office to release it to you before you could confirm the booking in that cabin. If they had already booked that cabin you had to advise the passenger that they would have to change cabins half way through the voyage. Whilst this was usually accepted in the Booking Hall, it was a different matter when they were installed in their cabin at sea and took the view - first come, first served or possession is 9/10th of the law! These were the kind of issues we would have to deal with at sea!
We were also trained to operate the switchboard – no PBX automatic systems in those days, or on the ships for that matter. Everything was handled manually. We were taught what to say on answering an incoming call and how to connect it to the relevant person. This to the surprise of many callers who were not used to a male voice as a telephonist.
The best part of course was being sent down to the ships on standby. My first was on my first weekend with the company on Himalaya at Tilbury. When I arrived she was still at the passenger terminal and the sight of this huge white liner as I walked towards her was everything I had imagined from the brochures and pictures I had seen. I reported to the bureau and it was obvious that everyone was keen to clear down and go ashore after several months at sea. One thing that sticks in my mind to this day is how smart the girls looked in their Wren style uniforms. It was such a shame that they were to soon to be replaced by the ugly Hardie Ames creations. Shortly after I arrived on board, Himalaya was repositioned to a berth alongside – so my first sea going experience was a few hundred metres in Tilbury docks!
The Boat Trains were running and I was sent on one from Head Office with a bag of last minute documentation to "Arcadia" departing Southampton that day. That was quite a heady journey with all these excited passengers off to who knows where – an adventure of a life time for most and one yet to come for me.
As our year in London came to an end, we had various exams to pass. Four of us were accepted but Jeff and Nick sadly not. I heard later they had applied to, and been accepted by, Shaw Saville. Looking forward to my first ship other preparations were necessary. I had to acquire a uniform. Officers had to buy their own uniforms and like so many before me I ended up at the well know establishment of Miller Rayner in Fenchurch Street. My basic Blue uniform cost £23. My Cap was £1.9.11 with a cap badge, because of all the gold braid, more expensive at £1.15.00! Whites were another £31 – the total with other sundries came to £74.
Then came the injections. TAB +C. Typhoid – Paratyphoid and Cholera. The injections themselves were pretty standard but the after effects put me in bed for a day.
So then the day came for our appointments. It was based on our exam results. The top two got the first ship to sail and the other two the next. Rick and I were the top two and were given Orsova cruising out of Southampton to the Caribbean. Rich and Dave were sent to Iberia also out of Southampton but on a line voyage to Sydney. Both sailed the same day but Orsova a few hours earlier.
And so my short life at sea commenced.......
---
Life as a Junior Purser with P&O – Part Two – Cruising.
Harry Bonning FRICS.
So our training was complete and here we were decked out in our new uniforms joining our first ship Orsova in Southampton about to sail on a cruise to the Caribbean. Rick and I reported to the Bureau and were met by the Senior Assistant Purser who introduced us to the rest of the Bureau staff SWAP Anne, WAP Sue, WAP Penny, Dutch JWAP Anneke, AP David, AP Andy and JAP Paul.
We were assigned a two bunk cabin between us on the upper bridge deck, just below the bridge with a sea view over the Lifeboat just outside the rectangular porthole. Quite small for two people but regulations were regulations, that was the designated accommodation for Cadets - until the Captain did his first rounds and told us we could also have one of the spare single cabins on the deck below. That made things much more comfortable although the view was at the side of a Lifeboat not over it!
Job assignments were for Anne and Sue essentially secretarial, Anneke First Class receptionist, Penny Tourist Class Receptionist, David First Class cashier, Paul Tourist Class cashier, Andy Crew AP. I was designated to assist the crew AP which entailed taking about 300 blank A4 sized payslips and filling them out to copy the basics of the Portage Bill but I had to carry out separate calculations as a cross check against those of the crew AP Andy. Rick was seconded to work with the SAP and Deputy Purser as required.
In preparation for sailing we had to complete the Articles. This was the legal document required under International Law, which all officers and crew had to sign to be employed on a British Merchant ship. We had every member of the ships compliment sign these usually in the presence of member of the National Union of Seaman - to make sure they paid their Union Dues I believe! - and at the same time fill out forms of allotment to have money sent home to their families whilst we were at sea. We collected their Discharge Books and checked for any adverse discharge remarks. What we did not want to see was DR which meant "Decline to Report" and would indicate unacceptable behaviour on a previous ship. What we usually saw was VG (Very Good) which was a standard end of voyage entry.
The Articles had been prepared for us by the shore staff so all we had to do was ensure that everyone was signed on before we sailed. Some inevitably left it to the last minute causing some choice words from the Bosun or Chief Steward.
Whilst all this was going on, stores were being loaded including all the brochures and shore excursion pamphlets we would need on the cruise. Another job for me – finding a spare locker and storing them in the right order - first port of call, last in. Security people arrived with bags of currency for the ports we would be visiting. These were signed for by the Purser and would be drawn from him by the cashiers as needed.
Then the fun began. "Board of Trade Sports" as it was known. This was an official inspection by Government officials to check our readiness to go to sea with passengers. Everyone had to attend on "A Deck" with life jackets. All Certificated Lifeboatmen had to stand outboard and everyone else inboard. A count was made to ensure we had the required number – although I cannot now recall how many we had to have, and I do not remember anyone checking the actual certificates! Deck crew had to swing out and lower lifeboats as part of the inspection.
Then the passengers started to arrive and the chaos started.
It was not long before we had queues at both First Class and Tourist Class counters. The usual complaint was that their cabin was not what they expected and could they get an upgrade, their luggage had not arrived, etc. Gradually these issues were either resolved or sometimes not, but we did what we could. As newbies we could only watch and learn and be impressed by the level of patience of the Bureau Staff – but then they had seen this all before a hundred times.
Eventually one long blast on the ships whistle signalled we were about to depart and the queues disappeared as no one wanted to miss the departure from the dock. This is when our work began. Checking passenger manifests and starting to prepare the appropriate passenger list for the ports we would be calling at. We had time though as the first port was Trinidad a few days steaming away. The first night at sea was always casual. No requirement for Mess Dress and everyone was still finding their way around.
We steamed down Southampton Water and into the Solent. As we left the Solent into the English Channel an announcement was made from the Bridge. "This is the Bridge. During our time in port the Orsova had some structural alterations made. This has affected the magnetic signature of the ship and consequently the ships compasses. We will now carry out a manoeuvre called "Swinging the Ship". We have qualified professionals on board and over the next couple of hours we will put the ship on different headings whilst they re-calibrate the compasses. Please do not be alarmed as this is standard procedure and we will soon be on our way again."
So for the next couple of hours we floated around the English Channel until all was completed and the compass adjusters left the ship with the Pilot on his launch.
I was truly at sea at last and it was amazing. I went up to the highest open deck and as we steamed down the Channel and into the Atlantic. I looked up and will never forget the night sky and the brilliant array of stars. I think it must only be in the middle of the ocean or the middle of a desert where there is no ambient light that you can truly experience the clarity of the heavens. I must have stood there for a good hour just taking it all in.
Being at sea is what being a sailor is all about. For us in the Pursers Dept. things were generally relaxed. We did not work watches and the Bureau was open to passengers from 0800 – 1200 and then 1600 - 1800 seven days a week. However we worked whatever hours were necessary depending on the proximity of the next port and the need to complete documentation. The afternoons were generally a pre-lunch beer in the Tavern (as Cadets we were not allowed spirits, only beer – fond memories of Allsops and Amstell lager), lunch and sun bathing on the Sun Deck. Back to the Bureau for the afternoon shift and then a couple of beers before changing for Dinner. As officers, even as Cadets, we dined in an alcove off the First Class Dining Room and had the First Class Menu to choose from. Full board and lodgings – could not get better than this!
Of course we did have other duties which involved assisting the Entertainment Officer and Hostess with whatever they were planning to keep the passengers happy and occupied. This was generally good fun and included such specialities as "Horse Racing" in the Ballroom where model horses were reeled in over a short course, "Frog Racing" somewhat similar but different method, and of course the ever popular Captain's Cocktail Party.
All officers were required to attend and I was given the job of announcing to the Captain the names of the passengers as they came forward. My parents had always been fans of cruising and started with coastal voyages on cargo ships – usually with Coast Lines which later was taken over by P&O. They booked themselves on one of our two week cruises so when they appeared at the head of the line for the Captain's Cocktail Party and I announced their name, I received a sharp look from the Captain and once everyone had gone through I could see him in conversation with the Purser. Next day, about 18.00 I was summoned to the phone. It was the Purser. "Bonning – my cabin now!" With trepidation I knocked on his door. "Come". There to my surprise, and relief, were my parents enjoying a pre-dinner cocktail with the Purser. The only trouble I was in was not informing him in advance.
We got busy as we approached a port. We had to ensure all the correct documentation was in place, passenger and crew lists for Customs and Immigration, cargo manifests from the Chief Officer, Medical clearance from the ships Surgeon etc. We had also been selling shore excursions and numbers had been radioed ahead to our agents on shore. As a rule, all these officials would come aboard with the Pilot so that everything was completed by the time we were alongside and passengers could go ashore without any delay.
Once in the Caribbean everything was a little more hectic as distances were not too great and steaming from one island to another could be done overnight. Most islands are of British or French, and some Dutch background and immigration issues were not complicated and the same lists could be used in most ports. Until you got to St Thomas in the US Virgin Islands where the requirements were much more stringent. However, they were aware of the need to get tourists ashore and spending money quickly so we had a US Immigration Officer join us at the previous port – St Lucia if I recall correctly – and he processed all the paperwork and checked all the Passports on the trip between the islands so all was ready by the time we arrived.
This was where I made my first big mistake. We had time off to go ashore and a group of us headed for Magens Bay which is a beautiful sandy beach with crystal clear waters but little shade. I managed to get horrendously sun burnt. This can be a logable offence at sea if it prevents you doing your job so I had to suffer in silence. The next morning I was in such agony and huge blisters had appeared over my shoulders and on my arms. This was so painful I went to the surgery. Neither of the Doctors were there but one of the Sisters was. She immediately understood my physical problem and the potential downside for me if this was reported. She dressed the blisters and I spent the next three days heavily bandaged under my uniform with her discretely changing the dressings each day until the blisters subsided. I never did that again and have been very careful in the sun ever since.
Then a few days back to Southampton and a one day turn around before the next two week cruise to the Mediterranean via Vigo and Lisbon to Malaga, Venice and Kotor before back to the UK for a six day cruise to the Baltic and Copenhagen. Our return was to Tilbury where we stayed for a week before a short positioning voyage back to Southampton ready for my first big one – deep sea to Australia, round the Pacific and back by the Far East, Sri Lanka and Cape Town.
Before embarking on that part of the story, let me tell you about experiences of later cruises, one in particular. Gulf Oil had just completed their new oil terminal at Bantry Bay in Southern Ireland and had chartered Orsova as the accommodation ship for the grand opening. We sailed from Southampton and called at Cobh, probably more recognisable under its previous name Queenstown, the port for Cork, and the final port for the Titanic on her fateful first and final voyage.
We had embarked a great many guests in Southampton including all the Gulf Oil staff and executives and numerous dignitaries. More embarked in Cobh including a large number of Ambassadors to Ireland and of course the Taoiseach, the Irish Premier. Having regard to what happened in later years, I do not recall any overt security, nor were we asked to take any special precautions. The day went off well and without incident, we returned the guests to Cobh and set sail back to Southampton.
On another cruise we called at Casablanca. One of the shore excursions was a trip into the desert for lunch and a display of camel riding by local Arabs. As part of the instructions for the port and this excursion in particular, we were told to radio ahead for the agent to bring a large block of ice, which we did, and she did in her little hatch back Renault. I was put in charge of the shore party of stewards and chefs who would serve the lunch. The passengers headed off in coaches to do some sightseeing before meeting up for lunch. I had a dAUSen waiters and chefs and we all clambered onto four large Bedford trucks together with the food, several trestle tables, linen, cutlery etc. We then drove at breakneck speed along sandy back roads, dodging similar trucks coming in the opposite direction and usually on the same side of the road. Arriving amazingly safely at the camp site we set up the tables and started to prepare the food.
Shortly afterwards the agent, a lovely French lady arrived and she was fuming. She had this huge block of ice in the back of her car and it had started to melt. To make matters worse, someone had placed a tea urn full of orange juice on top of it, with good intent to keep it cool. What they had not realised was that the tap had been repaired. Not well it would seem as they had used a wax seal. This had also melted in the desert heat and the poor girl was up to her ankles in diluted orange juice. She was not a happy bunny. We never did find out what we were supposed to use the block of ice for.
Orsova did the same six week cruising the next year: the Caribbean followed by a cruise to the Atlantic islands – Madeira, Las Palmas and the Azores. The latter provided another first for me. A group of us went ashore and ended up in a very Portuguese restaurant. I remember to this day the absolutely over powering smell of garlic. I came from a family where overseas travel was confined to the near Continent, mainly Belgium and Germany and parents who had lived through the Second World War on the meagre rations available. So garlic was a completely unknown quantity to me. Despite not being an adventurous food eater I found the smell and taste delightful and have loved garlic ever since.
Part Three - My first round the world line voyage - next.......
---
Life as a Junior Purser with P&O – Part Three – Line Voyages – Outward Leg
Harry Bonning FRICS.
So six weeks of cruising is finished and now we prepare ourselves for our main purpose in life – taking people from A to B. These were the days when air travel over long distances was still in its infancy and the economic and time advantages of the 747 Jumbo jet had not yet taken over.
Many of the passengers we would be carrying on the outward leg were on the assisted passage scheme promoted by the Australian Government and generally consigned to the lower decks of Tourist Class. In all honestly I did not envy them at the stern of the ship above the propeller shafts. Orsova was a great ship and I loved being on her but she did rattle and vibrate and the worst effects were at the stern. Barmen in the aft ballroom did not need to shake cocktails, they just left them on the bar for a couple of minutes!
Setting out on a line voyage was a completely different kettle of fish to cruising. The majority of passengers were not there for the experience and brief journey to foreign parts, most of these people were leaving their old lives and families behind, possibly for ever. Leaving port was a different experience with friends and relatives dockside waving farewell, probably bands playing on the quayside and streamers festooning the side of the ship as she pulled away. For many an extremely emotional experience.
Essentially though our job did not change much but had a different focus. We still had to prepare all the documentation for the next port of call but we had to be aware that passengers could be disembarking at any time depending on their booking so different paperwork was needed.
Our first port of call was Bermuda. I tiny spot in the middle of the Atlantic and as I said previously, in those days we did not have satellite navigation and we relied on the Navigation Officers to work their magic with sextants, sun and star sights. Now this tale is apocryphal so I claim no credit for it. Leaving the English Channel there was complete thick cloud cover day and night so the Navigating Officer was relying on dead reckoning to establish our course and position. He had no opportunity to check his calculations against the sun or stars. At a time at which we should have picked up Bermuda on radar, nothing could be seen and he informed the Captain. A man of many years experience he came to the Bridge and looked at the chart, the course plotted and walked out on the Bridge Wing. Stood for a few minutes contemplating what he saw and advised a change of course and within an hour Bermuda appeared on the radar.
Bermuda came and went. I do recall passengers were taken ashore in a large tender and on my brief run ashore I remember seeing many tourists on scooters, many with leg and arm injuries from when they had fallen off.
Next port of call was Port Everglades, then a relatively quiet port but now the main port for the vast cruise liners that are based there. As with cruising entry into a US port required stringent documentation and once again we had a US Immigration Officer join us in Bermuda to facilitate this.
One of the restrictions on entering US waters was that we could not have any fruit on board, so the day before arrival all fruit was taken from the store rooms and jettisoned overboard. They were fanatical about this since some devastating fruit flies had been imported into the USA in a consignment of fruit from a ship.
This was the first port where we had passengers disembarking, not many, but one was importing a rifle into the USA and this had been lodged with us in Bureau for safe keeping and it was my job to take this off the ship, with the passenger and hand it over to the US Customs officers. He had all the correct documentation so there were no dramas.
Next call was Nassau in the Bahamas before heading off south towards Panama. I think it was this trip where we passed Arcadia northward bound which of course evoked the Henry Wadsworth Longfellow Quote "Ships that pass in the night, and speak each other in passing, only a signal shown, and a distant voice in the darkness" – except we crossed paths in full daylight and the inevitable siren blasts.
Panama is an amazing experience for anyone. If you read the history of its construction you have to be in awe of the men who worked and died cutting it through the jungle.
The northern end of the canal is Colon on the Atlantic side and the canal stretches 82 km to Balboa on the Pacific. There are two sets of locks, the first the Gatun Locks which raise the ship some 26m to the Gatun Lake. The locks are 33.5m wide and the Orsova beam was 27.6 m which allowed just 3m clearance on either side. It was quite an experience to sit in the Dining Room and, through the port hole, see the lock wall rising as the waters in the lock drained away. At the Pacific end the Miraflores Locks drop the ship back down to the Pacific Ocean level.
The Panama Canal is perhaps the only waterway where the Pilot has command over the Captain for the navigation and movement of the ship through the Canal.
Officers white uniforms were full length trousers and white single breasted jackets, white shirt and black tie. These were heavily starched and we had a new set every day with our cabin steward delivering and collecting from the laundry. A fresh set needed the trouser legs separating, the jacket arms too, as they were well starched together. They were therefore somewhat stiff to walk in for a couple of hours until they loosened up. I made the mistake one morning as we passed through the Panama Canal of going out on deck. The humidity was intense, so intense that after a couple of steps my whole uniform soaked up the water in the air and collapsed into a sodden mess which I had to live with for the rest of the day.
The navy, and this is as true for the Merchant Navy as it is for Royal Navy, have certain pranks played on the junior and new members of the crew. Such things as sending a young deck boy to the Bosun's Locker for a tin of striped paint, pot of elbow grease or green oil for the Starboard lamp and red oil for the Port lamp. The favourite on arriving at Panama was to send the lad to the Galley for bread for the mules as you enter the locks. The mules of course are mechanical tugs on the quayside which tow you through the lock. If the Baker played along the young lad would arrive on the foredeck with his loafs of bread to much amusement of all concerned.
Through Panama and we were in a whole new world.
Next stop Acapulco. In the 60's Acapulco was not a regular port for cruise ships and we had to anchor off in Acapulco Bay and run the lifeboats between ship and shore. This was not as easy as it sounds. In the deeper waters of the anchorage the transfer from ship to lifeboat was relatively easy. At the quayside it was a different matter as there was a significant swell with the boats dropping up to 3m below the level of the dock. This required great boat handling by the deck crew who ran the boats with superb professionalism and good timing to get the passengers on the boats as she reached the highest point. I doubt you would be allowed to do this in today's Health and Safety and Litigious world, but it was managed expertly and with no one getting hurt. Most saw this as the adventurous part of their trip.
Next stop Los Angeles where we berthed at San Pedro just before the Vincent Thomas Bridge. We were usually there for a couple of days which gave us the opportunity to explore. Sea World and Disneyland were the favourite destinations, but otherwise Los Angeles had little to offer in easy reach of the port.
San Francisco was a totally different experience. From the entrance through the heads and under the Golden Gate bridge, past Alcatraz Island to berthing almost in the City. We were there for 4 or 5 days so had plenty of time off. From Fisherman's Wharf, the Cable Cars, and the nightlife, this was the best port yet. We found a bar with live country music which only served steamed beer and you had big buckets of peanuts roasted in the shells which, once open and the peanuts extracted, were thrown on the floor so very soon you were walking on a thick carpet of shells. It was also the first time I had experienced a true American milk shake. Unlike the thin watery concoctions I was used to, these were large, thick and creamy and needed the extra size straw to suck them up and you could probably just as easily have used a spoon. Wonderful!
Of course it did involve extra work for us in that we had quite a number of passengers disembarking and embarking with all the usual Immigration procedures to comply with.
We had a couple of interesting occurrences on various visits to San Francisco. One time we were approaching the coast and ahead of us was a line of US warships, part of the US Pacific Fleet was also heading for San Francisco. There were 15-20 warships following a Battleship, the name of which I am not now certain of but could have been USS New Jersey. The flotilla was proceeding at a slow rate of knots presumably to arrive in port at a designated time. We also had a timetable and I was later told by one of the Navigating Officers that our Captain had a conversation with the officer commanding the flotilla and requested permission to steam past the line of ships. I am not sure in naval law he had to do that, but probably a courtesy call. It was quite a sight to steam past all these battle grey warships in line astern and on into San Francisco Bay.
What was of additional interest that evening was that we were in a bar in town and the news broadcast was reporting on the return of the fleet. Cameras were looking down on the Golden Gate Bridge and the commentator was getting quite worked up about the imminent arrival of the ships. His commentary went something like this. "As we wait now for the fleet to pass under the bridge, the first ship we will see will be that battle scarred veteran of numerous wars, the battle ship USS New Jersey". Of course as soon as he said this, what should steam into the picture but Orsova which drew hoots of laughter from us and strange looks from the other customers.
On another occasion we entered San Francisco during a tug strike. The Captain therefore had to put us alongside unaided by any tugs. He positioned Orsova across the end of the Pier and using shore lines warped us round, stern first into the berth. Of course to do this he had to pivot the ship round on the corner of the pier, amazingly with very little damage to the ship.
Vancouver was our next port of call and for some reason I never got ashore there as I always ended up as Duty AP and had to stay on board. So for me there is little to relate except on departure sailing out through the islands.
Hawaii out in the middle of the Pacific Ocean - somewhere we would visit regularly.
We came alongside at Pier 9 adjacent to the Aloha Tower. We arrived early morning and were due to sail at midnight the same day. As we would be back in Hawaii later in the voyage, half the bureau staff took the whole day off whilst the other half remained on duty on board. They would have the day off on the next visit.
With the whole day free, we hired a car from Budget. A large American convertible which we drove to the nearest shopping mall. The Ala Moana Centre which at the time was, and still is, the largest open air shopping centre in the world. Having browsed there for a couple of hours we decided to go for a spin round the island and it would be nice to do so with the roof down. Now please remember we came from the UK which had few if any convertibles. My father had a Hillman Minx convertible but he rarely took the roof down, mostly because the weather was not good enough, but when it was the tortuous procedure for doing so and then putting it back up took forever and was painstaking. So we unclipped the front of the roof from the top of the windscreen and tried to pull the roof back, which it stubbornly resisted. A passer-by saw our efforts and with a big grin, walked over leaned inside the car, pressed a button and the roof slid back automatically to the rear. He walked away laughing. Now we knew we were in America and a world away from home.
Our spin round the island took us past the main surfing beaches on the west coast and through miles of pineapple plantations. We arrived back in Honolulu late afternoon and headed for Waikiki Beach and the Royal Hawaiian Hotel, a luxury hotel right on the beach and unmistakable in bright pink! A couple of drinks in a beach side bar and then back to the ship in good time to set sail.
We now set off in a southerly direction to Fiji. My first time there and as soon as I walked on deck I thought I was back in Panama the humidity was so intense. We had docked in the capital Suva on the south-east of the main island of Viti Levu. On a subsequent cruise from Australia we visited Lautoka on the north-west coast and by comparison that was also very hot but with little humidity. Possibly due to the season and also the higher rainfall on the south-east of the island.
We went to an early dinner at a hotel which was shaped like a turtle and were treated to show of native dancing and culture. As we left Fiji we could see the hotel on the shore and it really did look like a turtle.
We arrived in Auckland, on the north island of New Zealand a few days later, on a Sunday so it was shut! For some reason every time I was in Auckland it was a Sunday and everything was shut including all the shops in the terminal. This was the law throughout New Zealand and in the 1960s everything was closed on Saturday and Sunday. We did though manage to run shore excursions and one tour company invited three of us to join one of them. This involved being collected from the ship in a very old Rolls Royce which we were told belonged at one time to the Governor General. This took us through empty streets full of closed shops to an airfield where we boarded a twin engine aircraft and set off to Rotorua some 125 miles to the south. What was particularly fascinating about this flight was the view of the terrain which we flew over, from forested uplands to rolling plains. Rotorua is a tourist attraction due to its geysers and hot mud pools with the strong sulphurous smell. Children played at the side of the hot water pools and people would throw coins into the water for them to dive after – a practice I understand banned later for health and safety reasons. We then flew back to Auckland and re-joined Orsova for the passage to Australia.
The Tasman Sea does not have a welcoming reputation and in my time at sea this is where I experienced the roughest weather. All alleyways had hand rails but the open foyers in front of the bureau did not and so the Bosun rigged ropes for people to grab hold of. Orsova had stabilizers but even so she rolled quite a lot and in heavy seas was pitching also. I am not sure the stabilizers made the rolling any more comfortable as they seemed to check the roll with a jerk. Life though continued and the Surgeon was busy dealing with sea sick passengers. Many though were unaffected and expected normal service which we gave. I recall as Tourist Cashier standing behind my counter with a queue of passengers waiting to be served. I turned to my safe and when I turned back they had gone – then as the ship rolled the other way they re-appeared from my left and disappeared to my right! All in a perfect line.
Sydney was the end of the first leg of our voyage and the main destination for most of our passengers. Accordingly they would be faced with strict Customs examination as immigrants. P&O recognised this and from Auckland we took on board a representative of a clearance company to assist with filling out the forms which were quite extensive and complicated.
We berthed at Circular Quay, right opposite the Sydney Opera House and we would be there for 5-6 days which gave plenty of time off for everyone. Again we rented a car, a Holden Monaro, quite a vicious beast but great fun to drive. We ventured out to a Wild Life Park and of course to Bondi Beach. I had never been a fan of Frank Ifield but we ended up at a club where he was the cabaret and I have to say he put on a good show.
During our time at sea quite a few of us, including stewards and waiters, European and Goanese, had been studying for our Lifeboat Examination. This involved launching a lifeboat and taking command under oars as we rowed around Sydney harbour, each person taking it in turn to bring the boat alongside the pier. We also had to answer a number of questions in an oral exam. I am pleased to say that I passed and could now stand outboard at "Board of Trade Sports".
So this was the end of the first part of the voyage and it was time to get back to work for the next leg. See Part 4 next.
---
Life as a Junior Purser with P&O – Part Four – Line Voyages – Round Pacific.
Harry Bonning FRICS.
So goodbye Sydney, and with a very brief stop in Brisbane, we headed north along the Great Barrier Reef. Because we spent most day light hours in the Bureau, the only time we got to see the Great Barrier Reef was in the afternoon break. Of course I believe the main attraction is under the sea so all we could see were a succession of islands – but they did go on for a very long way.
About half way up the Great Barrier Reef lie the Whitsunday Islands and the ships course is set through the Whitsunday Passage. Every morning at sea the Bureau provided a "Good Morning" sheet to every passenger which included the main events for the day and other general information. These were typed onto stencils and run off on a Gestetner which was essentially a mini printing press. You can imagine the potential embarrassment if the Spoonerism offered by Whitsunday had not been caught before printing!
Hong Kong beckoned – another of my favourite ports.
This was Typhoon season and as we sailed north a Typhoon was edging in towards Hong Kong which was suffering from the first mass outbreak of the Asian Flu which went on to kill hundreds of thousands of people around the world. The company ordered that we all had to be vaccinated. P&O paid for the ship's company but passengers had to pay the Surgeon who became a very happy doctor! The Typhoon hit Hong Kong and we could not enter harbour. We steamed up and down the Chinese coast for 24 hours or more until it moved on and it was safe to enter. Sailing on the rear edge of a Typhoon is eerie. The sea is not rough but has long rolling waves so we were certainly pitching and rolling, but more than that is the light. The clouds hang low in the sky through which you can see flashes of lightning. Everything was grey, but a luminescent grey and there was no rain.
Hong Kong translates as "Fragrant Harbour" but standing at the Gun Port door at 0600 waiting for the Pilot boat with the Agents and mail – it was anything but. It did get better and once we were alongside Ocean Terminal not really so noticeable. Still not sure how they did it but before we were alongside we had Chinese tailors measuring us for new suits or selling us framed silk prints.
As soon as we were alongside the ship was invaded by a mass work crew of Chinese labourers who starter chipping away at the paint so we were treated to a day long cacophony of hammers and drills as Orsova was prepared for a new coat of paint.
One of my more pleasant jobs was to play guide to a small group of young female Hong Kong television stars. This was a publicity stunt both for P&O and for the TV station so we were followed everywhere by their PR people, photographers and film crews. So this was not so much about seeing the ship as striking poses in cabins, the restaurant and of course the Bridge. They chattered away constantly in Chinese, only some had any English but we got by.
Another time I was on Gangway Duty – not sure why as we did not as a rule get roped into that – and we were approached by a dishevelled, middle aged man in old trousers, dirty t-shirt and Wellington boots. He started talking to us about his "schooner" which was berthed nearby and suggested we should give up our life of luxury and join him for his adventures in the South China Sea. His weather beaten features certainly confirmed he had seen life and possibly at sea, but doing what who knows. We politely declined his invitation and suggested he leave.
In the late 1960's Hong Kong had not really started to develop and the P&O building, now long gone, stood out as the tallest building in town and Ocean Terminal was a mere shadow of what it is now. Ocean Terminal is one of the docks for the Star Ferries between Kowloon and Hong Kong Island. Two level boats which plied across the harbour all day and carried hundreds if not thousands of passengers daily – this before the tunnel and the Mass Transit Railway. They are cheap, quick and regular. On a recent visit I noticed that the exact same Ferries were still operating.
With the ship repainted, suits and silk prints delivered, we left Hong Kong and headed north to Japan.
At this point I will digress to a slightly less pleasant aspect of life at sea, or should I say death. In any six month period anywhere in the world where you have an accumulation of a couple of thousand people – passengers and crew – someone will die. In retrospect I think we had about one a month on average – usually passengers as most were elderly. Some became ill on board and were cared for by the ship's Surgeon and it was rare that the cause of death was not known. Consequently a choice had to be made as to what happened to the body. We had no dedicated cold storage space for bodies, so if the intent was to land the body at the next port, then a refrigeration space had to be cleared to store the body until arrival. This of course required complete disinfecting afterwards before it could be used as a store room again.
Sometimes, usually on a long passage and if a relative was on board to give permission, there would be a burial at sea. The Bosun and Sailmaker would prepare a canvas shroud (for which I am told they were given a bottle of P&O crew rum) and very early in the morning the ship would be brought to a complete halt. If there was a minister on board he would be invited to attend and say prayers. There would be the relative, the Captain or Staff Captain, the Surgeon and Duty Assistant Purser. A couple of AB's would have the body on a board on the aft rail and on the appropriate wording "We now commit his/her body to the deep" would raise the board and the body would drop and sink into the sea.
Not everyone was buried at sea though. On one occasion as we came into Japan a passenger passed away. His wife was on board and our first port of call was Kobe, where we landed the body to the care of the agents. Our next port was Yokohama. On the day of departure the agent came on board with a small box wrapped in brown paper and handed this to me. It was still warm. The widow had had her husband cremated and then she had flown back to the UK with the request that the ashes be returned to the ship so her husband at least could complete his cruise. That went in my safe all the way back to the UK when it was handed to our shore staff.
I only recall one crew member passing away. An elderly Goan waiter was found dead in a crew alleyway shortly before we were due to leave Honolulu. The Goans are Catholics and they were adamant that he should be taken ashore and given a Christian burial and not buried at sea. The Captain wanted to get underway but there was near mutiny below decks and the Goans refused to let the Pilot off if he did not take the body ashore for burial and to that extent blocked the access to the Gunport door. Some agreement was reached and the body was taken ashore but I believe the senior Goan PO, the Chief Pantryman, was never employed by P&O again.
Back to the plot!
Japan was another country with tortuous immigration requirements. We set up the Ballroom with about 20 desks for the Immigration officers and we had prepared the passengers in advance that they had to come through on a time table in alphabetical order to the correct desk. It went surprisingly well as most co-operated as they wanted to get ashore quickly, but inevitably there were some who simply refused to be marshalled or hurried which of course delayed everyone.
What I have not mentioned so far is that on one particular voyage, Orsova converted to a single class ship as she had been chartered by the Australian Women's Weekly magazine for part of a round the world trip. We would take them to the UK via Panama and after a European tour they would sail back to Australia on another P&O ship. As Tourist Class cashier my position was not needed so I was appointed the Liaison Officer to the AWW staff. This was not a difficult position and I got on well with them. By the time we arrived in Kobe we were well acquainted. They invited me to accompany them on their overland tour from Kobe to Tokyo and Yokohama. Obviously I had to ask permission of the Purser who in turn had to check with the Captain. Strictly speaking this should not happen, as the ship would be sailing from Kobe to Yokohama during the tour and I should be on board. Anyway permission was given and off I went.
Now this tour was mostly elderly people, we calculated the average age at nearly 70, mainly widows and they all wanted to mother this 19 year old young man in their midst – which in one way was nice but could be a little suffocating. But they were a great bunch of people.
First stop Kyoto, the old capital of Japan. The first night we were treated to a typical Japanese meal in a Japanese restaurant with tatami flooring around low, low tables. These were not young people and it was disconcerting for most of them not knowing how they would be able to sit at these low tables until they discovered the trench under the table for their feet. Each place setting had a bowl with salad, a bowl of cooked rice, an egg and a small flask of warm Saki. There were 12 of us to a table and a beautiful Japanese girl in costume came and settled in the centre on one side. Much to the horror of the ladies, she took a bowl and cracked the raw egg into the rice and mixed it in. The intention was that this would then go into the Wok but it was too much for some and requests to have theirs fried were made and one lady left saying she was going to eat her biscuits in her room! The other thing they did not like was the Saki and many flasks were passed down me to take care of. Saki is a funny drink. Has no immediate effect but I do not remember how I got back to my room that night.
Next stop, Hakone in the mountains, still snow covered and cold followed by a trip down the mountain to join the famous Bullet Train for a fast trip to Tokyo. One night at the New Otani hotel in Central Tokyo and then back to re-join Orsova in the port of Yokohama.
Back to Hawaii which I have already covered but there is one tale worth repeating. We were carrying quite a few Japanese families and the older ladies generally wore the traditional Kimono dress. Across from the Tourist Class Bureau was the Library from where appeared an old lady and a young man, a grandson I presumed. Across the foyer was a brash young, possibly slightly drunk, American youth. He looked this old lady up and down and pointing at the Obi on the rear of the Kimono and said in a loud voice "What is that?"
Without missing a beat the grandson turned, wai'd the youth and said "That sir is an old lady". Turned and walked off. A perfect put down.
The rest of the Round Pacific was the same as the first half – Hawaii – Vancouver - San Francisco – Hawaii – Fiji – Auckland (shut again) and back to Sydney for a few days before the homeward leg
---
Life as a Junior Purser with P&O – Part Five – Line Voyages – Homeward Bound.
Harry Bonning FRICS.
So here we are back in Sydney, but before we head off home we have six weeks of cruising in the Pacific. This for us, like cruising from the UK took the format of a three week, a two week and a one week cruise. It is too long ago for me to remember the details of each individual cruise but we did visit Noumea and Lord Howe Island. The one week cruise was to Fiji and back and being short was relatively inexpensive and attracted a younger set of passengers who were intent on having a good time. So good that by the time we arrived in Fiji they had drunk the ship dry and we had to completely restock with beer for the return trip. Despite the high alcohol consumption there were no major incidents.
So a short stopover in Sydney and we set sail north again but this time to Singapore which in the late 60's was still a wild city unlike the sanitised version it has now become. Bougis Street and Change Alley were favourite destinations but the biggest challenge was getting the taxis to take you there. They all wanted to take you to their favourite store and it took some persuasion to get where you wanted to go. Singapore was the first place I came across lizards in the wild. Walking towards a wall covered with greenery I saw a movement among the foliage and as I got nearer could see this lizard, which was probably a metre long, slowly climbing up the wall. Living in the Far East for the last twenty years I have become used to them, but that first encounter was quite eye opening.
Our next port of call was to be Colombo in, what was then, Ceylon but which changed its name to Sri Lanka in 1972. The Goan crew were due a crew change and we spent the next few days finalising their pay and allowances. The Goans had a liking for Guinness and were allowed one can a day and they all had a Guinness Card which was stamped as they took their ration. During the voyage if we wanted to tip our cabin steward, rather than give him money we would sign for half a dozen Guinness for him. Not strictly correct, but no one complained. Of course leaving the ship that could not be done so his end of voyage tip from us was always cash.
In the days before we arrived in Colombo they started parcelling up all their possessions that had acquired during the voyage. I had the job of inspecting these to confirm that their list was correct. Unfortunately they tended to get ahead of themselves and everything was sewn up in hessian sacks which in order for me to check had to be unpicked for inspection. The favourite items to take home to Goa were Singer manual sewing machines and bicycles. The Goans are lovely friendly people and generally the Goan crew all came from the same village with the Village Headman being the Chief Pantryman on board.
Whilst I was a Cadet, part of our training at sea was to work in the various other departments. The voyage from Singapore to Colombo was the time I was scheduled to work on the Bridge and I was on the 0400-0800 and 1600 – 2000 watches. I had very little to do except observe, which when you were at sea was generally keeping a look out for other ships. As I have said before, we did not have satellite navigation in those days so I was able to see the navigating officers taking star sights but also, if I was on the Bridge at noon the noonday sight to fix the ships position and run over the previous 24 hours – of great interest to passengers who took part in the daily tote for number of miles run. There was a general air of excitement waiting for this to be announced over the ships tannoy and then posted on a noticeboard.
Entering port was amazing. Standing on the bridge wing I could smell Colombo before I could see it. Unlike Hong Kong, this was a pleasant smell of spices off the shore and we were still well out to sea. It was early morning and still dark and I was given my first lesson in navigation. Far ahead of us on the horizon I could see the loom of a light which I was told was the Galle Lighthouse. We could not see the actual light as that was below the horizon and I was told to look for the moment the actual light came in to view. As soon as we saw that we could calculate our position by the bearing of the light and its known height.
We eventually made it into the Port of Colombo, assisted by tugs, and anchored off. I know my colleagues in the Bureau would be busy but the deck officers were too as they had supervise the off-loading of cargo to barges alongside, and then the loading of a new range of cargo. The engineers were dealing with bunkering. You do not work watches in port so we were on the go all day until it was time to leave late at night, in the dark. Colombo is not a large harbour and the ship had to be turned 180 degrees to leave, hopefully missing all the fishing boats and barges cluttering the port area.
The bow of Orsova had a crest - a shield depicting an iron gate, something like a portcullis.
This refers to the city of Orsova in Roumania on the Rover Danube which lies just above a stretch of water called the Iron Gates. What I found out that night was that this shield opened up to reveal a powerful searchlight which helped guide us out into the open sea.
Once back at sea we set off south towards South Africa. Suez was closed in those days so our voyage was somewhat longer than it may have been.
We had three ports in South Africa, Port Elizabeth, Durban and Cape Town. We arrived in Durban a day before a General Election and there was a ban on selling alcohol and all bars were closed. Luckily we had befriended a number of the younger South African passengers who were leaving the ship here and they knew their way around. After a taxi ride we arrived at a large hotel, the Beverley Hills, and were guided through back doors, kitchens and corridors to an underground nightclub which was in full swing. Needless to say a good time was had by all.
It was between Durban and Cape Town that I had a small misadventure. Walking out onto the deck, a sudden gust of wind lifted my cap off my head and before I could grab it, I saw it sail over the railing and disappear into the sea. Luckily one of my colleagues had a spare one which I was able to borrow until we arrived back in the UK and I could buy a replacement.
Cape Town was an impressive sight with Table Mountain as a back drop with the clouds folding over the rim to provide the table cloth look. The less pleasant part of Cape Town at the time was that apartheid was still in existence and it was discomforting to come across signs for "Whites Only" or "Blacks Only".
From there we set off on the long trip up the West African coast, one of the longest voyages between ports on the whole itinerary – about 12 days. First stop was Madeira and it was here on one trip that business became somewhat frantic. Because of a delay during the voyage we would now be a day late arriving back at Southampton.
This had the unfortunate consequence for us in the Bureau – well the Crew AP and on this occasion me as well – that the Portage Bill had to be completely recalculated as pay was based on days at sea. At the beginning of the voyage this was pretty well known and these were scheduled line voyages so the Portage Bill could be completed over the weeks and months of the voyage with little pressure. All you had to do in the last few days was add in overtime and deduct the advances of pay to give the final total due. Now all of a sudden, just one extra day threw all the calculations out. This was all done with old fashioned mechanical adding machines – no electronic calculators in those days. Of course it was not just the Portage Bill but the hundreds of individual Pay Slips that had to be re-written as well and cross checked against the Bill. We were now within steaming distance of Southampton, and short of a major catastrophe, we knew the revised exact date of our arrival. This gave us about four days which was really not enough so we worked through the night to have all completed for when Pay Dept came on board to check that we were ready to pay of the crew as soon as possible on arrival.
Arrival back in the UK brought with it other duties. We had a bond locker next to the Bureau and anyone who had an excess of alcohol over the permitted allowance and who was staying on board for the next voyage, could place the excess in the bond locker which was the sealed by Customs for the duration of the time in port. Customs took no prisoners and their rummage squad was thorough. It was not unknown however for a search to produce a bottle of half-finished forgotten spirits in someone's cabin and rather than go through the formalities of levying a fine, and all the paperwork that involved, a compromise was reached to the effect that by the end of the search, only an empty bottle remained.
The passengers meanwhile had disembarked into the cavernous sheds at the side of the dock, collecting their offloaded suitcases on the way and working through the wearisome formalities of Immigration and Customs.
We on the other hand still had to sign off and pay the crew. The NUS were there to query any deductions for loggings and look after the rights and welfare of the seamen. Many left with very little in their pockets having either sent it home on a regular basis by way of a monthly allotment or by having taken large advances. These were always a curse for the Crew AP as the seaman rarely took into account that Income Tax and National Insurance, allotments, fines, had to be deducted before final payment could be made. Advances were made during a voyage and you had to calculate the available pay due to that point of the voyage, less all the above deductions, before allowing an advance. There were constant arguments about how much they could draw down citing the wages and overtime they could earn to the end of the voyage. Of course you could not take that into account as they might not complete the voyage – desertion, sickness and death were not unknown.
Once this was all done, those of us staying on board for standby settled into a new routine as the masses of shore side labour came aboard all wanting accommodation and always demanding a cabin with an ensuite bathroom. They all had a cabin request issued by the appropriate Head Office department and this specified quite clearly what type of accommodation they were entitled to. Many arguments ensued and we helped where we could but not everyone could be satisfied.
Standby was a strange lull between voyages. Lull may not be strictly the right word as our usual shipboard routine simply did not exist but we were taken over by constant banging and drilling, with corridors strewn with cables and worst of all, fumigation! That was horrendous and could last 2-3 days as they treated every part of the ship. Everyone ended up with sore throats and we all longed to get back out to sea. However, there were times when we had to fumigate at sea as well. Whilst doing my stint with the Storekeeper, he decided that one of the storerooms was overrun with cockroaches. This was a dry store and he had gradually run the contents down during the voyage and all we had to do was move what remained to one of the other store rooms. When that was done he threw some smoke bombs into the store, closed the door and left it overnight. The next morning, after opening the door and allowing a few hours to ventilate the space, we crunched our way over a layer of dead cockroaches which we had to sweep up and jettison overboard. I am not sure the paper thin face masks we wore were of great use as the small was still unpleasant.
For those of us not on standby we had a few days ashore with family before returning a couple of days before the next voyage began and we started it all over again.

As I read through what I have written so far, a few other incidents have come to mind which I will add here.....
We were sailing towards Hawaii and, several days from port, we received a call from a US Cargo ship with a medical emergency. A crew member had a ruptured appendix and was in need of urgent medical treatment. We were the nearest ship with the facilities to deal with this having two qualified surgeons and two nursing sisters on board. We altered course to intercept the cargo ship and in the meantime the surgery was prepared of an emergency operation. We eventually came up on the cargo ship and a transfer by ships launch was effected and the crewman brought on board, successfully operated on and landed a few days later in Hawaii.
On another occasion we were left floating in mid Pacific without power. Something had gone seriously wrong in the engine room which could be repaired, but which required the engines to be shut down for several hours. It is a strange feeling to be several thousand miles from shore, with a totally quiet ship – no engine noise, no vibration, no air conditioning – in fact drifting in a totally peaceful environment. One passenger looking out to the horizon asked "How far are we from land?" I replied "About 2 miles". She looked at me, looked around and said "Where? I can't see any." I looked at her and pointed straight down. She saw the funny side and I just got a thump on the arm.
Tin Can Island Niuafoʻou in the Tonga group of islands was a destination on one of the longer Australian Cruises. The island does not have a natural anchorage and in the early years mail was delivered and picked up by swimmers in sealed up biscuit tins. Everyone wrote letters and postcards home and they were dropped off as we slowly steamed past, although this was to local "war canoes" rather that swimmers. Ashore they were franked with special Tin Can Island emblems and sent on their way, by air mail I presume as I doubt they waited for the next ship.
Noumea is the capital, chief port and largest city of New Caledonia and also featured on our Australian cruise schedule. As usual we sold shore excursions and it was my fate to be in charge that day. The morning excursions went off without incident in a train of open tram like vehicles. On their return I went down to inspect them and found they were full of discarded drinks bottles, food wrappers, cigarette ends etc. I called over the shore agent responsible and said this was unacceptable and they must be cleaned immediately before the next excursion. Like all Pacific Islanders she had a very laid back attitude and her answer was that the previous occupants had made the mess not her! I took her hand and walked her through the trams pointing out all the rubbish and making it clear she had to arrange for this to be dealt with. This all to the amusement of the locals standing around and laughing at this young uniformed officer getting hot under the collar about something they regarded as inconsequential. But she did as she was asked and it took only a few minutes to clear out the debris.
Loggings for misdemeanours were a regular event. This could be anything from being found asleep on duty, drunkenness, disobedience and on the rare occasion, assault on a leading hand or Petty Officer. These were brought before the Staff Captain, usually at noon, where the charge was read out and a plea entered. It was not often that charges were disputed as they were rarely brought without good cause and witnesses were always available. The Staff Captain would consider the charge, the circumstances and the character of the crew member and pronounce sentence which was usually loss of pay. More serious or regular offences might come with a warning that further transgressions could result in a DR (Decline to Report) stamp in the crew members Discharge Book at the end of the voyage. This was then noted in the Log and by the Crew AP in attendance to make the appropriate deduction from wages.
I mentioned in the first part of this series the Board of Trade Sports just before we sailed. This continued whilst we were at sea as well. I cannot now remember the frequency, but it seemed quite often, when we would be called to emergency stations. It was presaged by seven short and one long blast on the ships siren. We were all designated a lifeboat and that would be our ultimate destination. For officers though we had other duties. Mine was to check the Tourist Class accommodation, get confirmation from the cabin stewards that they had checked all their cabins and then send them to their boat stations. This involved going up and down many companionways as different areas were separated by water tight doors which had been closed. Once done I had to report to the bridge by phone that all was clear. I then reported to my boat station and was relieved to see that there were several of the deck crew also assigned there and who I was certain would make a better effort of launching the lifeboat than I would, should it ever be necessary.
Another requirement was Man Overboard Drill. This generally seemed to happen early afternoon just as everyone was settling down after lunch. This was signalled by three long blasts on the ships siren. This was principally carried out by the deck officers and crew. A Lifebuoy would be dropped from the bridge and a lifeboat launched to recover it. This of course being great entertainment for the passengers. We never had to do this for real but it was comforting that we could.
---
From Tony Hedger,who served aboard P&O Passenger Ships from 1956 to late 1961.
Some 65 years ago, in 1956, having passed though Gravesend Sea School, I joined my first P&O ship, RMS Strathmore.
I sailed as a bell boy progressing to A/S. All my trips were on the Aussie run Tilbury/ Pyrmont or Woolamaloo Sydney.
Note, in reply to Guest Book post # 1772 from Maurice Hayes, who wrote: "I served on the Strathmore as a bell boy. Had several jobs - lifts was the one I liked most. Then went on to be a table steward in the 1st class saloon. Then finally as a Bedroom Steward 1st class again. This was from 1958 to 1962. Boys slept 12 to a cabin which opened up to one of the hatches.)
Tony Hedger continues: I well remember the crowded peaks and the open space the hatch area gave.
It was in early 1958 I started to move ships, Iberia, Stratheden Strathnaver, Arcadia. Still doing Aussie runs but with the extras of cruising and in particular a Pacific voyage in 1959.
During this time I was a a/s wine steward and lastly a bcs all in first class.
I finally came ashore in Oct 1961 - realising I wanted to be back before I went.
Memories are many with no time to relate them all. I thought therefore a few trigger cues might stir memories of those wonderful days:-
Working by Tilbuy, Gravesend ferry on a cold winter night
The early morning beer carry.
Port Said first call then into the Suez canal. (Exception to this was when the canal was shut and traffic went via Capetown and Durban South Africa.}
Heat in Red Sea onto Aden with all those cheap records and goods.
Bombay t-shirts
Colombo with its fantastic beaches I recall well.
Australia Fremantle, Port Adelaide and Melbourne.
The shop-come-cafe at Melbourne pier - many a milk shake there.
Sydney Pymont with Changs just outside docks - or Woolamaloo with fenced off swimming area to keep the sharks out.

I could go on but when to stop? To all with whom I briefly shared in their lives : cheers guys.
---
Great to hear from you all!
Please send your reminiscences and photographs to me at nick.messinger@gmail.com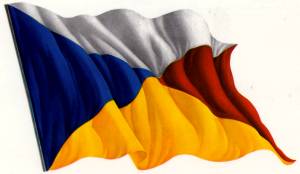 Blue to the mast; red to the fly; yellow to the deck and white on high!