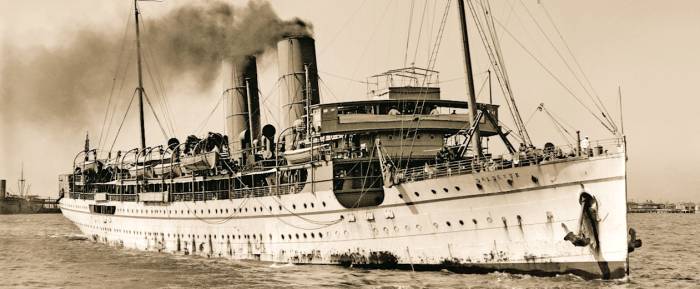 By
1971, P&O had owned nearly five hundred vessels, of which 78 ended their careers at the bottom of the sea. Over half the losses were a direct consequence of the First and Second World Wars when the British merchant fleet was decimated by the actions of German U-boats. One such vessel to be lost was P&O's express liner Salsette, which was torpedoed on 20th July 1917.
Built by Caird & Co of Greenock, Salsette weighed 5,842 gross tons and was launched on 2nd April 1908. Her length was 440ft and beam 53.2ft. Twin screws were powered by 10,000hp quadruple-expansion steam engines, giving a service speed of 20 knots. She carried 140 first and 121 second-class passengers. She was the second ship to bear the name Although a modest-sized vessel in comparison to P&O's contemporary 10,000-ton passenger liners, she was the fastest ship in the fleet and visually stunning, possessing sweeping lines, a graceful counter stern and straight stem.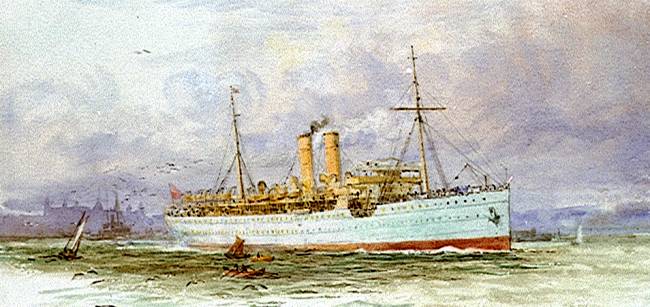 Her hull was painted white and the funnels buff yellow. Painting by Wyllie
After the outbreak of the First World War, Salsette continued to operate regular passenger services, and towards the end of 1916 she made the first of two voyages to Australia, as a replacement for the Arabia, which had been torpedoed on 6th November. In between voyages to Australia, she remained on the Bombay–Aden express service until being recalled to England.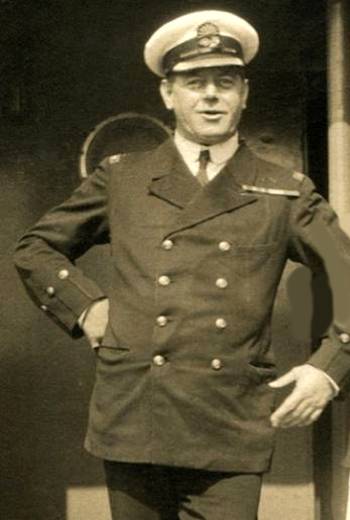 On 19th July 1917, she sailed from London under the command of Captain Albert Borlase Armitage RNR bound for Bombay, with passengers, general cargo and pay for British troops serving in Egypt. After rounding Portland Bill on the Dorset coast on 20th July, she was struck by a torpedo fired by the German submarine UB 40. Captain Armitage was the last to leave his sinking ship and witnessed the vessel's final moments from a lifeboat, watching as his ship turn and nosedive fifty minutes after the fateful torpedo had struck. All the passengers got off safely but 15 Lascar engine room crew lost their lives: 10 firemen, 4 trimmers and a Tindal.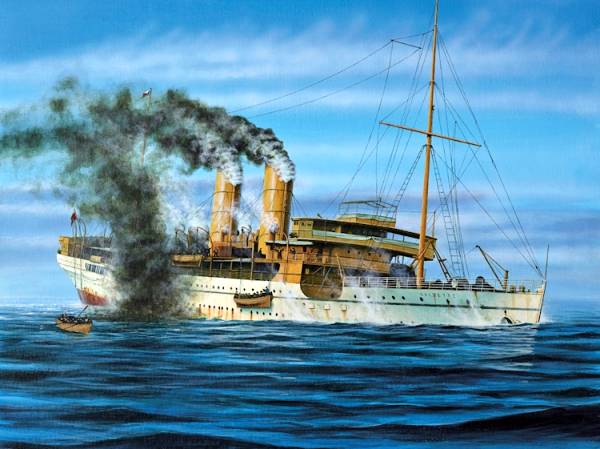 Salsette, by Stuart Williamson
All the survivors were picked up and landed in Weymouth.
---

Captain Albert Borlase Armitage trained for the sea as a cadet aboard the training ship HMS Worcester, joining in 1878 before signing indentures aboard the sailing cargo ship Plassey. owned by Elder Dempster & Co, which took 158 days to reach Calcutta without sighting land on the way. He described the Calcutta docks and the unforgettable sight of 300 sailing ships berthed four abreast in serried ranks. On the return leg of his second voyage, the Plassey ran ashore in a storm near Sandgate, there she eventually broke up, with the loss of several of her crew.
---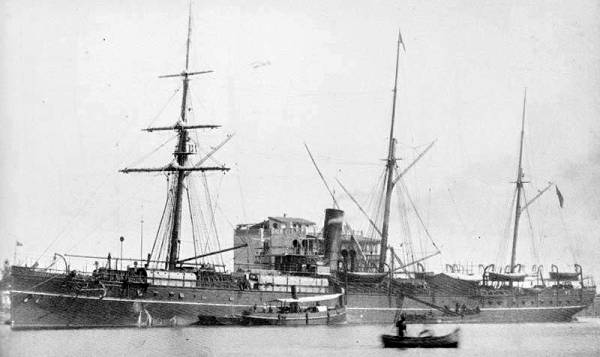 P&O's ss Bokhara
Joining the P & O company as Fifth Officer of the ss Bokhara , he was described as being a very tough young man. Once, by his own account, during a boxing bout, he went berserk and felled a man with a massive blow to the heart. After the Plassey, the Bokhara must have been a revelation to the young deck officer. She was a 4,000 ton steamship that carried livestock and passengers to the Far East with a cow for fresh milk, an ice-room for fresh meat and vegetables, no refrigeration, no electric light, just oil lamps and candles, most of which - including those of the passengers, had to be extinguished every night at 10.30 pm.

Although his autobiography, 'Cadet to Commodore', was expressly written to encourage boys to go to sea, Armitage's view of his own life seems to be one of disappointment and frustrated ambition. He complained bitterly of the time it took for him to have his own command: "twenty eight years since I was entered on the books as a cadet, twenty one of which had been, with the exception of such time as my poor person had been loaned to Polar people, in the service of the P & O. A long time to wait, to work and strive for (sic). Many grow weary of waiting; many grow stale and grooved by so many years of little varied routine; many sicken and die from the result of striving apparently so fruitlessly, …"
After eight years service with the P & O he was nominated by the company for the proposed North Polar Expedition. His initial appointment was that of Observer for which he was given some training at Kew Observatory but by the time the Jackson-Harmsworth Expedition set sail for Franz Josef land he was made second in command of the expedition. For three years the expedition was cut off from the world on Franz Josef Land, extensively exploring and surveying the region. He claims he was the first person to sight Nansen coming in off the Arctic ocean after his epic journey from the Fram - but it was Jackson who first met Nansen and Johanssen. Armitage remained a most ardent admirer of Nansen for the rest of his days. According to Armitage the Jackson-Harmsworth expedition "fell rather flat" achieving very little other than the slaughter of a great number of bears and other wild life. "It was one of the worst [experiences] and one of the best that can be imagined, and affected all my subsequent life." The main effect of both this expedition and his time with the Discovery Expedition seems to have been his loss of promotion with P & O - and this rankled. He certainly lost four years employment with P & O by virtue of this first expedition. However, this did not deter him from volunteering for Scott's Discovery Expedition.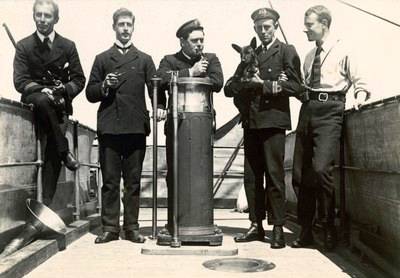 Armitage, centre, on board Discove
In January 1901 at the age of 37 when his services were lent once again for the Discovery expedition as navigator and second in command, he was tasked with surveying amongst the Victoria Land mountains to the west of McMurdo Sound. He led sledging parties exploring the Ferrar Glacier reaching an altitude of 9,000ft, and finding the route that Scott was later to use to reach the Polar Plateau on his journey to the pole.
Armitage was an excellent practical navigator, and of the value of his Polar experience I shall speak late on.....
Scott "The Voyage of the Discovery"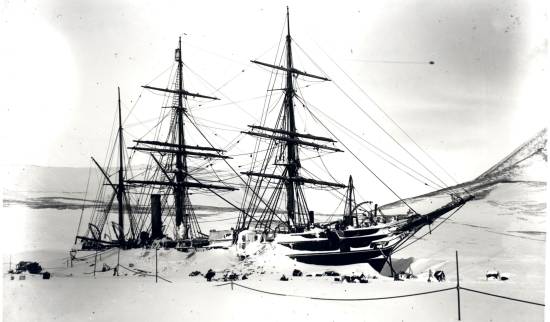 RRS Discovery, locked in sea ice.
Sir Clements Markham and Scott both wanted the expedition to be manned entirely by members of the Royal Navy but Sir Alfred Harmsworth, who donated the very large sum of £5,000 toward the expedition, made the condition that Armitage and Koettlitz (also of the Jackson-Harmworth Expedition) be included as members of the expedition. Armitage got on very well with Scott during the preparations for the voyage and his RNR rank of lieutenant ensured that he was made second in command of the Discovery expedition. However, he later fell out with Scott and claimed that he and Markham failed to honour a number of promises they had made. He claimed he was to be given an independent sledging command in Antarctica, with no restrictions on his sledging, and he claimed that his pay by the expedition was to commence on the date he left his P & O ship and continue until he rejoined another P & O ship. In the event Armitage led one major sledging expedition onto the Polar Ice Cap over the Western mountains, the first man ever to do so, thus proving its very existence. This achievement was later eclipsed by Scott, who with Lashly and Taff Evans, sledged a much greater distance beyond Armitage's furthest west. Scott refused to allow Armitage a second attempt toward the Pole (the season following Scott, Wilson and Shackleton's furthest south), and on his return to Britain, a disgruntled Armitage was paid off by the expedition.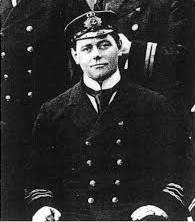 It took him nearly nine months to find an appointment with P & O. The Admiralty wouldn't even sanction his promotion within the RNR from lieutenant to commander, claiming that he was not yet qualified for that rank. Armitage financed this uncertain period by giving lectures around the country on the subject of the Discovery Expedition. He claimed that, during his absence in Antarctica, six Chief Officers of the P & O had been promoted over his head, and that he had lost 18 months seniority. In Cadet to Commodore he wrote, "I did rankle under a sense of injustice."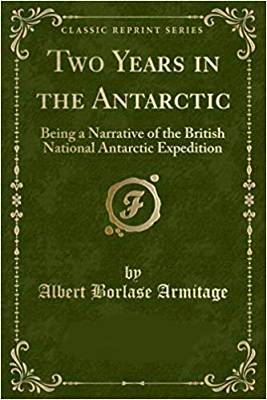 During this period he wrote Two Years in the Antarctic, published by Edward Arnold in 1905. A row followed with Scott's publishers because Scott's Discovery Expedition didn't come out until after Armitage's book. However, according to Armitage, he was at sea when this happened and he and Scott later met up for lunch 'and all was sunshine.' They would never meet again.

P&O's ss Isis,
Eventually he was given his own command, the ss Isis, carrying mails between Brindisi and Port Said. And this was essentially the story of his life until retirement, carrying passengers and mails on 'little ferry boats' as he called them, across the Mediterranean.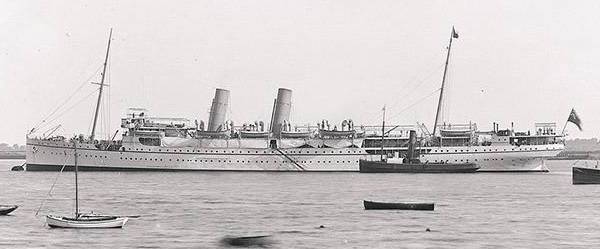 Later, in command of the ss Salsette, on a scheduled service between Bombay and Aden, he lived away from England for many years. Following the loss of his ship, Armitage was given command of the ss Karmala, transporting cargo and troops across the Atlantic and, later, for repatriating Australian soldiers.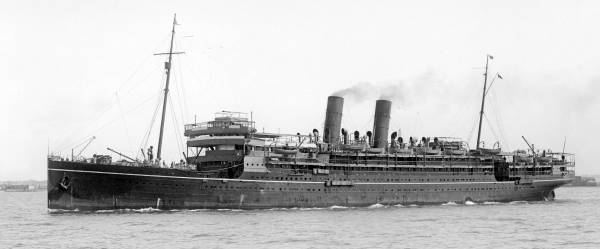 His last command was the 11,000 ton mail steamer the Mantua on the Bombay to China run. After over 40 years at sea he was appointed Commodore and, by the company rules, required to retire at the age of 60, just one year later. A disappointed man. He died on 31st October 1943.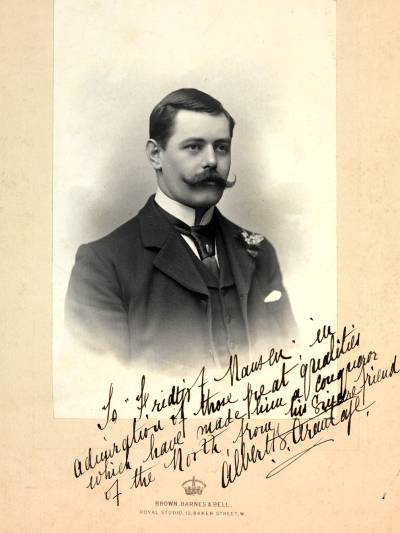 Armitage's diaries of his time in the Antarctic were sold at auction for £36,000 in 2004 to a private buyer.

References: International Genealogy Index (IGI)
UK Censuses 1871 to 1901
Medical Directories 1860 to 1905
Armitage, Albert B. Two Years in the Antarctic, Edward Arnold, 1905
Armitage, Albert B. Cadet to Commodore, Cassell & Co. 1925