---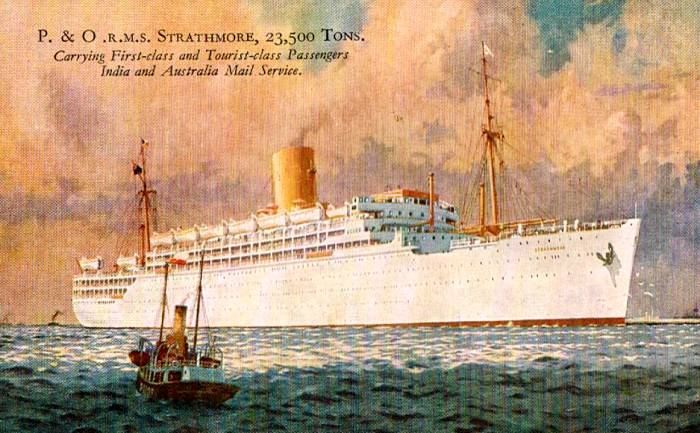 Gross Registered Tonnage 23,428 tons
Length x Beam 665 feet x 82 feet
Builder: Vickers-Armstrongs of Barrow - 1935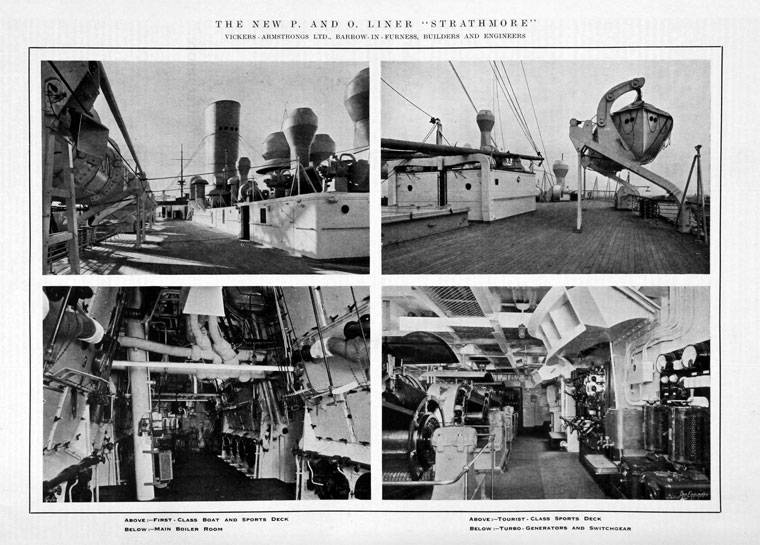 First Class + Tourist Accommodation 445 + 665 persons : Total 1,110 passengers
Subsequent Names Marianna Latsi (1963) Henrietta Latsi (1966) [Greece]
Ultimate Fate:Broken up at Spezia in 1969

Strathmore was the third of the five Strath Sisters and after the three-funnelled Strathnaver and Strathaird, with their turbo-electric engines, the single-funnelled 'sisters' Strathmore, Stratheden and Strathallan, reverted to the more traditional geared turbines, which had a lower capital cost.
---
Launched on the 4th April 1935, P&O's directors proudly commissioned a lavish brochure to introduce their fine new passenger liner to the public.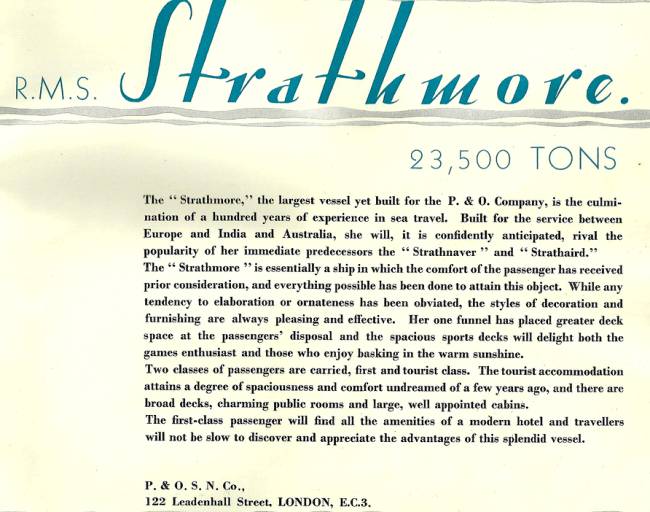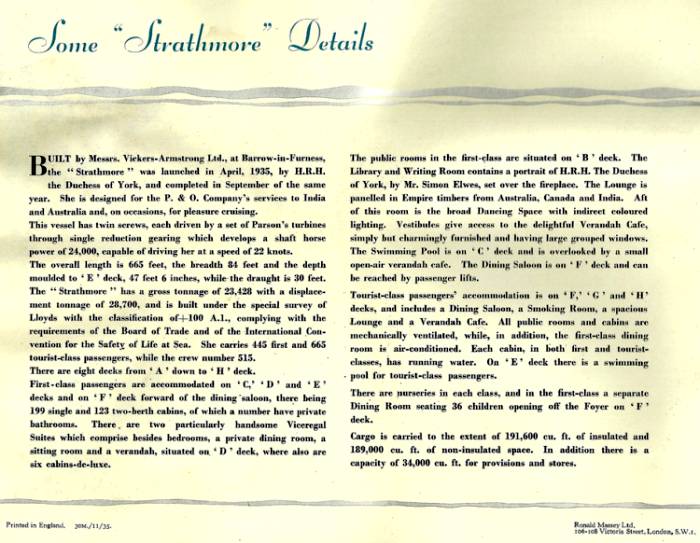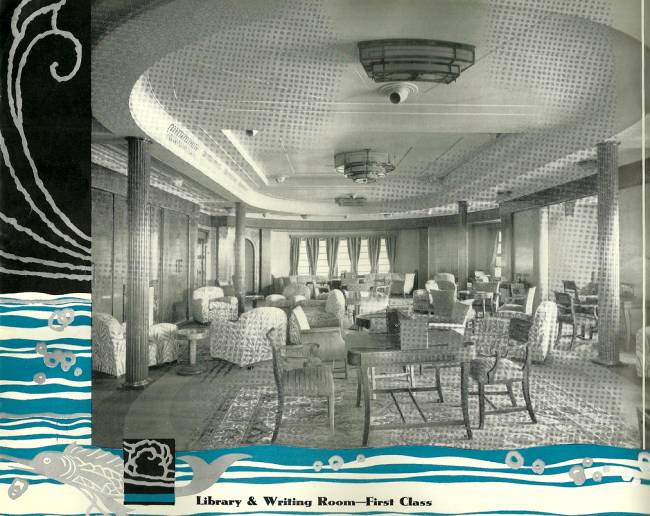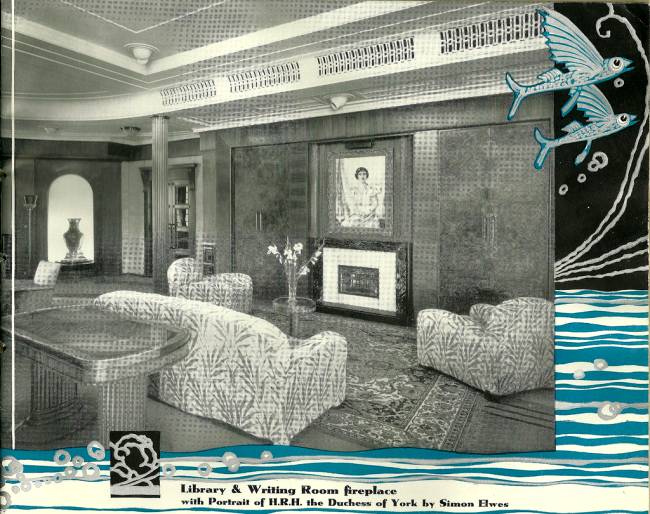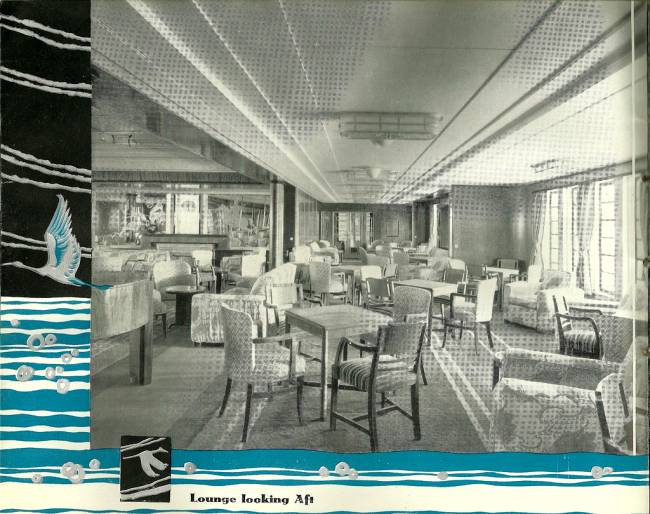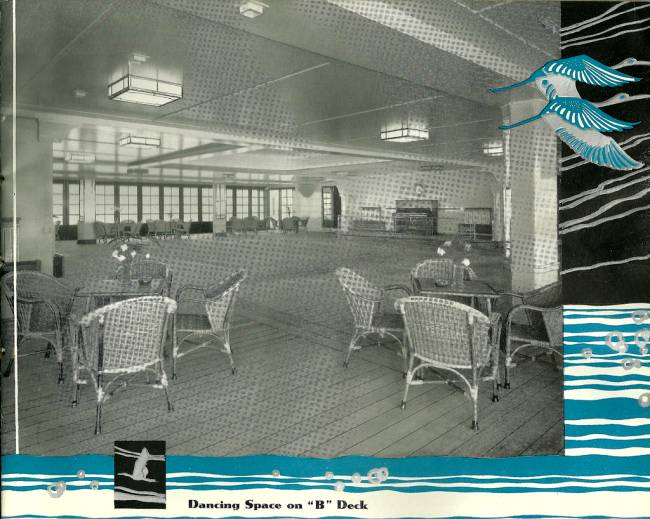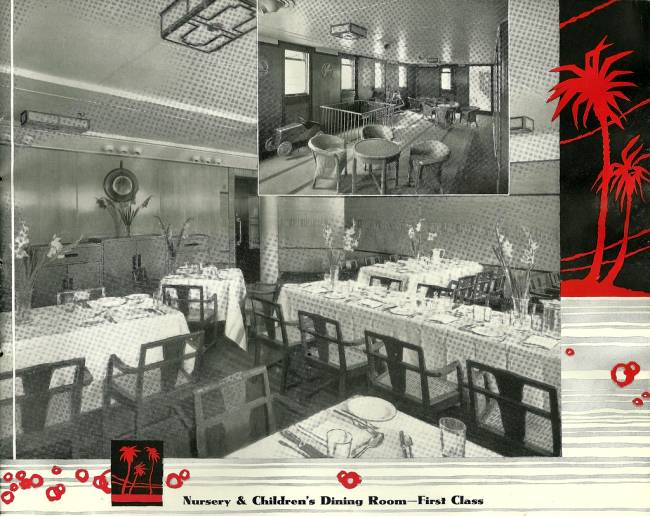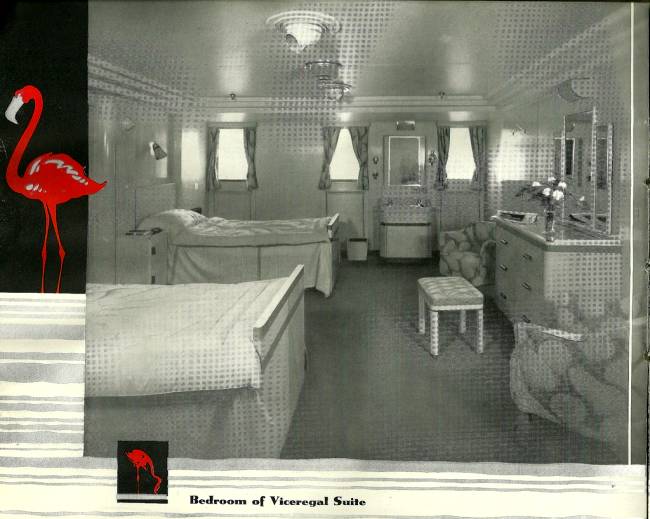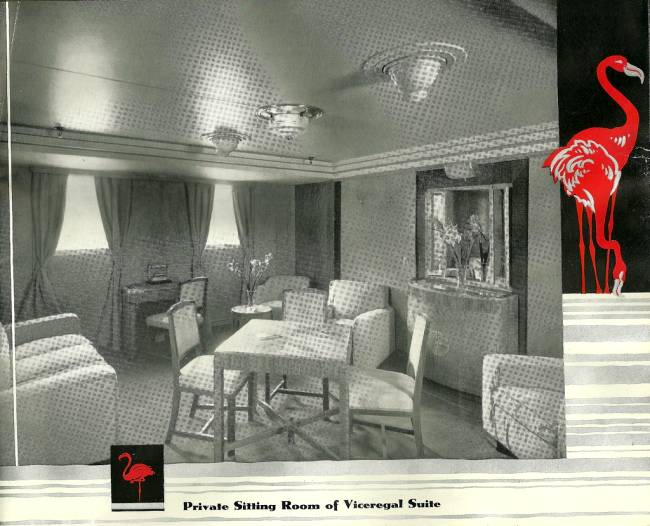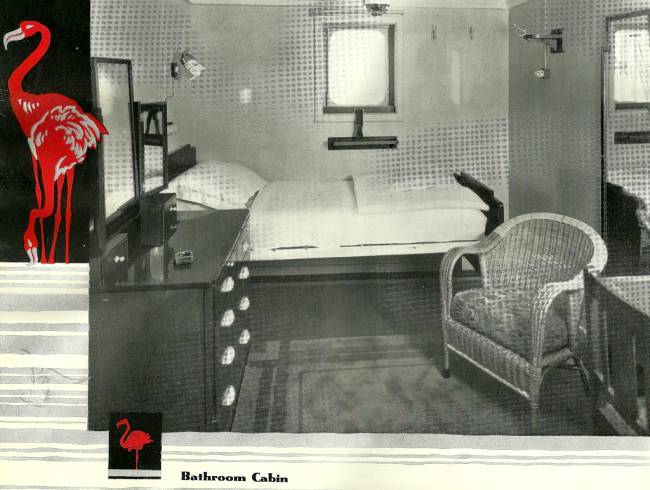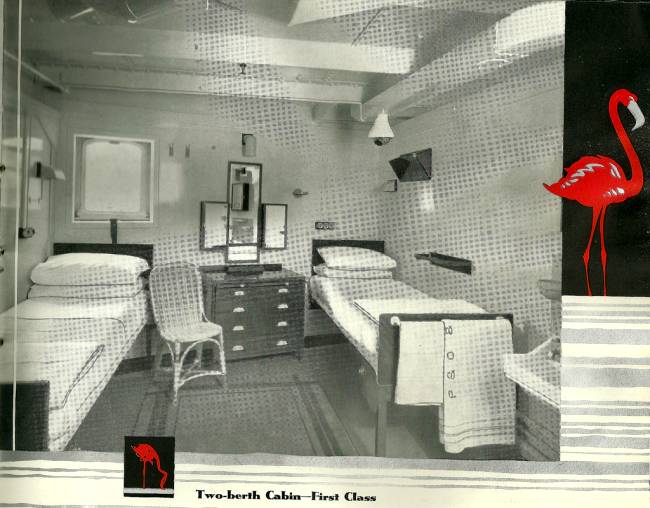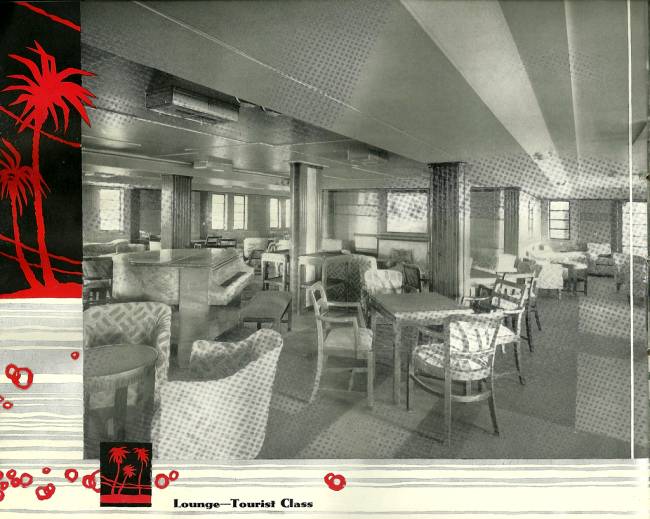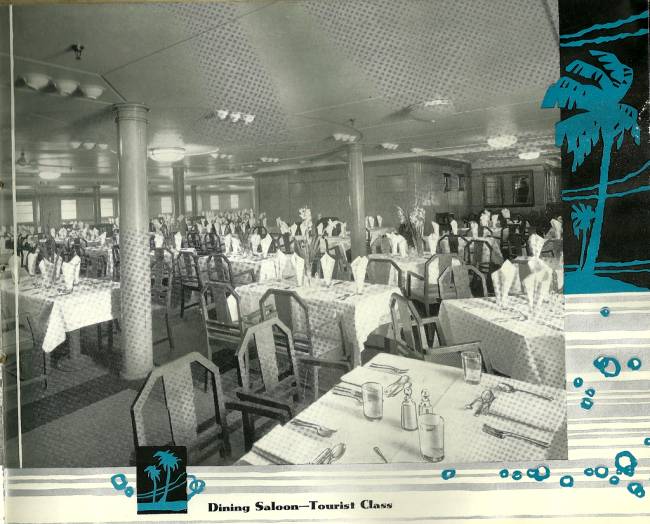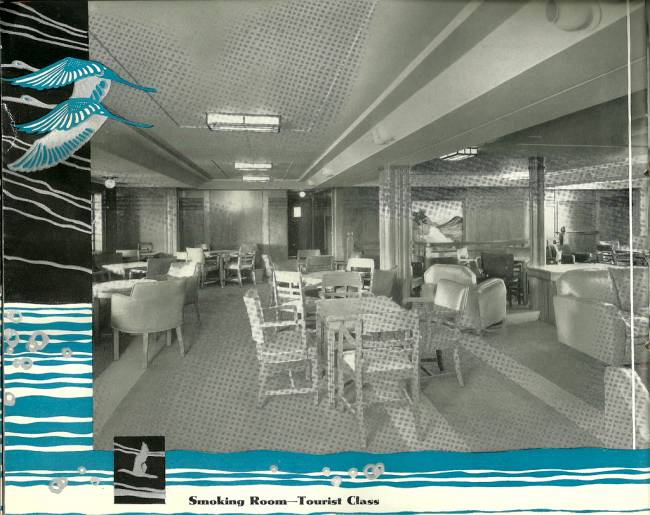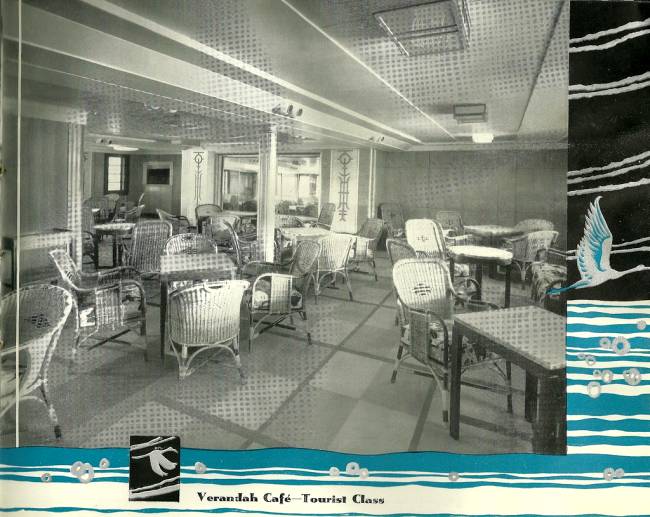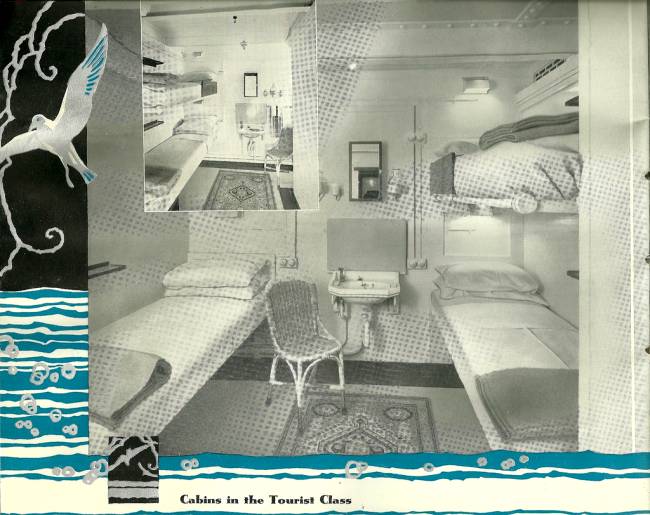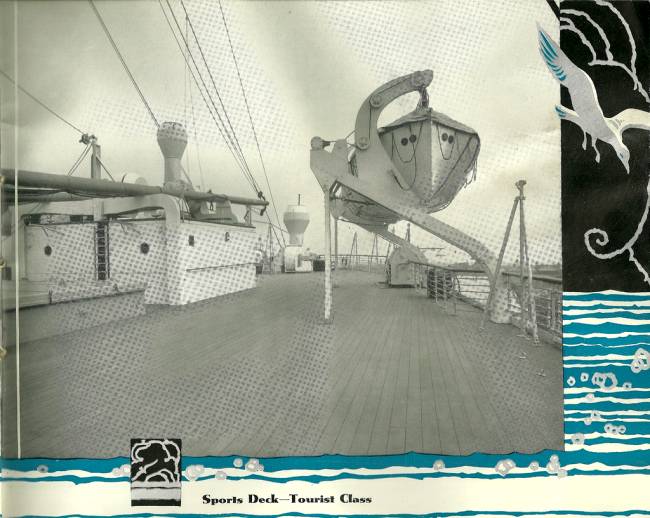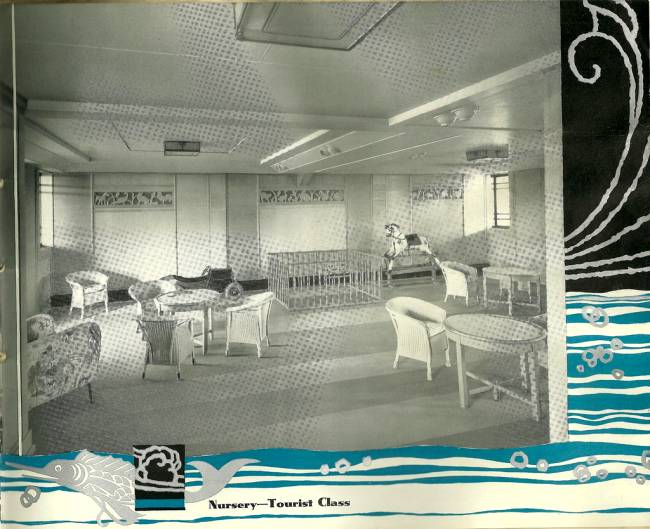 ---
Strathmore was launched on 4th April 1935 by HRH The Duchess of York, who was accompanied by her husband, the Duke of York, who later became King George VI. Four-thousand school children were among the huge crowd that attended the ceremony at the Vickers Shipyard at Barrow-in-Furness.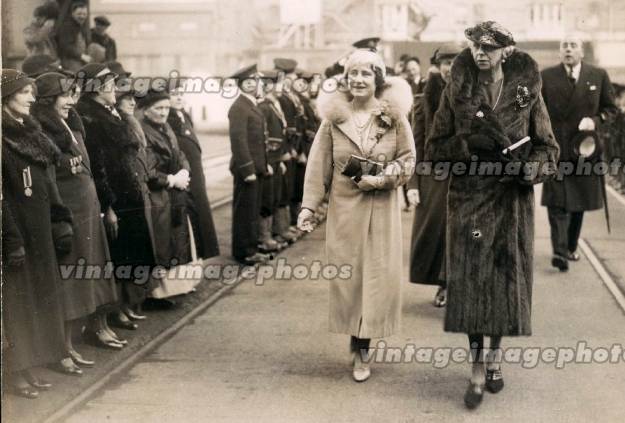 The Duchess arriving at the Vickers shipyard. Photo: Vintage Image Studios of New York.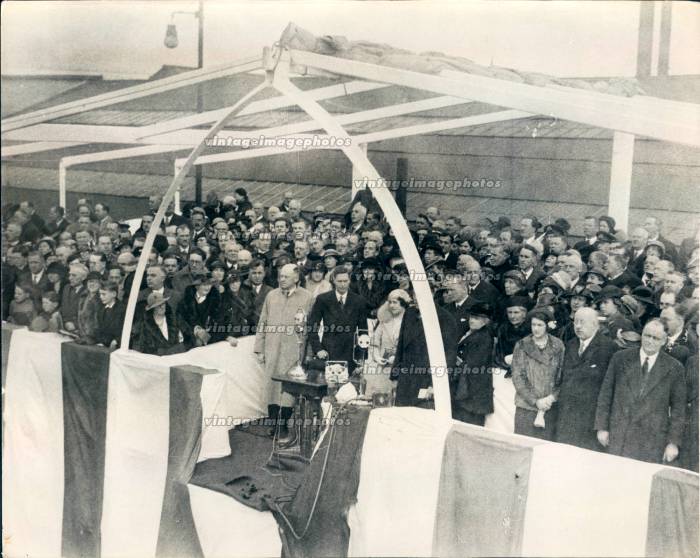 The launch party, with the Duke of York standing to the Duchess's right.Photo: Vintage Image Studios of New York.
---
Strathmore completed her speed trials on 16th September 1935, attaining a speed of 22 knots.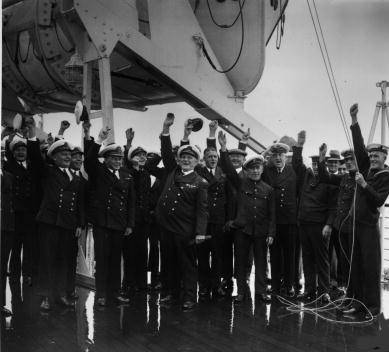 Her captain, officers and crew, cheered as the P&O house flag was hoisted for the first time, with Strathmore anchored off Gourock.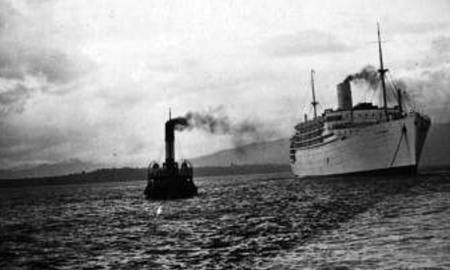 The P&O's latest luxury liner was designed to operate an express service between Europe, the East and Australia.
Photos: Hudson/Topical Press Agency/Getty Images)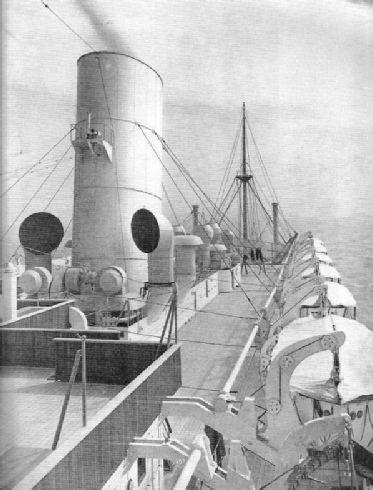 Strathmore's

twenty-four lifeboats included six 'nested' boats and two that were power-driven by a four-cylinder diesel engine. All boats measured 31 x 10 x 4 feet draught. The power-driven boats could take sixty persons and the others eighty-five, giving a total of 1,990, or nearly 400 in excess of a full shipís company. The boat-lowering gear consists of eighteen sets of gravity davits, each driven by an electric motor.

Strathmore departed Tilbury on 27th September 1935, on a shakedown cruise to the the Canary Islands, Dakar, Cadiz and Lisbon.
Her maiden, main line voyage, commenced at Tilbury on 26th October, breaking the record for the Marseilles-to-Bombay section - 10 days at an average speed of 20 knots.
On 28th March 1936, she carried the new Viceroy of India, Lord Linlithgow out to Bombay, returning with his predecessor, Lord Willingdon on board.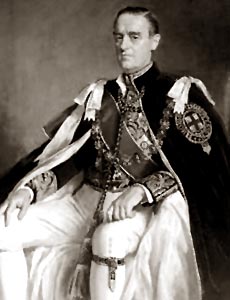 Lord Linlithgow, Viceroy of India
---
On 1st October 1937, Strathmore commenced service on the Australian route, sailing via Bombay, Colombo and Melbourne to Sydney and Brisbane She continued on this service, interspersed with a little cruising, until the outbreak of war.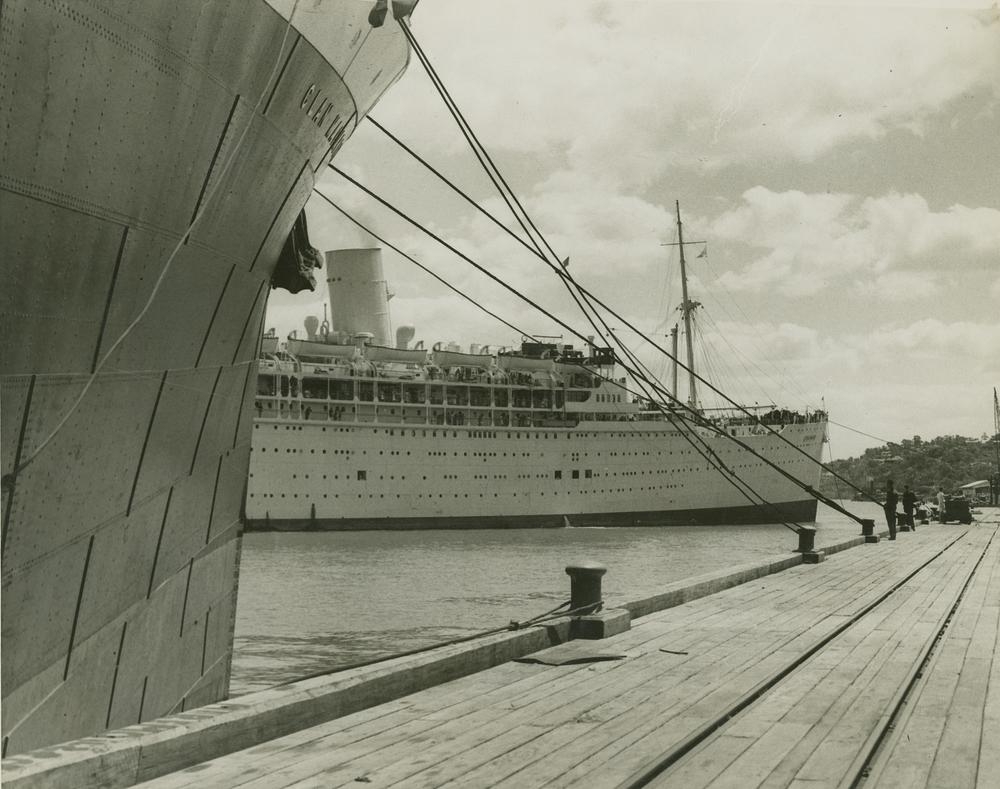 Strathmore docking at Hamilton Wharf, Brisbane, ahead of a Clan Line steamer.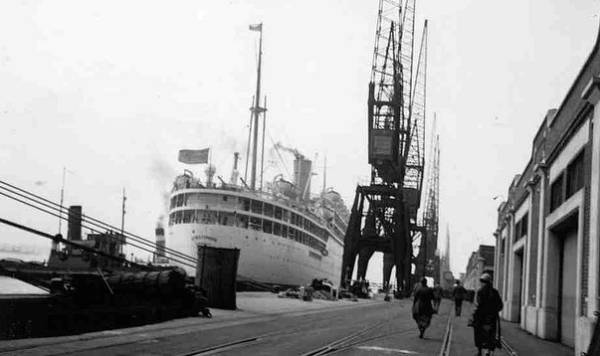 At Southampton in 1936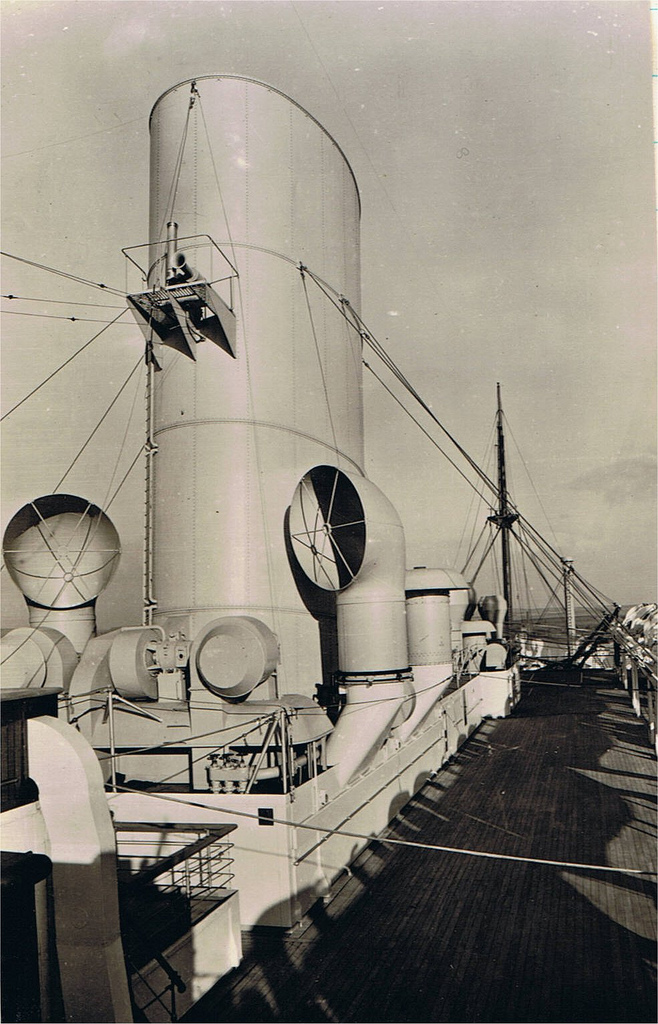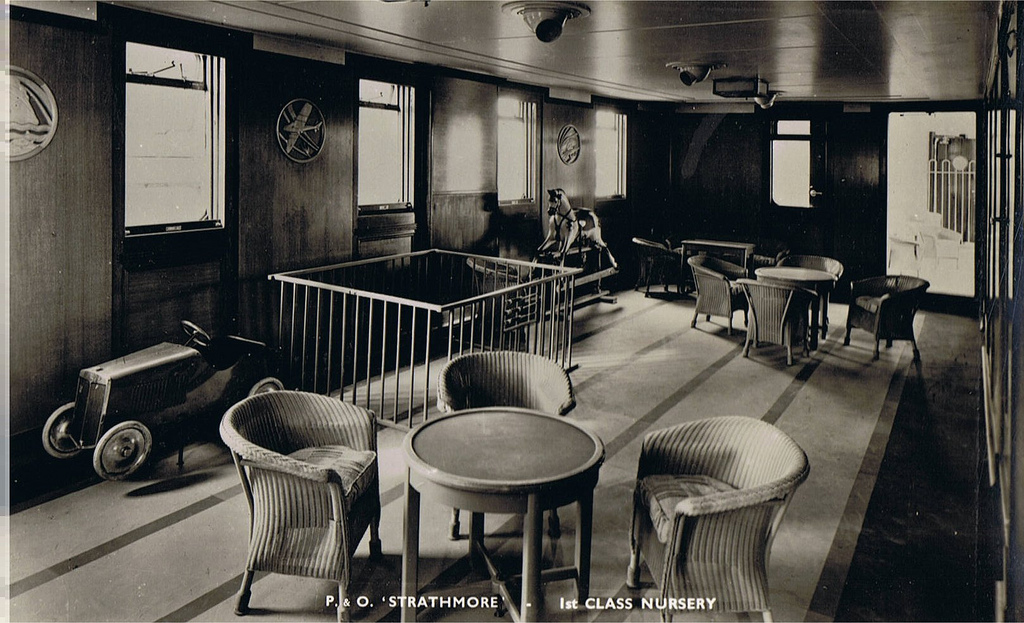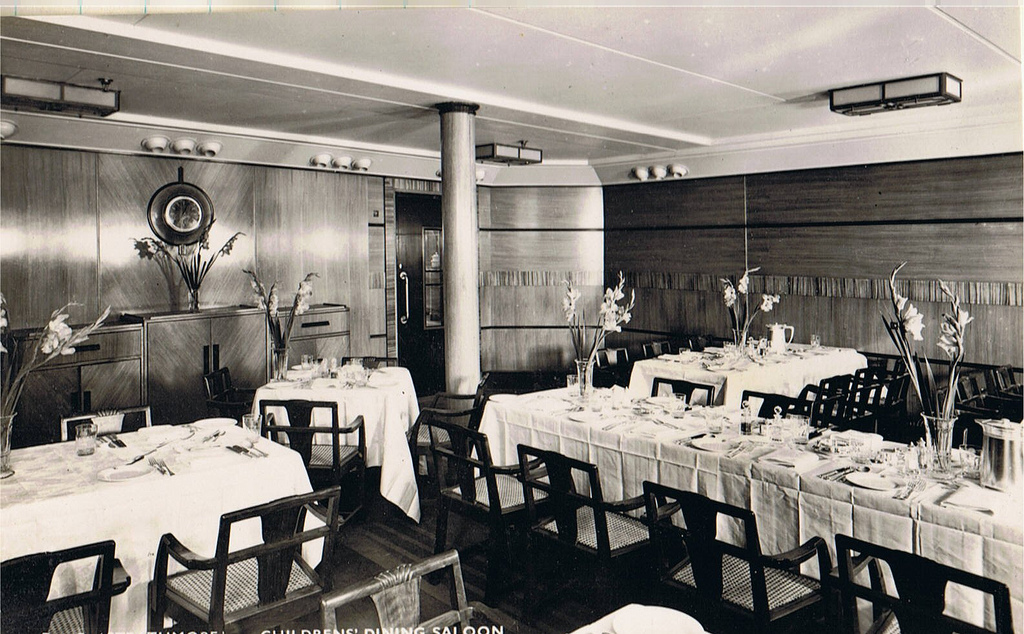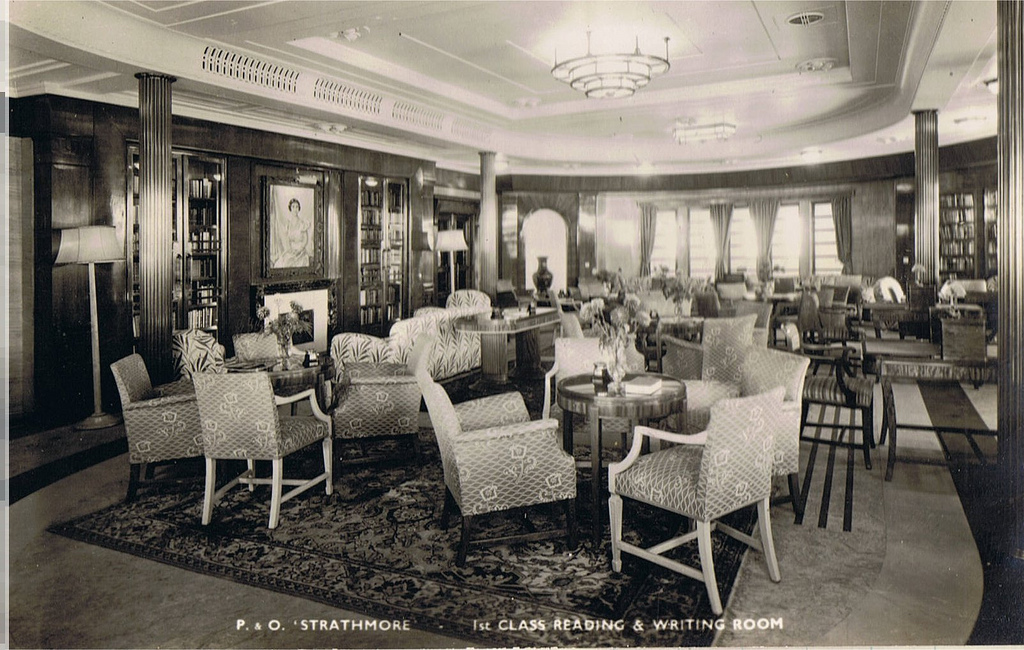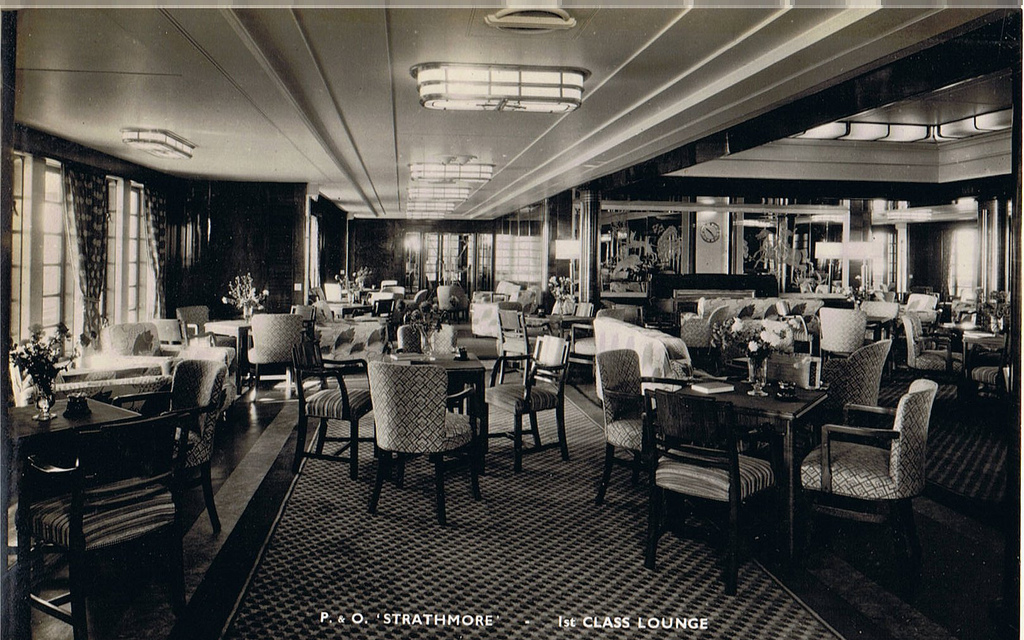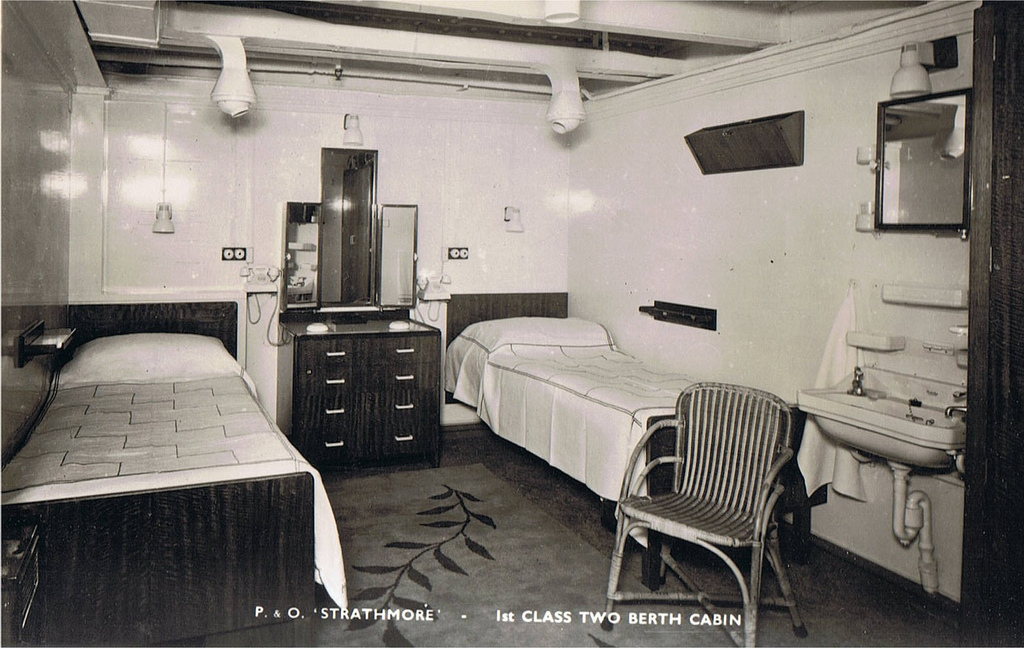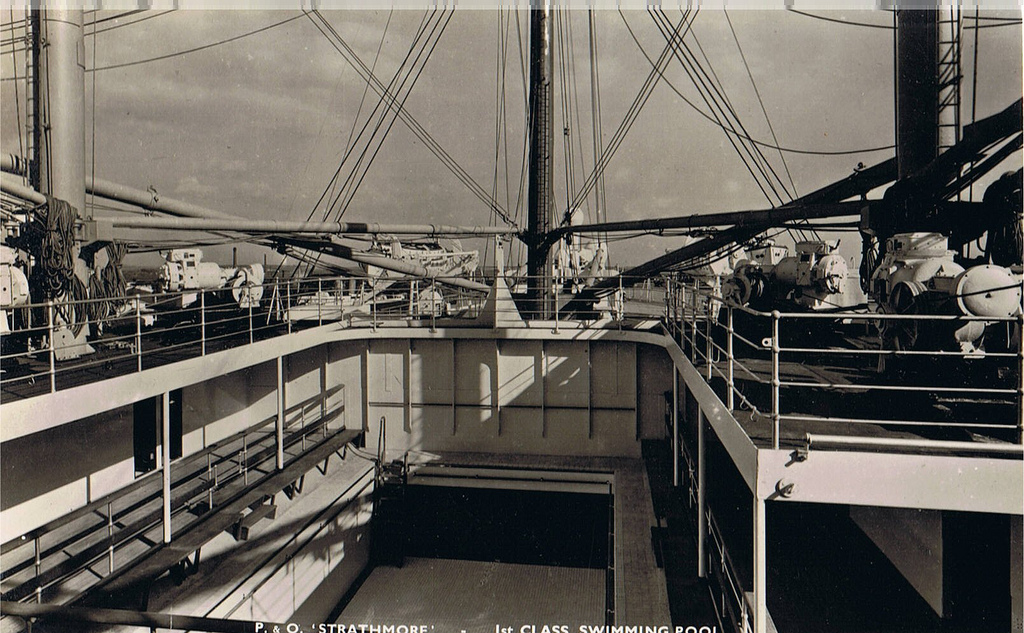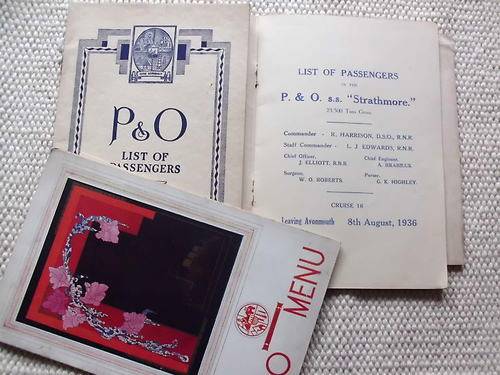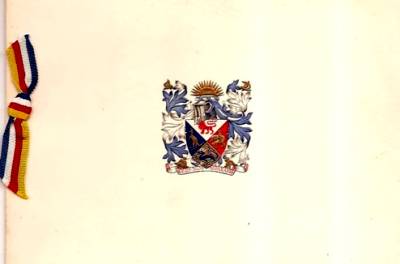 Strathmore Christmas card of 1935
---
Wartime
On 31st March 1940, Strathmore was Requisitioned by the Ministry of Shipping (later Ministry of War Transport) for service as a troop transport.
On 16 November 1940, troops of the 2/8th Australian Field Regiment Royal Australian Artillery, a unit of the 9th division, that served in the Middle East, Australia and Borneo during were embarked at Port Melbourne. In the above photograph, the men are wearing sand shoes. Photo: 2/8th Australian Field Regiment Association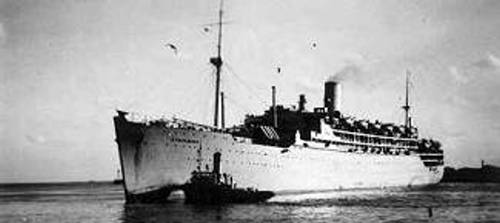 The Strathmore leaving Port Sudan, late December 1945.Carley floats
---
Strathmore was requisitioned as a troopship and saw service in most theatres of war. In March 1941, she was part of a vast 23 ship convoy to the Middle East, which also included her four Strath Sisters, together with the company's Viceroy of India, four Orient liners and ships of the Royal Mail Line, Cunard, Union Castle and Canadian Pacific - plus Dutch and French liners.
---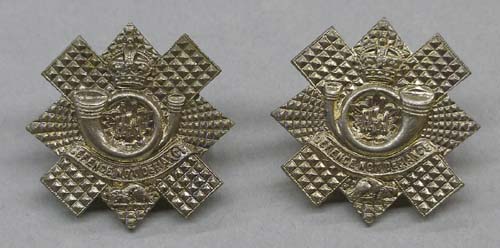 The Highland Light Infantry of Canada

Gourock, Scotland July 1941

~

"As the S.S. Strathmore came into sight of Scotland, soldiers filled the decks to watch the land slowly loom closer. After a monotonous trip across the Atlantic, everyone was anxious to touch solid ground, especially those who didn't handle the churning of the ocean well. The port of Gourock had always been a busy place for ocean going vessels. Since the war, though, its traffic increased significantly. Gently the ship coasted in the final yards for docking. On shore, a gathering of curious Scottish folk watched the Canadians arrive, and an

army pipe and drums

band

began to play

while people on both the boat and the shore smiled across the water. The band continued to play merrily as the men disembarked from the Strathmore, onto Scottish soil. It was The

Highland Light Infantry (City of Glasgow) Regiment, their official sister regiment

;

providing their overseas kin with a red carpet welcome to Great Britain, and of course, the war.

"

Highland Light Infantry of Canada archive.
---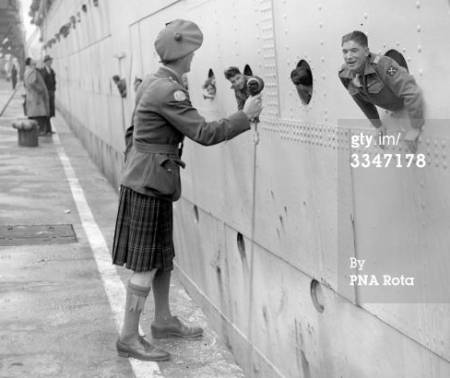 A BBC reporter, wearing a kilt, brings a microphone to the porthole of the SS Strathmore for men returning from the Second World War to broadcast messages to their relatives. The liner docked at Southampton bringing back 3,750 personnel of the 2nd Army from the Far East for demobilisation. Photo: PNA Rota/Getty Images.
Men of the 2nd Army returning from the Far East on board the SS Strathmore at Southampton. Photo:PNA_Rota/Getty Images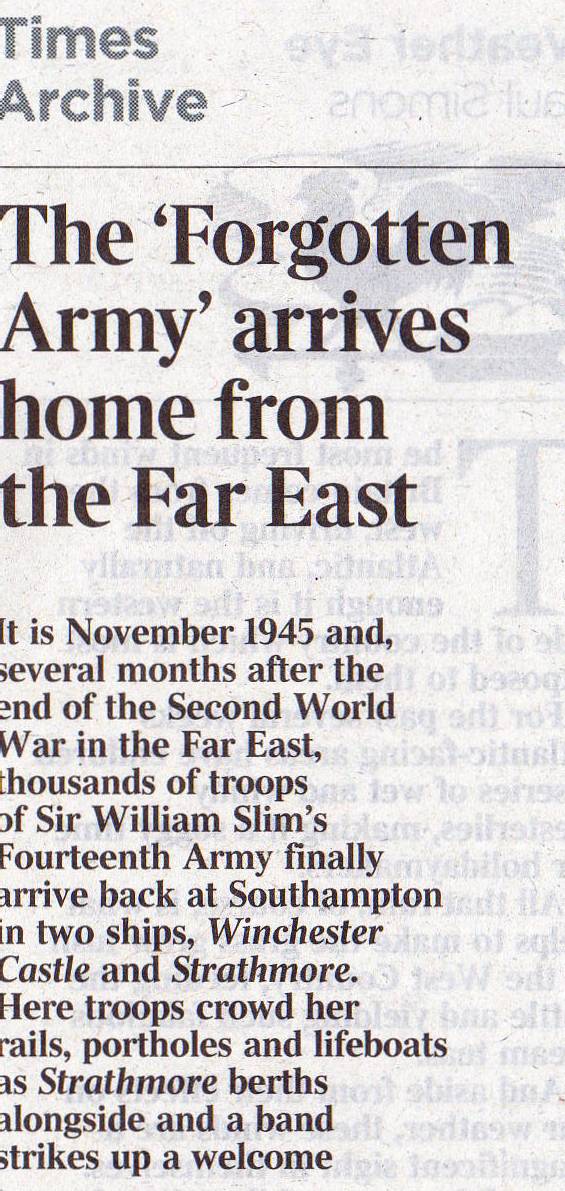 ---
Post War ~ 1948-1963
On the 28th October 1949, after an extensive refurbishment, Strathmore returned to commercial service and sailed on her first post war voyage from London to Bombay and Australia. In July 1950 she made P&Oís first post war call at Marseilles. On the 14th January 1953 she broke down an hour after leaving Tilbury for India and Australia. As a result she had to be towed back to Gravesend for seven daysí repairs. In October 1956 she collided with the Norwegian cargo ship Baalbek off Gravesend - but fortunately without injuries and only slight damage. In 1961 she was refitted as a one class ship, accommodating 1,200 tourist class passengers. Sadly, by this time Strathmore was showing her age and on the 22nd October 1963 it was announced that she would be withdrawn from service. She sailed into Southampton at the end of her final voyage, a cruise, on the 27th October 1963.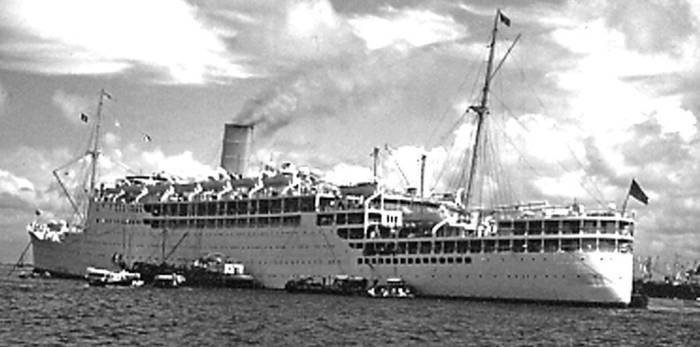 Strathmore at Colombo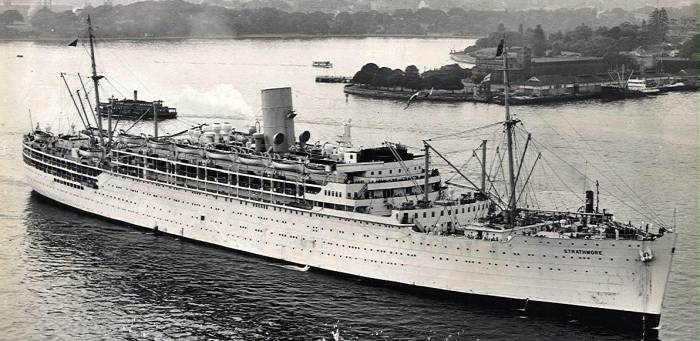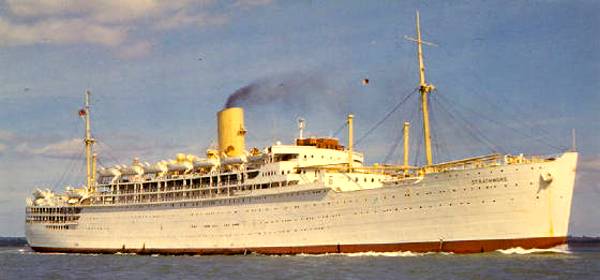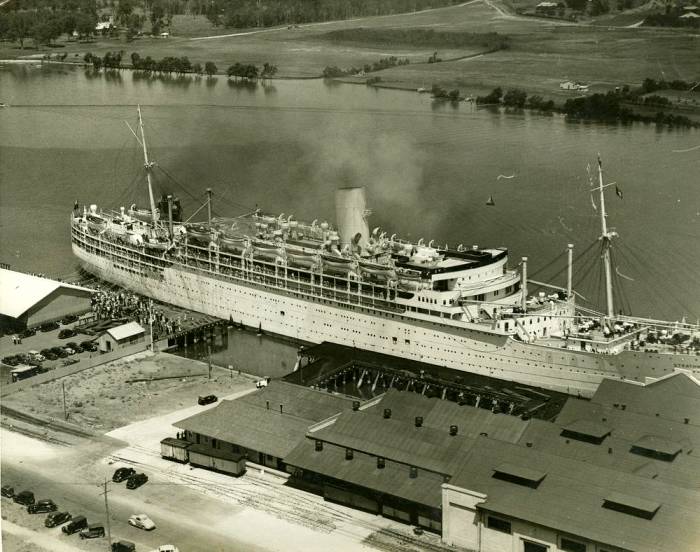 Strathmore at Brisbane after the war.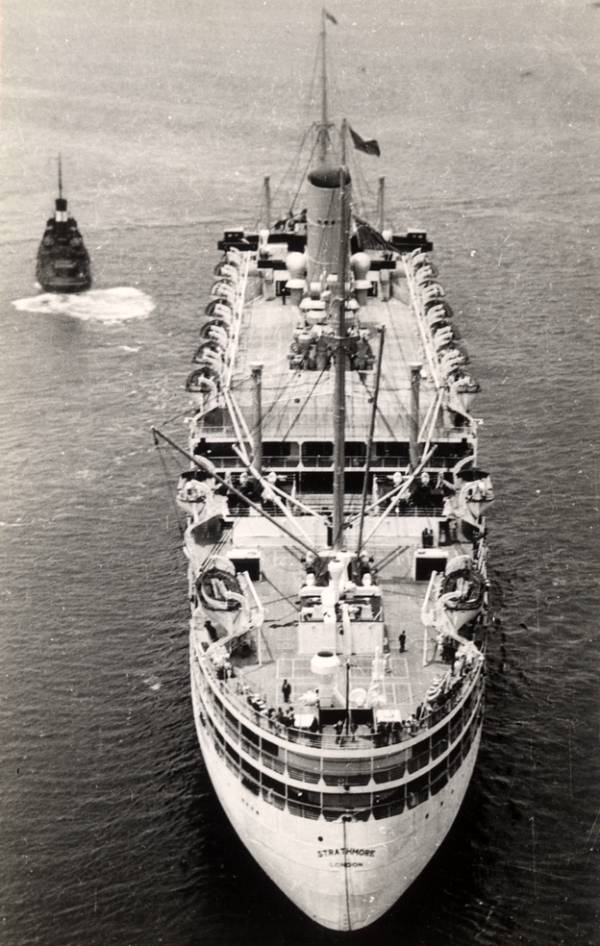 Photo: State Library of New South Wales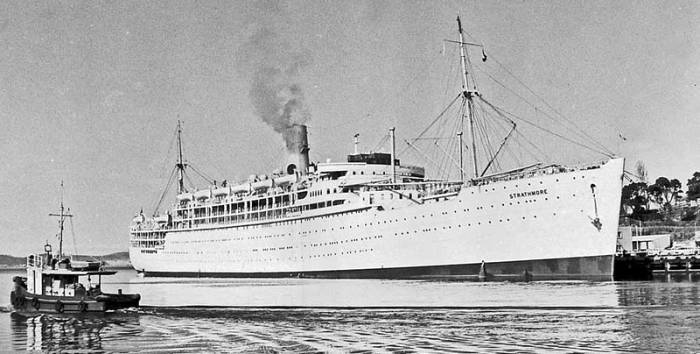 Strathmore at Princes Wharf, Hobart, Tasmania. Photo: John Craike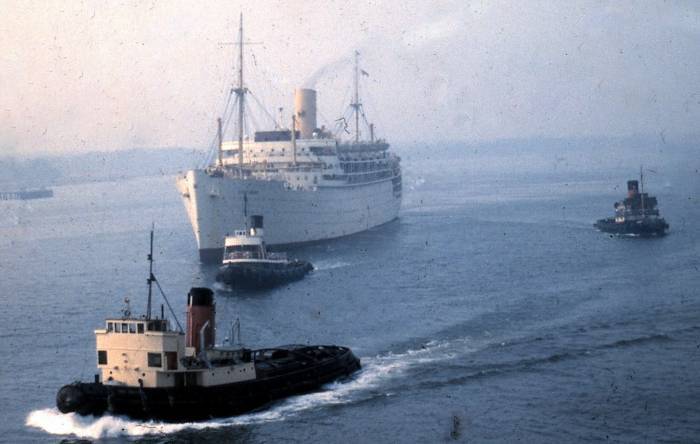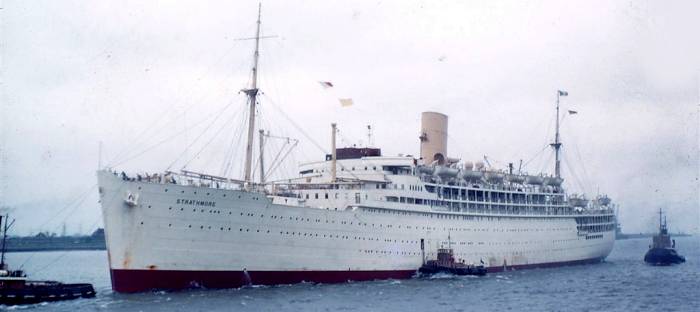 Strathmore at Southampton in 1961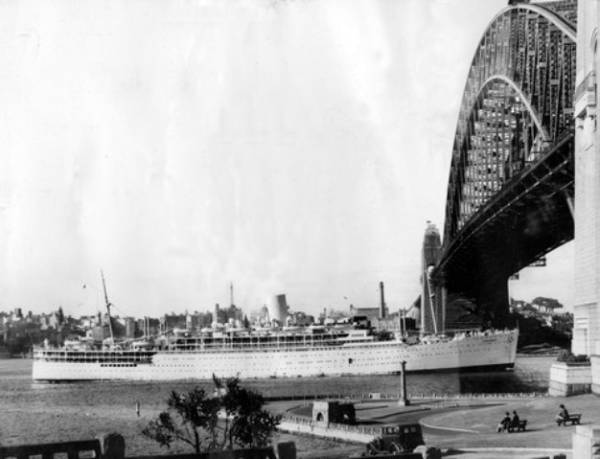 Strathmore passing under the Sydney Harbour Bridge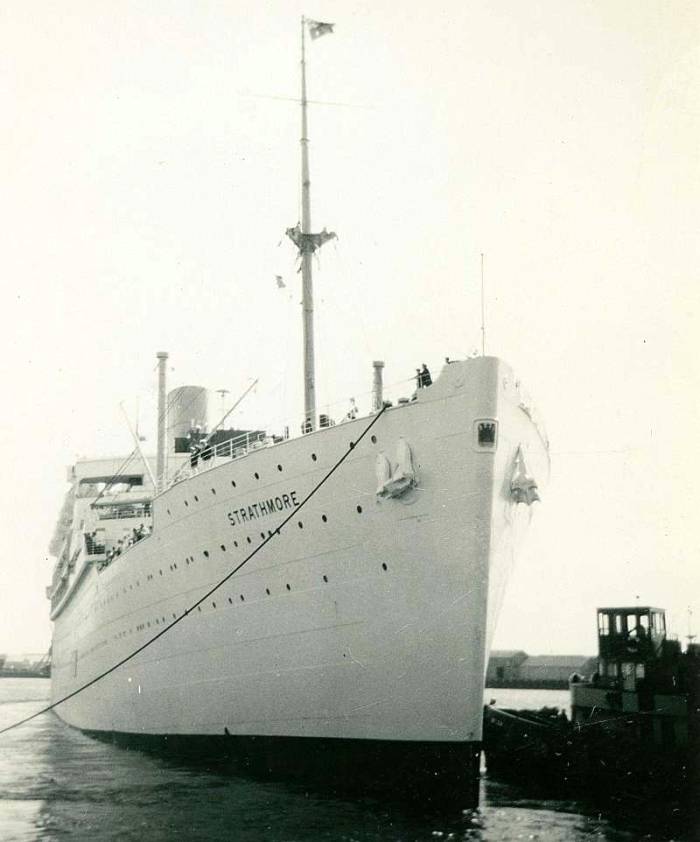 Strathmore arriving in Fremantle Western Australia in 1957. Photo:Charles William Kent.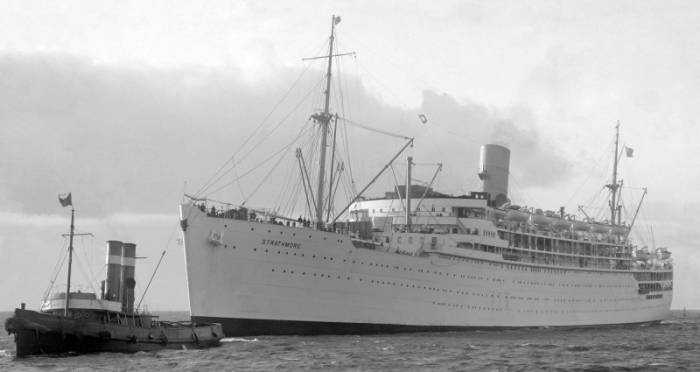 Strathmore and the tug 'James Patterson'. Photo:John Kent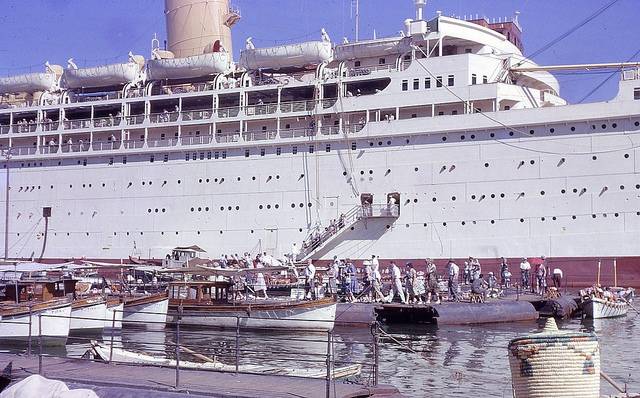 Strathmore, final Mediterranean Cruising, 1963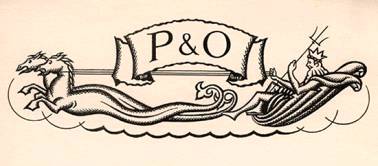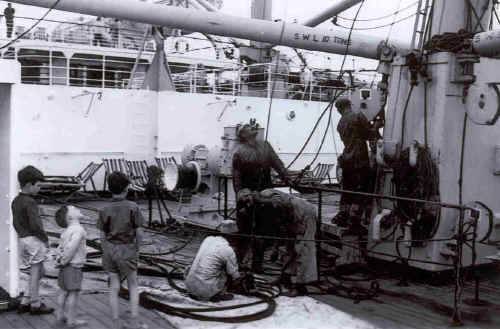 Indian crew overhauling aft derricks, watched by admiring young passengers.
---
The End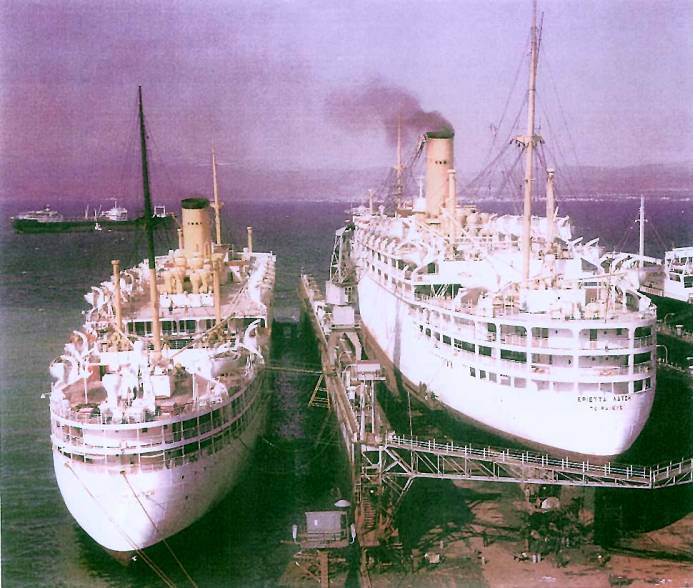 Still together after all these years ~ Stratheden and Strathmore at the Piraeus shipyard in 1963
On 27th October 1963, after a Mediterranean cruise, Strathmore docked at Southampton for the last time. She was sold to John Latsis, the Greek shipping tycoon, on the 8th November 1963 and renamed Marianna Latsis for use as a pilgrim vessel and hotel ship at Jeddah in Saudi Arabia.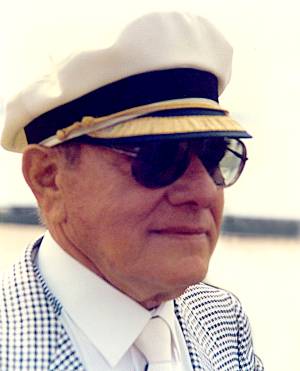 John S. Latsis ~ he passed away on 17 April 2003.
In 1966 she was renamed Henrietta Latsis. On the 18th April 1967 with her pilgrim vessel and hotel ship career over, she was laid up at Eleusis Bay, Greece, awaiting her fate. Finally, in 1969, she was sold to Terrestre Marittima S.p.A. of Italy for breaking. She arrived at La Spezia on the 27th May 1969 and demolition commenced in September 1969.
It was the end of a fine and much loved British ocean liner.
---
Note: I served in Strathmore, under the command of Captain Williamson, during Mediterranean Cruising in September and October 1963, as a deck officer cadet on launch-driving duties. Strathmore was my first passenger ship, and I was on board her when it was announced that she had been sold. Later, back at Southampton for the very last time, I heard the announcement over the ship's Tannoy, requesting that the person responsible for removing the ship's wheel, was kindly invited to return it, as it was urgently needed on the bridge! Nick Messinger
---