Please Note: The house flag and word mark 'P&O' are Trade Marks of the DP World Company https://www.dpworld.com/
---


Canton, built by Alexander Stephen and Sons was launched on 14th April 1938, running sea trials on 11th September, before delivery to P&O two days later, and sailing from London on 10th October for Bombay, Singapore, Hong Kong and Yokohama.
---

On 19th October 1939, she was requisitioned by the Admiralty, and returned to her builders for conversion to an Armed Merchant Cruiser, and fitted with eight six-inch guns dating from the Great War; four on each side. Above the bridge, on the monkey island, a rangefinder and a primitive gun control system were installed, enabling Canton to fire a broadside of four guns. Later a ninth six-inch gun was fitted on her focísle giving her a broadside of five six-inch guns. Her armament was completed by two single barrel three-inch high angle guns mounted abaft the funnel, which was cut down in order to improve anti-aircraft arcs of fire.
Manned by a largely Royal Naval Reserve crew, the majority being serving or former P&O, her only regular RN officers were the commanding officer and second in command.
From May 1940 until early 1941, she was involved in patrol duties in the South Atlantic, occasionally escorting convoys.
Equipped with a seaplane in 1941, it was stowed in what had once been the ship's swimming pool.......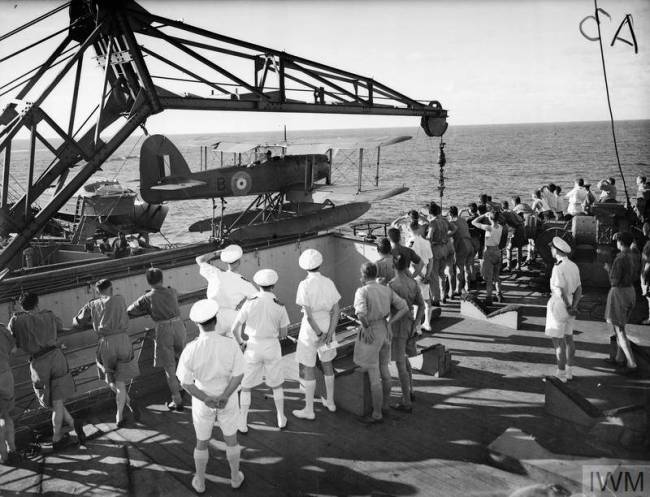 Canton's Fairey Seafox Seaplane ready for take-off.....
In August 1942 she was refitted on the Clyde, and equipped with a single tripod main mast, mounted forward of a cut down funnel. An extra 6in gun, 2 x 4in guns, oerlikons. and a Kingfisher seaplane were added, as replacements for the Seafoxes.. She then joined the Eastern Fleet, first at Kilindini and then Colombo.

HMS Canton 1942 - second conversion, Kingfisher Seaplane added....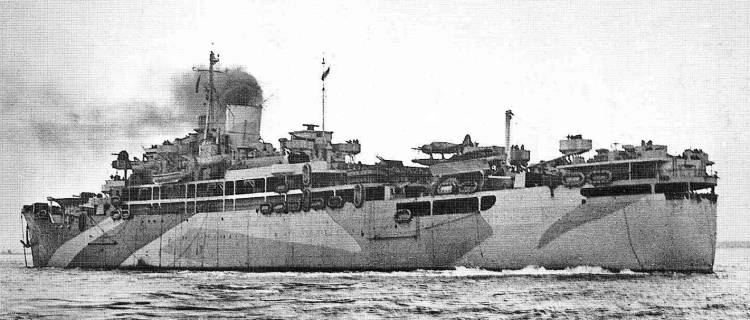 HMS Canton in 1942, port view.

Starboard view

A very fine watercolour of Canton as an Armed Merchant Cruiser escorting a convoy of merchant ships, artist unknown.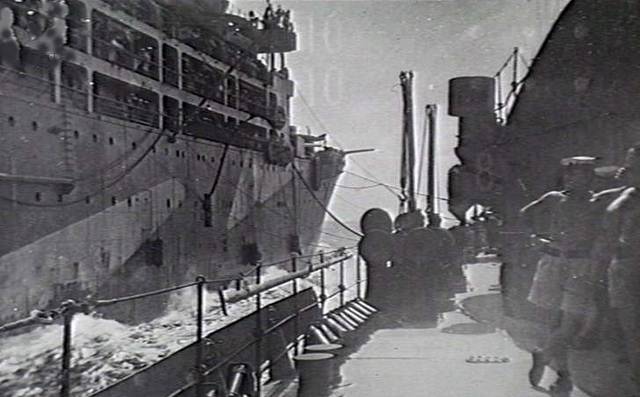 RAS Abeam ~ HMS Canton refuelling the destroyer HMAS Quiberon in 1943 - . Australian War Memorial Photo

On 23rd May 1944, she arrived at Cape Town for conversion to a troopship.
---
The Post-War Years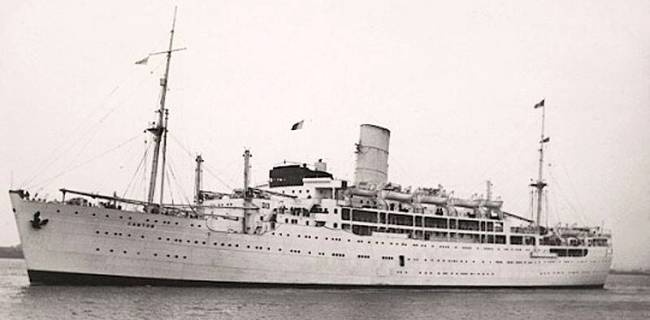 Canton, as reconditioned in August 1947 by Alexander Stephen & Sons Ltd, Glasgow. With her single funnel restored in height, she was returned to P&O on 28th November.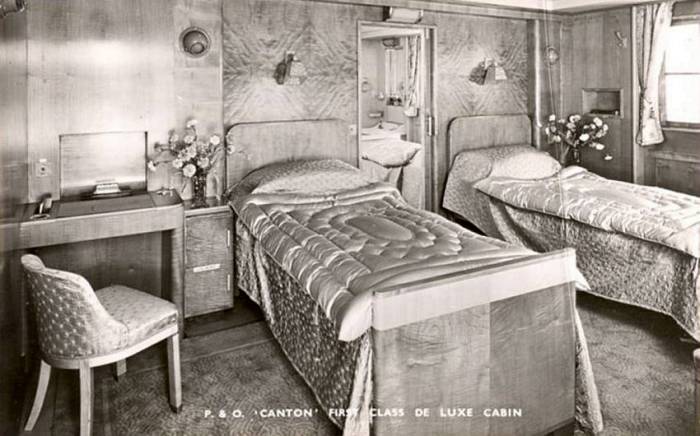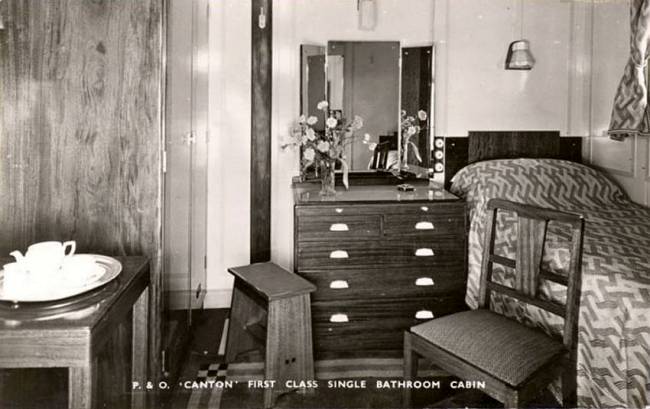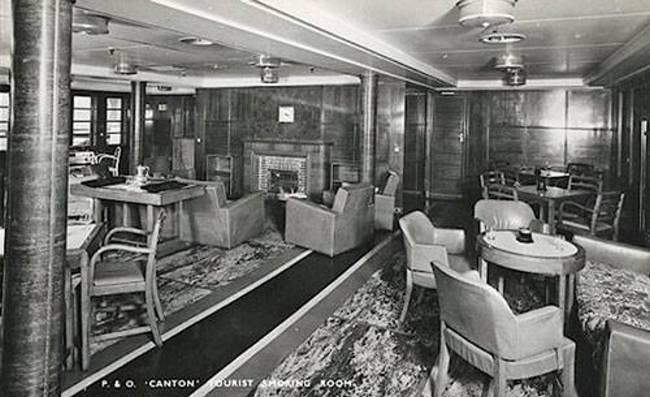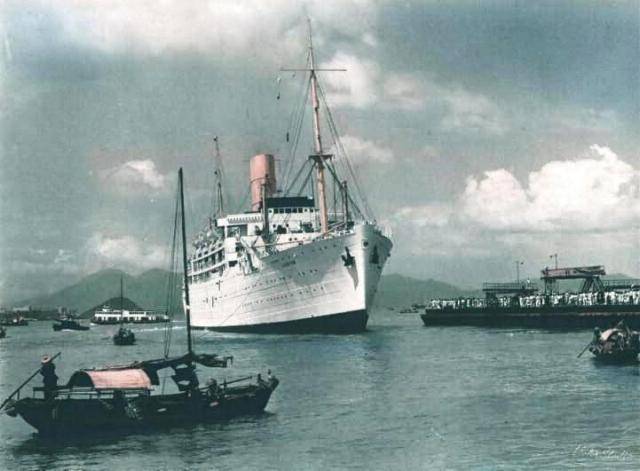 Canton at Singapore newly refurbished.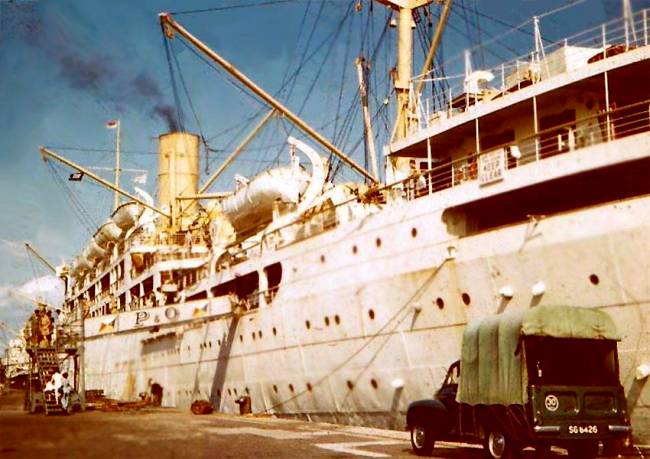 Canton, alongside at Singapore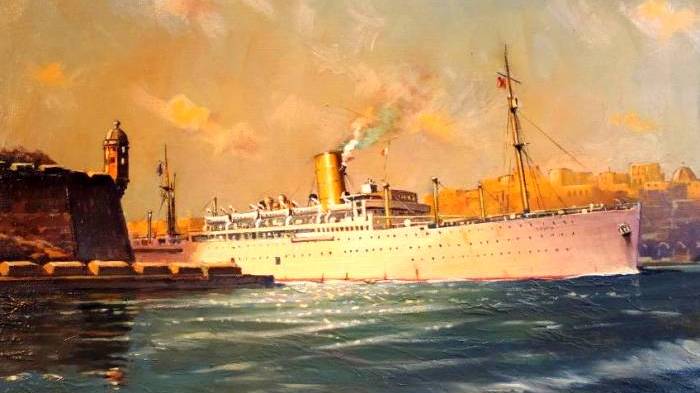 Canton in Grand Harbour, Malta ~ oil painting by Vincent Nevin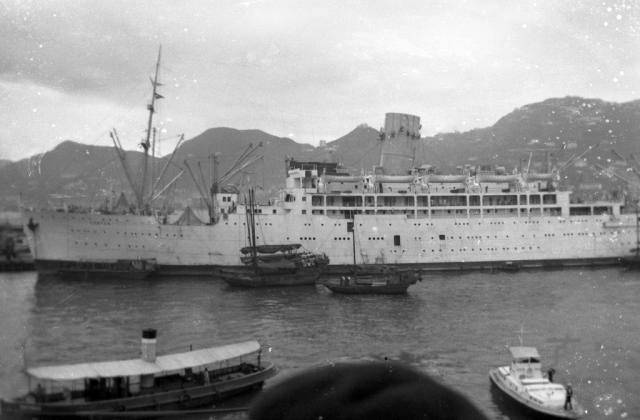 Canton alongside Kowloon Wharves, 1950s, with hands aloft painting the funnel.
Well remember the old girl. Sailed on her from Southampton to HK in 1962. No air conditioning - fresh air being vented into the cabins by metal scoops outside the portholes. It was her last trip to the Far East. She sailed on to Taiwan then returned to HK where she was anchored in Junk Bay for a while and her contents sold off for peanuts before being scrapped - the carpet from the doc's surgery lasted me many years - and I'm still using her P&O embossed silver salt cellar, mustard pot and cutlery...Harry HKTE
On 3rd October 1962 she arrived at Hong Kong for breaking, the last of the pre-war non-air conditioned passengers ships on P&O's Far East Service.
---
Additional information - please use the link below......