Please Note: The house flag and word mark 'P&O' are Trade Marks of the DP World Company https://www.dpworld.com/
---


The RMS Carthage, originally intended to be named Canton, was launched in 1931 to serve the company's India and Far East Mail Service, along with her sister ship, the RMS Corfu. Both ships were built by Alexander Stephen & Sons Ltd in Glasgow, Scotland and served from 1931 until 1961 when they were scrapped.

Carthage running trials on the River Clyde on 26th November 1931
Her maiden voyage commenced at London on 8th January 1932, with scheduled calls at Suez, Aden, Colombo, Penang, Singapore, Hong Kong, Shanghai, Kobe and Yokohama. In April 1932, she made a single voyage to Australia.
---
On 14th February 1932, Chiang Kai-shek sent his Fifth Army into Shanghai. Carthage was shelled but not hit by Chinese troops while berthed in Shanghai, during operations by the Japanese to capture the city.
Carthage's doctor bravely gave assistance to the many wounded on shore.
By the 1930s, Shanghai had become the most important port in Asia and the world's largest trading and banking firms had set up house along the Bund. The Europeans and Americans imported tea, silk and porcelain. No visas or passports were required on arrival and Shanghai soon became infamous as an exotic port-of-call. Opium dens, houses of ill repute and the ease of escaping the law abounded......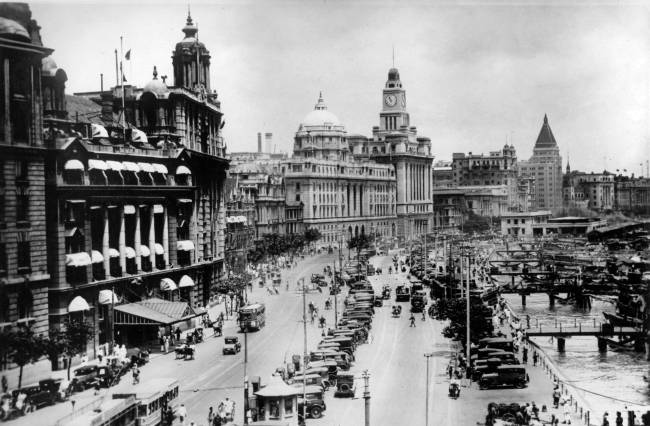 The Bund ~ Shanghai's financial and business district.
---
World War Two
Once again the Carthage was in Shanghai homeward bound, and once again we were faced with the deterioration in the general situation, as the official news bulletins expressed it, only this time it seemed even more serious than it had a year ago. We had our own peculiar troubles, too, for a typhoon was in the offing, only now it was as uncomfortably close as the mouth of the Woosung River, where it remained stationary for two whole days, keeping us shut up in Shanghai as effectively as any minefield....When at last we were able to sail, there was no Italian cruiser to shadow us down the coast to Hong Kong; neither was there another Munich. The formal declaration of war came while we were lying in Hong Kong, bringing with it a sense of unreality combined with an intense depression.......Captain D G O Baillie ~ A sea Affair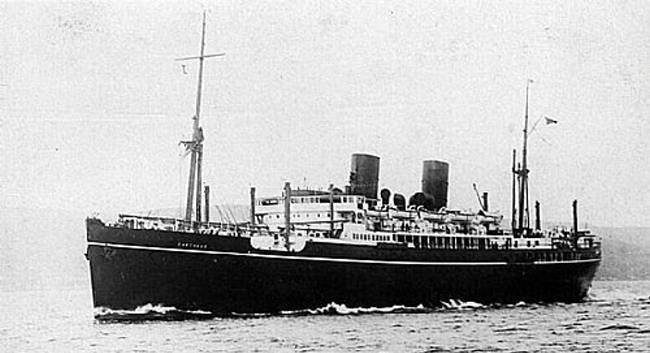 On 17th September 1939, Carthage was requisitioned by the Admiralty, as an Armed Merchant Cruiser, and received orders to proceed to Colombo, there to discharge all passengers and cargo, and sign off all women members of the crew, such as the Nursing Sister and the Stewardesses.
---
From Colombo, she proceeded to Garden Reach, Calcutta, where she was 'trampled over, gutted, wrenched asunder and distorted out of all recognition'. The Carpenter and the Bosun and one or two Quartermasters returned home, but the remainder signed a T124X - Agreement Between Admiralty and A Mercantile Marine Officer or Rating for Service in His Majesty's Auxiliary War Vessel - whereby they acquired temporary Royal Naval Reserve commissions, receiving P&O pay - but no longer in the service of the Company.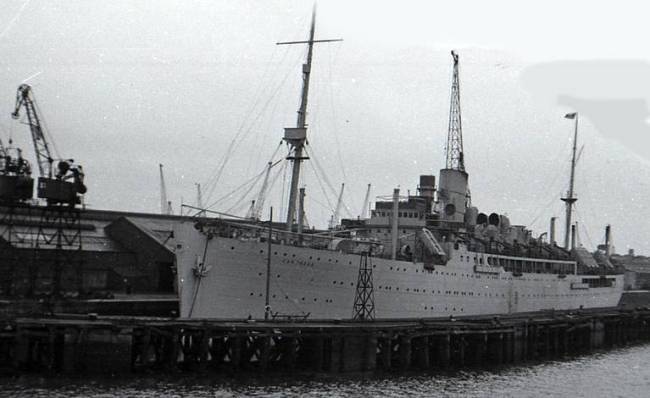 Her aft funnel was removed and she was fitted with eight 6-inch and two 3-inch guns. By the third week in December, she was ready for sea, in her new guise as the newly commissioned HMS Carthage. From her base at Colombo, she carried out patrols to Aden and Achin Head, until ordered to Bombay for refit; after which she patrolled off Mogadishu, while also convoying merchant ships to Aden.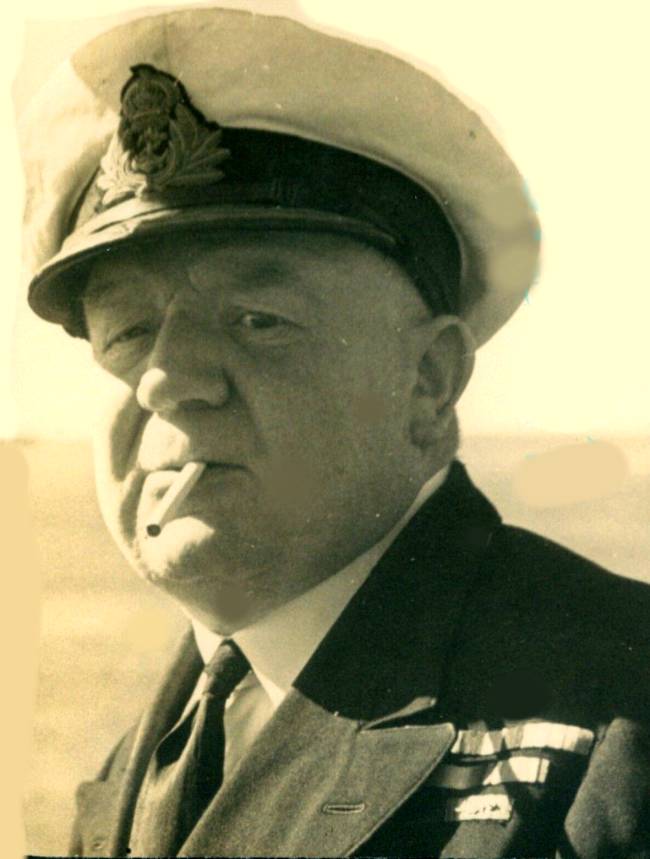 Under the command of Commander William Vesey Hamilton Harris, MVO, DSC, RN, she was mainly engaged on convoy escort duties in the Indian Ocean.
In April 1941 she escorted the damaged aircraft carrier HMS Illustrious until relieved by the heavy cruiser HMS Dorsetshire.
In October 1941 she took part in Operation Bellringer, as part of Force F (Devonshire, Colombo, Carnarvon Castle and Carthage), tasked with intercepting a Vichy French Convoy Southwest of Madagascar. After which she had to tow the Cap Padran to Port Elizabeth as her crew had sabotaged the engines before boarding parties had secured the ship.
March-April 1942 saw her with the Eastern Fleet in the Indian Ocean, before refit at Southampton which was prolonged due to a serious fire in No. 4 hold.


From September-November 1942 she served on the South Atlantic Station.
And from December-February 1943 was with the Eastern Fleet in the Indian Ocean.
March-April 1943 saw her back on the South Atlantic Station, and May-October 1943 with the Eastern Fleet in the Indian Ocean again.
On 29th October 1943, she was decommissioned at Swansea, before sailing to Norfolk, Virginia for conversion to a troopship, after which she operated from Calcutta.
Finally, she was returned to her builders at Glasgow for refit on 27th February 1947, when her funnel was lengthened, and repainted buff, while her hull was painted white in keeping with the Company's new livery. She carried 181 first class, and 213 tourist passengers, and resumed her Far East mail service on 6th July 1948.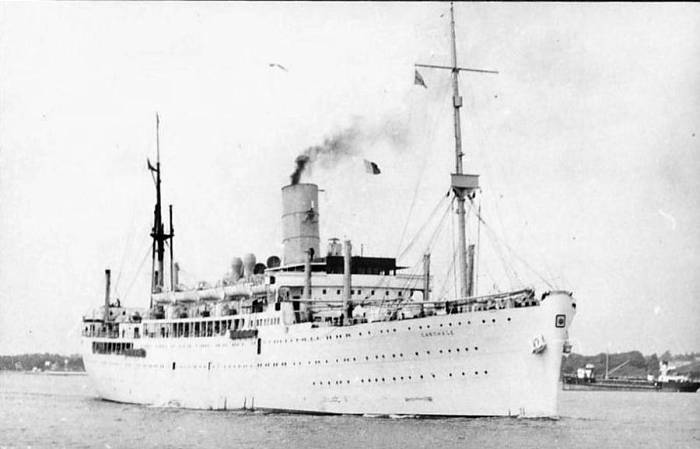 Back in service and looking none the worse in her fresh new livery.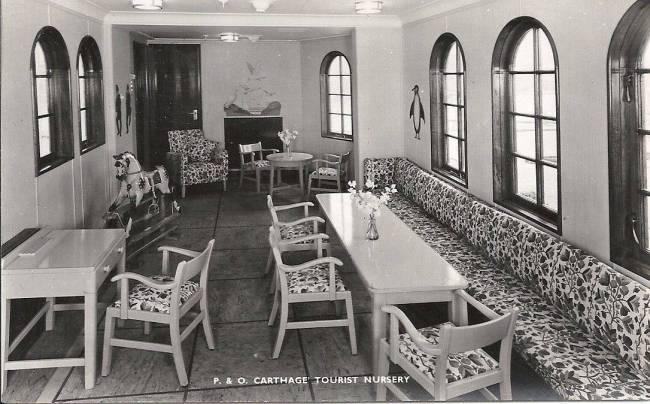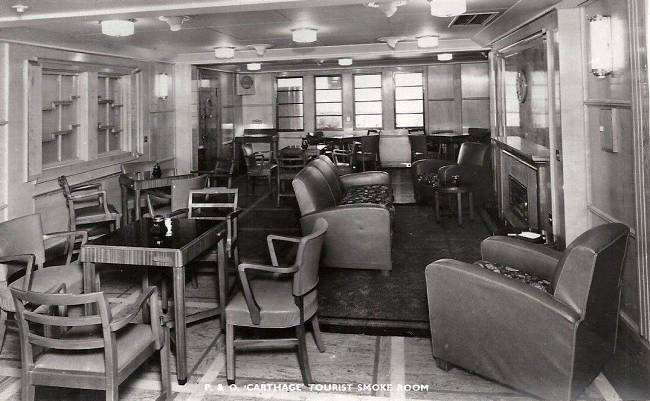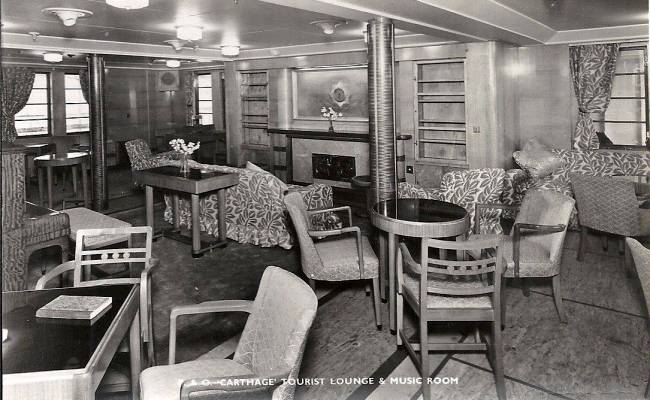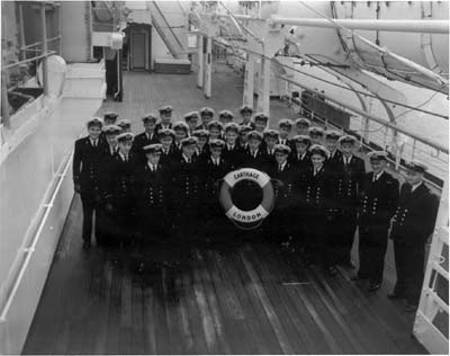 Worcester Cadets visiting Carthage at King George V Dock, London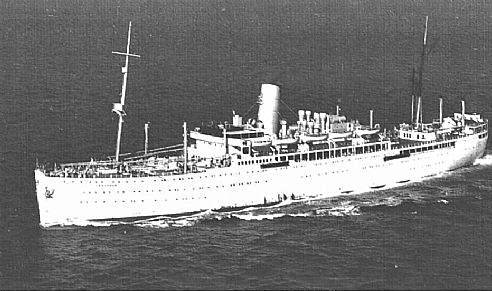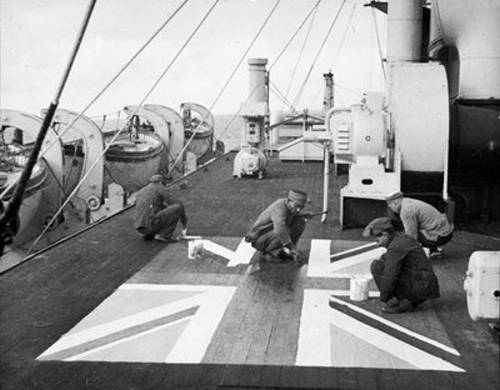 After the Second World War, Chinese Communists and Nationalists continued their civil war, during which it was normal practice for British merchant ships to display a large Union Jack on both sides of the hull - and on the upper deck - as the forts at Wusong, guarding the entrance to the Yangtze, were occasionally inclined to open fire.
Following the Communist takeover in 1949, non-Chinese shipping companies soon ceased operations on the Yangtze, but P&O, with its long tradition, continued calling at Shanghai until the end of the year.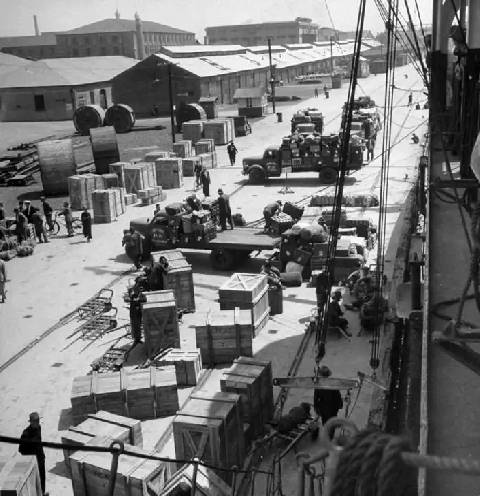 Shanghai Dockside during the Nationalist Chinese exodus of 1949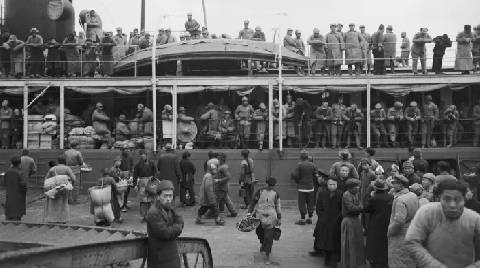 Nationalist Chinese troops leaving Shanghai for Formosa in 1949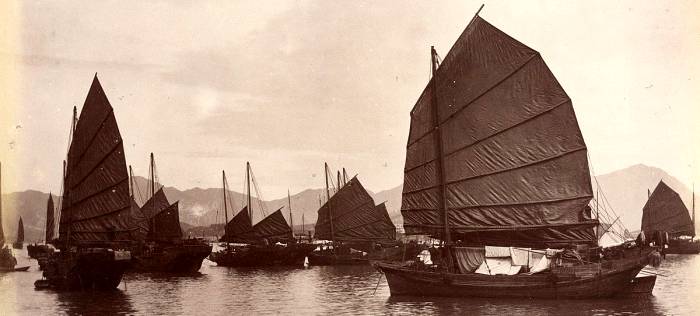 Chinese junks, peaceful enough most of the time, but liable to open fire if a ship came too close.....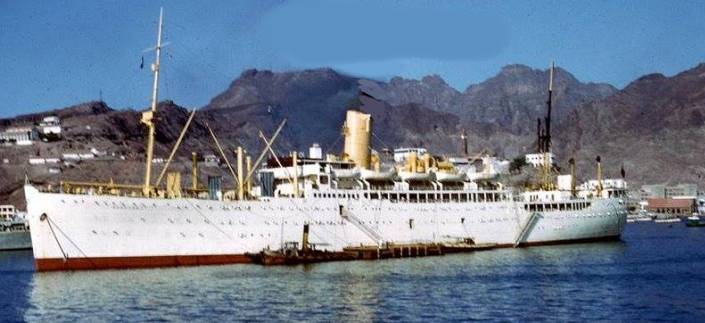 Carthage at Aden towards the end of her career.
On 28th February 1961, Carthage sailed from KGV Dock London for the very last time.
On 15th June, work started to break her up, at the Miyachi Salvage Company's Sakai yard in Japan.
---
Additional information - please use the link below......