Please Note: The house flag and word mark 'P&O' are Trade Marks of the DP World Company https://www.dpworld.com/
---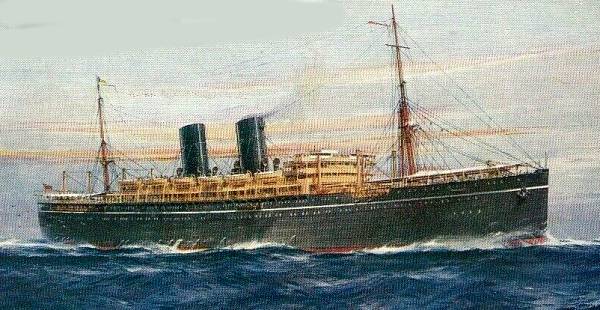 Ordered in 1923, Chitral was built by Alexander Stephen and Sons of Govan, and launched on 27th January 1925 by the Hon. Elsie Mackay, daughter of P&O's Chairman Lord Inchcape.
Chitral and her sisters Cathay and Comorin were designed for the Australian trade, and as built, could carry 203 First Class and 103 Second Class passengers.
Their arrival enabled P&O to restore the fortnightly Australian mail schedule, but at 17 knots and lacking the reserves of speed required by a mail steamer, they were frequently used on the Company's other routes.
On 3rd July 1925, Chitral left London on her maiden voyage to Australia, via Marseilles, Suez, Aden and Colombo.
In 1930, she was fitted with Bauer-Wach low-pressure exhaust turbines and Wyndham fuel oil heaters to augment her speed and improve fuel efficiency.

In 1935 she was transferred full-time to UK/Far East service.
---

On 30th August 1939, she was requisitioned by the Admiralty for service as an Armed Merchant Cruiser and converted by her builders.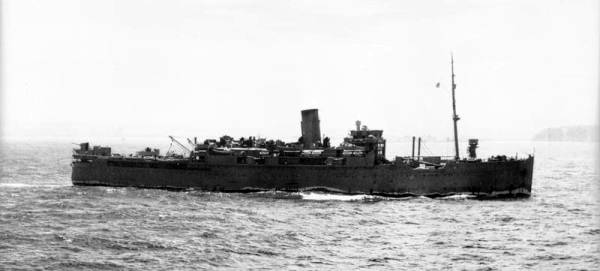 Her after funnel was removed and seven 6-inch and two 3-inch guns were fitted.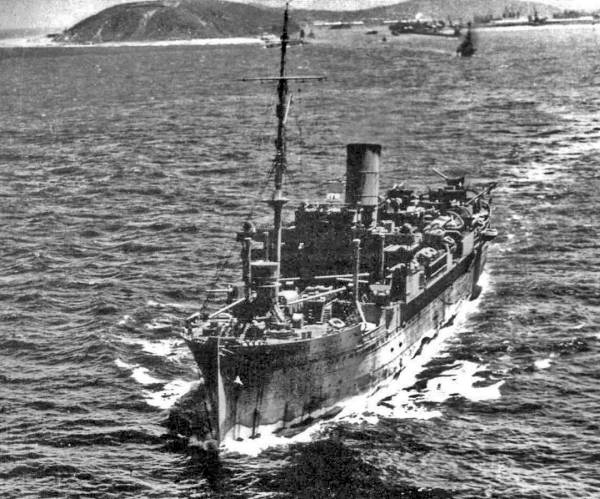 On 14th October, she was working up at Scapa Flow, when HMS Royal Oak was torpedoed and sunk.
On 23rd November, she rescued 10 survivors from P&O's Rawalpindi, also serving as an Armed Merchant Cruiser, sunk by Scharnhorst and Gneisenau.
September 1940: Made three trooping voyages to Reykjavik as part of the reinforcement of the garrison in Iceland.
11th November 1940: Sent to search for survivors of the armed merchant cruiser Jervis Bay sunk by the German warship Admiral Scheer.
In September 1941, she was transferred to the East Indies Fleet and remained in the Indian Ocean until the end of 1943.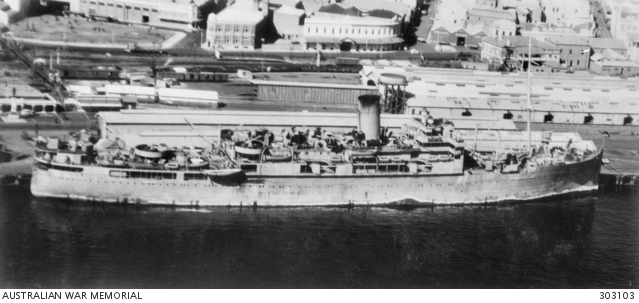 Fremantle WA 20th May 1942. Three of HMS Chitral's 6-inch guns are evident on the starboard side - forward of the superstructure, just abaft the bridge and amidships. Another 6-inch gun is mounted at the stern. Single 4-inch Mk 5 Anti Aircraft guns are sited on either side at the rear of the superstructure and amidships aft. A Type 271 Radar Lantern can be seen mounted on the forecastle. Her after funnel has been removed.
---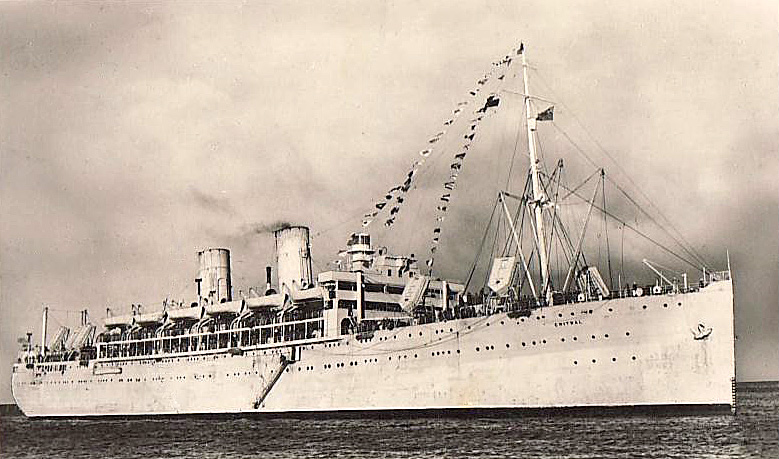 10th April 1944: Redelivered from Admiralty. Converted to a troopship by the Maryland Dry Dock Company, Baltimore, USA, during which her second funnel was replaced.
14th September 1944: Left Baltimore for voyage from New York to the Clyde with US troops embarked.
---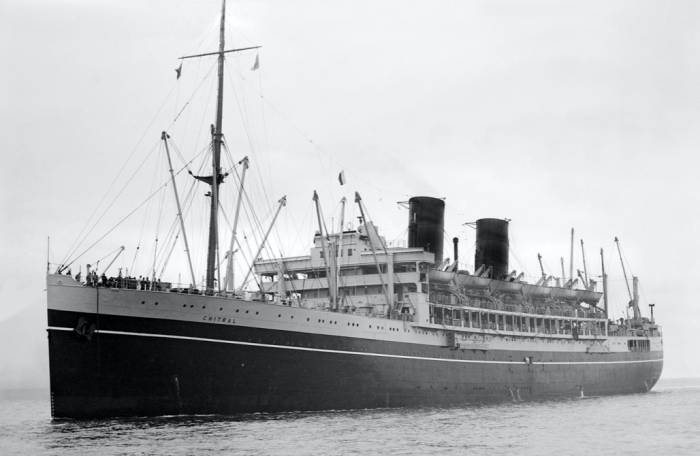 On 17th September 1947, Chitral was returned to her owners and reconditioned in London by R & H Green and Silley Weir Ltd.
She returned to her pre-war livery of black hull and funnels, not adopting P&O's newer white Strath livery.
Her mainmast was removed and her forward well was plated in.
On 30th December 1948, she returned to the Australian trade, carrying 740 emigrants on outward journeys in extremely spartan conditions.
In 1950, she assisted with the repatriation of Dutch nationals from Indonesia.
In February 1953, her last sailing for Australia was beset by mechanical problems, including enforced conversion from quadruple to triple expansion in 36 hours.
On 22nd March 1953, she arrived in London for the last time.
She was sold for £167,500 to British Iron and Steel Corporation (Salvage) Ltd, and handed over for demolition to W. H. Arnott Young Ltd of Dalmuir where she arrived on 1st April 1953.
---